After the Round – Reservoir

Nestled by Toyota Music Factory in Irving's bustling new nightlife district resides Reservoir, which describes itself as a modern, industrial patio-driven gastropub featuring a menu chalk-full of bar and spirits meshed with southern comfort favorites.
And when it comes a variety of good eating and drinking options with a pleasurable ambiance, Reservoir certainly delivers.
If it's a game you want to take in after your round, Reservoir has you covered with more than 40-plus televisions providing quality viewing angles whether seated at the spacious bar, in one of the two dining areas or out on Reservoir's lengthy patio area — one that can be covered at heated and overlooks Toyota Music Factory's turf outdoor pavilion — which at this time of year boasts a gorgeous large and fully-decorated Christmas tree.
Arrive on Monday through Friday between 3-7 p.m. and take advantage of Reservoir's Happy Hour specials, which include $3.50 appetizers, $1 off draft beers, $5 house wines, $6 frozen margaritas and $4.50 wells.
But Reservoir, the only establishment in the plaza area that remains open until 2 a.m., also offers a Late Night Grub menu to satisfy your hunger into the early morning hours.
For spirits, Reservoir — one of two Metroplex locations (Fort Worth) that has been opened since April — offers it signature Res Rita, which features Avion Silver tequila, Patron Citronge, fresh lime juice and sweet n' sour.
The White Wine Sangria, meanwhile, is cool and refreshing, but still manages to pack a little punch thanks to the Deep Eddy Peach Vodka it showcases.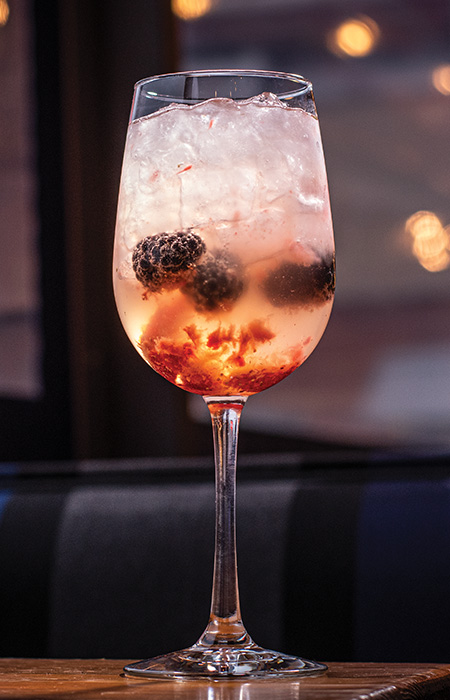 Alcohol-infused lemonades and limeades, mojitos, bourbon smashes and numerous other cocktails also highlight the drink menu, and of course Reservoir also has plenty of beers on tap to sufficiently wet your tongue.
But it's the food menu that Reservoir truly hangs its hat on, and makes it the perfect spot for not only a foursome after a round on the links, but for large groups attending a concert across the plaza.
More than 50 different appetizer, entrée or dessert options adorn the menu providing something different for groups of any size.
The Captains Tenders, one of Reservoir's signature apps, are tasty enough to keep you coming back alone.
Served with sweet chili ranch and garlic parmesan fries, these strips are incredibly moist and tender, but it's the signature Cap'n Crunch crusting that really sets them apart from any other in the area.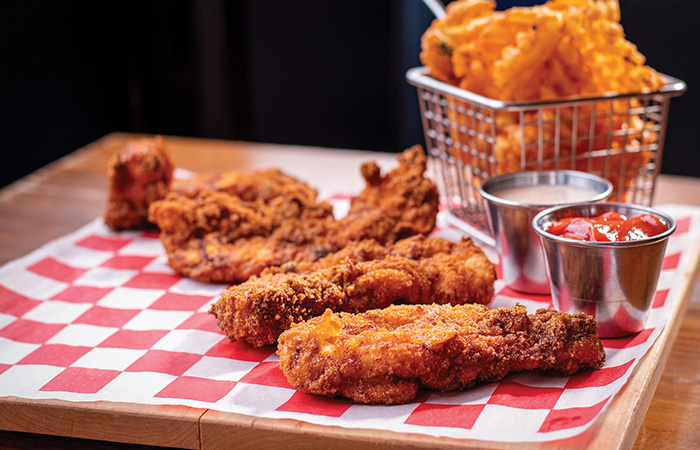 Of course wings, queso and nachos are also great options to share, but don't look past the Honey Batter Shrimp Corndogs (10 sweet shrimp skewers dipped in a house-made honey batter and lightly fried to perfection) or Angry Pigs in a Blanket (spicy Louisiana sausage wrapped in dough and brick oven fried before being brushed with garlic and parmesan).
For those looking for something on the lighter side, Reservoir boasts multiple soups and salads, but the Ahi Tuna Salad seared and served rare is their best-seller. Many of the salads also come with cornbread croutons — and these crunchy bites could easily be a menu item all to themselves. I even requested extras for my to-go box, but instead elected to just munch on them on their own.
A variety of pizza is also available for your edifitcation, including Texas Whiskey BBQ, Hot AF Pizza 12 (which comes with a disclaimer of just how hot it is), Apple Honey Gorgonzola and even a Supreme Deep Dish option.
There is also no shortage of handheld options, including sandwiches, burgers, tacos, gorditos and burritos.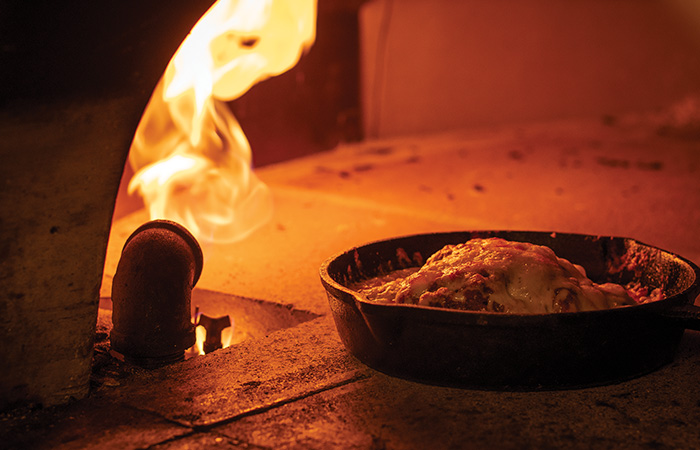 If Italian is what you're craving, but pizza isn't filling the void, then Reservoir's Wood Fired Lasagna is the direction to go.
This house made layered lasagna is filled with a four-cheese bechamel and a slow-simmered tomato meat sauce and is cooked in Reservoir's wood-fired oven and served with a soft and gooey baked garlic bread stick and a side Caesar salad.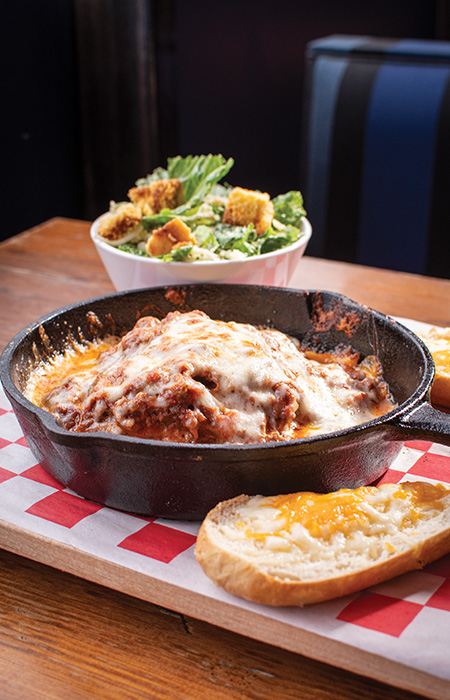 No concern about caloric intake?
Then venture into some of the aforementioned southern comfort favorites, including Country Fried Chicken, Chicken & Waffles, Southwest Smothered Chicken or Mesquite Fired Baby Back Ribs.
But the piece de resistance at Reservoir has to be the Frosted Flake Crusted Halibut.
Like the Cap'n Tenders, Reservoir again turns to a favorite breakfast cereal to perfectly coat a protein.
Here, a halibut filet is lightly crusted in Kellogg's Frosted Flakes, pan seared and served over a bed of roasted red potatoes and brussels sprouts before being finished off with a chef-derived honey glazed soy.
The fish has a melt-in-your-mouth feel and texture and was easily my favorite item on the menu — something someone who doesn't typically opt for fish could truly not believe.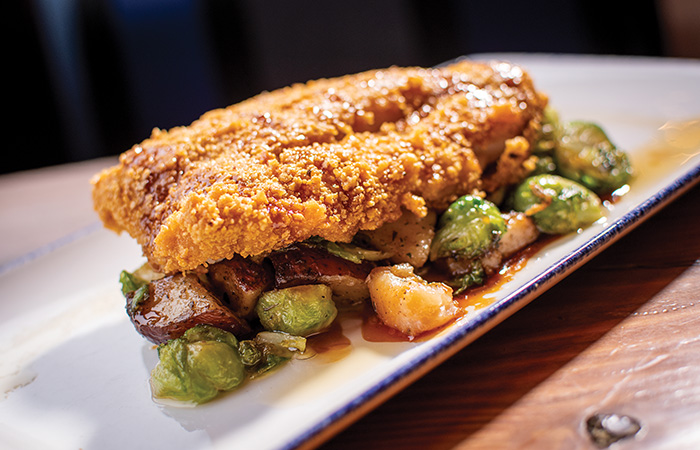 And of course, if the side matched with your entrée isn't of your preference, ala carte options are plentiful, including Four-cheese Bacon-jack Mac, Poblano Cream Corn, Spanish Rice, Garlic Parmesan Green Beans and a multitude of potatoes fried, mashed or roasted.
Reservoir isn't done there, however, as you can put a bow on your visit and satisfy your sweet fix with Molten Lava Cake, Brick Oven Fired Pecan Cobbler or a Cinnamon Roll Ice Cream Sandwich.
Add it all up, and Reservoir has scrumptious option on the menu for any pallet, and it's location next to Toyota Music Factory in the heart of Irving makes it the perfect location for a bite after the round, before a concert, or for a simple lunch or game-watching experience.
Nearby courses:
Las Colinas Country Club: 1.9 miles
TPC Four Seasons: 2 miles
Cottonwood Valley Golf Course: 2.8 miles
Hackberry Creek Country Club: 3.5 miles
Luna Vista Golf Course: 3.9 miles
Reservoir
330 West Las Colinas Blvd.
Irving, TX 75039
469-351-7112