After the Round – Zoli's Pizza

It can be rare to find someone who is truly a master of their craft. Tiger's stinger, Brady's defensive reads, Dirk's one-legged fadeaway. All these are examples of those who have operated at the pinnacle of their abilities. While Jay Jerrier is unlikely to grace the hardwood of an NBA floor or football field anytime soon, he has undoubtedly perfected the way the Metroplex enjoys artisan pizzas.
Jerrier has long been known as the proprietor of Cane Rosso Pizza, which has five locations scattered across DFW, one in Austin and one in Houston. Cane Rosso is known not only for their world-class wood-fired Neapolitan style pizza, but also for their Cane Rosso dog rescue organization, which raises funds and awareness for dogs in need of homes in Texas (more at www.canerossorescue.org). Jerrier has combined his two passions, pizza and philanthropy into a successful chain of restaurants and a charity organization that are at the top of the food chain here in the Metroplex.
In addition to Cane Rosso, Jerrier also opened Zoli's New York Pizza back in 2013 in the Bishop Arts district of Dallas. After expanding development in South Dallas forced Zoli's to close its doors in 2016, Jerrier moved the location north to Addison and re-opened Zoli's as a full-service restaurant with pizzas, salads, sandwiches and pastas. Jerrier, along with his head of his culinary team, New York native Lee Hunzinger, set out to create a family Italian experience with pizza that was next-level unique.
Fast forward to 2019, and in addition to their Addison location, Jerrier and company decided to expand once again and head west, this time to Fort Worth. It's no secret that Funky Town has been developing at a break-neck pace since the natural gas boom of the mid-2000's. From the redevelopment of West 7th, to the area around Magnolia, craft breweries, eateries, bars and businesses have been popping up like mushrooms after a hard rain.
After some planning, ground broke earlier this year on the new location. Just south of I-30 at the corner of Hulen Street and Haughton Avenue, the new Zoli's began to take shape.
The new building is as unique as the pizza being baked inside. From the street, the structure looks more like a place where Area 51 scientists would be reverse engineering an alien spacecraft. A vaulted half dome is accompanied by a large grassy lawn which is a perfect place to let the kids burn off some energy as your group attempts to stave off a pizza coma.
The inside comes complete with a bar, plenty of tables and booths and Jerrier's signature murals on the wall — many of which feature a Star Wars theme, as the owner is (admittedly a Star Wars fanboy.
Our meal at Zoli's began with one of their signature cocktails. A drink known as the Riff Ram Bah Zoo, which is taken from the noted TCU Horned Frogs chant:
"Riff, Ram, Bah Zoo,
Lickety, Lickety, Zoo, Zoo,
Who, Wah, Wah, Who
Give 'em Hell, TCU"
The drink is made with gin, muddled blackberries, white cranberry juice, simple syrup and prosecco. The finished product comes out a TCU shade of purple, an homage to the Horned Frogs campus just a couple miles away.
The cocktail itself is light and refreshing. Perfect for a sunny day spent on the patio at Zoli's, or for lunch as you pre-game for a game at Amon Carter.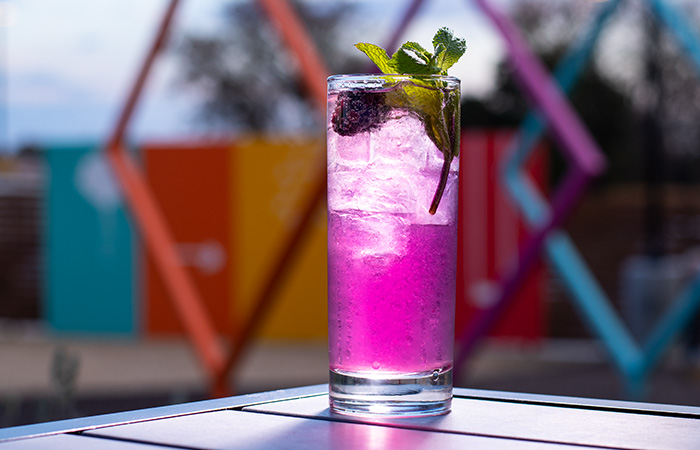 Zoli's also features a complete appetizer menu, with everything from Nuggz, which are traditional fried mozzarella with marinara sauce, to waffle fries, which can be served "Cacio E Pepe" with cheese and fresh cracked pepper, or if you want to shift into another gear, these fries can be made "West Side" with smoked cheddar and mozza, pepperoni, cherry peppers and drizzled with jalapeno ranch.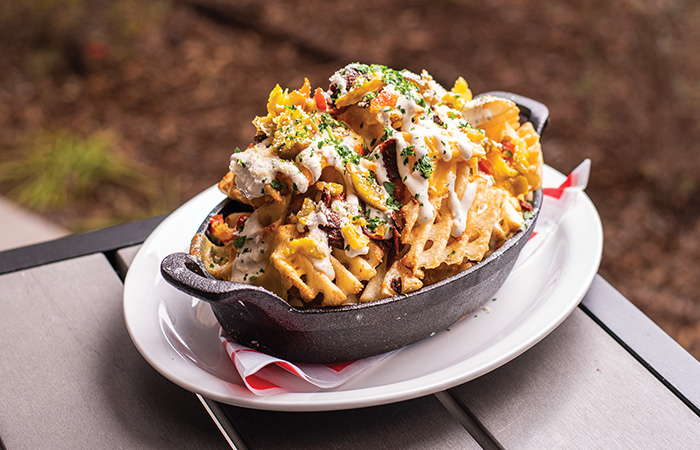 We had the West Side variety and they are unlike any loaded fries you've ever had. Plenty of cheese, and the pepperoni give them a spicy note. Pair that with the acidity of the cherry peppers and the creaminess of the ranch and you've got a next-level app.
We also had a chance to sample the House Meatballs before our meal. Four meatballs served in a dish, smothered in marinara and accompanied by a center dollop of ricotta cheese and some herb focaccia bread. The real pro move here is to cut one of the juicy, tender meatballs in half, lay it on the focaccia and then add a bit of the ricotta on top. Eat them this way and you'll get the sensation of a bite of a top-quality meatball sub. The meatballs are absolutely top-notch, but I couldn't get over the texture of the bread. Crunchy at first, but porous and pillow soft in the center. They're a match made in meatball heaven.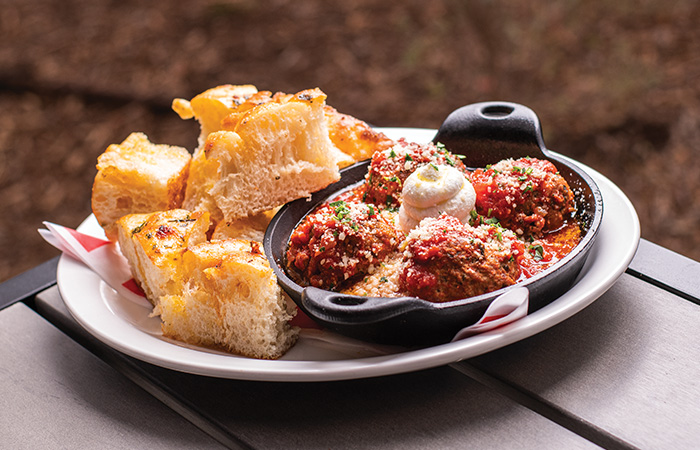 If you're on a health kick, Zoli's also features plenty of lighter options on their salad menu. A house, Caesar, Italian Wedge are all options. Or if you're looking for a salad that eats more like a meal, try the Roasted Chicken Chop with a romaine/arugula blend topped with Campari tomato, red onion, roasted peppers, chickpeas and croutons. It will fill you up and still leave plenty of room for beverages at the TCU tailgate.
If there's one thing I do know, it's that Italians do sandwiches up right. Zoli's also has a complete menu of sandwiches if maybe pizza isn't your thing. A pair of fried chicken sandwiches adorn the menu, a fantastic chicken parm with mozzarella, arugula and cherry pepper aioli. The Pressbox Hot is the other option, with a spicy chili glaze, horseradish pickle, tomato and a dill dressing to cut some of the heat. Both are a worthy lunch or dinner option.
The O.D. Burger is another of Zoli's stellar menu items. Two types of cheese, horseradish pickle, and Zoli Sauce come atop the 1855 C.B.S beef. If you are looking for a real belt buster, add fried mozz and Soppressata marmalade on top for just $3 more.
Of course, the real reason many will flock to Zoli's is for the pizza and they are as flavorful as they are unique. If you have been to Cane Rosso, then you realize that Jerrier utilizes ingredients that you may not find on your standard pie. Of course, Cane Rosso may not be for everyone, as their Neapolitan style features a softer thin crust. While it's delicious, some prefer something with a bit more chew and that can hold up to substantial toppings.
That is precisely what you will find at Zoli's, as they feature round and square pies. The round 14" pizzas have a more traditional crust, while the 12" x 12" square version is a pan pizza that is to die for.
We sampled both, first the round Christian Pescroni. This one has tomato sauce, double Ezzo Pepperoni and is finished with a swirl of jalapeno pesto. The Ezzo pepperoni is the star of the show. Each smaller slice curls up when baking and leaves little cups of fantastic flavor atop the cheese. The swirl of jalapeno pesto adds some zing and the crust holds up well to the generous amount of toppings.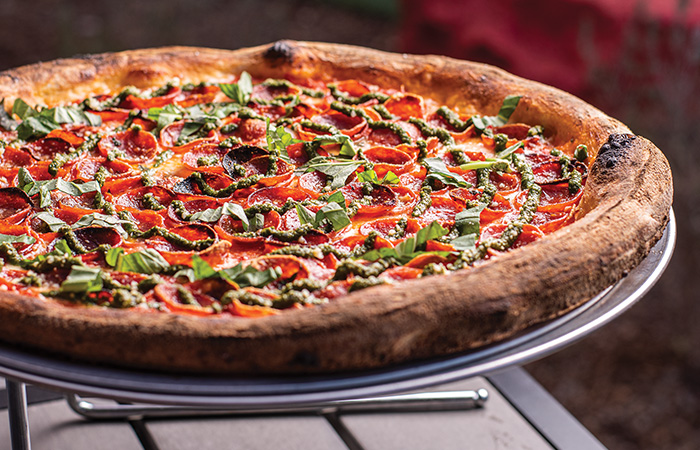 The second pie we sampled was the award-winning Dope Sopp. When it comes to culinary accolades, the Caputo Cup is one of the gold standards for pizza. The Dope Sopp took first place in 2019 in the Pan division and when you try it, you'll know why. This square pan pizza is spectacular in every way. The crust is crispy on the edges, but airy and light in the interior. The chew compliments the sauce while will being able to hold up to the toppings, which are top of the line.
The Dope Sopp comes with house tomato sauce, hot Soppressata, Soppresseta marmalade, and is then capped off with ricotta. If you're not familiar with Soppressata, it is an Italian dried salami that is as rich as it is flavorful. The marmalade made with the meat adds a sweetness to the pizza that radiates flavor profiles that will send your senses into overdrive. It's a work of art.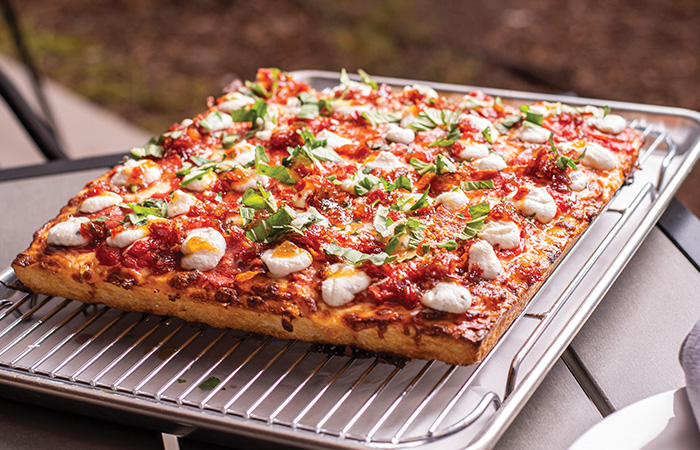 In addition to the two we sampled, Zoli's offers many other artisan creations that will shock and awe the taste buds. The Meat Fight is a pie topped with brisket, jalapenos, caramelized onion, pepperoni and drizzled with barbecue sauce.
A collaboration with Heim Barbecue (that's a whole other article in itself) introduced the Heim Time pizza. This one has tomato sauce, bacon, pepperoni, house sausage, mushroom, caramelized onion and cherry peppers. You definitely won't be disappointed if you go this route.
Of course, as is standard with most pizza joints, you can also customize your own pie with everything from pineapple and eggplant, to ham, brisket or meatballs. You are bound only by your imagination.
In addition to the quality pizza and other Italian favorites, Zoli's also has a Cow Tipping Creamery attached, so you can get some ice cream for you or the kids as you head out for the evening. Cow Tipping, once an ice cream truck business in Austin, was majority purchased by Jerrier and he has added them next to his Frisco Cane Rosso location at the Star, and now at the Fort Worth Zoli's.
Jerrier and Hunzinger have entered into a relationship much like that of Han Solo and Chewbacca. They are a creative culinary match hurdling across the universe ready to satisfy the most refined in pizza consuming palates. Zoli's flavorful grub will make your taste buds think they are along for a ride on the Millennium Falcon. It's fantastic to the down to the finest detail.