The Bahamas — Basking at Baha Mar

When the 299-room SLS hotel at Baha Mar opened to guests last month, you might think the Caribbean mega resort would take a breather. But the $4.2 billion Nassau, Bahamas project has months of work ahead of it before the last of its four hotels, a 200-room Rosewood, opens to the public next year. What does a $4.2 billion dollar resort look like? It looks like magic.
When Baha Mar is finally completed, the 1,000-acre property on Cable Beach will include the SLS and Rosewood Hotels, a 1,000-room Baha Mar Casino & Hotel and a 700-room Grand Hyatt, 200,000 square feet of convention space, dozens of restaurants and bars, art galleries, spa facilities, a beachfront nature sanctuary, 20 acres of beach and pools and an 18-hole Jack Nicklaus-designed golf course with peekaboo ocean views which Baha Mar hopes will one day host PGA Tour events. The Baha Mar Casino & Hotel and the Grand Hyatt opened last summer.
And all of it is just a two-and-a-half hour nonstop flight from DFW.
On a recent visit soon to Baha Mar and its Grand Hyatt, I was mightily impressed with the breezy island resort and its glitzy Vegas-style casino, cabaret lounges, stunning design and swanky rooms. I was also thrilled to play Baha Mar's Royal Blue Golf Club, where Nicklaus and his team refashioned the former Cable Beach Golf Club into an essentially brand-new 18-hole, par-72, Jack Nicklaus Signature design. Some of the original fairway corridors remain the same, but the routing is new. So are the bunkers and nearly all of the greens. If you'd played Cable Beach years ago, you're likely to recognize a few of its remnants, said Nadario Ferguson, an assistant golf pro at Royal Blue who grew up playing the course with the country's other top amateurs.
"Nicklaus deliberately left a few features of the old course in place for those of us who played here growing up," Ferguson said. "There's the old No. 2 tee box," he said, pointing to the right side of the third green. When we reach No. 5, he pointed out a defunct water tower behind the tee box that Nicklaus' team retooled into a bright, white architectural focal point above. "And you can still see the outline of the old eighth hole, which is now part of No. 13," where Nicklaus reversed its routing, Ferguson said.
Royal Blue's two nines roll over radically different terrain, which makes the course particularly unusual in the Caribbean. Peppered with brightly colored pimento trees and silk cottonwoods, the front nine sits on the site of the former Cable Beach golf course, a mostly flat track that eyebrows around one side of the hotel complex.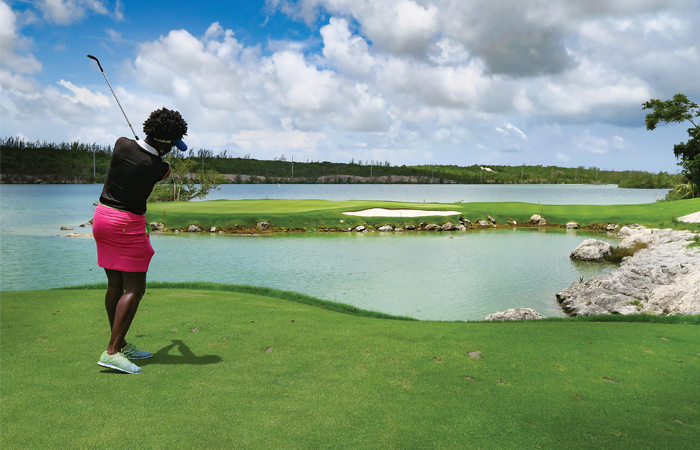 Turn the corner on No. 10, though, and Royal Blue starts to strut. The back nine holes flow across a former hobby horse track, said Ferguson, which gave Nicklaus the free rein he needed to incorporate hills, cliffs, and a peninsula green par 3 on No. 1 linked to the edge of Lake Cunningham, a freshwater fishing hole also favored by local kayakers. As you approach the green, turn right and head up the well-trodden rocky path that winds 20 paces into the jungle. There you'll find a limestone cave crammed with Bahamian bats who mostly sleep while you play golf but emerge at sunset to forage for food.
Nicklaus added another fun turn on Royal Blue, employing free-form tee boxes that allows the course to be set up in endless ways. Moving the tee markers left and right, forward or backward mixes up the yardages and alters the attack angles so tee-to-green plays different every time. On hole No. 4, for example, the tee markers can be set from 270 to 472, varying the hole from a drivable par 4 to a forced layup or long carry over water. Similarly, the par-5 Nos. 9 and 13 could facilitate birdies or require a player to take all five shots.
Factor in unpredictable Caribbean winds, slick greens and high-faced bunkers, and Royal Blue has all the elements of a challenging – and rewarding – game.
Director of Golf Sean Cracraft has a few other weapons in his arsenal that add to Royal Blue's broad appeal.
Cracraft, a former pro at Cordevalle in Northern California and other high profile golf courses that have hosted Tour events, said course conditioning and hospitality are priorities for him and Baha Mar's owners.
To keep the course fresh for repeat golf guests, the golf staff monitors the tee sheet each morning then sets up the tee markers differently than where they were for your previous round on the course. Hate to play solo? The golf staff mines metadata from the digital tablets in each hotel room to learn if a guest has tabbed through any of the golf course's navigation pages. If they have, the golf staff offers to pair the potential golfer with another player.
To help speed play and maintain tip-top conditions, Cracraft recently added a forecaddie program to Blue Royal; it's a complimentary service that's required for all golfers for no additional charge beyond a requested $20 gratuity.
"The program allows us to introduce young Bahamians to the game, give them a good paying job, teach them about the hospitality industry, and most importantly, it allows our golf guests to learn about the Bahamas and Baha Mar from a local resident," Cracraft said. "They'll rake bunkers, repair ball marks, fill divots and find balls so you don't have to bother with anything except having a fun time." Since the group ahead of you (and the group ahead of them) will also have a forecaddie, Cracraft said, "if your ball lands in a bunker, at least it will land in fluffy sand and a smooth lie."
"What we are trying to do here is offer a top-tier golf experience" better than any other in the Caribbean, Cracraft said. Assistant pros loop around the course, interacting with players at least three times each round "to make sure they're having fun, offer tips and share a little history about the course," Cracraft said. Tee times are spaced 15 minutes apart so one group shouldn't ever bump into another.
"We try to ensure that the group on the first tee box doesn't tee off until the group ahead of them has finished the hole," he said.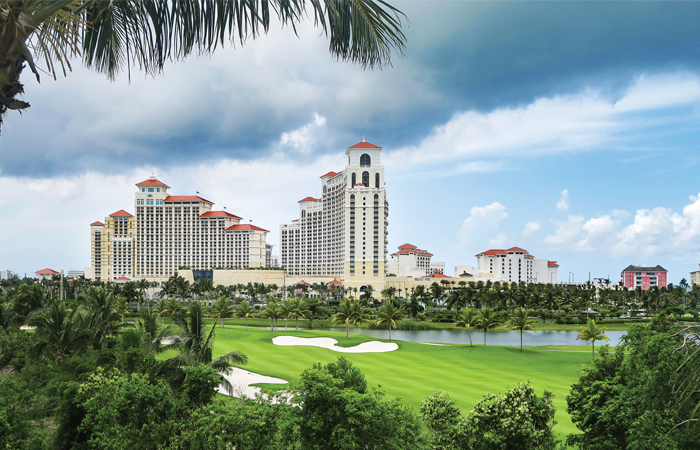 Even when all four hotels are finally open sometime next year, Cracraft plans to keep total annual rounds to fewer than 15,000 – a relatively low number when you consider that the Bahamas is blessed with ideal golf weather nearly 365 days a year, sunrise to sundown.
"We even want to save you the trouble of traveling with your clubs," said Andy Deiro, Royal Blue's head golf professional, "so we offer a rental program that features a selection of really good clubs – Nike, Callaway, Titleist, Taylormade and PXG." And that $70 fee includes a golf glove, a sleeve of balls and golf shoes. All in, that's often less expensive than the baggage fee the airline charges to haul your clubs to the Bahamas and back.
"Our goal is to offer you rental sets that are even better than your clubs you play at home," Deiro said. "Where else can you play PXG clubs for $70?"
The only nicety missing from Royal Blue is an oceanside hole, though you get peeks of big blue from a few fairway vantage points. That means you'll need to soak up the Caribbean from the hotel complex or from Baha Mar's soft-sand beach.
After golf, hop on the air-conditioned resort shuttle and head to a one of the private, shady cabanas ringing several of the resort's pools where reggae music and strong Wi-Fi bathes the common areas and the conch shack by the beach. Spend the afternoon clinking gin-clear cocktails and snacking on island conch. If your mental image of the Bahamas is overpriced food and all-inclusive resorts, Baha Mar wants you to think again.
"We set out to give people a great experience and a great value," Baha Mar spokesman Vanessa Christie said. "You'll find lots of cool art in our public places, all of it made by local artists."
Nearly every common area incorporates an ocean theme, from floor tiles whose reflected light shimmers like water to Bellagio-style fountains that sway in synchrony to music (they're designed by the same company that created those fountains at Las Vegas' Bellagio and Wynn resorts). In the hotel, overlapping curved wall panels evoke the look of fish scales, while bold images of fish are woven into the carpets lining the hotel's guestroom hallways.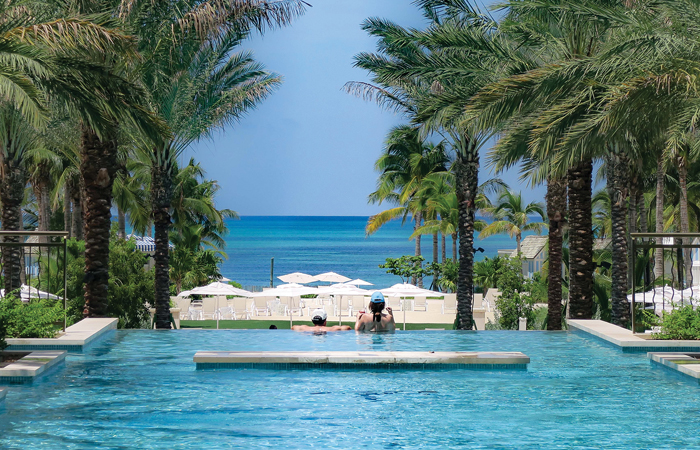 The aquatic theme continues at the beachside restaurant Palms, where fresh halibut ceviche, conch fritters and grilled cheese sandwiches stuffed with Caribbean lobster take starring menu roles. At Swimming Pig, a gastropub at the Grand Hyatt whose name honors the famous swimming pigs on nearby Bahamian island of Exuma, bartenders make stiff rum drinks built upon 23-year-old Zacapa Nicaraguan rum, bitters and shaved dark chocolate.
I loved nearly everything about Baha Mar. For a resort so young, I was impressed with the quality of the golf, the attentiveness of the staff and the value and variety of the food and beverage options. I loved the guest rooms at the Hyatt, whose dark blues and bright whites echoed the views of the Caribbean through my glass balcony doors. Mostly, though, I loved the genuine hospitality and friendliness of the Bahamian staff.
I think you will, too. Put Baha Mar and its Blue Royal Golf Club on your must-visit list now – before everyone else finds out about it.
Royal Blue Golf Course at Baha Mar. One Baha Mar Boulevard, Nassau, Bahamas,. (242) 788 1234. Bahamar.grand.hyatt.com.
Michael Hliler writes about golf, food and travel. Follow him on Twitter, @mikehiller.