Cadillac CTS-V — Beauty and the Beast (Mode)

The 2017 Cadillac CTS-V packs luxury amenities into an American-made ride built for cruisers and adrenaline junkies alike.
Euphoric things occur upon pushing the ignition button of a 640-horsepower brute. Yes, gear heads, 6-4-0 ponies! A beatific roar leaps from the quad exhaust. The stout microfiber-covered steering wheel feels just right. Stupendous racing Recaro seats squeeze around you like a reassuring hug. The ride is a hedonistic rocket ready to launch you down the road in giddy bliss.
Yet, with all these wonderful attributes, the 2017 Cadillac CTS-V Sedan is also a lovely luxurious cruiser when asked to chill, never feeling like a caged wild animal. It handles your inner racing demons or laid-back demeanors with equal aplomb. Meaning, the CTS-V provides the most intoxicating package of unique American allure, technology and creature comforts motivating you to always take roads less traveled. Simply, it's one of the best production sports cars (domestic or import) currently available.
SKIN
The CTS-V four-door sedan possesses a high drool-quotient across all age groups. The son's normally jaded buddies whistled in admiration, while my generation's demographics immediately conjured up ways to tap their 401k. The Crystal White Tricoat tester casts quite a pose but it looks more menacing in Black Raven or a gunmetal grey matte wrap. Its stance is wide and bold especially with the added V-badge racing fascia and air intakes. The prominent hood bulge and carbon fiber vents hint at what fury lies beneath. Everything looks balanced and formidable from any angle. The rakish windshield and back window give it a superb aerodynamic shape. I love the signature stiletto headlights, red Brembo brake calipers and prominent athletic booty with a carbon fiber spoiler accenting the rear. The optional 19-inch After Midnight alloy wheels fill the wells nicely. There's also the trademark V black mesh grille adding more machismo—but not overly so. And, everyone loved the quad chrome exhausts. This model is definitely a head turner.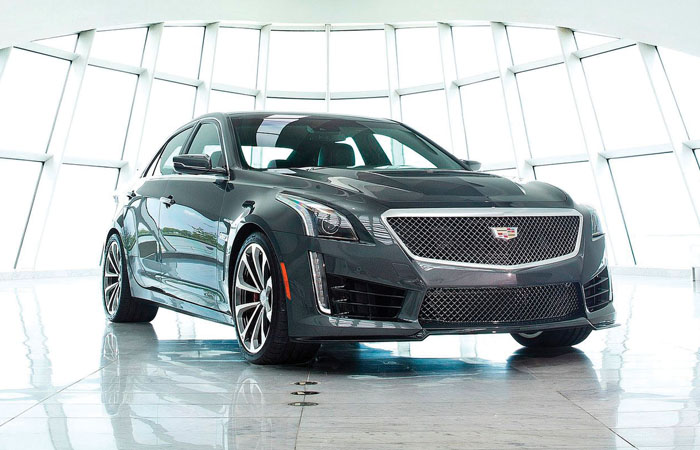 PERFORMANCE
That said the CTS-V's imposing DNA truly comes alive when punching the gas. It possesses more thrust than any other production car alive. The low exhaust rumble is auditory sex to the ears but won't shake the neighborhood and can be programmed to roar in any driving mode. A supercharged, fire-breathing 6.2 liter V-8 packs those 640 horses and a head-snapping 630 lb-ft. of torque under the hood. It'll go 0-60 in a mere 3.7 seconds and will hit 200 mph (75 mph comfortably in second gear). The 8-speed automatic shifts flawlessly and the paddle shifters are most worthy. You could chirp tires in nearly any gear. Oh, the handling. The stout engine's gargantuan power shrinks the V's size and weight by half. Thus, maneuvering is taut, sure and tracks like a bullet. You can switch from the Magnetic Ride Control's Tour or Sports suspension modes on the fly that monitor road conditions at 1,000 times per second. Sport mode ably holds in aggressive turns with zero lean without pounding your spine. Adrenaline junkies can even switch off the traction controls to test their driving mettle. Paired up with the formidable Michelin Pilot Super Sport rubber and you're instantly king of your road. And the stout brakes will slow you in quick smooth fashion. Sure, you'll pay some at the pump (14/21 mpg) and there's a gas-guzzler tax ($1,000) but any worthy experience costs something, no? Plus, you'll save a bit of petrol when the engine automatically drops to four cylinders when cruising (I squeezed 19.4 mpg overall).
CABIN
Creature comforts abound in the cocoon. It's filled with terrific materials and optional simulated microfiber-suede covers the steering wheel (stays warmer/cooler in extreme temps). Contrast stitching outlines the leather dash. Cool ambient lighting highlight where the dash and instrumentation panel meet. The optional high-performance Recaro seats offer 14 power adjustments that hug the torso and thighs. However, the sublime seats also come with less trunk space, as folding split rear seats aren't offered with the package. Decisions, decisions… The center console houses the easy-to-follow instrumentation in a pleasing angular layout. The previously maligned CUE infotainment system is much improved and cleaned up for easier use— although my kingdom for simple volume and tuning knobs. The 8-inch screen is excellent and utilizes Apple Car Play and Android Auto. A large optional ULTRAVIEW sunroof brightens the cabin. The Cadillac's terrific Rear Camera Mirror makes it to the V thereby expanding rear viewing two-three times (and nearly making the side view mirrors obsolete). Plus, an optional Head Up display on the windshield tells you how fast you're zooming over the posted speed limit. The 12-inch instrumentation is programmable and delivers a plethora of data including a g-force meter, tire temp gauge (both good during track use) and even reminds you not to leave items in the back seat upon exiting the car. The deep trunk provides 13.7 cu. ft. of cargo space—not bad for a powerful chariot.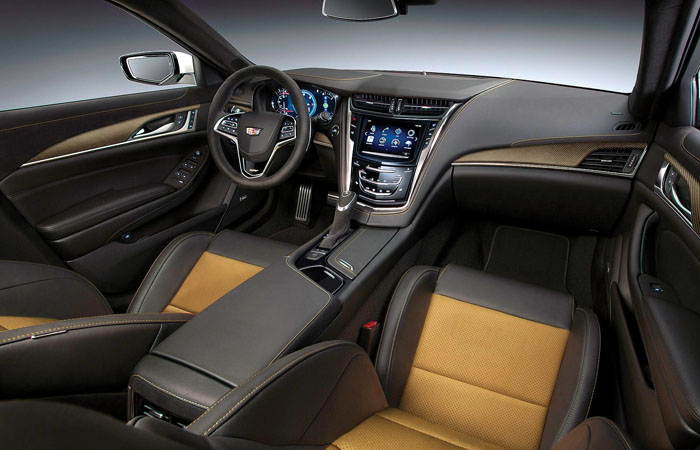 TECH CHECK
The NAV touch screen is excellent when paired with your smartphone apps. A Bose 5.1 Surround Sound system delivers oomph and crystal-clear sound. There's XM satellite, a 40GB hard drive and instant traffic warnings to update you while hauling ass. GM's paired OnStar system provides the clearest Bluetooth I've experienced. A 4G hotspot (requires a monthly data plan) nearly always delivered excellent connection around town. Yes, this 2017 CTS-V Sedan is not your daddy's Caddy. It's packed with fun, fury and comfort inside an impressive figure. Your purchase includes a 2-Day V Performance Training that might be worth the price alone. Because this wondrous package of luxury and unlimited thrust will surely leave car aficionados standing in their own puddle of drool.
Test-drive the CTS-V Sedan at Crest Cadillac in Frisco.
SCORECARD
Golf bags: 2
Curbside appeal: Parking valets will bid to park it
0-60: 3.7 seconds!
Gas mileage: 14/21. Observed 19.4 overall
Must-haves: Recaro seats, upgraded wheels, microfiber suede steering wheel/gear shift
Warranty: 48 months/50,000 miles, 3/36K free maintenance
Base price: $85,995
Price as tested: $102,160