When Augusta National Looks Less Than Pristine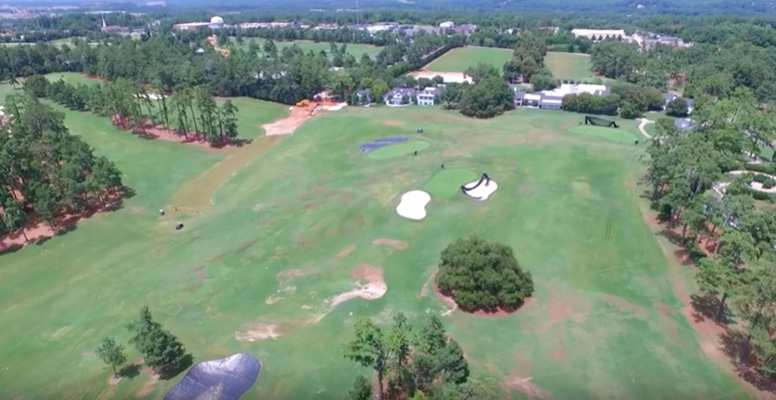 We always marvel how lush and gorgeous Augusta National GC looks in April. It's the envy of every golfer, club member and course superintendent dreaming of being open only half the year with unlimited funds at your disposal.
As GolfDigest.com reports, two years ago, an unidentified person operating a DJI Phantom 3 drone posted on YouTube a summer flyover video of Augusta National that resurfaced on Twitter recently. Not surprisingly, brown had replaced green on much of the course. The 18th green is in the middle of the screenshot above.
Augusta National at this time of year looks like a starlet when first waking up with no shower, no makeup–or coffee for that matter. It looks shockingly rough–like it partied very hearty the night before. And, like our favorite starlets, the course gets a healthy dose of surgical enhancements while out of the public eye.
So, while we will again be filled with wonder and appreciation at the perfect conditions come October thru late May, just remember it doesn't look like one of golf's crown jewels all year.
In other news, the members continued their spending spree by purchasing a piece of adjacent Augusta CC.
"We have a great opportunity now in that we own the old Berckmans Road. It gives us the ability, as it touches certain holes, it gives us some way to expand … lengthen some of those holes, should we choose to do so, and all of them are under review."
In the memo to ACC members, club president Jay Forrester explained, "as part of the arrangement that will result in the transfer of acreage to Augusta National, I can confirm that a portion of the eighth hole and a new ninth hole will be constructed at no cost to Augusta Country Club."
SI.com's Michael Bamberger says there "intense" discussions to alter the 5th and 13th holes.
Payne is already discussing, with Tom Fazio and others, the possibility of building a new back tee and a new green for the 5th hole. The club already has the land for that. The Augusta Country Club purchase would allow Augusta National to build a new back tee for the iconic par-5 13th hole. Payne would like to add roughly 25 yards to the hole and change the orientation of this new back tee so that the longest right-handed players cannot bomb towering draw shots toward the right trees and leave wedge shots into the green. Bubba Watson, a lefty, of course, hits a giant slice in that same direction.
That is an area of intense discussion within the club, because the hole is so beloved and so dramatic as it is, even if it does not play as a traditional par-5 anymore. But Payne's greater goal with this land purchase is to give the club more of a border that it can patrol, as a matter of security. Right now, with the back part of the 13th tee abutting the Augusta Country Club property, Augusta National does not have the feelings of control that is a central part of its DNA. Payne would like a road behind the 13th tee that can transport emergency, security and work vehicles.