Who Does Brooks Koepka Believe Is The Fittest Guy On Tour?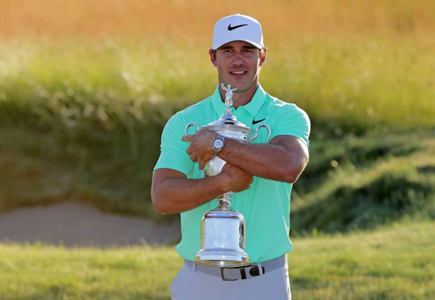 The reigning U.S. Open champ Brooks Koepka is laid up with a torn wrist tendon (hoping to return by The Masters). But during his downtime, Koepka talked with Golf.com's Sean Zak about appearing in a Super Bowl ad and who is the fittest (by far) PGA Tour player. By the way, Koepka is pretty darn fit himself–along with workout buddy Dustin Johnson.
Alright then, where does being in a Super Bowl commercial rank for you?
It's super special. Funny enough, we were doing the shoot and I texted Wayne Gretzky right after. He was like 'I've only done one.'So I said, 'Hey, listen, if you're that good and you've only done one and I'm able to get one, that's pretty cool.'
So, with it being a Michelob Ultra ad, I gotta ask — do you ever drink on the golf course, like with buddies during a casual round?
I've drank on the golf course one time in my entire life, with my buddies not too long ago for a birthday.
Just one time? That's interesting.
Yeah, to me it's just if I'm going to go [to the course] I'm going to go work. I'm not going to go drink and have fun. But that's just me, that's my playground. When I go there, I want golf to be work. Not fun.
You work out quite a bit and it's pretty obvious online. Working out — to some extent — can be a taboo topic in professional golf, but I imagine you consider it as important as anything.
Yeah, I do. I've given this example before, but some of the strongest, most flexible people I've ever seen are gymnasts and people in Cirque Du Soleil. Seriously, in the Olympics or any competition they're doing, they are so strong. You can challenge almost anybody to 'Hey, go on the rings and hold yourself horizontal. See how that goes.' They're absolutely the strongest people I've ever seen, pound for pound, and the most flexible. So when people start talking about being strong and losing your mobility and flexibility, I just laugh at it. I'm like 'Okay, then why are these gymnasts so strong, yet do the splits. Why are you so strong, yet so flexible?' All of it is just maintaining flexibility and gaining it. The stronger you get, the more mobility you have. So, it's all bogus — everything [those critics] say.
When it comes to the elite level of fitness on Tour, is there anyone else who is on your level? Do you feel like you're the most physically fit player out there?
 I do. I had no doubt — especially at the U.S. Open — that I was stronger, was in better shape than anyone else there. Rory is in phenomenal shape. I think Dustin is more athletic than Rory, but I think Rory is overall a little stronger than Dustin with the upper body. But I think on a fitness scale, Camilo [Villegas] has all of us beat by a mile.