Patrick Cantlay Finally Has A Reason To Smile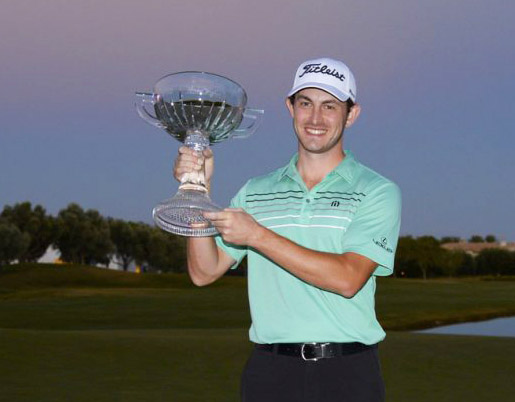 Former #1 ranked amateur Patrick Cantlay overcome a seriously bad back and the hit-and-run death of best friend and caddie Chris Roth to rally back and win his first PGA Tour event at the Shriners Hospitals for Children Open.
The happy picture above is literally the first time I've seen the dour golf prodigy smile after beating Alex Cjeka and Whee Kim on the 2nd playoff hole. It wasn't easy as Cantlay bogeyed the final two holes to set up the playoff.
"I feel like getting your first one can sometimes be the toughest one to get," Cantlay, 25, said after shooting a final-round 67 to finish at nine-under 275 and then surviving extra holes to become the 11th player to win his first tour title here since Tiger Woods broke through in 1996. "Hopefully, I can start getting some more wins. I hope they pile up."
Cantlay first was sidelined after withdrawing from the 2013 Colonial with a back injury that turned out to be a stress fracture in his L5 vertebrae. Somehow, he came back in the fall for one start in the Web.com Tour Finals, finishing second in the Hotel Fitness Championship to retain his PGA Tour card.
In the next three years he would make just six starts.
"There's not a lot of give up in me. I never really thought about giving up," he said. "I thought maybe there was a chance my back would never feel good enough to play again … but I knew that I'd be able to get to where I wanted to be if I felt healthy. My main goal was just to get 100 percent healthy. I knew if I could get 100 percent healthy, everything else would take care of itself."
"I don't really associate the two together that way," Cantlay said. "It feels good to be doing what I feel like I was born to do, and what I practiced to do for such a long time. The other part is so separate, and it was such a heartbreaking deal that I don't even … it's not even on the same level as golf.
"I'd say I'm better because of it, as tough as those moments were."