Tour Players Openly Disregard The Players Championship Autograph Policy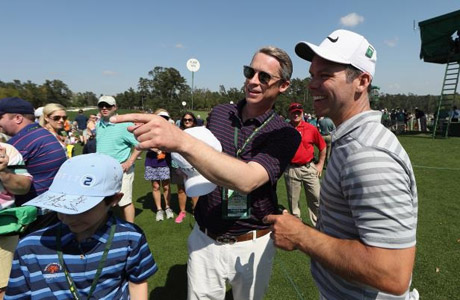 I've never been one to plead for autographs. Even as a kid. But many love the interaction with their heroes. And I'm good with it as long as its for kids and not some "adult" oaf looking to sell them on the open market.
But the PGA Tour has a different take especially for its marquee Players Championship–one that some players have tuned a deaf ear to. GolfChannel's Rex Hoggard describes the subtle battle between Tour and players.
A teenager waited along the ropes circling the ninth green at TPC Sawgrass on Tuesday, less than 10 yards from a sign that read, "No on-course autographs" and "Please use autograph areas."
As Jason Dufner walked off the ninth green, he stopped to sign the young fan's flag. It happens every week on the PGA Tour, but at The Players, Dufner's gesture defied the circuit's policy of not allowing autographs during practice rounds.
"I still sign for kids on the course. I'll flout the policy," Paul Casey said. "How are you going to walk by a kid holding a flag? You're not going to do that."
Most players agree with Casey and Dufner with respect to the policy, which began in 2014 and was reinforced last week when Tour members were sent a reminder.
"At The Players on-course autographs during the practice rounds are PROHIBITED. We ask that you instead spend some time in the designated autograph zones at the entrance to the range and near scoring before or after your daily preparation," the reminder read.
"It was designed to allow our players to properly prepare themselves for the tournament," Pazder said. "Practice is distraction-free. I remember two players telling me that to go from 16th green to 17th tee, it took them 20 minutes because of all the autograph request."
That said, Pazder did concede faster practice rounds may be an ancillary benefit. Although he said there's no evidence that the policy has sped up play, the rounds do seem to be moving at a better pace, at least based on anecdotal evidence.
Although most agree with anything that will speed up play, banning autographs during practice rounds does nothing to help the pace on Thursday and Fridays, when rounds last week at the Wells Fargo Championship drifted well past the five-hour mark.
"It's awful," said Casey of the pace of play during tournament rounds. "No autographs on Thursday and Friday and pace of play is terrible, isn't it?"