BMW 540i – An Icon Re-Perfected

With most car brands, there's usually a sweet-spot vehicle residing in its fleet. Not necessarily the biggest seller or most outrageous halo car, but one that possesses the required attributes to fulfill a majority of customer wishes. For BMW, I gaze toward the incomparable 2017 5-Series. It's not the brand's sleekest, fastest, sexiest or most fuel-efficient. Yet to me, the 5-Series delivers the best of all worlds. It's handsome, comfy, luxurious, powerful, tech-laden and possesses enough cargo space to swallow several large luggage bags. In essence, it's a smaller version of the flagship 7-Series with nearly all the luxury accessories at a lower price. Quite simply, it's the Goldilocks-like ride that checks the most sports sedan boxes when deciding on your next purchase. It motivated me to volunteer going on any errand. It's that good.
SKIN
The latest 5-Series design brings subtle tweaks yet possesses that same iconic appearance. Think of it as a classically tailored suit that wears extremely well. The lines are cleaner including a new lateral crease in the lower beltline. Nothing looks out of whack. The tester's Mediterranean Blue Metallic paint is superb and just different enough from the usual White/Silver/Black trifecta. New BMW adaptive LED headlights, taillights and polished dual exhausts complete the pleasing overall silhouette. It brings a satisfying smile to your mug each time you stop and admire. And the 19-inch alloy wheels fit perfectly to complete the attractive ensemble.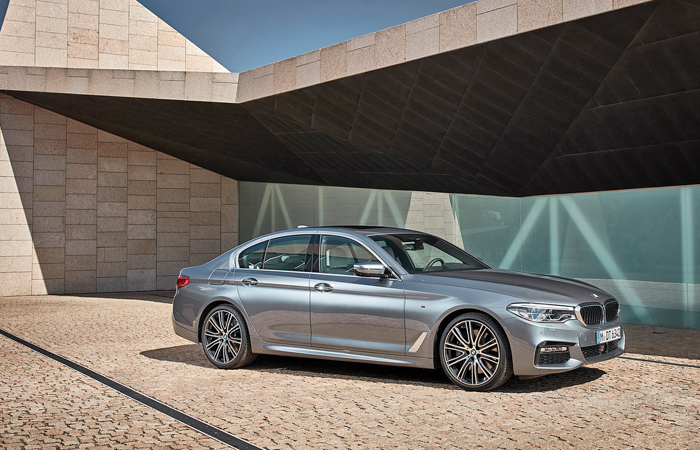 PERFORMANCE
BMW continues to deliver an exquisite driving experience. The 540i's TwinPower Turbo in-line six 335-horsepower/332 lb.-ft. of torque delivers effortless oomph when needed (0-60 in 4.9 seconds) while also cruising like an upscale sedan should. The responsive 8-speed auto gearbox shifts seamlessly. Better pay some attention to the speedometer, as 90 mph feels nothing like 90 mph when barreling down the highway. Handling is near perfect with BMW's legendary 50/50 balanced weight and 137lb lighter chassis due to generous helpings of aluminum and magnesium materials. Choose either rear-wheel drive or the optional BWM xDrive all-wheel format. I always lean toward AWD even in the Sunbelt because it's so worthy when the climate dictates additional secure traction. Braking is extremely capable and smooth. Sport mode is what I loved the most. It's plenty responsive without jarring passengers or roughing out the ride. The suspension change isn't noticeable but the gearing kick-points deliver lovely higher-rev input. However, I would suggest a more emotionally pleasing exhaust note when in Sport modes. On and off ramps are pleasures to dive into with nary lean. The once harsh Run Flat tires are toned down so your bones don't rattle over bumpy roads. Gas mileage is a commendable 20/30 and I squeezed 24 mpg overall while pushing it hard (hey, who wouldn't?) with premium fuel.
CABIN
Fully aware of increased competition, BMW acknowledges American luxury car buyers also demand creature comforts by refining the interior's display controls and luxury notes. The cabin layout is clean, roomy, easy to navigate and library quiet. Everything is in its rightful place. Bravo! The 16-way power adjusted seats are some of the best in the biz when grading support and comfort. The soft and supple leather provides all the support (back, thigh and side bolstering) one desires, feeling like a warm loving hug. There's plenty of legroom for backseat passengers. The gearshift feels perfect in your palm. Auto high beams are terrific on dark roads. My tester had attractive wood trim, but I think the optional real aluminum trim better matches the overall scheme. One cool option is the soft-closing doors – no slamming necessary (but you'll have to remind the kiddies). I'm a big sunroof fan. This one is large and quiet. So much that even a Bluetooth conversation isn't blown away. The optional heated M Sport steering wheel is thick and sublime, complete with handy controls at your fingertips. All controls are driver-bias and easy to access via the iDrive control knob with its lovely tactile feedback. The instrumentation is clear, as is the handy optional Heads Up display.  There's ample storage for your knickknacks and the trunk is a cavernous 18.7 cu-ft. of cargo space for your clubs (the 40/20/40 split folding rear seats are an added bonus). Ask about the custom rubber floor mats that look fantastic while saving your carpet.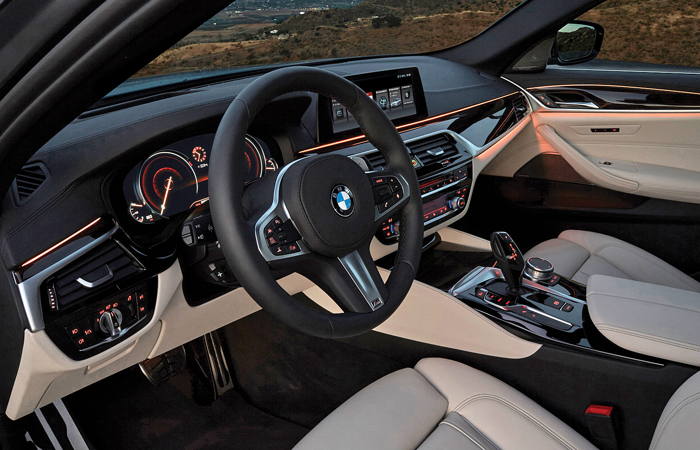 TECH CHECK
BMW offers some of the best displays I've seen. The fonts are perfect and easy to read even with aging peepers. An updated 10.3-inch infotainment display now doubles as a touchscreen. It's pleasing to the eye and simple to navigate through various radio formats and audio inputs. You can wow your passengers by twirling a finger at the screen (borrowed from the 7-Series) to change the audio volume but it's an option that I didn't use on a regular basis. Stream mp3 files and utilize various apps like Pandora and Spotify. Wi-Fi hotspot, Apple CarPlay and Android Auto integration are new additions plus mobile inductive phone charging. Options include premium 600watt Harman/Kardon Surround Sound audio ($875), Driver Assistance ($950) and M-Sport ($2,600). And, don't overlook the covered regularly scheduled maintenance for three years/36,000 miles. Yes, the 2017 BMW 540i checks all the boxes for those looking for a delicious combo of luxurious cruising, state-of-the-art tech and superlative performance. It symbolizes the sweet spot when looking at a classic Ultimate Driving Machine. Put this on your short list when contemplating the next sports sedan purchase.
SCORECARD
Golf bags: At least two with rear seats folded down
Curb appeal: Lovely mix of luxury, performance and prestige
0-60: 4.9 sec
Mileage: 20/30. Observed 24 overall
Must-haves: Driver Assistance, Cold Weather and M Sport packages
Warranty and Maintenance: 4yr/50K mile warranty & 3/36K scheduled maintenance
Base price: $56,450
Price as tested: $66,560
Who buys it? Those desiring a near flawless sports sedan
Finish line: Another winning BMW inside and out