Cadillac CT6 Platinum — King of Luxury

So, you've had a tough day at the office; but upon leaving the grind, you gaze at the magnificent car in the lot on a wintery day. The headlights and door handles brighten to welcome you. You slide into the heated and exquisite massaging leather seat, turn on the heated steering wheel and the studio quality 34-speaker audio system, press the gas pedal and leave the mayhem behind. This is the sumptuous luxury that awaits you in Cadillac's new 2017 CT6 Platinum AWD 3.0 TT flagship.
The CT6 casts a formidable shot at the competing big dog imports with a gratifying combination of beauty, class and extraordinary technology. It looks cool in the driveway, and the neighbors will beg to play with the delicious gadgets. It's yet another signal Cadillac is firmly targeting a younger consumer without scaring away the AARP buyers. Bravo!
SKIN
The CT6 is a large, stately car, but the streamlined silhouette gives it a beautifully balanced sporty stance. Goodbye land yacht snickers. The Platinum Package tester's Red Passion Tintcoat is gorgeous combined with attractive 20-inch Manoogian Silver and chrome insert rims. The front includes Cadillac's signature vertical bladed LED headlights. It's softer and less angular, while still possessing a bold attitude.
A substantial but tidy rear includes quad chrome exhausts and holds a cavernous trunk. Chrome accents and detailing are tasteful, down to those illuminating door handles and kickplates. It draws admiring smiles from any angle. The hood does disappear from the driver's view, but on-board sensors/cameras alert you when drawing close to obstacles. And yes, the kids think it's pretty darn cool.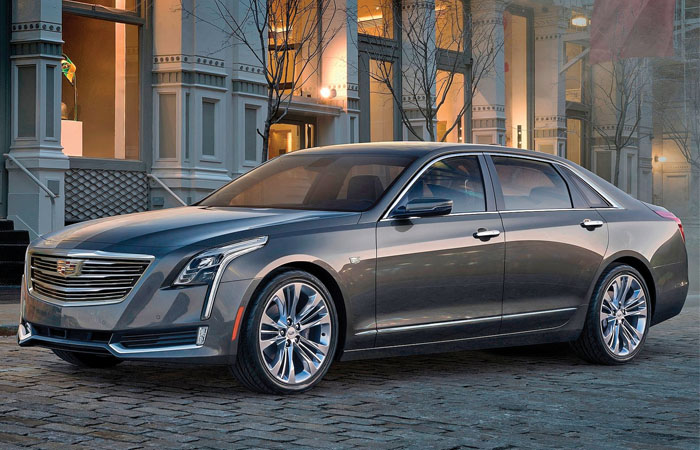 PERFORMANCE
While the base comes with a peppy 2.0 Liter engine, the Platinum edition brings a powerful 404 hp/400 lb. ft. torque twin turbo V6 that's stout enough for most buyers in this category (0-60 in 5.3 sec). It's thoroughly enjoyable in Sport Mode with enhanced steering and higher-rev shifts. The 8-speed transmission shifts effortlessly, and the usually annoying Auto Stop feature can, thankfully, be turned off. On demand All-Wheel Drive and a wider track delivers good handling and cruising capability given its lighter aluminum frame. Excellent braking is reassuring.
The thick leather-wrapped (and heated) steering wheel feels just right, and the paddle shifters are quite responsive. Gas mileage is surprisingly decent – I observed 22.5 mpg overall (rated 18/26). You'll appreciate the gas plunger design requiring no gas cap too.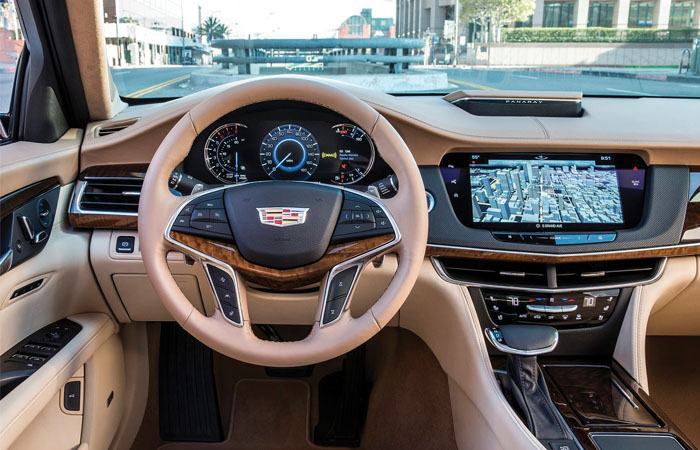 CABIN
The Jet Black interior is sumptuous, surrounding you in tasteful contrasting hand-stitched leather and Alcantra suede headliners. The fit and finish are outstanding. The dash instrumentation panel is well laid out and bright. Heated/cooled/massaging Semi-Aniline leather front seats are comfortable and supportive and include 20-way adjustments, including a uniquely adjustable top half. Remote Start readies the cabin for your arrival. A double-panoramic Ultra-View roof gives the cabin a beautiful airy feel.
The center console houses an improved and simpler CUE infotainment center, with fewer bothersome buttons. The tester included Backup and Surround Camera, keyless remote start, quad-zone climate control and adaptive high-intensity LED headlights. Safety measures include Ample Blind Spot warnings, multiple camera views and a handy full-color Head-Up display, complete with speed limit signs in the windshield. It's a welcome addictive option to keep your eyes on the road. Pedestrian Detection expertly alerted me before I could see runners or walkers at night. Adaptive Cruise Control will automatically keep you at a safe distance without touching the brake.
Back seat room is vast; they recline and are heated/massaging as well. Rear-Seat Infotainment includes rising 10-inch diagonal HD screens that retract into the front seatback to give passengers that near-limo feel. The trunk space is an ample 15.3 cubic feet, and multiple golf bags are easily stored. However, the rear seats do not fold down for additional trunk space.
A notable addition is the new high-definition Rear Camera Mirror utilizing lenses above the license plate. It's awesome by allowing up to a 300 percent wider view than merely peeking out the rear window. I was immediately smitten.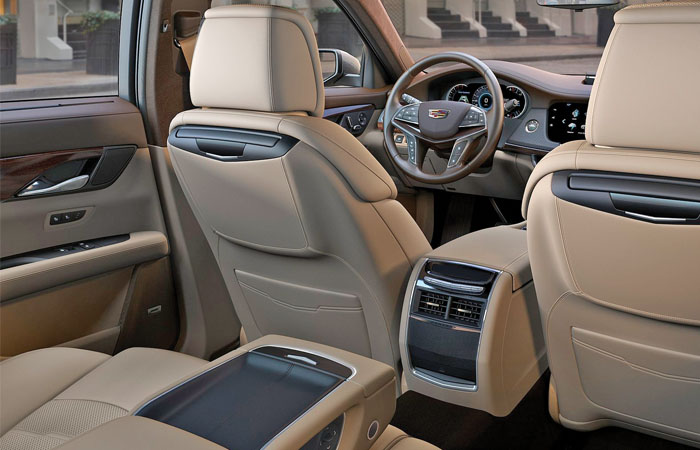 TECH CHECK
There's no shortage of stupendous technology. The updated 10.2-inch CUE touch screen is large, beautifully deep blue hued and easy to work. It mimics hand motions like an iPad as you can move icons, shrink or enlarge the data and display up to 60 (yes 60!) preset radio/XM satellite stations and phone numbers. It includes 3-D Navigation maps, Doppler radar and the Natural Voice Activated prompts work instantaneously to any voice.
The CUE will even read aloud your text messages. It also delivers 4G/LTE Wi-Fi service via an OnStar subscription. You'll appreciate the terrific Apple CarPlay/Android Auto synching up your smart phone to display your home screen apps. There's a handy slot underneath the center console lid to wirelessly charge your phone. Even the vent power noise is lowered when receiving a call.
Under the CUE screen are touch-activated sensors you control by gliding a finger across volume and fan bars. It's a cool concept, but I do miss the volume and station knobs. There's also a new track pad in the console to navigate as well, although I normally just touched the screen. You can Bluetooth up to 10 devices.
The epic, 34-speaker Bose Panaray Sound System is excellent, and features four programmable and distinct cabin sound settings. It's crystal clear and delivers near perfect audio acoustics.
The 2017 Cadillac CT6 Platinum 3.0 TT AWD is a sumptuous package of eye candy, comfort and abundant technology (including Cadillac's Premium Care Maintenance 3 years/36,000 miles). The base model at $53,495 is a worthy buy, while the fully loaded Platinum package ($89,758) checks all the wish list boxes for those who demand every available luxury and tech appointment. This is one flagship that'll provide miles of smiles while delivering you in style to any desired destination. Go USA!
Test-drive the 2017 Cadillac CT6 Platinum 3.0 TT AWD at Crest Cars in Frisco.
SCORECARD
Golf bags: At least 2
Curb appeal: Gorgeous upscale sedan at home in any country club parking lot
0-60: 5.3 seconds
Gas mileage: 18/26. Observed 22.5 overall.
Must-haves: Enhanced night vision, Head Up display, massaging seats
Warranty & Free Maintenance:
48 mo/50,000 miles warranty; 3/36K maintenance.
Base price: $53,495
Price as tested: $89,758
Who buys it? Luxury owners addicted to high tech creature comfort
Finish line: An amazing patriotic package of style, performance, and luxury