Cedar Crest — Polishing a Dallas Gem

For a course that has been a community mainstay for nearly a century, Cedar Crest Golf Course is looking better than ever. Located in the heart of South Dallas, Cedar Crest is part of the lifeblood of the city's golfing community, but its facilities had fallen behind the times. Things are on the upswing now, however, as the course's recent renovation celebrates its role in Dallas' rich golf history while welcoming newcomers and old friends alike.
Cedar Crest Golf Course is a living narrative of Dallas' golf history. The course was designed in 1916 by championed architect A.W. Tillinghast, sculptor of championship courses like Baltulsrol Golf Club, Bethpage State Park, Brackenridge Park in San Antonio and many others. This catapulted Cedar Crest into the spotlight, eventually hosting the 1927 PGA Championship and legends such as Byron Nelson and Walter Hagen.
After weathering the financial hardship following the Great Depression, Cedar Crest, originally a private country club, was sold to the City of Dallas Parks and Recreation in 1946, and was expanded in 1949. Since that time, Cedar Crest has hosted many events, including the 1954 United Golf Associated Open and USGA Public Links Tournament. Efforts to revive Cedar Crest to its glory days include a $2 million renovation to the two-story clubhouse in 2001, and the addition of a practice area and small on-course lake by D.A. Weibring and his design firm Golf Resources Group, Inc.
So where does that leave Cedar Crest today? After putting almost $1 million into another stunning renovation last fall, Cedar Crest is still a glittering gem in Dallas' crown of golf course jewels. The new irrigation system is keeping the fairways wet when they need to be and dry when they don't. MiniVerde greens have replaced their previous Bermuda grass surfaces. Thirty-four bunkers have been reshaped throughout the 18 holes and the clubhouse's pro shop and grill areas received a nice face-lift as well. If you haven't seen Cedar Crest in lately, you're really missing out.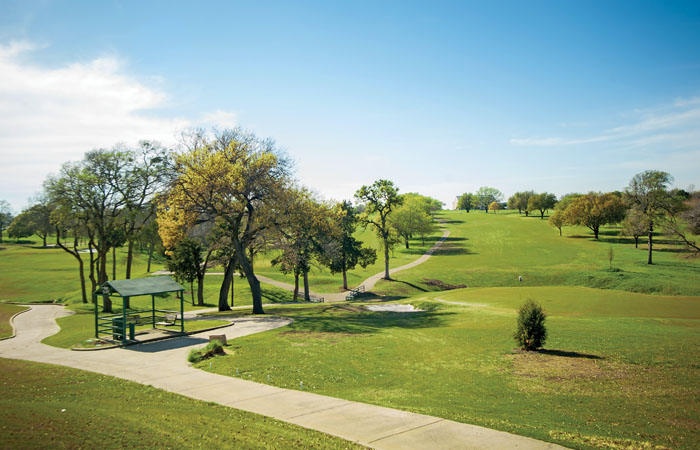 My favorite piece of the most recent renovation has to be the MiniVerde greens. Every hole I came across had an incredible putting surface that lacked any discoloration, lumps, bumps or bruises. It was like putting on crushed velvet. Hats off to the hardworking grounds and maintenance crew for keeping the greens pristine after opening for play in September.
Lucky for you and unlucky for me, I happened to become a connoisseur of the 34 reshaped bunkers throughout my time on the course. Although their nice sharp edging and glittering white sand give each hole a picturesque view, their placement on each hole can be downright maddening. Their level of discomfort ranges from mildly distracting (see: No. 8 fairway bunker) to deviously daunting (No. 7).
Hole No. 7 is a great example of the sneaky ways the course design can trip up your game. This 552-yard par 5 starts with tee boxes in a slight valley that faces the gradually ascending fairway. Newcomers to Cedar Crest may need some insider's advice on where to aim their tee shot, but the hole eventually plateaus out into a flat straightaway with some wiggle room on the left side. Not too bad. However, no matter if you have a 120-yard approach shot or a short 30-yard pitch, a large looming bunker stretches across the majority of the front side of the green. Your chances of scoring well if you end up short of the green are slim to none. On top of that, Cedar Crest Road hems you in on the right side and behind the hole, and there are a few small rippling swales on the left. There are no safety nets or safe misses here.
There are also some sly water hazards that will punish both the wildly errant shot and the slight miss, depending on the hole. The majority of the water is well visible and well-marked. However, there's a couple of small drainage creeks that slither through trees on a few holes, creating a red-staked hazard deep in the tree line. Yes, on some holes (like between No. 1 and No. 18) you'd have to really slice it on either hole to find yourself in that predicament, but imagine hitting a penalty shot while buried in branches? I'll stick to my sand traps.
Another favorite aspect of mine is the proximity (and view) of Downtown Dallas. It's only a few minutes from the heart of downtown, so for golfers who need a lunchbreak escape or an emergency nine after work, you can't beat Cedar Crest's location. In a few spots on the back nine, you can even see the Dallas skyline etched into the distance.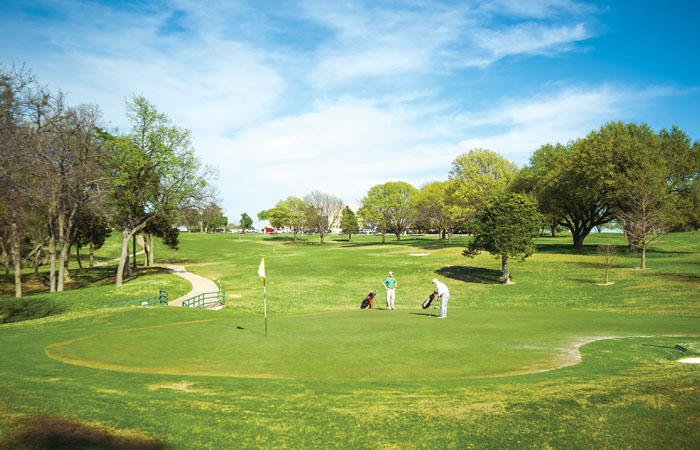 Cedar Crest still features the beautiful parkland terrain that was envisioned in the original design almost 100 years ago. The clubhouse sits at the highest point, with each hole gradually ascending or falling, depending on the direction it plays. The course features a nice collection of young trees that support an open feel (you can often see across the hole to other fairways), but the subtle hills and valleys enclose some corners of the course for a secluded woodland experience.
All of these treasures at Cedar Crest come with an incredible sticker price as well; you can play during prime weekend hours for under $50. If you want to take advantage of Daylight Savings Time and play later in the day, their dynamic pricing model puts a late tee time on a Sunday afternoon (with a cart) at a grand total of $20.50.
If the rich history and course conditions don't reel you in to Cedar Crest, the people sure will. Everyone from the pro shop staff to the grounds crew and even fellow customers exhibit exemplary hospitality. One morning I played, I arrived on the back nine before the mowing crew was finished with their work. Not only did they let me play through, but they thanked me for coming out and sent one worker to make sure they had put all the pins back for me on the holes they had already completed.
Another afternoon, a gentleman I joined up with, told me he had spent his entire life in Dallas and grew up playing Cedar Crest. He echoed others in sharing the long-established history for a Texas transplant like myself. He was so excited to share Cedar Crest's story, and offered an expert's advice on approaching all of the sneaky twists lurking ahead.
It's a great testament to the environment at Cedar Crest that people from all walks of life still make a habit of playing there, even over the course of multiple decades. It doesn't matter if you're a seasoned veteran or a newcomer to South Dallas, but I wouldn't wait much longer to see the newly polished gem that lies at Cedar Crest.
Cedar Crest Golf Course
Address: 1800 Southerland Ave.
Dallas, TX 75203
Phone: 214-670-7615
Website: www.golfcedarcrest.com
Designers: A.W. Tillinghast; Renovated by D.A. Weibring/Golf Resources Group Inc.
Year Opened: 1919
Par/Yardage: 71/6,701 yards (Black tees); 6,150 yards (Gold tees); 5687 yard (Gray tees); 4,946 yards (Ruby tees)
Fairways: Bermuda
Greens: MiniVerde
Rates: Monday-Thursday: $39 Riding/$24 Walking. Friday-Sunday: $43 Riding/$28 Walking. Both rates are for prime morning hours.
Toughest Hole: No. 11, 226-yard par 3 — This par 3 doesn't give you a whole lot of room for error. The 226-yard hole plays only a smidge uphill, but has the out-of-bounds line (read: somewhat busy neighborhood street and homes) running alongside the left and a large trap nestled into the right side of the green. You've got to be pretty spot on off the tee, or your score can skyrocket pretty quickly.
Favorite Hole: No. 2, 362-yard par 4 – This short par 4 (362 yards from the Black tees; 283 yards from the Ruby tees) is a great confidence booster to start off the round. The hole plays gradually uphill with a slight dogleg-to-the-right layout. A good drive should put you in a great position to wedge into the green for an easy par. Or, sometimes you save par from the under the trees on the right side because your second shot bounced off a greenside tree and landed 15 feet from the pin. Either way, this hole always gave me a spring in my step heading to No. 3.
Most Intriguing Hole: No. 9, 180-yard par 3 – I don't think I have ever played a course where the ninth hole was a par 3. A large tree and sand trap guarding the right side of the green are the only hindrances on this 180-yard hole, but mentally finishing a nine on this quick blip is interesting (or intriguing). It keeps the round moving fluidly from one set of nine to the next; there's not a nice neat bow on each side here. If you've got a good momentum going, No. 9 will keep it rolling onto the back for you.