Course Review – Squaw Creek Golf Course

West Fort Worth and surrounding areas have seen an influx of people over the last decade. As many move westward for quieter surroundings and a slower, country style of living, this area is booming with activity. From the Friday night lights of high-level high school football to the rolling vistas and acreage-driven homesteads, places like Weatherford, Peaster, Aledo and Willow Park have seen an influx of not only new property owners, but also new businesses and recreational activities. 
Located in Willow Park, Squaw Creek Golf Course was originally built in 1969 on land donated by the General Dynamics Recreational Association. Back then, the course was constructed with a budget of just over $1 million by architect Ralph Plummer. Plummer spent most of his life in the Fort Worth area and learned to play the game at Glen Garden Country Club. If Glen Garden sounds familiar, that's because this was the same Fort Worth course where both Ben Hogan and Byron Nelson cut their teeth as caddies in their youth. Plummer began his course design career in 1927 and is responsible for notable courses like Preston Trail Golf Club, Midland Country Club, and several municipal courses in DFW, like Lake Arlington Golf Course and Rockwood Park Golf Course.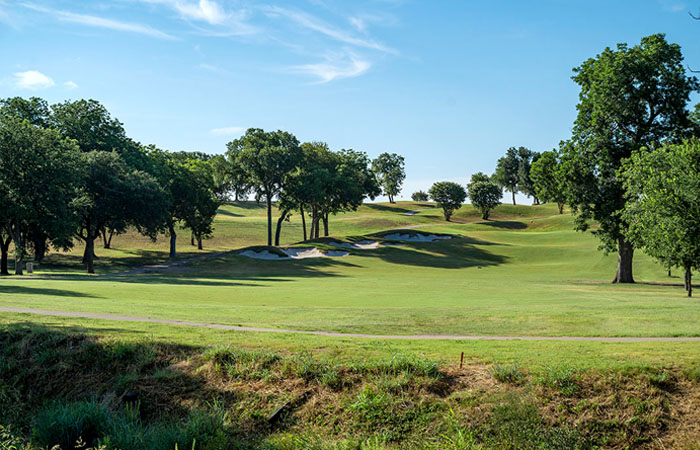 Squaw Creek was reinvented in by architect John Colligan beginning in 2016, and the final product not only breathed life into this property, but now offers players an architectural delight with plenty of rolling elevation changes, dynamic bunkering, and some intriguing risk vs. reward holes. Playing just under 7,000 yards from the tips, and a more manageable 4,800 from the forward tees, the renovation was an overwhelming success. Now, several years removed from that update, Squaw Creek is steamrolling along with plenty of public play on this delightful layout. Additional work has been done, and will continue to improve drainage and irrigation, so the occasional spring downpour or summer dry season doesn't take as much of a toll on course conditions. 
One thing to note on each tee that is very unique to Squaw Creek are the red, white and blue flags on each tee box marker. Unlike many courses that use these color flags on the greens to represent pin position, here, they are on the tees. So, be sure to look before you tee off to know where the pin will be located once you get into the fairway. 
The opening tee shot at Squaw Creek is a beautiful downhill hard dogleg right, with a pair of fairway bunkers on the far side of the fairway that can collect shots that run long through the dogleg. A 3-metal or hybrid might be the play for longer players, as this leaves a much better angle to attack this par 5. The green works from front right to back left, meaning a back pin could add a club to the approach if you should choose to lay up your second shot. It's a fun opener, and a great opportunity to begin the round under par. 
No. 2 is a precision iron shot off the tee, as it sweeps left over a creek. Players who choose to play the tips might be able to hit a 3-wood off the tee to get as close to the creek as possible, but those playing the blue or member tees can play for position. A large hill on the right can kick tee shots back toward the fairway, which is consistent with other John Colligan renovations. A wedge or short iron should be all that remains to continue to ease into the round.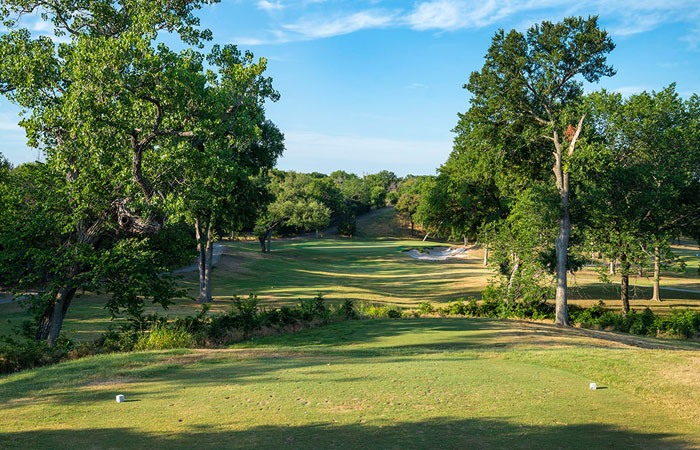 After three consecutive par 4s, comes the first par 3 of the round, which plays just 167 yards from the tips. There isn't a lot to decipher with this one, but there is a large hill on the left with tall, wispy grass that will gobble up errant iron shots in that direction. A kidney-shaped green and a bunker back right makes club selection paramount here. 
No. 7 is one of my favorite holes on the outward nine. The tee shot is essentially blind, cresting a small hill and then proceeding down to a bowling alley-wide fairway. The good news? There are again small hills on either side of the landing area, which feeds slight misses back to the center of the fairway. From there, only a short iron should remain, over water and a square-shaped green with a pair of slanted bunkers behind. Long and short of this green can be big trouble, so a precise iron is necessary. 
The eighth is another fantastic par 3. A muscular 210 yards from the black tees, depending on pin position, this yardage can vary close to four clubs. This might be one of the largest par-3 greens on any public course in DFW. Catch one a little thin off the tee when the pin is in the front, and you might have some 80-90 feet to navigate with the flatstick. Hit it a little chunky with the hole cut in the back, and you will be faced with a similar difficult two-putt. A bunker short and right of the green also lies in wait, so avoid that for optimal chance at par. It's a tough challenge, both off the tee and on the putting surface. 
After another uphill par 4, players head to the back nine. No. 10 is another great elevated tee shot that gives way to the fairway below. The view here shows off the whole property, so be sure to take a second to look around, especially off to the left and see what you are in for on the inward nine. A driver could be the play for those who aren't as long off the tee, but those who generate some clubhead speed will likely need just a 3-wood or hybrid to avoid running though the fairway into water. From position "A," just a short iron remains to an undulating green. Be aware of the tiers here and try to find the right portion of the putting surface for your best chance at birdie.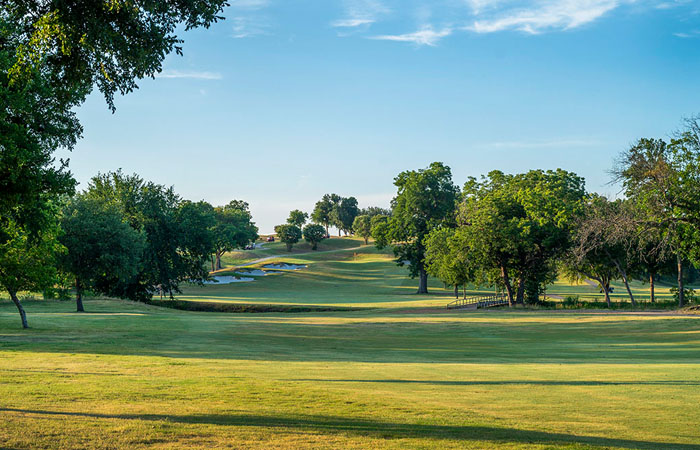 The short par-4 11th hole is fairly simple to dissect, but the longer par-4 12th can be a little more challenging. A large reservoir to the right of the fairway makes this a tough tee shot for those who tend to lose the driver right. Missing left is no bargain, as several trees can make any attempt at reaching this 449-yarder tough. The run-up to the green pinches in with trees on the right and a long oak guarding the left side. This hole requires not only length, but precision. For those reasons, it is ranked as the No. 4 handicap on this layout. 
No. 13 is the first of two brilliant par 3s on the back nine at Squaw Creek. This lengthy hole plays a heart-pounding 234 yards from the tips, making this the longest par 3 players face on the property. A reservoir creek that runs down the right swerves out to protect the front right portion of the green and can be tough to carry for those who aren't crisp with longer irons. So a more conservative play to the left side of the green might be appropriate. Bunkers also protect the right front of the putting surface, making this conservative play even more enticing. This is a great par 3 where par is definitely your friend. 
After two more par 4s, players are treated to a great trio of finishing holes on this Colligan design. To be honest, I have never been a huge fan of par 5s that take driver out of players' hands, and No. 16 is one of those designs. But, despite a whimsical design, this is a fun hole to play. A 3-metal or hybrid short of the creek is a solid play for longer hitters, but favoring the left center of the fairway is optimal for the best layup angle. Another long-iron layup followed by a wedge is the best course of action here to secure a possible easy par or better. 
No. 17 is one final fabulous par-3 test for your round. There are several tee boxes that offer a straightforward approach to this green, which is a full carry over water. Those tees range from 165-ish, to just about 130 from the gold (forward) tees. However, for tournament play and for those wanting to stretch this hole to the max, there is a back tee that can play a whopping 231 and offers even more carry over the water. Hold on tight if you choose the back tees, as this can be a hole to make or break your round. 
The ultimate hole at Squaw Creek is another par 5, with water crossing the fairway about 280 yards from the tips. Driver is a fine play here for those who don't have PGA TOUR-type firepower. Find the fairway and players will be faced with an uphill second shot of about 245 yards. Getting to the green is possible, but a well-placed iron second shot can leave a wedge or short iron for more precision. The main trouble here is a trio of well-placed bunkers on the left side of the lay-up zone, which, if found, can lead to a very awkward distance bunker shot. It's a truly gorgeous finishing hole, with dramatic bunkering that frames the hole wonderfully, offering challenge and a gorgeous end to the round.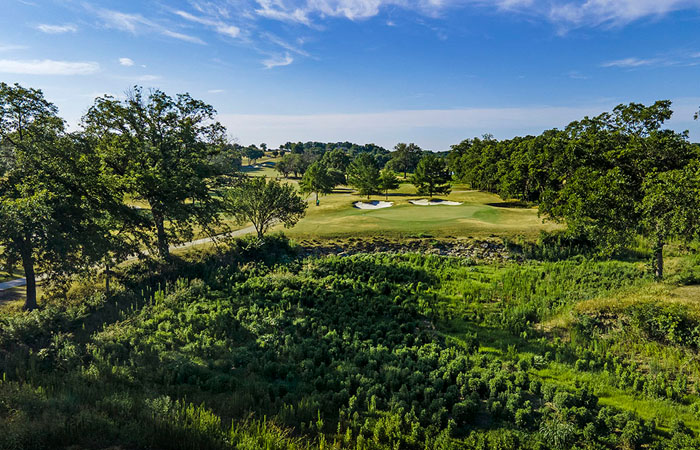 While navigating No. 18, be sure to find the large tree on the right side of the fairway about 100 yards short of the putting surface and check out the signs affixed to it that represent major flood levels from the last few decades. It's not a particularly uplifting course feature, but one that offers a stern reminder of Mother Nature's power.
Course conditions at Squaw Creek are solid, especially for the brutal heat of the summer months. A few tee boxes were a little firm, and you will definitely get some extra roll in the fairways, but the greens are in fantastic shape for this time of year. And, at their current price point, this layout and putting surfaces make it a no-brainer for those looking for a dynamic design on a budget. The character of the routing is plenty worth the trip to the Westoplex, and the par 3s on the course are some of the best you will find at any public layout, especially the two on the inward nine. Overall, this property is perfect for that round that won't break the bank, but still offers solid course conditions and plenty of fun and challenging holes. If you are looking for a great track at a great rate, then look no further than Squaw Creek in Willow Park.