Course Review – Tangle Ridge Golf Club

Grand Prairie's Tangle Ridge Golf Club has been a staple for those in the southern part of DFW since it first opened back in 1995. Architect Jeff Brauer used some of the best topography in the Metroplex to create a layout that is few and far between in North Texas.
It's no secret that there isn't a great amount of elevation change in the area, and short of Dallas National (which you are unlikely to ever step foot on), it's hard to find holes with significant rolling terrain. So, if you're getting a bit burned out on the same old flat, tree-lined fairways with not much personality, then I suggest you head to Tangle Ridge.
As you make the drive, you can see that the terrain is unlike many areas you will find in DFW. The property is right on the Grand Prairie/Cedar Hill line at the base of the radio towers. Those towers are there because it is one of the highest points in DFW.
Tangle Ridge has always been toward the top of our list when it comes to customer service. You will always be greeted with a smile both in the clubhouse and in the restaurant and bar area. The clubhouse is beginning to show a little age, but some sprucing up is expected in the coming months with some new carpet and paint.
The property features a putting green and good size driving range, perfect for getting a little practice in or warming up pre-round. It's not the best practice area in DFW, but it certainly checks the boxes for hitting some balls after work or loosening up before you play.
The real highlights at Tangle Ridge are the well-routed holes. Through 18 of them, there really isn't a clunker in the bunch, with plenty of challenges for the beginner or the expert player. The aforementioned elevation changes are what truly set this course apart from any other public course in the area.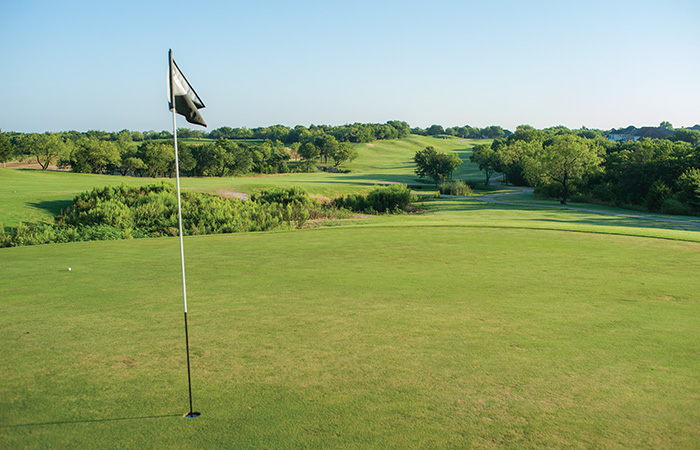 Right off the bat you get an example of that as the first hole plays a good bit downhill from tee to green. You get a similar tee shot on No. 2, which is a dogleg right where a tee shot seems to stay in the air forever as is descends to the fairway below.
After a short par-4 and the first par-3 on the course at No's 3 and 4, players reach the first par-5 of the round. A long dogleg right with a significant left-to-right sloped fairway, a good tee shot should run down to the right leaving a legitimate shot at reaching the green in two. Shorter players can always choose to lay up and leave nothing more than a wedge approach.
After a short climb up a hill to the right, players reach the tee box at No. 6. In my opinion, this is one of the best holes on the course. Again, this hole really showcases what a unique piece of property we're talking about here. This short par-4 plays a good 60 feet downhill and features a minefield of large bunkers that really make you think. Long hitters can give the green a go as this hole plays just 313 yards. A well-executed tee shot gives player a great chance at birdie, but find one of the massive bunkers short, and the dreaded 30-yard bunker shot may await. It's a great hole that requires thought, accuracy and power.
No. 8 is another par-5 that will test even the best ball strikers. A creek crosses the fairway just over 300 yards away, so be wary if the hole is playing with a north wind. If the wind is out of the south, as it predominantly is in this area, then driver should be fine for everyone but the longest hitters. A second shot will need to be accurate, as the layup area narrows the closer you get to the putting surface. Once laid up, players will need to navigate a native grass and water filled disaster short of the green. Once aboard, this green can be very tricky, so a par is a great score on one of the toughest holes on this Brauer design.
If you happen to be one of those players that is ace-less in their career, then No. 9 at Tangle Ridge (depending on pin position) could be the one to help get you off the schneid. The 152-yard hole has a funky green that slopes significantly from back to front. There is a bowl on the front left that funnels everything to a pin in that spot. If you can play an iron behind the hole, it will usually catch the slope and have eyes for the bottom of the cup. There's still some luck involved, but that front left pin may be the best odds of an ace in all of DFW.
After back-to-back par-4's at No. 10 and No. 11 and a par-3 at No. 12, another of Tangle Ridge's great par-5's awaits. Another hole framed by large trees and a great downhill tee shot, this dogleg left is reachable in two if you can manage to cut the corner a bit. The second shot will play back uphill, but don't be afraid to miss a little long and left. It may look dead, but because it's blind, there is more room than meets the eye.
Usually I'm not a huge fan of holes that take driver out player's hands. Now let me preface this by saying that you CAN hit driver on the par-4 14th, but I have yet to really find a benefit of doing so. Shorter hitters can obviously evaluate what they want to do when they get to the tee, but personally I almost always hit a long iron or hybrid club off the tee at 14. I usually play a cut, so I can hit an iron that rides the sloped dogleg and it almost always only leaves me 8- or 9-iron in. However, if you do play it safe and favor the left side of the fairway, you run the risk of leaving a mid or even long-iron approach to a green that is guarded up front by a pond. I think it's one of Brauer's best holes at Tangle Ridge.
Consecutive par-4's followed by a picturesque par-3 17thlead to the final hole on this layout. Another par-5 leads player's back to the clubhouse. I've always been a fan of ending the round with a par-5, mainly because I feel like it's a great way to keep players coming back. Most amateurs, even if the foul up a shot on a par-5, can still find a way to scramble for a par or bogey. Whereas butchering a shot on a par-4 often can lead to a double and a sour taste in your mouth as you head to the car.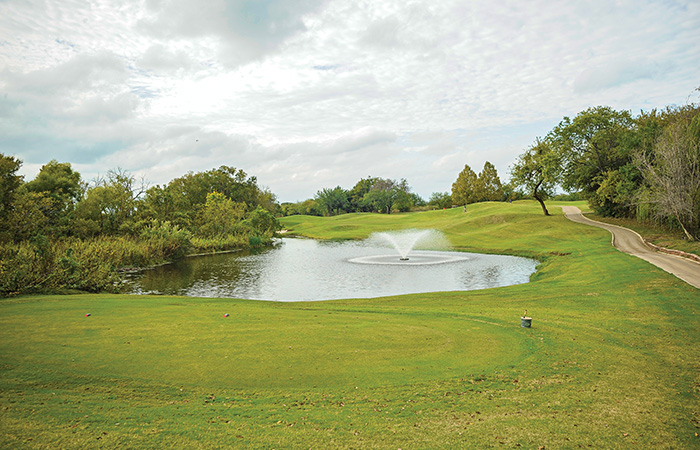 No. 18 features one of the toughest tee shots on the course, as players are presented with a massive water feature separating them from the fairway. The fairway is split by a bunker that plays at about 260 yards. If players choose the left side, the carry can be less than 200 yards across the water, making it a three-shot par-5 for sure. However, if you're bold, take the right fairway, which is about 240 to carry and there's a chance at getting home in two. Full disclosure, I usually just aim at the giant bunker in the middle and if I pull one, it's fine and if it cuts, even better. No. 18 is a great finish to the round and with a couple good shots you could even end up with a circle on the card to end the day.
In addition to updating the clubhouse, there are some additional plans in place to update the course. Bunkers are being renovated one hole at a time with completion expected sometime in 2020 depending on weather and manpower. In addition, walls are to be added on the par-3 ninth and 12thholes in an effort to prevent erosion and maintain the integrity of the architecture. That project is expected to be completed in the spring.
There is one other thing that I think bares mentioning at Tangle Ridge. It's something I always enjoy when I'm there in the summer months. It may not seem like much, but Tangle is one of the few public courses in the area that have scented ice towels in coolers around the course. During the summer, these couldn't be more clutch. Usually there are coolers at No. 6, No. 10, No. 16 and near the clubhouse as you finish. May not seem like a big deal, but it's just a small example of how they try to please the customer.
For a reasonable daily fee rate, Tangle Ridge offers great customer service, a great layout and elevation changes you can't find anywhere else in the Metroplex.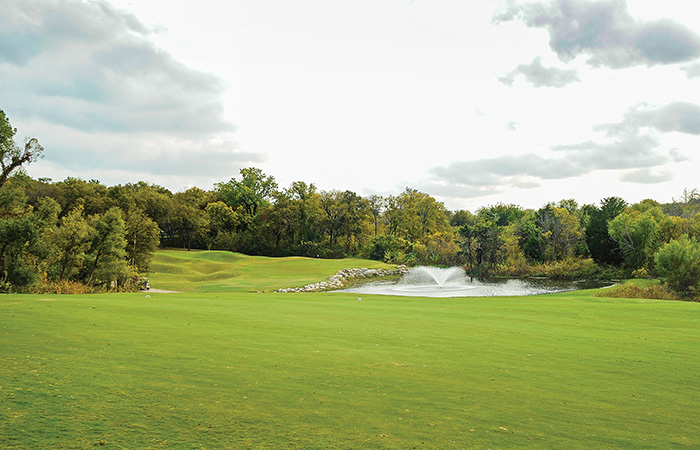 Our Favorite Hole
313 yard par-4 sixth hole
This par-4 really showcases the piece of property this course is built on. A downhill short par-4 gives player's the option to go for the green. However massive bunkering down either side can mean disaster if the tee ball isn't accurate.