Cover Story – College Days Revisited

To become a PGA TOUR player, you need talent, determination and self-minded focus to do nothing but eat, drink and sleep golf. Except in the fall, of course.
That's when the Tour players passion for the game they play for a living, takes a back seat – or at least an equal seat – to their passion for college football, especially for the school they attended or are loyal to.
While they express their passion in different ways, from Tiger Woods wearing his Stanford hat when he is off the course to the traditional Oklahoma State orange Hunter Mahan and Rickie Fowler wear every final-round Sunday, there is no question of divided sport loyalties every fall.
As AVIDGOLFER has discovered in recent interviews, the pride tour players have in their respective college programs extends well beyond just the golf team, and pros will do just about anything for a chance to see their favorite football teams in action, even if it truly mucks up their travel and playing plans. 
"I always joke that when I get the (TCU) Frogs football schedule I look at the PGA Tour fall schedule and make up my tournaments from there," said Fort Worth's J.J. Henry. "I try not to miss too many TCU games."
There are few bigger PGA Tour players that double as college football fans, especially for his beloved Horned Frogs, than multi-time PGA Tour winner Henry.
At least twice during his pro career, Henry has ducked out after his third round at a tournament to see the Frogs in person, but the first time at the 2009 Fry's Open – then played at Scottsdale Country Club – remains the most memorable. 
It was the first time the undefeated Frogs had made it to College Game Day on ESPN, and TCU was squaring off against an equally highly ranked BYU squad in Provo, Utah.
Henry quickly formulated the logics and made out his plan, remembering the details as closely as any of his Tour wins or Ryder Cup appearance.
"It was when we just started getting good under coach Patterson and I think our first College Game Day appearance," Henry said. "I thought there is no way I'm going to miss it with me being this close.
"As soon as I putted out on 18 on Saturday, I still had a few hours left on my private jet allowance, so I dashed over to the airport and jetted up to Provo. Coach Patterson got me on the sideline and we absolutely thrashed them.
"After the game, coach Patterson wanted me to speak to the team, but I wasn't ready for any Vince Lombardi type speeches. There were 80 players all screaming and celebrating and coach Patterson quiets everybody down to introduce me as a great Frogs fans who flew out here just to watch them kick some ass. They went nuts after that and I slipped out and made it back to Scottsdale at about 1 a.m. The next morning, I got up for my tee time and shot a 65. It was my lowest score of the week … I thought I should do that more often."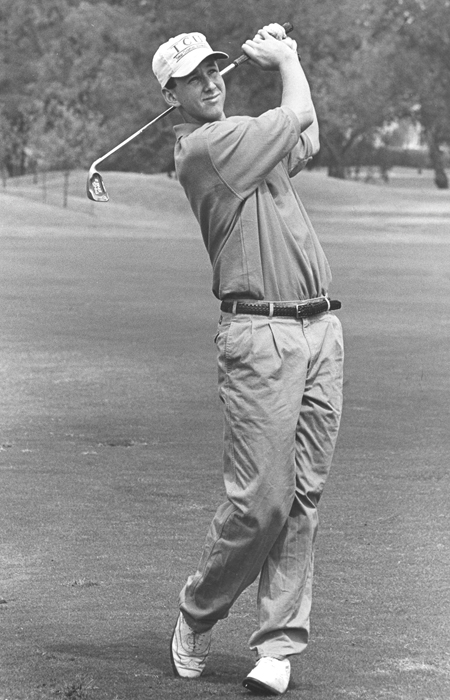 J.J. Henry – Texas Christian University 
That's exactly what he did a few years later, leaving a Mississippi fall series event after his third round ended, flying back to Fort Worth to see the Frogs play that night and then flying back the next morning to play in the final round.
"That's shows you how dedicated I am, but it's one of the perks of being able to play out here and still being involved with college football," Henry added.
Should Henry and the Frogs ever have the horror of playing at the same time, he says he can count on fans, a scorer or his caddy to keep him updated on the important football scores.
"Sometimes in the fall, the tournament scoreboard will have college scores posted as well," he said. "It's like forget who is leading the tournament, what are the important scores."
Other players are more subtle in their college allegiance. Justin Thomas carries an Alabama crimson red yardage book with him wherever he goes and makes it to at least one or two Crimson Tide games every fall.
"Who doesn't love a winner," Thomas said. "I love college football and love Alabama, so it's a great combination. I love to see them win, so it makes it a lot of fun."
Often it depends on how their team is doing on the football field corresponding to their level of interest. During the Texas Longhorns prolonged struggles following their last national championship appearance nearly a decade ago, Jordan Spieth once joked on the practice range, "I single-handedly made Texas a golf school when I was there."
Still, he has appeared at Texas-Oklahoma games at the Cotton Bowl in Dallas and has made the road trip to Austin to see his Longhorns play, including this year against LSU, as has Texas' World Golf Hall of Fame member Ben Crenshaw – who lives in Austin and doesn't miss many UT games.
"That's how we all grew up in Austin, watching from the bleachers, cheering the Horns and it was a great time with Coach Royal there," Crenshaw said. "The tennis coach at Texas gave me one of my first junior putters and I just carried that over that allegiance."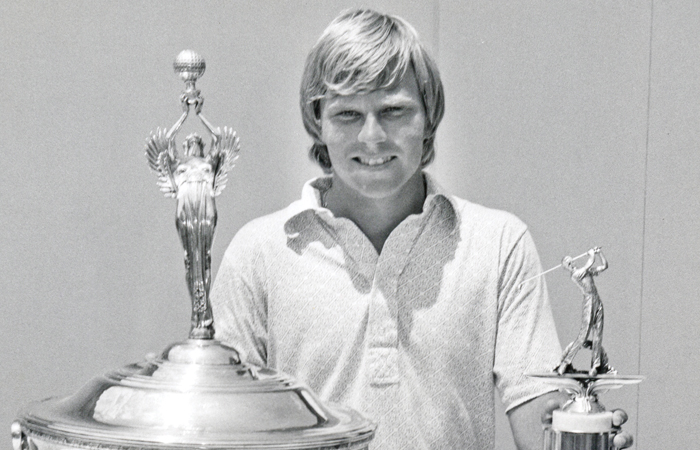 Ben Crenshaw – University of Texas
For Colleyville resident and diehard Texas A&M fan Ryan Palmer, Aggies second-year head coach Jimbo Fisher has renewed a sense of football optimism, helping him in tour locker rooms.
"At least I have a leg to stand on with the other players during football season," he said. "Jordan and I pick on each other a lot and there are plenty of side wagers among players during the fall."
Palmer tries to always make it to the A&M-Arkansas game at AT&T Stadium in Arlington each year in conjunction with a charity event he does and is trying to make it to road games at Clemson and Georgia this fall.
"I played a lot of golf with (former head coach) Kevin Sumlin and know (former head coach) R.C. Slocum really well, so I have a pretty good connection there," Palmer said. "I don't have season tickets, but I have a lot of friends there and that's just as good."
One two occasions Palmer has looked into Saturday flights to see the Aggies play while competing in a tournament, including potentially their historic win over Alabama on road, but couldn't make the logistics work.
But even if he isn't there in person, you can count on him being updated on the latest scores. Translation: don't count on Palmer looking at his yardage book during the fall season, he more than likely is looking at his phone to check the latest Aggie or Dallas Cowboys update.
"Between holes, walking down the fairway, you have to get updated. The same is true for Cowboy games as well." Palmer noted that Georgia players, such as Bubba Watson and Kevin Kisner, are some of the biggest promoters of their school, which adds to the fun conversation in the locker room and driving range.
"Man, those Georgia guys love to chirp, that's why I want to go to the game this year at Georgia to see them play," Palmer said. 
Korn Ferry Tour player and Dallas resident Conrad Shindler is also an A&M grad and even captured an NCAA title with the golf team back in 2008. Shindler admits he may have an addiction to the Aggies. 
"Aggies football is the No. 1 thing for me and it isn't close," he said. "I live and die with each play. I didn't miss a home game while I was in school. I don't make it to many games anymore because of my golf travel schedule, but I try to get to one game a season in College Station. I have an A&M headcover I keep on my driver religiously and an Aggies yardage book cover."
Shindler is also open about his text threads with fellow Aggie and PGA Tour pro Martin Piller. 
"Piller and I probably exchange over 150 texts per game." Shinder says. 
When asked about his experience at A&M, Piller was thrilled to discuss his time on campus. 
"Just like Conrad, I went to every single home game when I was there," he said. "Unfortunately, with my schedule now, I don't make it back as much as I would like. The last game I went to was in 2015 against South Carolina. Our schedule pretty much takes us through Thanksgiving, and that's toward the end of the season." 
Piller also marks his ball with an Aggies ball mark. 
When it comes to tradition-rich A&M, both Shindler and Piller agree the best part of a football weekend in College Station is the midnight yell practice. 
"It's spine chilling to watch unfold." Shindler says. "You get 30,000 to 50,000 people at Kyle Field to practice our yells for the Saturday game."
"Just an hour of celebrating being an Aggie is pretty cool to me," Piller added. 
PGA Tour alum Omar Uresti, meanwhile, does his chirping in a less verbal way. His golf bag, shirt, hat and sometimes even his ball carries the Texas logo.
"You can always see me coming," he said.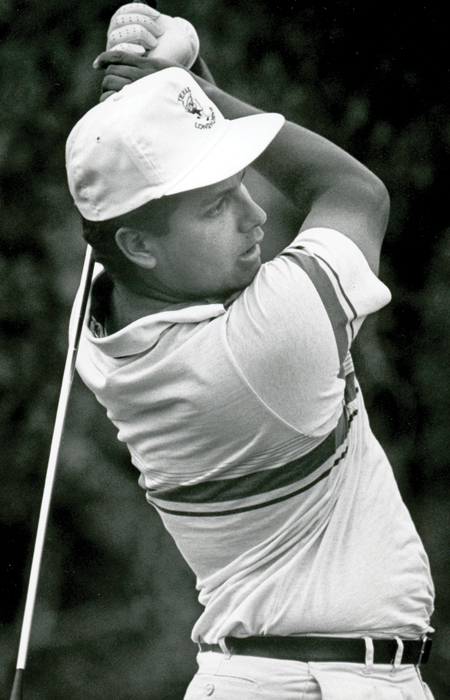 Omar Uresti – University of Texas
Elsewhere, Henry has played numerous rounds with TCU's Patterson and others and said it's fun to see them use golf as a pressure-relief valve.
"It's just nice to get out there and play," Henry said. "I've never played with a coach who thinks he going to the PGA Tour, but they enjoy being out there and doing something fun."
It's also fun to win an epic college football bet payoff. 
When Henry's Frogs defeated fellow pro golfer Jerry Kelly's Wisconsin Badgers in the Rose Bowl, Kelly's payoff was to wear the TCU mascot head and jersey during the Colonial pro-am the following May, and Kelly's tee shot with the mascot head was the lead item on ESPN's SportsCenter that evening. Forget the millions of dollars in prize money they had won of the PGA Tour, or the many tournament titles they had collected in their long careers; this was something more important.
In a July interview with AG, Westlake resident and Oklahoma alum Todd Hamilton said he loved his time as a Sooner and football was one of the things that drew him to Norman from Illinois. 
"When I was there in the 80's they had a lot of great teams," Hamilton said. "Basketball and obviously great football."
The 2004 Open champion has also attended multiple Red River Rivalry games over the years. 
"I have been to about a dozen OU-Texas games," he said.
"I might be biased, but I think it's one of the great spectacles in sports."
Although many would argue that Texas is Oklahoma's biggest rival, the annual Bedlam Series between Oklahoma and Oklahoma State always looms large across the Big 12 landscape. 
Korn Ferry Tour player and Rockwall graduate Edward Loar attended OSU and recalls his days in Stillwater watching the Cowboys. 
"I got to see us go 2-2 against the Sooners while I was there," he said. "I also saw the Cowboys win one on the road in Norman, which has been rare over the years. I still have an OSU headcover and Swinging Pete logo on my bag. I mark my ball withw orange sharpie of course and I wear orange on Sunday. I started doing it way before Rickie."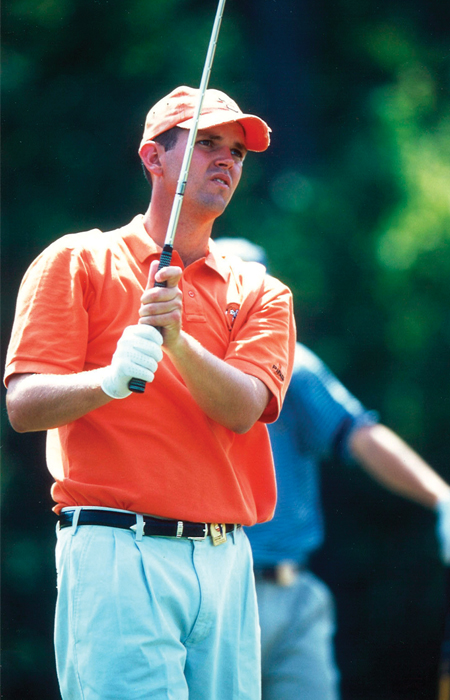 Edward Loar – Oklahoma State University
Bo Van Pelt, a fellow Cowboy, used a banner year in 2015 to enhance his NCAA football experience.
"One of the first things I did after having a big year was upgrade my OSU tickets," he said. "It can be tough with young kids to go to as many games, but I love to go up there and see my friends and we've starting to get pretty good lately, so that helps as well. You always want to represent your school when you get a chance." 
Former OSU standout Hunter Mahan also enjoys his Saturday's watching the Cowboys. 
"If always good to be able to support you team on the PGA Tour and have something to brag about. Just about everybody on the Tour is into college football in one form or another and that's what makes sports fun. I go back and forth with Cody Gribble a bunch out there. You have to be careful who you are talking with, but Cody and I always get with it." Mahan says. 
Former Baylor Bears standout Kyle Jones also loves his Saturday's watching football.
"I'm living in both Dallas and Waco now, practicing and working on my game, so I get to see a lot of Baylor and try to make it to as many games as possible in the fall," Jones said. "I have a lot of friends there and my girlfriend still lives there, so I'm there a lot. There aren't a lot of Baylor players out here (Jimmy Walker is the only other Baylor player on the tour), but I still want to represent any way I can. I still carry my Baylor yardage book cover."
The PGA TOUR is a breeding ground for competition. And some gentle noise talking about football programs comes with the territory. Whether it's the Aggies, Longhorns, Sooners, Cowboys or Bears, the gridiron is still king.