Cover Story – Harry Higgs

At AVIDGOLFER, we like to keep our fingers on the pulse of local golf, especially when it comes to our local professionals. We have covered many careers over the years, and we have helped spread the word about up-and-coming local talents. Just a couple months ago, we were able to chat with Will Zalatoris, who went on to finish second at Augusta just a couple weeks later. For July, we were able to track down another local pro, who although he is a transplant, now calls Dallas home. Harry Higgs may not be a household name (yet), but after a T-4 finish at the PGA Championship in May, this SMU product needs to be on your radar. His larger-than-life personality, his splendid iron play, and his outright refusal to button his shirt make him one likable (and unique) dude. Let's get to know more about Harry Higgs, shall we?
AVIDGOLFER: For our readers that may not be familiar with the tale of Harry Higgs, tell us a little about your upbringing?
HARRY HIGGS: I was born in the Philadelphia area, and I lived there for 10 years. Sadly, I am not a Cowboys fan, in fact, I am the exact opposite, I am an Eagles fan. We moved from Philly to Kansas City and that's kind of when all the golf started. 
AG: Tell us more. How did you learn
to play?
HH: My brother and I, at a very young age, played pretty sparingly. We both got sets of clubs when we were like six. We would swing out in the backyard and play a little, but we lived on a golf course so that really started it. I got into competitive golf a little later, but then I got hooked on beating people and the competition of it. 
AG: Who were some of the players you idolized growing up? 
HH: I don't know that anyone around my age has any other answer than Tiger. Around 2005 or 2006 was really when I started playing competitive golf and, obviously, he was still winning at an incredible clip, so it's tough to have a different answer. When I got older and got to SMU, Kelly Kraft was a guy I looked up to. He was a senior when I was a freshman and he was an All-American, a Walker Cup guy and he won the U.S. Amateur that year. So, I looked up to him. And it's weird to say, but Bryson DeChambeau, even though he was two years younger than me. But I admired his work ethic and the belief he has in what he does. I learned things from every one of my teammates, but I idolized the two of those guys once I got a little older. 
AG: You went to SMU; how did you decide to make that your collegiate home?
HH: When I was looking, I checked out a few places, but I was able to visit SMU homecoming weekend and we hit the Boulevard and got the full treatment. In fact, I probably enjoyed my time on the Boulevard a little too much. After that, I canceled a couple other visits I had to the University of Washington and Auburn and decided on the Mustangs.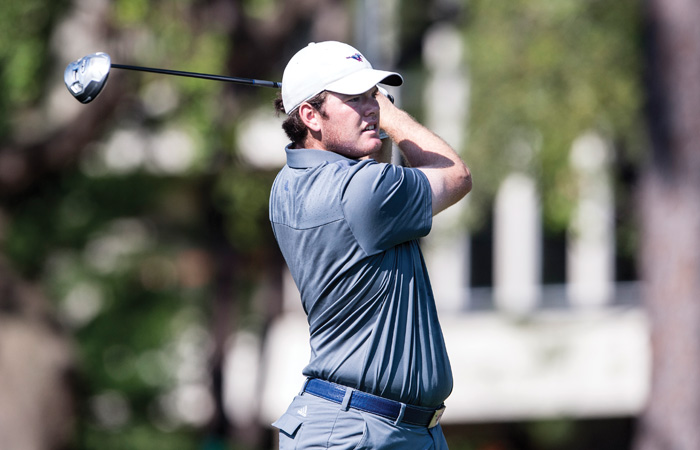 AG: What was your college experience like?
HH: I enjoyed it, for sure. I had great coaches and great teammates. It was so much fun to play and travel. My freshman year we were good, but I don't think we understood how good we were. We got better every year. As individuals we got better, and we had a great run at the match play national championship my senior year. I really feel like the last three years I was there we really had a chance to win a championship. It was a great experience. 
AG: What made you decide to stay in Dallas?
HH: It was an easy place to stay after graduation and it's a great spot to start a pro career. It's awesome to live here, play golf and easy to travel out of. It has everything I would need as far as great golf facilities all over the city and two great airports that can get you anywhere in the world, usually non-stop. So, that makes it easy.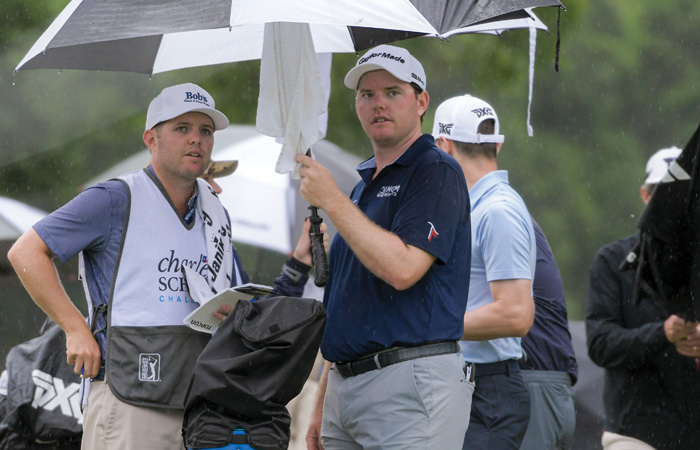 AG: Players are chasing distance and tinkering almost all the time. What are some of the things you do?
HH: Everyone is always trying to get better. I don't know that tinker is the word. I think guys are always working to improve. For me, I got here with the belief in what I do and how I play. I have been fortunate to have some success to back that up. Over the course of a year, a quarter of a shot a month makes a huge difference. So, if you can improve, of course you want to do that, because you are going to see the results and have a better year. 
AG: What about getting longer?
HH: I pay attention to my numbers and, of course I spend time on the range swinging to see how fast I can get. If you hit it long and straight, it's hard to mess things up. I mean, you can still mess it up if you hit poor irons or don't hole putts. But this is a question that is literally asked of us every week, so naturally you will try to add some distance. Take the U.S. Open for example. Those fairways are so narrow that guys are going to hit about 50 percent of the fairways anyway, so yeah, you might as well bomb it out there as far as you can.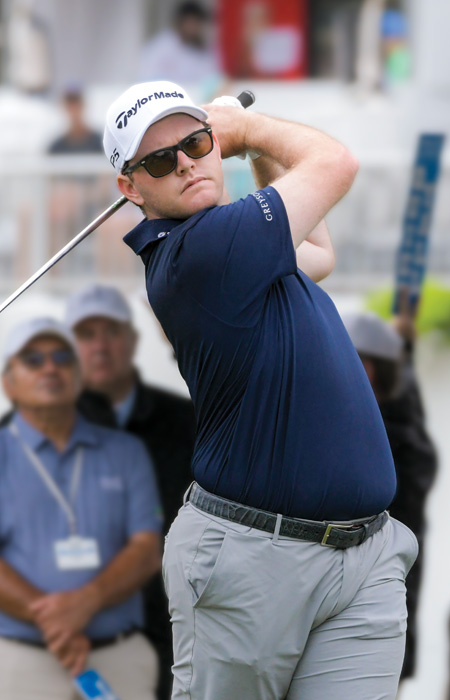 AG: Now that you have had a chance to be out on tour for a while, what are some of the things you notice about the PGA Tour guys compared to other players?
HH: That's a good question and I wish there was one single answer. I would have to say consistency is a main difference. Week in and week out, the top players don't make many mistakes. They're very professional about how they get around the course. I will say, and I don't want to sound like I'm not impressed, but there are some of the top name guys that don't really astound you when you watch them. What is amazing about some of those guys is their ability to turn off-rounds into good rounds. You will watch them seemingly struggle with their swing a little bit and then you sign for their four-under 68. 
AG: You finished T-4 at the PGA Championship. What was that like?
HH: It was fun to play in my first major. And to have a chance was great. To be in contention in a tournament like that with a field like that was amazing. 
AG: If there is one aspect of your game you would like to improve on, what would that be?
HH: Probably my iron play. Early on in my pro career playing in Latin America and on the Korn Ferry, I had great control of my irons and gave myself a lot of looks at birdie. I'm still doing that, but not as consistently. So that's always a main focus. I drive the ball well. I have yet to play a course I felt was too long for me. Also being able to trust the ability to make the easy pars on holes that won't yield a lot of birdies. 
AG: With your finish at the PGA, you got into the Masters for 2022. How pumped are you about that? 
HH: I am beyond pumped. The only bad part is I have to wait until April. I would love for it to be next week just so I could go do it. The invites go out around Christmas, so that will be a fun little Christmas gift. Can't wait to make a few practice trips beforehand. That's kind of the one. Getting into Augusta is a huge deal. 
AG: You're out at Trinity Forest. What are some of your other local favorites?
HH: Trinity Forest has been it for a while. In college, we would do Royal Oaks, Bent Tree, Maridoe, Brook Hollow and Dallas National. Those are some of my favorites. I also love Northwood. It's a great change of pace from Trinity Forest. I also love DAC [Dallas Athletic Club], that was our home before SMU moved over to Trinity Forest, and they were so good to us when we were in college. But Trinity Forest has been a great home with a great group of guys. When I wasn't yet on tour, they were willing to support me no matter what I needed. Plus, I love the golf course. It's so unique and it's always fun to play. 
AG: Obviously winning on tour must be a goal. What are some of your other goals?
HH: This year, one of my goals was to win a tournament. Another one was to play in two majors since I didn't have any exemptions. Finish top-10 in a major was another one. Knocked that one out at the PGA, which was nice. I would love to play on the Ryder Cup team. I think I would be built for that. Plus, I love team golf. As far as short term, I am trying to take better care of my body. Watching what I eat and getting enough sleep. When you're traveling as much as we do if you aren't feeling your best or your body is a little off, it gets hard. I have a small team around me that helps keep me accountable.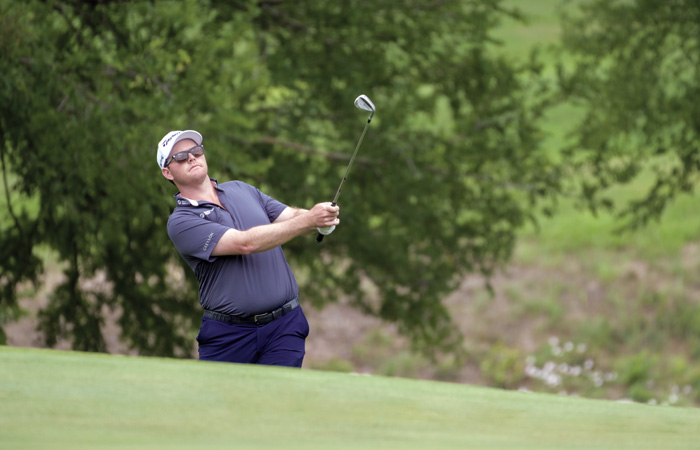 AG: You had to do a little partying after that finish at the PGA, right?
HH: I had been on a great three-week diet with a bunch of salads and all the no-fun stuff, but after that, I ordered a big cheeseburger, and we drank and drank. It was a lot of fun. 
AG: I have to ask you about the shirt. What's the story? Are you anti-button or what?
HH: Man, it's incredible what people notice and will take a liking to. Look, I'm a big guy with big shoulders and if I button it up anymore, it feels like it's choking me. I always wear a four-button shirt, and I will only button one of them, and there are some that don't fit the same, so there may be a time or two where I may not button any of them. I do it strictly for comfort, but hell, I'll lean into it since it has kind of taken on a life of its own. 
AG: Okay. Last one. We always ask guys this one. Who would be your dream foursome?
HH: No doubt Tiger. Another guy I would pick because he is way cool in person is Fred Couples. Guess the last one would be Arnold Palmer. I think the stories would be great and I could learn a ton from all three of them.