Cover Story – Stars CEO Brad Alberts

In 1992, the Minnesota North Stars were planning to relocate to a new market. Originally, owner Norm Green was planning to take the franchise to Los Angeles to play in its new arena, which is now the Honda Center. However, a cheeky hockey movie called The Mighty Ducks and Disney were already in negotiations to create a new franchise in L.A. based on the flick. This paved the way for Green to choose Dallas as the location to move the team. The now Dallas Stars played their inaugural game at Reunion Arena on October 5, 1993. 
Not too long after that, a former Division III basketball standout named Brad Alberts joined the Stars as a sales executive, making a whopping $12,000 annually. The four-year hoops letterman was a casual hockey fan but had never picked up a stick and hit the frozen pond. In nearly two decades in professional sports since, Alberts has seen it all. He watched the Stars reach the pinnacle of the sport in 1999 as they hoisted the Stanley Cup after a thrilling three overtime game against the Buffalo Sabres. He has been the Executive Vice President of the Hicks Sports Marketing Group and the Vice President of Sponsorship and Sales at Legends/CSL group, which helped oversee events and venues around the country, including Circuit of The Americas in Austin.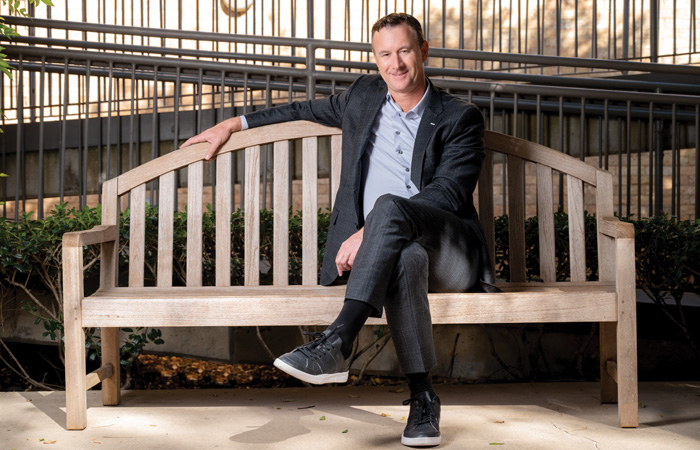 Now in his second stint with the franchise where he cut his teeth in the sports business, Alberts has played an integral role in bringing the Stars back to the forefront of the Metroplex sports consciousness. As President and CEO since 2018, Alberts has seen another Stanley Cup berth, albeit in the Edmonton COVID bubble, which ended with Tampa Bay besting Dallas in six games, He also brought the 2020 Winter Classic to a southern state for the first time as the Stars hosted the Nashville Predators at the Cotton Bowl, in an event that boasts the second largest crowd to ever witness an NHL game. 
Alberts has also seen his share of challenges. COVID forced the furlough of front office staff and the bitter freeze of early 2021 forced the delay of games which impacted the team's scheduling. It's been a wild ride for the now 51-year-old. But as the grind of the NHL season continues, so does his, and Alberts plays golf to help decompress from the long and stressful hours. 
AVIDGOLFER spoke with this career sports executive about his golf game, his time with the Stars and the tough year dealing with COVID. 
AVIDGOLFER: How about some broad strokes about Brad Alberts?
Brad Alberts: I was born in Wisconsin and, believe it or not, I didn't play hockey and I didn't play golf. I actually played a lot of football, basketball and baseball. I played basketball in college and then moved here in the mid '90s. 
AG: You didn't play hockey growing up. Did you know much about it? 
BA: I was a big UW hockey fan and followed the NHL casually as a kid. I really locked in on the playoffs and I fell in love with the 1980 Olympic hockey team. I went to my first Milwaukee Admirals game when I was in seventh grade. 
AG: You played a lot of other sports. Who were some of the athletes that you idolized growing up?
BA: In those days, baseball was big. I was a huge fan of the 1982 Brewers team. I can still name all of them. Paul Molitor, Robin Yount and the others. Obviously, Michael Jordan was a huge presence in the mid '80s and Chicago was an hour and a half from my house, so we followed the Bulls, too. Brett Favre was a big influence in the '90s.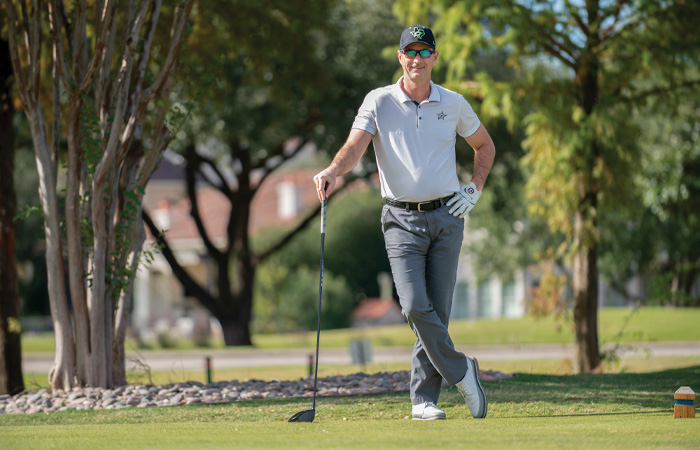 AG: When you did relocate to Dallas, you started your career with the Stars and literally started on the bottom rung in ticket sales. What was that like?
BA: It was an interesting time. The team had just moved here a couple years before I started, so the Stars were a relatively new product. But I got in at a great time right as the Stars started that run that, of course, which culminated with the Stanley Cup win in 1999. It became one of the greatest life experiences I have ever had. 
AG: Did you ever think you would end up where you are now?
BA: When I started, I was a young kid and never thought I would end up in the position I am in now. I was just trying to get a career started. But I am incredibly humbled and honored to be leading this franchise. It's in my blood now. I love the people and I love what I do, and I am grateful to be trying to lead this team back to a Stanley Cup. 
AG: What are some of the qualities you think you possess that led to your success?
BA: I have been asked that a lot. To be honest, I wasn't thinking about becoming the President of the team when I was selling tickets. I think you need to master your craft. If you're selling, in communications, accounting or whatever, I think you need to develop your skills and be great at what you're doing. I was successful selling, which allowed me to work my way into selling premium inventory and, ultimately, into sponsorships and other deals. I also think you need to be a great listener. You need to be able to collaborate, and I think the people that work for me would say that I am a good listener and allow them to do their jobs without micromanaging. 
AG: The Winter Classic was a huge success. What was the process like getting that to Dallas?
BA: Well, other than the Stanley Cup win in 1999, that was our franchise's greatest day. For the people on the business side, it was our greatest day. Everyone came together and executed perfectly. I think it was one of the NHL's proudest moments, as well. They proved they can come to a southern market and have 85,000 people pack an iconic football stadium for a game.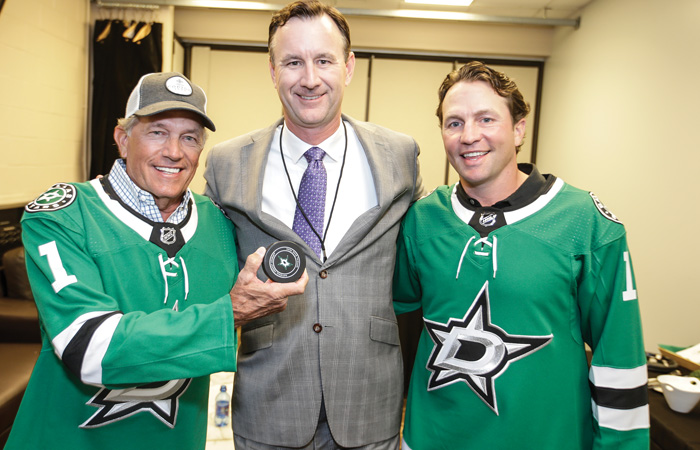 AG: Do you feel it was a bit risky? Were you nervous as the day approached?
BA: I knew we were taking a great risk, but I didn't feel it because I knew that we would have a great plan. I trusted our staff; we had a great plan and we executed it. And I also know that Dallas loves big things. Not only the hockey community, but the Dallas sports community would want to see an event of that magnitude once. I'm not sure logistically if we would want to do it 15 times a year or anything, but for that one day, it was absolutely perfect. 
AG: If the Winter Classic was one of the franchise's best moments, dealing with COVID over the last couple years must be one of the most challenging. How hard has it been to go through that with your organization?
BA: It is the greatest challenge I have ever faced for a number of reasons. The furloughing of incredible people was excruciating and that's something I would never want to do again. But we're through it, and I am glad we are through it. Most of the people have returned and that is a testament to the passion they have. I am thankful for everything getting back to normal, and I hope things continue to get easier. 
AG: If there is one silver lining to the pandemic, it's that it gave you time to focus on the Dallas Stars Foundation and put some more energy into that. 
BA: Our foundation is a key strategy for our entire organization. Our former goalie, Marty Turco, is the head of the foundation and Chelsea Livingston is the executive director. They do incredible work not only in our community, but in the entire state. We were just down at Fort Hood, and we built a ball court down there for the soldiers. We're engaged with our military, and we're engaged in our communities, trying to get more youth involved in the game and deliver the sport to areas where it isn't commonplace. And on top of that, we have also faced challenges here in our city. We had the freeze earlier this year, and Chelsea's efforts were incredible to help those in need during those difficult times. At the end of the day, we want to be a great corporate citizen in this great city. We realize we live and work here among our fans and so many others, and we realize there is a responsibility there.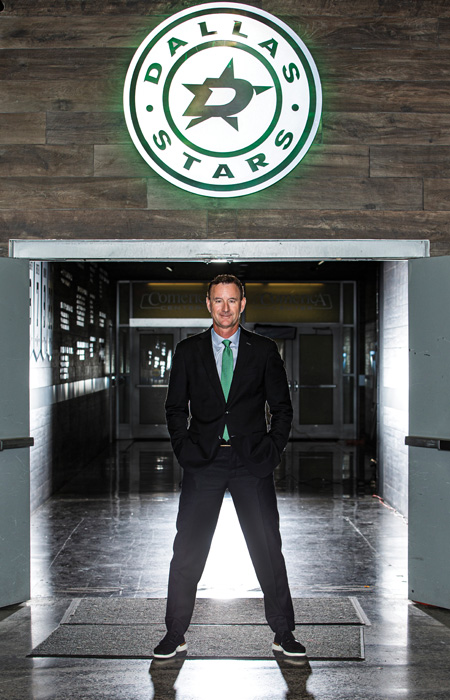 AG: It's been almost 30 years since the Stars relocated here from Minnesota. What are some of your visions for the next chapter in the history of this franchise?
BA: Well, number one on that list is becoming a champion again. I want this city to be able to celebrate a Stanley Cup. It's challenging, but that's first and foremost. Second, I want us to grow the game both locally and internationally. We have a great international roster of players, and I want us to play in Mexico; I want us to play in Europe. I want to go to Finland and Sweden. I want to take the team to our players' home cities and countries. We have also launched Hispanic marketing initiatives here in DFW. The Hispanic population is growing here in the Metroplex and in the state of Texas. We want Hispanic children to be comfortable playing hockey and we want them to come to our rinks to participate. So, we want to grow the game not only at the grassroots level, but at the professional level internationally. We want to make this city a hockey city. 
AG: How did you pick up golf? 
BA: I had played a little as a kid, but never competitively or anything. When I moved down here, Riverchase Golf Course was five minutes from me. I can't exactly remember who or what led me to it, but I think it was just so popular here in Dallas, I just wanted something to do. I knew my basketball phase was over and I needed something to do athletically. I fell in love with it and became one of those guys that plays all the time. 
AG: How much benefit have you seen from learning to play the game? I would imagine starting in sales, golf was valuable in your line of work. 
BA: I can't even begin to tell you how important golf has been to my professional career. I have had some incredible experiences. I have met so many business associates and friends playing the game over the course of 20 years. It was one of the best decisions I made after coming to Dallas. Now, it's just a part of my life. Even my girls know that I am going to be going to play on Saturday and Sunday. It's relaxing yet competitive, and I love it. 
AG: What are some of your local favorites?
BA: I am at TPC Las Colinas, but I love Dallas National and Preston Trail. I really like Northwood, as well. Maridoe is a great course. It's hard, but I like it. I am close with David Craig, so I really like TPC Craig Ranch, and I am happy they got the Byron Nelson.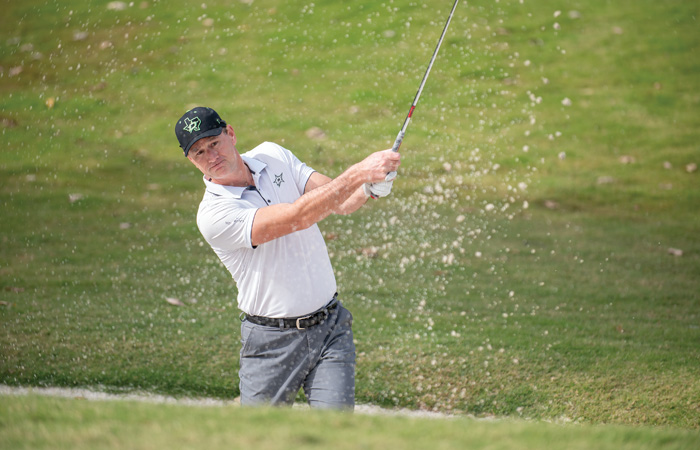 AG: What about around the country? Have you had a chance to play much while you're on the road?
BA: Pebble Beach is certainly up there. I love Castle Pines in Colorado. I have been fortunate to play Merion, which was awesome. I loved Erin Hills up in Wisconsin, too. I haven't had the chance to play Augusta National, but, of course, I would love that opportunity just like so many others would. I have also been fortunate enough to play overseas in Scotland and Ireland, as well. 
AG: Any aces?
BA: I have two. Made one on vacation in Hawaii, and I made another one on No. 17 at Vaquero.  
AG: Who is the best current or former Star on the course?
BA: That's easy. It's Brett Hull. Hully has great natural ability. He hits it so well, and it's just pure. He's just naturally really good. 
AG: What about Mike Modano?
BA: Mike is a great stick, too. And Joe Pavelski on the current team is really a good player. 
AG: Why do you think so many hockey players make a smooth transition into golf?
BA: Certainly, elite hand-eye coordination is a huge factor. They're all great athletes, so things come naturally. Good balance and good core strength helps, as well.