Feature – We'll Drink to That: Whiskey Ranch

Whiskey Ranch is crafting great spirits, while preserving Fort Worth's rich golf history.
By Art Stricklin
Leonard Firestone never considered himself a Texas golf history restoration devotee, a golf architect or even a whiskey expert, but thankfully, the 10-year Fort Worth resident has become all three and local avid golfers are the grateful recipients.
Because Firestone, a California native and his Texas partner Troy Robertson have saved and enhanced the historic Glen Garden Golf Club, the caddy home of Lone Star legends Bryon Nelson and Ben Hogan, all while building the largest whiskey and bourbon distributorship west of the Mississippi River.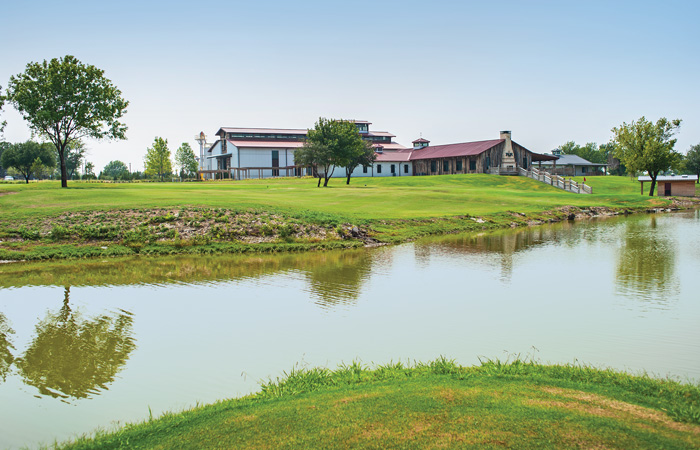 "We feel like a bit of a golf visionary. I never thought this would happen and I'd invest so many dollars in this, but our business continues to grow," Firestone said. "We wanted to preserve the history of two historically iconic Fort Worth golfers. This place has become part of our story."
Named Whiskey Ranch, the 112-acre facility includes 18 holes of golf, par 68 at 5,800 yards, which is only open on special occasions and slightly altered from the original design. The large brewing facility, with clear views of Downtown Fort Worth, has wedding and party space with a bar to sample the Firestone and Robertson product, celebrate your golfing victories or commiserate your defeats.
"We researched it and googled everything we could and there isn't another historic golf course and Whiskey distillery combination like this anywhere in the U.S. or the world as far as we could tell," Firestone said.
The combination of the TX Whiskey distillery and the historic Glen Garden course is almost as remarkable as the pairing of the two facility owners, neither of which has a background in either industry which they now find themselves in.
"It feels great the way everything has turned out," said Robertson. "We do love the game, but didn't know much Ben Hogan and Byron Nelson and all the great players at Glen Garden."
Firestone was in Maryland where he had just sold a communications company in 2007 and was doing some consulting, when he read an article on Tito's Vodka, which was the largest company of its kind in Texas and had started to achieve a critical mass in sales.
"I had always been a big whiskey fan and I saw there was this guy Tito who was doing Texas vodka in Austin," Firestone recalled. "I started wondering if anybody was doing a Texas whiskey, so I googled it and nobody was doing it, so the light bulb really came on in my head."
This was about the same time Robertson a native Texan who grew up in Midland, attended Texas Tech and had been in the oil and gas business which first moved him to Fort Worth, started to have the same idea. One day he cold called Firestone, who he only knew briefly socially, and asked about their shared, if not far-fetched, idea.
"I'm entirely self-taught, as is my partner Troy, he had pretty much the same idea," Firestone said. "He was in the oil business, private business equity so it connected us and we started working on this."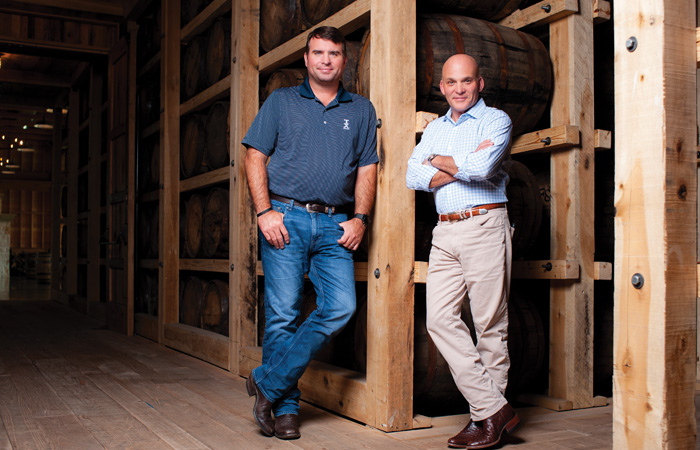 Eventually they hooked up with another transplanted North Texan, Rob Arnold, who did have some Whiskey experience and they named him the master distiller.
"I have the desire to create things and I think we have helped this property use its full potential for a distillery and golf," Robertson said.
The threesome and just a few other helpers began in 2010 in a very small plant in downtown Fort Worth, making the particular brew which has been loved by generations, but can be just as easily loathed if done wrong.
"There is a science and an art to it. What you are creating, you can create a different taste by using different levels of aging for taste and char," Firestone said.
They use 15 members of the employee group to taste and sniff the product and chart their very specific likes and dislikes and nuances of the blends which originally comes exclusively from a grain farmer in Hillsboro.
The pair literally started out doing two bottles at a time and they did hundreds of bottles by hand at their downtown facility.
The first batch was crafted in 2012 and it didn't take long for people in the spirits world to pay attention. In April 2013, the original TX Whiskey, was named best American craft whiskey and Best in Show and won double gold in the San Francisco World Spirits Competition.
About that time, things started to get real interesting for the pair and their rapidly growing company. They had maxed out their space downtown and neither wanted to leave the area which led them on a nearly year-long search for larger facilities.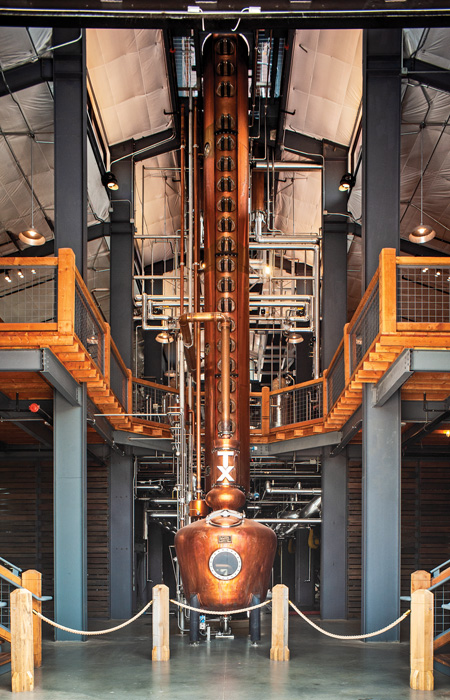 "I was on a commercial real estate search engine one day and saw this place, Glen Garden, had 112 acres 5 miles from Fort Worth, and went into my partner Troy's office.  I said 'have you ever heard of Glen Garden, it's for sale," Firestone explained.
"We literally drove over here and convinced the pro to give us a cart for a tour. It met our needs in every way. The whole process took about a year to buy the property.  The guys who owned the property really wanted to find a golf operator. It is a very historic property, but it was a land locked, funky course and they couldn't find anyone to buy it. Eventually, a developer was going to buy it and just tear the whole thing up."
Today there are six people working full-time on the maintenance crew here, including three who worked on the original Glen Garden course.
The pair finally closed on the property in late 2014 and while they knew they didn't want to be in the full-time golf business, they were avid golfers themselves, so they also knew they didn't want to bulldoze the immense Texas golf history of Glen Garden which included former head pro and Jack Nicklaus' initial teacher, Jack Grout.
"What we needed to do if we wanted to have golf out here was what if we didn't have to prepare for golf every day. We wanted to turn golf on and off. That's a huge economic difference if you do it that way," Firestone said.
So holes No. 7 where the 90,000 square foot facility sits along with holes 6 and 14 were moved to make room for the plant, with the pair doing the golf alterations themselves, then they were able to provide 18 holes of golf along with the product which they were crafting in a scenic and historic Fort Worth setting.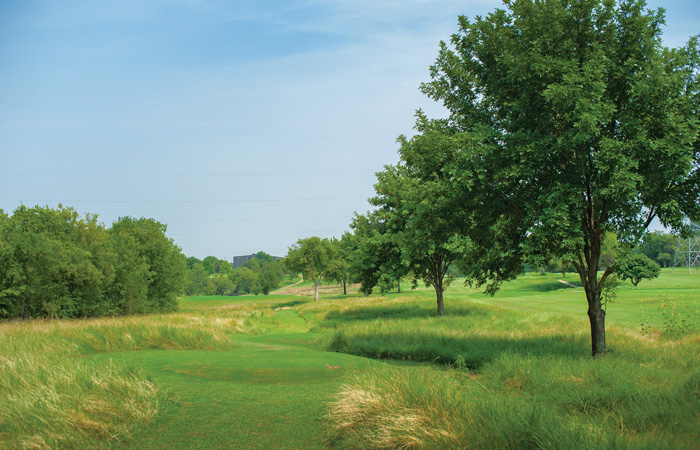 Local PGA Tour pro J.J. Henry has been over to see the facility and came away impressed.
"I went over to see what they were doing and gave them some ideas, but they did it all themselves. It's really nice what they have done over there," Henry said.
The Texas Wesleyan Golf Team uses Glen Garden as their home course and it's become a popular place for weddings and receptions and company gatherings most with the green grass sport included which has driven many players to drink.
Meanwhile, the TX Whiskey distillery continued to grow and improve. The company now has more than 55 full-time employees with a fully automated assembly line which can turn out thousands of finished bottles in a week, each with a unique leather bottle topper from a local boot factory.
Whiskey is $35 a bottle with the bourbon around $47 depending on where it is sold, but the good thing about the new Whiskey Ranch facility is there is always room for more production and sales. Advance reservations for public tours of the facility at $15 a person begin in September.
The final piece of the remarkable puzzle came last fall when the Glen Garden 18-hole course was officially reopened.
The presence of The Oak Room and The TX Tavern means Firestone and Robertson can provide the atmosphere and experience they have always wanted.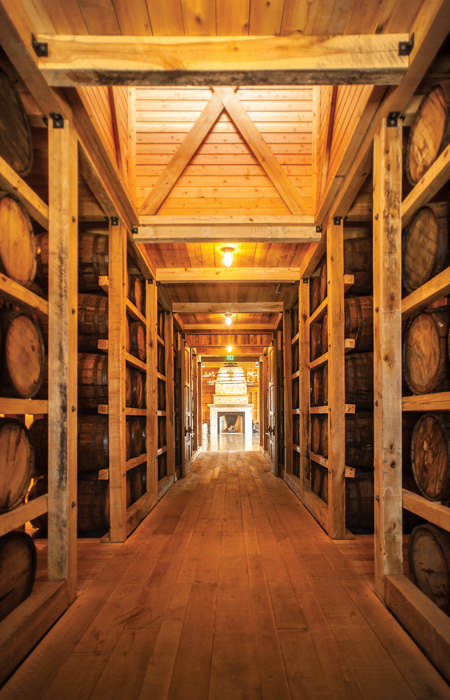 Earlier this year, Firestone was invited to join a North Texas delegation in London to tell the unique story of Glen Garden and TX Whiskey to European Tour operators and political leaders. Robertson went on a similar tour to Tokyo last spring to tell their story.
It's a vision neither man ever expected to have in their lifetimes, but with hard work, lots of vision and imagination, the pair is certainly entitled to raise a toast to their immense success.
"We did it all ourselves. So now I can add golf architect to our titles, how fun is that? It's all experiential," Firestone said. "It's a beautiful gate to enter, a beautiful drive and a beautiful place close to downtown. It's just perfect."
Many Texas golfers who have seen the latest version of the familiar, repurposed and restored facility would agree.
Learn more about Whiskey Ranch at www.frdistilling.com