Drive Time – 2020 Lincoln Aviator

Boy, does Lincoln got it going on! The upscale division of Ford continues to give the imports headaches upon unveiling the latest of a superb line of Crossover/SUV people/cargo haulers. And the newest model continues the fun trend of given an actual name rather than a forgettable series of numbers and non-sensical letters.
The latest example is the newly christened 2020 Lincoln Aviator crossover — second in line by size and passenger capability (Goldilocks?) behind the Navigator, yet larger than the Nautilus and Corsair. It replaces the MKT by ramping up the performance numbers and luxury appointments. Quite honestly, it's a must-drive when searching for a true three-row land barge that'll also fit in the garage.
The Aviator first arrived in 2003 replacing the Mercury Mountaineer but only lasted two years, thus becoming one of Lincoln's shortest living models. Fast forward to today, the Aviator proudly resurrects its stout wings to already rave reviews. That puts it in excellent company with its Lincoln siblings. Cost starts at $53,000 rising to the mid 80s.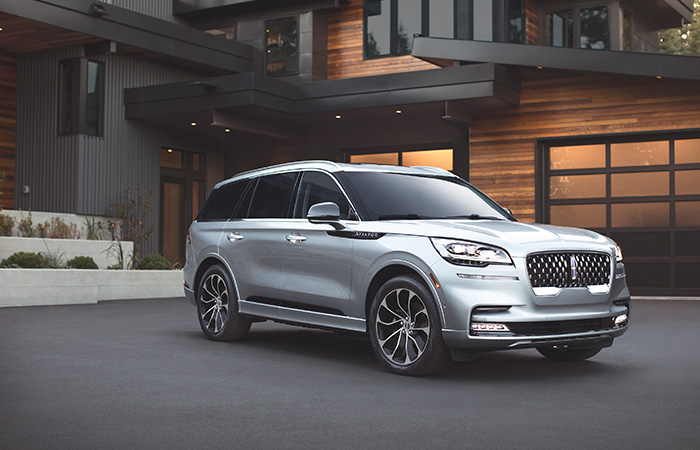 Skin
The top-of-the-line 2020 Lincoln Aviator Black Label tester in lovely Flight Blue looks terrific with handsome chrome trim and sharp 22-inch Ultra Bright turbine-style rims. The slightly rounded silhouette is nicely balanced with a new Lincoln star-mesh grille, hood and fascia. Subtle nods to flight (hence Aviator) add to rather than diminish the profile. Attractive LED headlights shine bright (auto high beams are available) and the rear employs a unique single LED light strip and quadchrome exhausts. It's a terrific combo that looks well thought out from every angle.
What's cool is when you walk up, the Aviator Embrace "recognizes" you with the lighted grille label and high-def Lincoln brand spotlighted from side view mirrors. It's like a loyal pet welcoming you, which brought a smile every time I sauntered up.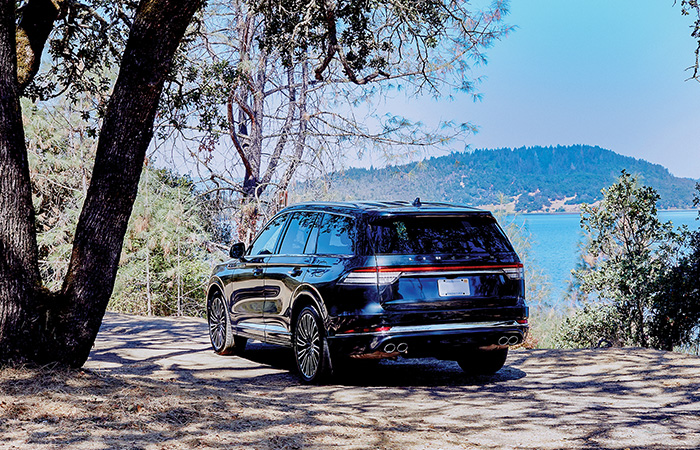 Performance
The Aviator offers a new robust 3.0-liter twin-turbo in-line V-6 delivering 400 HP/415 lb-ft. torque in either rear or all-wheel drive. The new 10-speed transmission shifts seamlessly. 0-60 numbers aren't a big concern with land yachts, but the Aviator posted a decent six seconds while tooling in sumptuous luxury. The AWD is augmented by five drive modes: Normal, Conserve, Excite, Slippery and Deep Conditions. The ride is more luxurious than sporty, fitting its lavish mystique and the AWD performed admirably during recent storms.
Handling is good for this type ride and the turning radius is pleasingly tight. Braking is solid and confident. Gas mileage is decent for this category at 18/26. I observed 22 mpg overall but 31mpg during casual highway driving. The good news is you can use regular petrol if desired and there's no annoying gas cap to deal with. Bravo!
Cabin
A luxury land yacht is evaluated by its interior's lavishness and the Black Label Aviator proudly delivers the goods in three exclusive themes. The tested Chalet version includes Alpine Expresso Leather 30-way Perfect Position front seats that are butter soft, supportive, heated, cooled and simply divine. A massage feature was welcome after a long round of golf making it the ultimate captain's chair. Tasteful contrast stitching is abundant and fit and finish are outstanding. A leather-wrapped and stitched heated steering wheel fits nicely in your mitts — although I wasn't a fan of the voice-activated button, which is located where I usually put my hands and caused me to mistakenly hit the command. The programmable digital dash is attractive and offers speed limit notifications and includes a clear Head Up Display. Programmable ambient lighting is a nice touch.
A lovely double Panoramic Vista Roof allows as much or little sunshine as desired and can be adjusted from the back seat as well. Bright and programmable 180 count LED headlights are speed dependent (they widen at slower speeds and narrow when going faster to enhance distance viewing) and designed to last for the entire life of the Aviator.
The SUV provides 18.3 cubic feet of cargo space behind the rear seats, 41.8 cubic feet with the third-row seats folded, and 77.7 cubic feet with the second and third rows folded.
Plus, there are abundant air vents to heat and cool the entire interior. It has the popular feature of waving your foot underneath the back bumper to raise the power lid hands-free.
The infotainment touchscreen is excellent, and the special coating helps prevent those unsightly fingerprints and smudges. I'd recommend the 360-degree view option ($1,750 Tech Package with Enhanced Active Park Assist and Front Park Aid Sensors)allowing you to park the Aviator expertly into tight spaces. It's well worth the cost.
There are two smart charging USB ports along with a handy wireless charger (for phones with the feature) in the front console. Apple Car Play and Android Auto capability swiftly syncs your phones and you can Bluetooth up to 10 devices!
One quirk is the unique Piano Key gearshift buttons running vertically underneath the infotainment screen. It takes a bit to become familiar with the arrangement yet intelligently frees up extra storage room in the center console, plus there's welcome additional storage space underneath the console for more knickknacks.
Of course, safety is a major player with the Aviator. The exemplary standard safety package Co-Pilot 360 includesBlind Spot Warning with Rear Cross-Traffic Alert, Lane Keep Assist, automatic high beams and forward automatic emergency braking assist to make your travels as anxiety-free as possible. Seriously, the plethora of Aviator attributes make every journey a pleasure.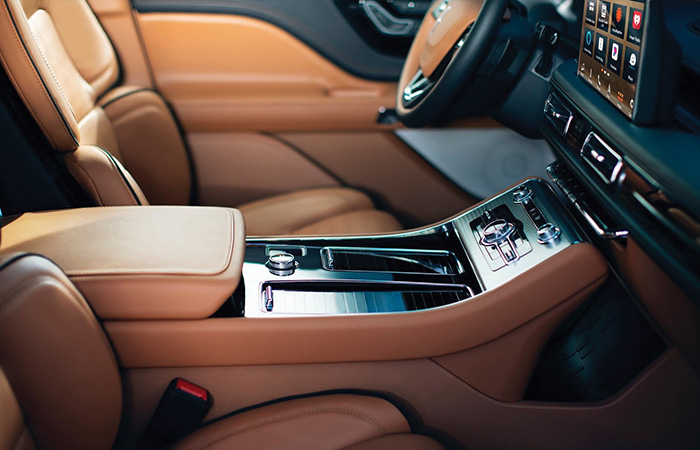 Tech check.
Like many in this luxury class, the Aviator's tech is abundant and terrific. The large infotainment screen is close enough for easy touchscreen access. An impeccable 28-speaker(!) Revel audio system combined with the impressive Sync 3 technology is intuitive and crystal clear, and voice activation works seamlessly to bark out desired audio selections.
The Lincoln Way app allows you to prepay for parking, unlock and start remotely, get roadside assistance and receive personalized service via the Lincoln Concierge. In fact, all Lincoln buyers get free pickup and delivery for service plus a six-month membership in Clear (12 months for Black Label buyers), which allows access to expedited security lanes at airports and elsewhere.
The 2020 Lincoln Aviator is a very worthy addition to the already impressive Lincoln Crossover/SUV family. It delivers most everything one wants in the premium SUV market drawing many admirable comments from the neighbors. It is definitely worth your time to investigate when looking at the top end of the people mover species.
Scorecard
Golf bags: At least 4
Curb appeal: Retroname but new look, performance and luxury
0-60: 6.0 seconds
Gas mileage: 18/26. Observed 22 overall
Must-haves: Everything from the Reserve 2 or Black Label packages
Warranty and Free Maintenance: 48 months/50,000 miles.
Base price: $53,000
Price as tested: $85,400 (Black Label)
Who buys it? Premium SUV owners who want it all
Finish line: Peerless combination of high-toned All-American excellence
Test-drive the 2020 Lincoln Aviator Black Label at McDavid Lincoln of Plano.