What to Expect When You Commit to ChiroSport

The vision of ChiroSport Specialists of Dallas was to have an integrative approach to health care that includes acute injury care, rehabilitation, performance training, and recovery therapies. It's important for an injured athlete or client to be able to have access to all specialists under one roof. The communication and continuity of care is critical for our clients to recover as quickly as possible. ChiroSport Specialists is the pioneer of this healthcare model. We have been serving the DFW for 15 years.
Our partners Sellinger's Power Golf, located next door offers club repairs and custom club fitting. This provides all of our golfing patients access to master club fitters.
Here is what we have to offer at ChiroSport and then we will describe each in detail:
Chiropractic Sports Medicine
Active Release Therapy
Sports Massage
Rehabilitation
Sports Performance Training
Whole body cryotherapy
Cold laser
Recovery tools such as electrotherapy, ultrasound, NormaTec recovery boots and Game Ready cold compression therapy
Although our specialty is in sports, we work with a variety of clients. Our doctors travel exclusively with PGA Tour players exclusively and provide Active Release Therapy for the Dallas Stars Hockey Club. We pride ourselves on providing the same level of care to all of our clients regardless of age or skill level. From our junior and collegiate golfers, to our oldest client at over 90 years old and even our future athletes which we treat when they are only infants!
Our goal is to ultimately take you all the way from an injury, whether that injury is acute or chronic, through the healing and rehab phases and then make you stronger in the following training phase. If your athleticism takes you to the top of the PGA Tour like our client Jordan Spieth, or you just want to cook dinner without back pain, your plan will be personalized and tailored for you.
When you first come to our office you will meet one of our three doctors, Dr. Troy van Biezen, Dr. Chris Miller or Dr. Grant Field, to go through a thorough evaluation.  Our previous article highlighted some of the assessments we use during our primary evaluations, such as TPI (Titleist Performance Institute) and Functional Movement Screening to determine an individualized treatment plan based on your specific needs and goals. We don't just put a band-aid on pain, our sessions help to find the root cause of your pain and fix it over time.
After the primary assessment is completed we can determine an appropriate Chiropractic Sports Medicine treatment plan based on your goals. We utilize traditional Chiropractic techniques and manipulations while also incorporating cutting edge treatments and therapies such as Active Release Technique, cupping and Graston techniques. These therapies focus on the soft tissue which includes muscles, tendons, ligaments and fascia. We have found many injuries stem from restrictions in the soft tissue, whether it's muscle imbalance, adhesions or scar tissue. These techniques are effective whether you have an acute injury or a chronic nagging injury.
Injuries we commonly see include:
Acute and Chronic low back pain and sciatica
Neck pain and headaches
Shoulder pain from tendonitis, impingement, bursitis and rotator cuff injuries
Tennis and golfer's elbow
Wrist tendinitis
Hamstring and groin strains
Knee pain such as runners knee,  IT band syndrome, patellar tracking issues and tendinitis
Shin splints and calf strains
Ankle sprains, Achilles tendonitis and plantar fasciitis
Massage therapy is another critical part of recovering from injury and many patients find it works well in conjunction with our Chiropractic treatments. Our Licensed Sports Massage therapist, Osmin Guevara (Oz)  is a crucial part of our team for your best opportunity at recovery.
He is better able to tailor his treatment to the individual by using different techniques, including:
Deep tissue Sports Massage
Effleurage to warm up the body for deeper body work
Tapotement is also used to warm up the body for deeper work
Petrissage to pick up and squeeze the muscle to break apart the muscle and fascia
Friction and cross friction create heat to increase blood flow and works well for trigger points
Swedish massage for lighter, more relaxing muscle work
Trigger point therapy to work out knots in the muscle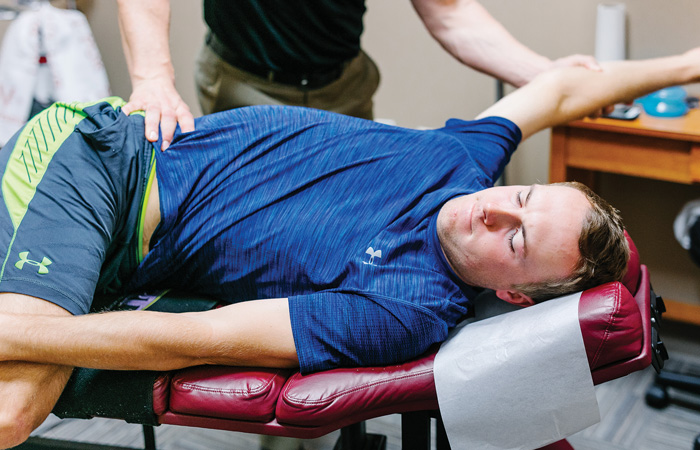 Once you are progressing through acute and healing phase of treatment using either Chiropractic and/or massage, and you start to improve with your symptoms the next step is the rehab phase.
As you start to improve with your symptoms through the healing phase of treatment with our chiropractors and massage therapist, our goal is to progress you. The rehab phase uses specific stretchings and other rehabilitatory movements to correct any muscle imbalances, ranges of motion and asymmetries in your body. All of these are indicators and can be predictors predictors of injury. The number one risk factor for an injury is a previous injury, and the second is an asymmetry in the body.
With the golf swing being an asymmetric and unilateral sport, muscle imbalances and asymmetries are very common as well as misalignments in the body. Our rehab programs are specific and individualized to your body, based on our assessments, evaluations and screens. Previous articles in Avid Golfer contain more detailed information on some of our rehab protocols as well as our social media, YouTube channel and our website. Our common rehab protocols involve:
Foam rolling and self myofascial release
Stretching
Mobility exercises
Core strengthening
Stability exercises
Lastly, once you are through the healing and rehab phases, our goal is to make you stronger, improve your performance and make you an all around better athlete for whatever your goals may be. The next step in our process is what separates us from most other facilities in the area. We have 2 strength and conditioning specialists, Manny Hernando and Oz Guevara. Oz double teams as massage therapist and trainer, but this helps him in understanding the body better on both sides so you have the best experience on his table and in our gym.
Manny and Oz train many of our athletes on the PGA Tour and Web.com including Jordan Spieth, Ryan Palmer, Martin Flores, Michael Kim, Sung Kang, Scottie Scheffler, Will Zalatoris, Paul Stankowski as well as several LPGA Golfers such as Sei Young Kim, Mi Yang Lee, Celine Boutier, Miram Lee, Su Oh and Maddie McCrary, as well as high level Collegiate and Junior golfers.
Sessions with Manny and Oz begin with another Functional Movement or TPI screen, along with input from the Doctors from the medical side. After the assessment, our strength coaches will sit down with you and determine a plan based on your goals and needs. Hour long sessions with Manny and Oz are one on one, which allows for the best client centered experience. If one on one training is not for you, we also offer online training packages, which are still individualized based on your assessment.
We have found that many clients that we work with, and train at other facilities, there is a lack of communication. This lack of communication can create issues when recovering from an acute, chronic or nagging injury. Having both the Medical and Training staff under one roof, allows for the best and most client centered treatment and training.
On top of everything else, we have a fabulous collection of recovery tools we highlighted in another previous article in Avid Golfer, "Recover like the Pros." This includes whole body cryotherapy, cold laser, NormaTec recovery boots and Game Ready cold compression. These tools aid in recovering from injuries whether acute or chronic in addition to improving your performance and improving your recovery.
Come check us out at ChiroSport if you are looking for a one stop shop for injuries, rehabilitation, training and recovery. Whether a professional, weekend warrior, or looking to get out of bed without pain in the morning, we provide explanations and set up treatment plans to help you reach your goals. Many facilities provide band-aid treatments which do not address the root cause of your problems. This is the reason why so many professionals choose to work with our team, and why you should give your body the best chance at a pain free 2019!