Health & Fitness – Fuel for Performance

Most of us know that our diet plays an important role in how we feel, how well our body functions throughout the day and how we perform. Some experts would argue that the way we eat represents 80 percent of the overall health of our bodies, but my opinion is that it is even more important to your success as an athlete. Athletes, including golfers, have vastly different nutritional needs compared to average people, due to their performance goals and high activity levels. 
So, we know that how and what we eat is critical; however, one of the most difficult challenges as an athlete is finding easy-to-make, healthy snacks and meals that also taste great. Thankfully, I know a few athletes who also happen to be world-class chefs. I reached out to each of these gentlemen and asked them to share their favorite quick-and-easy meals that provide the fuel necessary for maintaining high-level performance. 
Chef Christof Syre
After a game of tennis, I find it pertinent to relax for a moment, drink some water and cool down.  After that, I want to refuel my body with the nutrients it needs, but I also want to be smart about what I am eating. With that in mind. I love to have a great avocado toast on multi-grain bread, topped with two eggs. Garnished with a bit of radish, herb and onion, it strikes the perfect balance between flavor and filling. Honestly, I love it – the protein from the eggs, the smart carbohydrates and healthy fat is exactly what my body needs to keep going.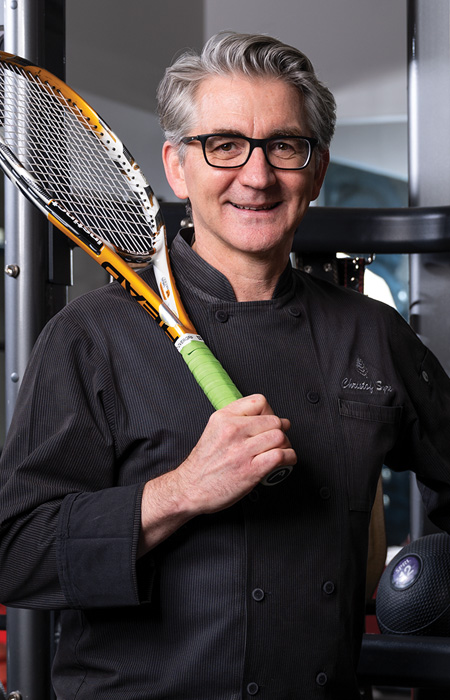 Chef Ozzie Jordan
First thing after my workout or running I like to re-fuel my body by drinking a medium-size protein shake that I make with 2% milk, a whole banana, two tablespoons of peanut butter and a scoop of vanilla protein powder. While I am drinking my shake, I make a large salad of iceberg lettuce, sliced cucumber, a hard-boiled egg, feta cheese, onions and approximately six ounces of light tuna chunks. I toss the salad in a little balsamic vinaigrette and feel great.