Frisco Lakes Golf Club — A Local Gauge for Your Game

It's no secret Frisco is rapidly becoming THE entertainment mecca north of Big D.  As Arlington did in the '70s and '80s, this suburb is expanding faster than a black hole in deep space, as they seemingly announce another high-profile event and open another high school biweekly.  The rapid growth can partly be attributed to the Dallas Cowboys relocating their practice facility, known as "The Star", to Frisco earlier this year, and that, along with the Roughriders and FC Dallas, has helped pave the way for even more growth.
Though Frisco Lakes Golf Club is a bit of a hike from the entertainment ground zero of Frisco, it's every bit worth making the trip to the west side of town to tee it up at one of the most interesting layouts in the area. Frisco Lakes opens with a rather mundane short par 4 that lets players ease into the round by not having to Hulk-smash a driver to get a wedge in their hand. Playing just 399 yards from the tips, a hybrid or long iron will leave you a manageable second shot, but beware, you need some distance control hitting in to a green that can play with your depth perception. After the par-4 second that emphasizes placement of your tee shot to leave the best angle into a narrow green, two of the three toughest rated holes on the course await.
The No. 3 handicap par-5 third plays 581 from all the way back. The danger here lies along the right side. Although most players aren't long enough to really bring the water into play off the tee, wayward layup attempts or players going for the green that lose one right will need scuba gear to locate their nugget. A pot bunker on the left side of the layup zone can spell curtains for a par as well, so your second shot will need to be precise. The 491-yard par-4 fourth is rated as the hardest hole on the golf course. However, don't let the almost 500-yarder intimidate; the dogleg right plays a good bit downhill, so that compensates for some of the distance. The par-3 fifth is not only visually pleasing with reeds working their way across a pair of small creeks in front of the tee area, but it is an interesting test of club selection as well. The hole appears to play a significant bit uphill, but that elevation change has a bit of optical illusion to it, as you appear to be almost level with the putting surface from the back tees (PRO TIP: If it's breezy on the day you play, use the trio of flags marking the entrance to the community next to the course to gauge wind direction). The main no-no on the fifth is missing long. That will leave an awkward downhill lie in a bunker to a green that runs away from the player.
If you were to give No. 7 a nickname, it would likely be "rinsed" or "waterlogged". A peninsula tee box gives way to a small lake that eventually leads to a peninsula green complex. Now you may be thinking: "sounds like a tough par 3". Only problem is, No. 7 is a par FOUR. Mind you, there's a safe route to take instead of trying to carry the water, but it requires a precision iron and then a tough second shot where you'll still have to deal with the water. It appears to me driver is the play, it's just a matter of how aggressive you want to be, and of course, those who get too aggressive might be penciling in a snowman on the scorecard about 10 minutes and a sleeve of balls later. As if there weren't enough water on the seventh, No. 8 is another peninsula green. This one IS a par 3, and though it isn't long (just 165), a couple chili-dippers and your front nine 38 just became a 45.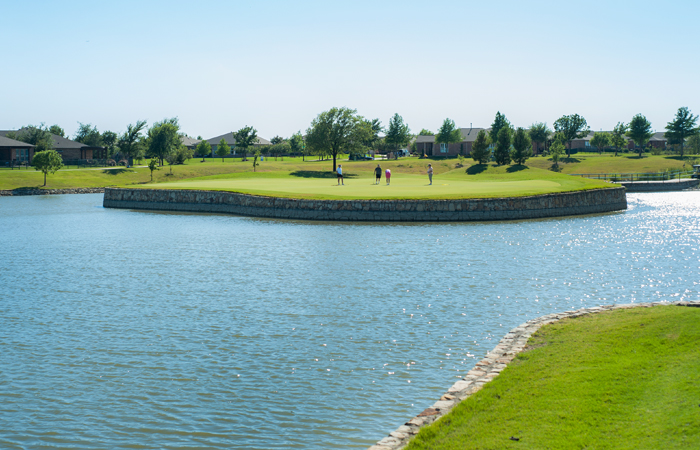 If a power-fade is a shot you keep in your bag, then No. 9 can be a golden opportunity for scoring. A downhill, dogleg right par 5 means a good tee shot leaves a legitimate chance at getting home in two; however, the second shot will need to be solid, as water looms left and a large bunker guards in front of the putting surface. If you manage to execute, you could be looking at a two-putt birdie and getting a shot back if you had a splashdown on seven or eight.
After a pretty tough finish to the front nine, Frisco Lakes designer Gary Stephenson allows players to come up for air on the first few holes of the back nine. No. 10 is a short dogleg left that plays just 372 from the black tees. Small saplings litter the rough on both sides of the fairway, so you'll need to keep it in the short grass, but if you do, a short iron or wedge awaits.
After the par-4 13th, you'll be sticking a tee in the ground for the 251-yard 14th hole. If you're thinking this will be a drivable par-4 and an easy opportunity at birdie, think again. This monster is a par 3. For some comparison, three of the four par 3s at the 2016 U.S. Open at Oakmont were shorter. With Lake Lewisville running all down the right, you need to start a long draw out over the water to hope and run something up to the green. It's either that, or swallow your pride and swing a driver on a par 3. Of course, you can tee-it-forward and play from a shorter yardage, but at 204 yards from two tees in, it's still no bargain.
The 15th plays as the No. 8 handicap and reads at 572 on the card, but it does play back down a hill, so it's not as long as the scorecard might suggest. A severe dogleg right is the signature of the par-4 16th hole. If you want to be aggressive, you can cut a much bigger chunk of the corner than appears visually from the tee box. If you do chew off the dogleg, you will have a wedge in and a great chance at birdie.
As was the case for the front nine, the finisher of the back is again an opportunity for scoring. A 537-yard par 5 is one last chance to shave a stroke off your scorecard. A good tee shot will give you a reasonable chance to get close to the green. However, water surrounds the putting surface on all sides except for a narrow landing zone in front. A well-struck drive and layup will leave only a short iron or wedge and one last opportunity at a tweeter.
When it comes to amenities, Frisco Lakes measures up to any daily fee course in the area. Nice clubhouse with clean bathrooms, a grill, bar, patio and a banquet room for any outing you may want to book. Everything to make you feel right at home.
Bottom line, Frisco Lakes provides a fun layout, above average course conditions and is a short drive from the rapidly expanding center of the entertainment universe. This course is perfect for those who want to tee it up at a fun track and still have enough left over for a pair of tickets to go catch the Roughriders or FC Dallas.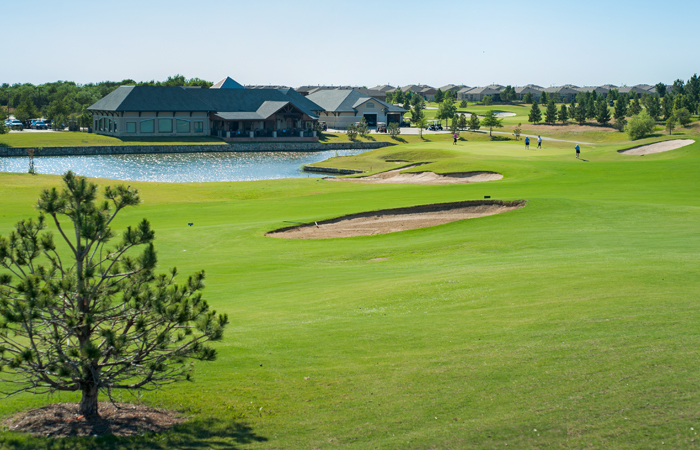 Frisco Lakes Golf Club
Address: 7170 Anthem Drive
Frisco, TX 75034
Phone: 972-292-3089
Website: www.friscolakesgc.com
Designer: Gary Stephenson
Year Opened: 2008
Par/Yardage: 72/7,129 (Black tees); 6,683 (Gold tees); 6,240 (Blue tees); 5,648 (White tees); 5,157 (Green tees)
Greens: Mini-Verde Bermuda
Rates: $55 weekday, $70 weekend (includes cart)
Toughest Hole: No. 14, 251-yard par 3.  Unless you plan on playing in the U.S. Open, it's almost impossible to find a 250-yard par 3, but that's exactly what you'll find with No. 14 at Frisco Lakes. In fact, this beast measures 3 feet longer, ringing in at 251. With the lake down the right side, it takes stones to sling a draw out over the lake with the intention of running it up to the putting surface. Of course, you can play up a tee box or two, but you'll still be looking at right around 200 yards even from two boxes in.
Favorite Hole: No. 9, 556-yard par 5.  What can I say?  I'm a sucker for par 5s. I like the idea of a round being jumpstarted with an eagle or a birdie. I like grinding over the decision to go for it or lay up.  With a good tee shot on No. 9, you'll be put to a decision. If you decide to go, you'll have the benefit of a downhill look at the green, and should you pull it off, you'll head to the back nine with some added confidence.
Most Intriguing Holes: No. 7,431-yard par 4. No. 8, 165-yard par 3. I couldn't put one and not the other here. No. 7 can be made easy if you choose to bunt an iron into the fairway, but if you want to chew off some of the water, you can have a legit shot at a birdie.  However, it can sink your round in a hurry if you rinse a couple. If you make it through unscathed, No. 8 is like No. 7's annoying little brother. You just went through all the stress of No. 7, and now MORE water to carry. Your round can go from on-track to exceptionally bad in just two holes.