Scene & Be Seen — Giant Flavors at Little Lilly

This sushi spot in Fort Worth serves up some of the freshest and most creative Japanese dishes around
When you think of dining in Fort Worth, the usual suspects come to mind. High quality beef, classic American comfort fare, and Tex-Mex… lots and lots of Tex-Mex. What you wouldn't necessarily expect to find in the 817 is sushi so fresh it's truly hard to believe. How can it be possible to find any great fish in a city known as "Cowtown"?
Well, tucked away just across Camp Bowie from the Ridglea Theatre sits one of the hidden gems in the Dallas/Fort Worth area. Little Lilly Sushi combines a charming, cozy atmosphere with some of the most beautifully crafted and presented dishes you're likely to find not only in Fort Worth, but the entire metroplex. Named for owner Chih "Danny" Liu's granddaughter, Lilly Liu, this experience elevates sashimi, nigiri, or more traditional rolls to new heights rarely seen in Fort Worth cuisine.
To begin our meal, the sashimi sampler arrived at the table. Eight pieces of raw fish presented over pulverized ice with julienned veggies. Tuna (Maguro), Super White Tuna (Walu) from Hawaii, New Zealand King Salmon (Masunosuke), and Australian Yellowtail Kingfish (Hiramasa) offer a light, incredibly fresh opener to your meal, and the vibrant colors contrasting the white, icy background served in an ocean blue chilled vessel makes the fish seem like it wants to leap right out of the bowl. In addition to the sashimi sampler, if you're looking for something a little more adventurous to start your experience, the baby octopi (Tako) come to your table perched on wooden skewers. Flavorful with fabulous texture, they may look intimidating, but they're worth a try, and though octopus can be a little tough to prepare, these weren't tough or rubbery in the least.
If traditional is more your thing, Little Lilly offers a wide variety of rolls that visually please, as well as excite the palate. The Hamachi Zest is one of Little Lilly's signature rolls. Toasted garlic-sesame salmon, avocado and yellowtail are topped with lemon zest and scallion, then drizzled with a yuzu ponzu sauce. The fish is well prepared, crisp, and the attention to detail is mesmerizing. You wouldn't think the little sprinkle of lemon zest could change the entire complexion of the flavors, but this tiny addition adds depth and unparalleled brightness to the dish. The yuzu ponzu sauce adds yet another touch of subtle citrus and really compliments the profiles throughout the roll.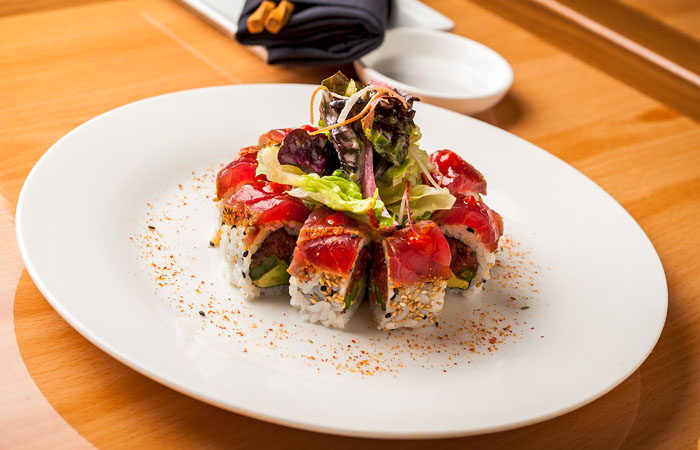 The 2017 Roll combines a multitude of flavors and textures. Smoked salmon, fried sweet potato strings, grapes, white tuna, shishito pepper, and wasabi dressing make this selection as unique as it is flavorful. You wouldn't think grapes would ever find their way into a sushi roll, but believe it. It works, it's delicious, and it's just another example of how much creativity and thought goes into each dish. And at just $14, it's competitively priced with other higher-end sushi restaurants in the area.
Though I wasn't bold enough to give this one a try during our visit, for those chili-heads always looking to push the Scoville Unit envelope, the Devil's Breath roll will give you all you can handle. Eight pieces prepared with ghost pepper tuna, asparagus, habanero masago, and for good measure, a bit of Sriracha. If you've ever had ghost pepper, you know this combination of fiery ingredients should probably be left to the experts, and will no doubt have sweat beading up on your forehead as you beg for a glass of cold milk.
As is the case with most sushi restaurants, the main concern is freshness. With Little Lilly, they take fresh into uncharted territory. Nothing you order is anything less than refreshing and pure. Many of the ingredients are flown in from all corners of the globe. From New Zealand's finest King Salmon, to gorgeous Super White Tuna from the Hawaiian Islands. It all melts in your mouth, and I found myself avoiding soy because I didn't want to take away from the delicate flavors of the fish.
So, take a date and enjoy the comfortable dining area. For a more authentic experience, there is a room available to book that provides a short legged Japanese Chabudai on which you dine. Although, expect to be asked to remove your shoes before you and your party enter this area of the restaurant. If a more traditional date night or lunch is what you had in mind, there are plenty of tables with regular legs for your comfort.
Ambiance, value, fresh ingredients, innovative recipes, and stunning presentation that almost makes you feel guilty to touch the food with your chopsticks. If clean, fresh eating is your thing, Little Lilly is a can't miss in every category. It's a truly magnificent dining experience. It may not be what you've come to expect from a city given the nickname "Cowtown", but it shows Fort Worth isn't just for queso, tacos and steaks anymore.