Goal-Setting on the PGA Tour
The summer months afford many exciting opportunities for a golf scientist to meet with PGA TOUR players while they visit North Texas for two consecutive legs of the Tour. After discovering, during the AT&T Byron Nelson, that the best golfers in the world sometimes have seemingly insouciant attitudes towards their games (see July column), the idea was to ask them, during the DEAN & DELUCA event the following week, whether they set any goals for themselves for a given week, or if they prefer to simply "wing it" and hope for the best.
Long-hitting Jason Kokrak had a strong fourth-place finish at the Byron Nelson. What did he do right?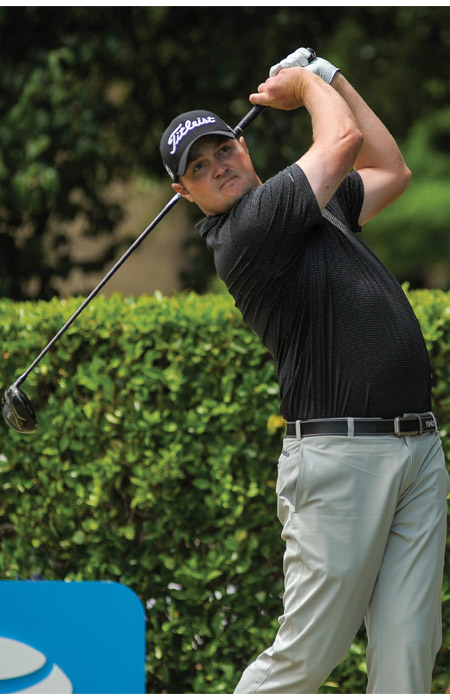 "I putted really well last week," he said, "but I didn't do anything else really good."
His full swing was not great, although his wedges were good. Based on the high of the previous week, what would his goals during the DEAN & DELUCA be?
"Continue to wedge it well, putting hopefully will continue. And If I can drive it a little better…"
When asked what was currently wrong with his driving, he said he was missing it both right and left. And when asked what he does to minimize the damage he replied, "I don't know, I have these guys help me," pointing to his team (he added that his new coach is Dave Stockton's brother).
Cameron Tringale, who tied ninth at the AT&T Byron Nelson, said that his goal coming into every tournament his plays is to win.
"There's benchmarks along the way for how I want to prepare to give myself the best chance to succeed working on my wedges, putting, things I do to build my skills so when I get on the course I can play with confidence."
He also said that while he doesn't have an exact plan going into each round, he does have an idea of which holes on the golf course are more likely to yield birdies, and which ones play tougher. As for his swing thoughts, Tringale said they can change from week to week or even day to day.
Kelly Kraft, a native of Denton, when asked about goal setting, said he doesn't necessarily set goals for an upcoming week, but he does have goals for his year.
"I guess I have goals of how I want to play, not outcome goals. I need to hit more fairways, need to hit the ball a bit better. I was coming over a bit so will stay more square and just let my arms drop a little more. My swing always creeps back to coming over the ball and swinging a little too far to the left."
J.J. Spaun, in his rookie year on the PGA Tour said, "If you fail to prepare you prepare to fail. Each week you have the same goal of winning but a different venue to prepare for. This week, I will work on things I've been struggling with in the past and to get familiar with the course."
Spaun also said he employs a basic course management strategy each time he plays, depending on the conditions and circumstances, and that his main goal each week is to make the cut and to then be in contention to win.
Mackenzie Hughes, who has pulled off some excellent results in 2017, including his first Tour win, says his goal is to "hit a lot of fairways and a lot of greens, because you cannot control whether you win."
When asked whether hitting a lot of fairways and greens was in his control, he replied, "I work on things I can control – have good rhythm and stay committed to the process. I have a focus for every week, such as committing to the process. Golf is a very mentally demanding game so you have to be patient and I work on that a lot."
Forty-five-year-old British golfer Greg Owen on goals: "Just go and play the golf. I think if you set goals and for a certain round you don't reach them, all of a sudden things change, so I just go out and play. You never know with the game of golf so you just accept what comes, and cope."
What would a sports psychologist have to say on the subject? One seminal book "Applied Sports Psychology" by Jean M Williams has many useful, practical suggestions. Firstly, a "goal" is the aim of one's actions. There are several types of goals – outcome (go win or beat an opponent), performance (improve on one's own past performances) and process (specify the procedures to be engaged in each day). Ideally, goals should be a combination of performance and process (because outcome goals are never in one's control) as well as long- and short-term ones. Goals should be moderately difficult yet realistic, and positive not negative.
Ultimately, a golfer should not just make goals but also plan how he is going to achieve them. Based on what the Tour players say they do to be maximally prepared for an event, and what sports psychologists tell us should be done, would you say the PGA Tour player has a well-prepared plan in mind or is simply hoping to "wing it?"
Kiran Kanwar is the developer of The Minimalist Golf Swing System -100% scientific, simple and specific. She has BS degrees in physics and math); MS degrees in sports science and nutrition; and is pursuing a PhD in biomechanics. She is a Class A Member: the LPGA, The NGA of India, The PGA of India. Visit her website: www.mgs.golf