Golf Course Living: The Good, the Bad and the Painful

If you are an avid golfer, you have surely had this fantasy – waking up on a Saturday morning and sitting out on your deck or patio with a nice warm cup of coffee, staring out over your backyard, and beyond the fence is a beautifully manicured fairway, dotted with trees and rough, and a green just a few houses down. Then, after your coffee, you hop into your comfortable, custom-enhanced golf cart with plush seats, Bluetooth speakers and a smooth ride, take a right out of your driveway and make the 60-second trip to the first tee.
Well, such is (or can be) the reality when you live on a golf course or in a golf course community. That's the dream, right? No fighting traffic to get to the club, no needing to carve out multiple hours or fill up the gas tank just to go hit balls, and if you get tired and want to quit mid-way through the round, just drive right up to your backyard and you are home. Your house is the envy of all your friends, its value is always high (because everyone deep down wants to live on a golf course, right?), and your backyard is a sight to be seen.
And it is all true. There are so many wonderful advantages to living on a golf course or in a golf course community – from the high property values and quality school districts that usually are nearby, to the other community amenities and golf at your fingertips, living on a golf course is living the dream. Of course, it isn't always fun and games, especially when a stray golf ball comes crashing through your window, but the risks and liabilities are just something to consider when weighing the pros and cons of life on the golf course.
Quality of Living
Beyond the obvious point of living either on, near or adjacent to a golf course, living in a golf course community comes with some distinct advantages. Heightened and stable property values aside (which we will discuss later), golf course communities are often zones to highly rated school districts and located in close proximity to bustling restaurant/grocery/entertainment hubs.
Residents living in golf course communities surrounding such courses/clubs as Timarron, Craig Ranch, Stonebriar, Stonebridge Ranch, Heritage Ranch, Dallas Country Club, Gleneagles, Twin Creeks and Canyon Creek are zoned to school districts in the Top 10 in the Student Achievement Index and the College Readiness Index, indices used by the Texas Education Agency to measure student progress and knowledge during school and through graduation.
If you travel up the 121 corridor toward McKinney – which is a hotspot for golf courses and golf course communities, with Coyote Ridge, The Lakes at Castle Hills, Stonebriar, Indian Creek, Twin Creeks, Stonebridge Ranch and Ridgeview Ranch all in close proximity – you will find countless sprawling shopping communities, eating areas and recreational activity centers. Stonebriar Mall, The Shops at Legacy, The Colony Five Star Complex, the Dr. Pepper Ballpark and Arena and other hubs all offer convenient entertainment and shopping. Similar hubs can be found in the Grapevine/Colleyville/Southlake area and in Arlington along Interstate 30. It may be debatable as to whether the golf course communities spurred the entertainment and shopping hubs or vice-versa, but where you find clusters of high-end golf course communities, you also find these entertainment hubs.
Also, not surprisingly, are the extremely low levels of criminal activity in golf course communities. Those communities that are gated or feature a guarded entryway to monitor all traffic in and out (such as Vaquero) experience almost no reported cases of criminal activity of any kind (according to local police records and CrimeReports.com). In other areas, such as the neighborhoods bordering Bridlewood, Lantana and Dallas Athletic Club, the reported crime rates in the past year are much lower than the surrounding neighborhoods, especially when concerning violent crimes.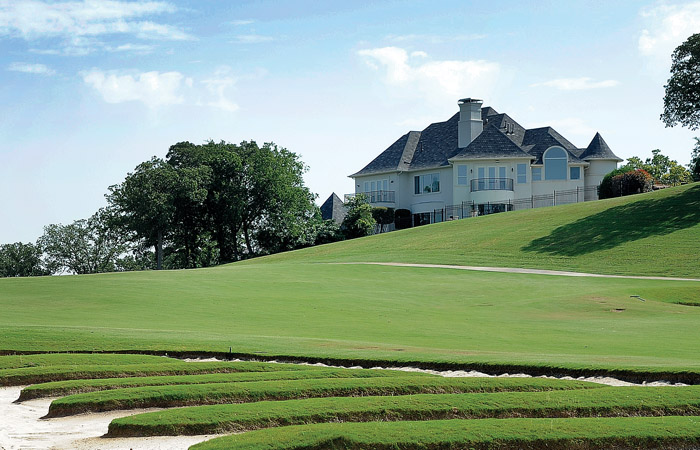 Property Value, Quality and Demand
One of the top benefits (or detriments, depending on if you are the buyer or the seller) of living in a golfing community is the higher level of property value, property quality and demand.
In North Texas, the highest property values adjacent to golf courses are going to be found in the central Dallas areas such as University Park, Uptown, Highland Park and North Dallas, near such clubs as Dallas Country Club, Brook Hollow, Royal Oaks and Lakewood Country Club. Homes in those areas routinely sell for over $2 million, with median household incomes eclipsing $100K (according to the Environmental Systems Research Institute).
The central Dallas area may not be the best example of golf course communities driving home prices up, simply because land is extremely expensive throughout that entire area due to its location. But, if you travel over to Fort Worth, and search the neighborhood around Shady Oaks Country Club, you'll find the majority of homes are valued at $750K and higher (and also quite large, many north of 5,000 square feet), and routinely selling for $280-$325 per square foot. However, if you travel just a few miles to the west, past Coody Drive, housing prices are much lower (and housing sizes are much smaller). In the neighborhoods around I-30 and Loop 820 (including White Settlement), estimated home values are in the mid-$200s and low $300s, and square-footage is priced about $80-$100 less than those around Shady Oaks.
There is a similar, and much more drastic, dichotomy in Irving and the area surrounding the TPC Four Seasons and Cottonwood Valley. In the small area on MacArthur Boulevard, north of O'Connor Road and Northgate Drive, homes surrounding the two golf courses are valued as high as $3 million, and don't fall much lower than $600K. However, once you get into the neighborhoods south of Northgate Drive, houses drop down into the $150K-$250K, a stark contrast for homes just a mile or two apart.
Within a golf course community, certain homes may have a higher perceived value than others by perspective buyers as well, as homeowners may prefer homes with certain views of the golf course or specific locations.
"Many buyers come to me looking for a golf course lot," said Cindy O'Gorman, one of the nation's top realtors. "Most are looking for an expansive view and not just an interior lot overlooking a fence. Of course, a view comes with a price premium. A home situated on a golf course lot with lake or multiple fairway views without looking at other homes on the other side are very hard to find and will sell at the highest premium. Tee box and green locations are also in demand."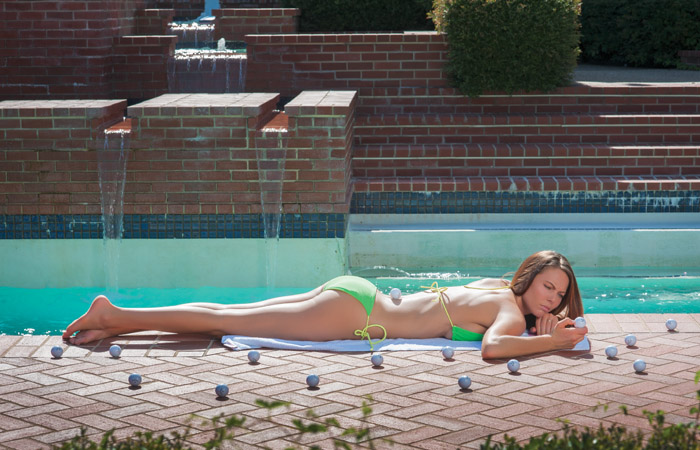 Golf Galore
This seems obvious, doesn't it? It does, but it's still true – living in a golf community puts you up close and personal to fantastic golf and golf-related amenities. For one, having a house directly on a golf course is like having a hole in your own backyard.
How many times have you been playing a round of golf and caught yourself staring at a home behind your tee box (especially on a par 3) and thought, "Man, if I lived there, I would play this hole 50 times a day, every day." Now, doing so would be completely dishonest, likely against club or course policies (even for a member) and possibly illegal – and therefore we don't condone doing so – but we've all had that thought. Bottom line is, for the avid golfer, living on or adjacent to a golf course provides you with the most convenient opportunity to play as much or as little golf as you want.
Many clubs have symbiotic relationships with their surrounding neighborhoods, such as offering discounted memberships – or having a membership included with the purchase of a home – or giving community members access to certain aspects of the club at reduced pricing or at no cost. There may even be clubs that require members to own property in the surrounding neighborhood to become a member (The Vaquero Club in Westlake operated thusly when it first opened in 2001).
Many public courses around the country – especially in tourist-rich golf areas such as Arizona and California – will offer severely discounted rates and green fees to residents to promote more local play. Usually all they require is a driver's license the proves your residence.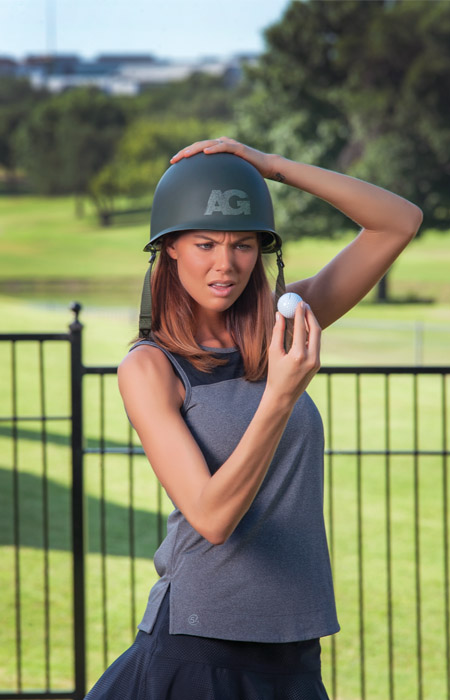 Safety & Privacy Concerns
Of course, living on a golf course isn't all beautiful sunrises over the 17th green and playing golf 24/7 and cruising in your supped-up golf cart; there are some real concerns that homeowners need to be aware of when buying (and living in) a house on a golf course.
Safety is obviously one of the top priorities and concerns for anyone living in a golf course community, especially those who live on the course. And no, we aren't talking about robberies, stolen identities or street crimes. We are talking about safety from flying projectiles, especially those of the round, white, dimpled variety. Depending on where you live on a golf course, your home can be at real risk of be pummeled with the occasional (or the consistent) wayward golf ball. Broken windows, dimpled roofs and battered windshields can be a regular occurrence for the golf course homeowner.
Obviously, if you live behind a tee box, or in between two holes, you aren't going to have these types of issues, but if you live at the corner of a dogleg, or down the right side of a hole (hello, slice!), be prepared to see golf balls fly into your yard. While incidents of individuals being seriously injured by a wayward golf ball are extremely rare, broken windows and beat up grass is much more common.
Another big concern is privacy. To say it plainly – if you live on a golf course, you won't have any. During the day, there isn't much you can do to avoid golfers ogling your back yard.
Dr. Cody Bauer, a dentist in south DFW who lives on the 18th hole of the Pecan Course at Walnut Creek, said the privacy issue is his biggest drawback in living on the course.
"Privacy is limited … I don't even have a fence, but if I did it would have to be wrought iron. I like the open feel of not having a fence, but it makes golfers feel like they can free to come into my back yard whenever they want. When we remodeled our house, golfers would come look inside to see what we were doing."
Bauer also said that privacy has become even more of a concern as the family considers putting a pool in their back yard. He is strongly considering putting in some sort of privacy fence or foliage so that he and his family can enjoy their pool without constantly being observed by passing golfers.
Many homeowners do go the route of a tall privacy fence or net to keep out golf balls and onlookers, but what you gain in privacy you may lose in views.
Legal Liability, Responsibility and Protection
Unfortunately for homeowners, there isn't much, if any, in the way of legal precedent to protect you when your home is damaged by a flying golf ball. That is not to say that it is impossible to receive compensation for a broken window – we know of many instances where the golfer volunteers to replace or help pay for the replacement of broken windows or other damage – but there aren't any overarching statutes that place sole responsibility for damages to a home on a golfer or the golf course.
A court case in the early 1990s illustrates perfectly the difficulties homeowners have in recouping damages caused by golf balls. In 1992, three homeowners on the sixth hole of the Gold Course at Dallas Athletic Club filed suit after stray golf balls damaged their homes and vehicles. Since the victims were not able to locate the golfers responsible for the damages, they sued the club. While the victims initially won in trial court, the verdict was overturned in Dallas County Court on appeals, and that was upheld by another appeals court.
The homeowners filed suit under negligence and trespass claims, but the courts found no evidence that the golfers responsible or DAC had any intent to damage the victims' property. The court also dismissed the negligence claim, due to improvements and renovations DAC had done on the sixth hole to orient the hole and golfers as far away from the homes as possible.
In most cases such as this, intent is the key word (after locating the golfers responsible, of course). In many such cases, the plaintiff must prove that the golfer intentionally hit their ball into a homeowner's property. Most courts have ruled that this is extremely difficult to prove, as golfers generally intended to hit their ball into the fairway or onto the green, not out-of-bounds into someone's yard. There have been instances where a court will find a golf course negligent in the design of a hole, and force a club to either make alterations or put up fences/foliage to protect homeowners, but even this is uncommon.
So, for all you golf course homeowners out there, you are unfortunately at the mercy of a golfer's moral compass if a window gets broken. Most home insurance policies can be set up to include coverage for damage caused by golf balls.
There are some obvious pitfalls and drawbacks to living on a golf course, but if you are avid golfers like we are, there doesn't seem to be anything better than spending all your life out on (or at least near to) the links.