Infiniti Q60 Red Sport — A Gorgeous Rip-Roaring Good Time

Last August, we showcased the exhilarating Infiniti's Q50 Red Sport sports sedan with its 400 horses of fun. Infiniti didn't rest on their well-earned laurels by unveiling the equally thrilling 2017 Q60 Red Sport 400 AWD coupe. It epitomizes what a sexy two-door should possess; mouth-watering looks, upscale luxury, stupendous power and handling.
To wit, I had the pleasure of blasting around North Texas with a giddy grin. During the extensive test drive, the Q60S attracted a plethora of approving glances, comments and whistles. Seriously, even ardent fans of higher priced imports were unanimous in their admiration.
The Q60S Red Sport 400 AWD is Infiniti's latest formidable shot to woo consumers with a price point thousands under its luxury counterparts, while still commanding a decidedly upscale presence.
SKIN
The Red Sport's eye-popping Sunstone Red paint is absolutely drop-dead gorgeous. Seriously, it's one of the best reds I've ever seen and shimmers like a jewel in the sunlight, drawing high compliments from even jaded parking valets. The entire silhouette casts a sleek, muscular stance enhanced by Infiniti's signature "double wave" design. It's decidedly energetic with large airfoils and aggressive fascia in the front coupled with a carbon fiber spoiler and stellar Red Sport 400 exhaust tips borrowed from its sinister Nissan GT-R cousin to separate it from the base Q60.
I was impressed with the graceful extended character lines along its flanks, offering a perfect proportion from stem to stern. It's robust without looking bulbous. The fit and finish are impressive too, offering some of the tightest seams of any production car I've seen.
The new LED eyebrows over the bright headlights give the Red Sport version a slightly sinister personality. Beautiful 19" Red Sport 400 carbon-colored rims inside wide run-flat tires complete the beautiful package that stands out in any parking lot.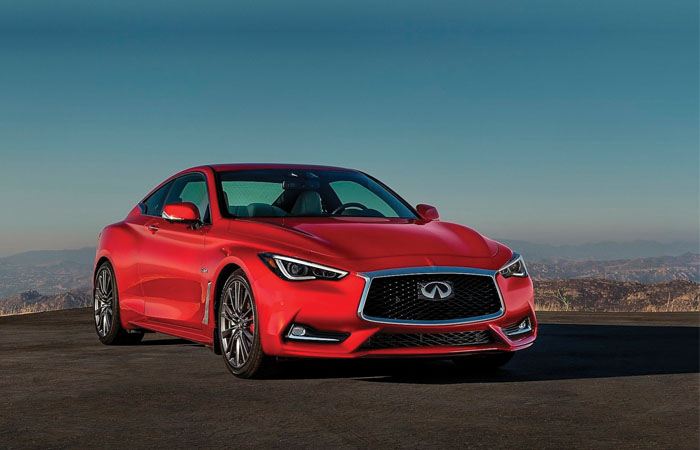 PERFORMANCE
The Q60 Red Sport 400 utilizes Infiniti's robust 3.0 liter twin turbo V6 with 400hp and 350lb-ft of torque. Upon flooring it, the engine note delivers a decent purr but I'd recommend including a significant growl befitting its sinful looks and performance in future models. The engine is smooth and accelerates immediately while downshifting impeccably. Throttle response, shift patterns and steering adjustments are controlled by a toggle switch in the middle console. The Zero-lift aerodynamic design adds to the slippery feel as you barrel down the highway.
There are six driving modes (ECO, Snow, Standard, Sport, Sport + and Personal). You can customize up to 300 different combos in Personal Mode. Yes, you can go a little crazy, but a good life is all about options. This gives you plenty.
The Red Sport feels very planted on the road and cruises exceptionally well, but it can hit the curves with confident aggression—especially in the supremely confident All Wheel Drive. But make no mistake; this missile cruises happily along at legal speeds as well. Capable Infiniti-stamped brake calipers make stopping smooth and quick. Given its sublime capability for speed, I'd love a digital speedometer in future models.
The improved Direct Adaptive Steering controls the tire angles and steering inputs in Sport modes. The effect allows you to specifically alter the steering feedback from benign to incredibly precise thanks to Formula 1 driving champ Sebastian Vettel's input. It's a very cool feature.
Gas mileage for this rocket is 20/26 for all wheel drive. I did coax nearly 28 mpg on the highway with premium fuel in the AWD all while gleefully passing cars in a blur. The Q60's range is impressive too with a 21.1-gallon fuel tank.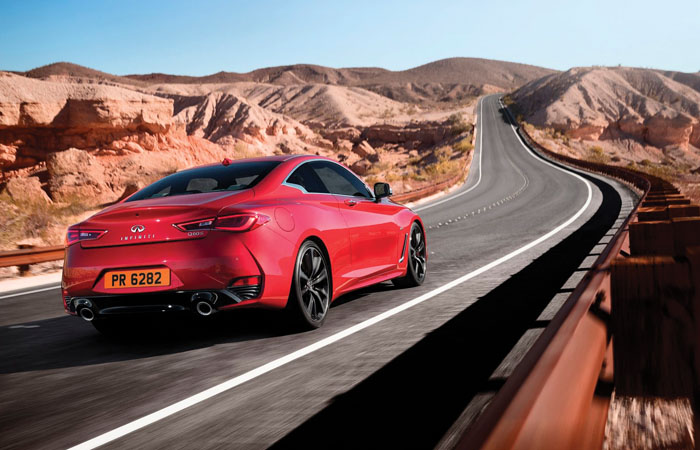 CABIN
The plush interior is delightful with excellent materials. The exquisite dash and door designs mirror the exterior's graceful flow. Unique Silver Optic and Carbon Fiber trim befits its tech-focused motif. Double stitched leather seats are supportive and comfy on long trips. Lighted Infiniti kick plates are a nice touch as is the programmable ambient lighting and illuminated cup holders.
The optionally heated sporty leather steering wheel feels terrific and is adorned with volume, menu, voice activation and cruise control buttons. The brushed aluminum trim contrasts nicely with the leather interior. Storage is decent for your various knickknacks. Back seat room is understandably tight but two-door coupes are mostly about the driving experience anyway.
Dual touch screens fill the center console; a large NAV screen complete with traffic and speed limit notifications on top and an infotainment display for radio etc. underneath. Infiniti sweats the details, as the delightfully organized analog control buttons and knobs are a breeze to navigate, although there is no designated radio-tuning knob.
Trunk space is 12.1 cubic feet – decent for this category – and more with the seats folded down. A full set of clubs including a driver fits horizontally. However, in this price range, Infiniti should provide a power lift/close trunk lid.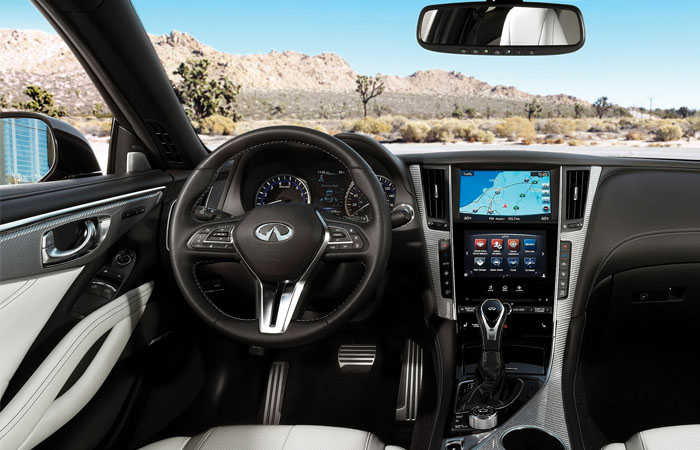 TECH CHECK
Infiniti continues to impress the finicky techno-lover. The optional and worthy Premium package offers NAV, BOSE 13-speaker Premium Audio, XM Real-Time Weather, 36 radio presets (across all radio formats!), Backup Camera, and Voice Recognition. The NAV and VR are some of the best in the biz. You can select points of interest (all the golf courses were listed) and restaurants by Zagat ratings.
Like most in its class, the Q60 Red Sport offers optional safety protectors including Blind Spot Intervention, 360-degree parking sensors, Speed Adaptive Cruise Control, Forward Emergency Braking, and Forward Collision Warnings that peeks ahead 500 yards for impending traffic issues and readies brakes for quick stops. You'd have to be a deplorable driver to wreck this ride.
In addition, you get the 24-hour access Infiniti Personal Assistant that's like conversing with your very own concierge—all at the push of a button. So luxurious!
The 2017 Infiniti Q60 Red Sport 400 AWD will delight current Infiniti owners and countless new customers. It's centerfold gorgeous, sporty and surrounds you in high-tech luxury without losing that Infiniti spirit— all at a price point that's appealing in this premium category. I believe you'll be duly impressed when launching this beautiful missile down the highway or on a welcome winding road.
Test-drive the 2017 Infiniti Q60 Red Sport 400 AWD at Crest Infiniti in Frisco.
SCORECARD
Golf bags: 2
Curbside appeal: Luxurious, sporty presence with a sexy growl
0-60: 4.8 seconds (RWD), 4.5 AWD
MPG: 19/26 Observed 21.0 mpg
Must haves: Driver Assistance, Silver Optic Interior Accent, Premium Plus Packages
Warranty: 4 years/60,000 miles
Base price: $38,950
Price as tested: $61,995
Who buys it? Those who desire tooling hitting warp speed
Finish line: A formidable option in the premium class that won't break the bank