Jaguar F-Pace S AWD — King of the Cats

The SUV/Crossover segment is the hot ticket right now outselling sedans by some 30 percent. Thus it behooves even the sexiest brands to unleash their own cargo/people mover to keep pace. One new candidate is either a practical sports car or performance crossover. Either way it screams fun and capitalizes the SPORT in a utility vehicle. Meow!
Yes, the 2017 Jaguar F-Pace S AWD delivers the goods for the Crossover set with flair, performance, technology and creature comforts you'd expect from the Leaping Cat. Owners will notice some delicious DNA derived from the terrific XF, XJ and F-TYPE models. At a base price of $41,990 and nicely appointed in the mid $50s, the F-Pace will draw many new curious and admiring looks.
SKIN
Not surprisingly, the F-Pace possesses an alluring, sexy motif – just like its gorgeous siblings. Several of my more car-critical friends gave it two thumbs up – as they should. The tester looks sinful in Italian Racing Red with black 22-inch Double Helix Contrast Alloy Rims. The front is very Jaguar with the blunt nose, attractive mesh black grilles, aggressive air intakes, LED headlights and alluring running lights.
The hood appears shorter than its brethren but balances well with the SUV shape. The sporty aggressive lines swoop in a graceful arc to a lovely rear with new wraparound LED taillights and dual chrome exhausts. Fit and finish are stellar. It attracted constant admiring whistles and comments even from jaded country club security guards.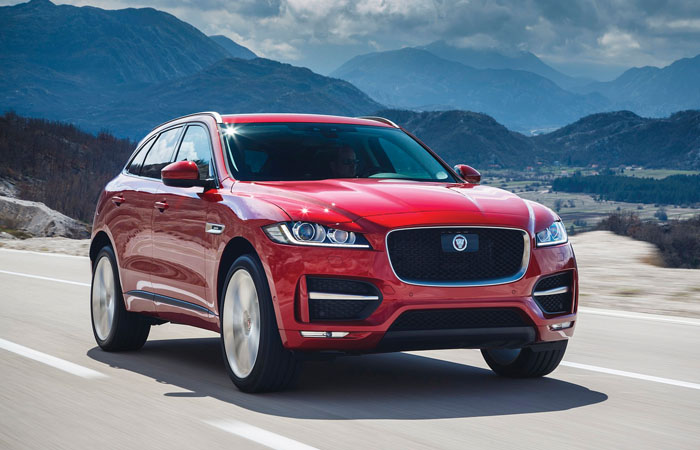 PERFORMANCE
As with the other Jaguar offerings, the F-Pace's beauty isn't merely skin-deep. The F-Pace is gorgeous but the driving experience is just as sweet. A fuel sipping 2.0-liter 180hp diesel or powerful 340hp/380hp supercharged 3.0 V6 offer plenty of terrific choices with 0-60 acceleration rated at 8.1, 5.4 or 5.1 seconds.
All-wheel drive is standard, borrowing the impeccable traits from its Land Rover cousins. An eight-speed transmission shifts smoothly and cruises wonderfully in Comfort mode. Yet, I couldn't keep it out of Sport mode that'll make you swoon over the fast feline's spirited responses of steering, suspension and throttle. The 20-inch rims are the sweet spot for appearance and smooth driving. The throaty and raspy exhaust notes are some of the best in the biz.
As mentioned, the materials, tight chassis and perfectly balanced 50:50 weight distribution provide plenty of driving kicks. A new stability control slightly brakes inside wheels for responsive turning. Adaptive Dynamics analyze and adjust driving characteristics up to 500 times a second. Another selection lowers the ride during higher speeds. All Surface Progress Control (ASPC) adds confidence in slippery conditions including wet grass. Autonomous Emergency Braking ingeniously uses stereo cameras to detect impending collisions to stop on its own.
Gas mileage with the diesel is a superb 26/33 while the petrol model delivers 18/23. Not too shabby for such giddy performance.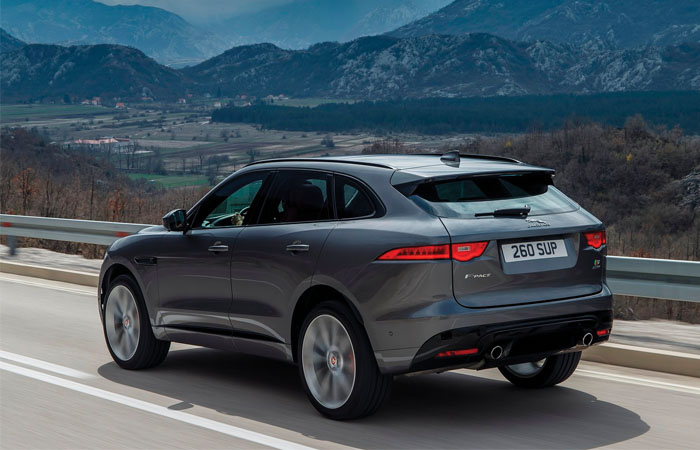 CABIN
Jaguar designers know how to outfit a cabin in sumptuous luxury. The leather scent is intoxicating. Everything works in harmony with lovely Gloss Black Veneer trim and optional Jet/Red Duotone with Jet stitching. Generous glass allows for good visibility despite such a sporty shape. A fairly wide center console doesn't hamper legroom due to the slightly extended cabin width. The familiar cool rising gearshift knob greets you upon ignition.
The 14-way power Sport front seats are extremely comfortable, supportive and are heated and cooled. A terrific leather steering wheel can heat quickly when the temps drop into frigid territory. During a snowy day, the front and rear windshield defrosters turned on automatically instead of merely blowing hot air. Heating elements in the front glass melted the ice and snow almost immediately (one of my favorite new options).
The Technology package includes a lovely 10.2-inch TFT animated instrumentation with richer graphics. The screen eliminates those bothersome fingerprints too. A Heads Up display with laser technology and speed limit detection keeps your peepers safely on the road ahead and can automatically lower your speed. A large sunroof and power shade is included.
There's ample storage inside the cabin. Rear seat leg and headroom are abundant and the seats fold nearly flat for extra cargo space (up to a generous 63.5 cu.ft.). I loved the custom rubber mats with distinctive fish scale-like designs and opening the trunk lid with a wave of your foot.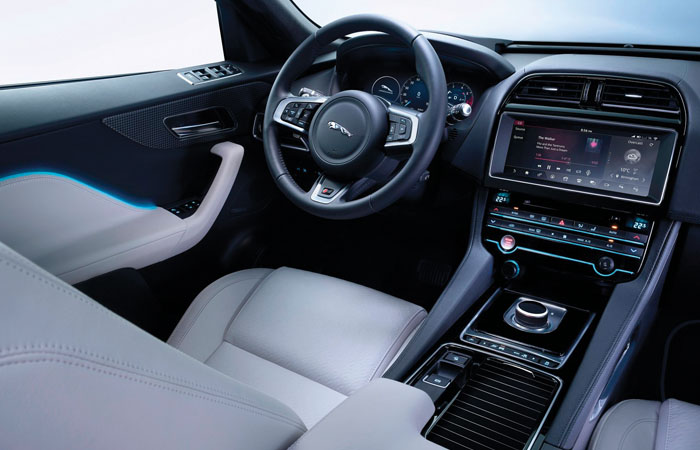 TECH CHECK
The biggest improvement is the new InControl Touch Pro 10.2-inch touchscreen command center that you can also control remotely from your smartphone app. It's crystal clear, within easy reach and nicely responsive. The standard 380watt Meridian 11-speaker sound system is very good and offers four distinctive sound settings. I do wish they (and many other manufacturers) would include a tuning knob for quick station selections and allow presets displayed without changing radio formats. Voice controls respond well to grant your wish and the swipe feature on the screen is very cool. Bluetooth clarity is terrific.
A genius option is the waterproof "Activity Key" resembling a FitBit bracelet that disables the main keyfob you leave in the F-Pace allowing you to do whatever endeavor without the worry of losing your keys.
Yes, the new 2017 Jaguar F-Pace S AWD is a stupendous combination of eye-candy, performance, luxury appointments and cargo capability for the fabulous feline. A generous 5-year/60K mile warranty plus no-cost scheduled maintenance is included. Thus, the F-Pace's stellar package offers SUV/Crossover buyers a terrific option to separate themselves from a crowded and formidable category.
Test-drive the 2017 Jaguar F-Pace S AWD at Jaguar Dallas and Jaguar Plano.
SCORECARD
Golf bags: At least 2 with rear seats folded down
Curb appeal: Draws admiring looks and curiosity
0-60: 5.1 to 8.1 sec depending on engine
Mileage: 18/23. Observed 20 mpg overall
Must-haves: Comfort/Convenience and Technology packages
Warranty & Free Maintenance: 5 years/60K miles for warranty and no-cost maintenance
Base price: $41,990
Price as tested: $73,308
Who buys it? Those desiring a sexy fun sports car + extra cargo room
Finish line: A superb ride that checks nearly every box