Kaime Stroot – The Media Maven of North Texas

There's not much Kaime Stroot can't accomplish when she sets her mind to something. This former cheerleader-turned-multimedia journalist is the Swiss Army knife of North Texas sports broadcasting. She can write, edit and produce segments, host pre-game shows and be the fan liaison for any team, ranging from local high schools to professionals. The 29-year-old is not only the beauty in front of the camera lens, but she's the brains behind it, too.
After cheering professionally for the Dallas Stars and graduating from the University of North Texas in 2012, Stroot joined the Fox Sports family as a Fox Sports Southwest Girl. After a three-year stint with the program, she stayed on with the network to continue coverage as a multimedia journalist and fan correspondent.
What's it like to work on live television and brush elbows with Dallas' favorite professional athletes? Stroot recently stopped by to indulge our curiosities and share her favorite memories on and off camera.
AVIDGOLFER: So tell us a little bit about yourself.
KAIME STROOT: I was born and raised in Texas – Flower Mound – so 30 minutes north of [Dallas]. We moved a few places but I pretty much lived most of my life in Double Oak and Flower Mound. I'm a born and raised Texas girl. Never left, so far at least. I have two sisters and I'm the oldest of three. One is 17 and I have a 27-year-old sister. Both of my parents are absolutely incredible and they're the reasons I am who I am. They've always been super supportive of anything we've ever done. We were really active when we were younger. It was funny- I ended up being a competitive roller skater for like 10 years with my mom and my sister.
AG: Competitive roller skating? How did you get into that?
KS: We went to when, I think, we were 3 or 4 years old a roller skating party and someone just happened to walk up to my mom and say, "Hey! Would you be interested in taking some roller skating classes?" And that turned into 10 years of competing all over the country. We went to nationals, regionals. We were skating anywhere from 20 to 30 hours per week. While everyone was doing dance classes or soccer or softball, we were roller skating. There was glitter and the whole shebang.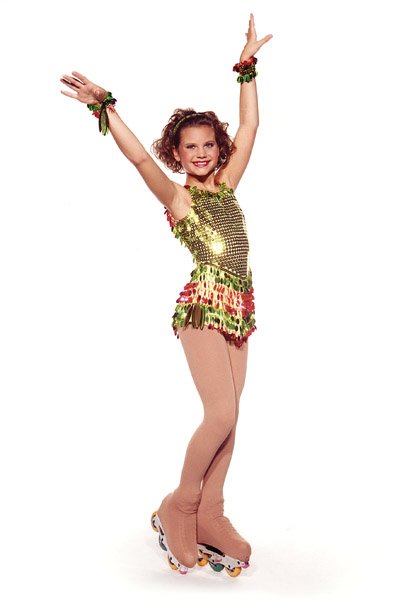 AG: Haha! What exactly is competitive roller skating?
KS: Think of competitive ice skating – it was the same exact thing but on roller skates, and it was very big in the '90s. Have you ever noticed those little circles on a roller skating floor? There's things called loops and that's where figure skating (like a figure eight) comes from. So you would follow it and the judges would watch you and you would follow that line. It was serious. I did that from the age of 3 or 4, but I got competitive around the age of 5.
AG: And your mom skated as well?
KS: Yeah. She had a partner and she did a lot of the dances – the tango, the waltz, things like that. They just did it on skates. It's so funny. It was a really fun family bonding thing we could do.
AG: Was skating your main sport growing up?
KS: I did LFA cheerleading and it was for football teams (Lewisville Football Association), so I was a cheerleader at a young age getting into football. I went back and forth between loving the pretty, glitzy stuff and being a tomboy and playing flag football. In middle school, I did everything. I played basketball – for the record, I was terrible – but I also played volleyball and I was actually pretty good. In most public high schools you can only choose one [sport], and cheerleading tryouts were first. I was the only person who didn't know how to tumble out of the group. They took 10 girls my freshman year, and I ended up making the team. I don't know how I made it, but I said, OK this is meant to be. My freshman year through my junior year I taught myself [the tumbling basics]. It's insanely difficult because you typically learn those in the beginning years, but I was determined. I wasn't going to be the one who can't tumble so I went to classes and that's when competitive cheerleading started.
AG: When did you decide to pursue cheerleading professionally?
KS: I ended up not cheering my senior year, but a couple of years later I realized I loved it and wondered why I stopped. I was focused on school, but I had met some people who were Dallas Cowboys Cheerleaders, and I ended up auditioning for them.
AG: You were on the TV show "Dallas Cowboys Cheerleaders: Making the Team," right?
KS: I was! I was on season seven. I was the only girl who has been asked to training camp after being cut at finals. For me, it's probably one of the most pivotal things that has happened in my life.
AG: What was the tryout process and reality TV experience like?
KS: You have pre-lims, semi-finals, then two weeks later is finals and then you go to training camp. I got cut at finals. Once that's over, you're done. You're going to go to another team. At that time, I wasn't thinking about another team. My heart was set on the Cowboys. I always the kind of person who wanted to give back to the community, who loved being a role model for people. To me, that's why I wanted to [be a Dallas Cowboy cheerleader]. It wasn't for the boots or the glamor, but it was more representing an amazing organization. I ended up getting cut, and thought, OK, maybe we'll try next year. So I booked a vacation to Cabo San Lucas, but right before I left, I got a phone call from [someone with the Cowboys] and she was like, "Hey, we just want to know what you're doing on Tuesday at 6:00 next week." I said, "Well, I leave for Cabo in a couple of days so I'm not sure. Are you going to bring me back to tell me 'you messed up and try again harder next time?'" I will never forget this day because she goes, "Let me talk to [Cowboys cheerleader director] Kelli [Finglass] and call you right back." So she calls back and said, "I can't tell you what's going on. You're just going to have to trust me because it's worth it." I had no idea what was going on, but my mom told me, "You can go to Cabo anytime. This might be an opportunity, so go for it."
So I cancelled my trip and went to meet them. They stuck me in a closet and I waited there for like 45 minutes, not knowing anything. Then they come get and take me through this big door and Kelli is sitting there with my entire file and judges scores and my essay spread out on the table. She said, "You must be wondering what you're doing here." She ends up telling me that two girls had quit, and they made a mistake and should have brought me to training camp. "We want to invite you back to training camp. We've never done this before. You're the only girl this has ever happened to. I'm not telling you that you're making the team, but I'm also telling you that because you're coming on, someone is getting cut tonight."
AG: Wow, that's got to be pretty intense.
KS: The hard part was, when I came in [show producers shifted the show focus to] all about me and "Is she going to make it?" It was a lot of pressure, and I had to learn [most of the choreography] by myself. I'm the kind of person where I'm not going to cry or ask for your approval. It doesn't matter who I am, I'm just going to be a confident individual. I think that wasn't meshing well with some of the girls and eventually I crumbled. I ended up being the 36th girl and they took 35. I was the absolute last girl that got cut.  Just recently I was in Chicago and my Uber driver recognized me from the show. She said, "Hold on! Didn't you used to have long hair? Oh my God, you're that girl from that show that got cut and then got cut again!" I said, "Yeah, that's me."
AG: But your professional cheerleading career didn't end there.
KS: No. Meanwhile, I was behind and I was learning all these dances on my own. I ended up going to a dance class close to where I lived and the [Dallas Stars] Ice Girls happened to be doing their training camp there that was open to the public. I was there dancing and the director of the Ice Girls ended up saying, "Who's this girl? We want a girl like that on our team." And they said, "Well, she's trying out for Cowboys." Little did I know I was about to be cut. I was crushed. No one likes to be told, "You're not good enough" after you work and give up your entire summer to do that. I am so thankful I did because I grew so much as a person, but the one thing that stood out, and it's something I always tell younger people, there's something around the corner and if you choose to make it positive, something good will come out of it. Before the show even came out, a week after I got cut from Cowboys, the director of the Stars [Ice Girls] called me and asked me to come audition. I ended up becoming captain for two years, and I cheered for three. It was neat. I got to put my Kaime touch on it from what I had learned previously.
AG: At this point, it's 2012, you're cheering for the Stars and you're also about to graduate from UNT. What are you thinking about doing next?
KS: I was cheering for the Stars, but they knew I was in radio, TV and film [at UNT]. That's what I was getting my degree in, so they gave me a ton of opportunities for commercials or different fun things. If we were representing the Ice Girls on the news, they said, "Let's have Kaime be our spokesperson." They really groomed me and helped me along. Ralph Strangis really took me under his wing. He introduced me to Jon Heidtke, who was our GM at Fox Sports, at one of their casino nights. It was one of those things where I got his information and sent him an email thanking him for his time and saying it was nice to meet him, but I didn't think anything would come of it. But then, in January, I had the chance to interview for an internship at Fox. There were hundreds of people [applying], but Jon came up to me and said, "That one email you sent to take the time and say thank you, you have no idea how much that means. Not many people do that and I appreciate that. I believe in what you're going to do." So I ended up getting the internship.
AG: So you started interning for Fox during your final semester at UNT?
KS: That was my final semester in school. I was working at Cowboys Golf Club, I was going to school, I was cheering for the Stars, and then I got an internship with Fox. Fast forward a couple weeks into the internship, and I get a call from a woman who would later become my boss, asking me if I wanted to audition for this new role called the "Fox Sports Southwest Girl." To this day, I laugh, because I was already an Ice Girl, so I thought, OK. I'm graduating college, I'm going to be a woman now. I'm not sure if I wanted to be a Fox Sports Southwest Girl.
AG: But you went anyway…
KS: I did. I went in and they asked me a few questions about sports. I told them about my job with the Stars and other stuff … I don't know if it was a good audition or not, but I just talked. I had no idea what I was getting myself into. If I knew then what I know now, I would have been a nervous wreck, because there was a lot on the line. Those were the most incredible times of my life.
AG: That job, as a Fox Sports Southwest Girl, was brand new so no one had any preconceived notions of how it should be or how the job should be done. How do you feel your experience was in shaping that role?
KS: You're right, I didn't know what the job entailed. You go to be a journalist or work in radio, TV or film, and you kind of know there's a producer job, there's a girl on camera, writers, editors, etc. With this job specifically, there was no information about it. We were really shaping this new role and we got the opportunity. There were anywhere from 22 to 27 girls that represented Fox Sports in the other regions. That was also another really neat experience because there was some comradery between all of us and we got to meet some really cool and interesting girls from all over the country.
AG: While working as a Fox Sports Girl, you got to meet all these sports figures; was it difficult to keep the fan geek at bay and try to be a professional?
KS: Definitely there were moments where I was thinking, this is really awesome that I'm meeting these people. I've always been fans of people but I've never been the one to be like, Oh my God I'm going to freak out! It's because at the end of the day, one of the things I've learned about this job, athletes are just like the rest of us. We all put our pants on one leg at a time.
There was one moment at the Super Bowl where I was interviewing some people. We were at a red carpet and some of the girls would switch off interviewing. It just so happened that I interviewed Michael Irvin. It was a moment of knowing he's a Cowboys player but he's also my great-grandmother's favorite player. I'm sitting here interviewing him and having a moment of thinking about her looking down on me like, "Go Kaime, go!" That was really neat. It's moments like that where I know I'm blessed to have those experiences.
AG: So now that the Sports Girl gig is up, what are you up to? Are you still doing things for Fox?
KS: Yep! In 2015, Fox Sports Southwest decided to end the program of Fox Sports Girls. It was an end to a great three years. I loved every second of it. I went a few months doing my own thing, and then I got hired back as a multimedia reporter. I got to be myself – not Kaime the Fox Sports Girl but now Kaime Stroot. I get a last name! I'm a real person!
AG: What responsibilities or jobs does a multimedia journalist have?
KS: Multimedia is anything from social media and the digital platform to live [TV]to working with all of our teams to working on campaigns. I'm still kind of a face for the network, but I get to be me and be an actual reporter. I get to do everything from live camera work to producing and writing my own pieces. I'm a freelancer, but I'm still there.
AG: So you're building a more well-rounded set of skills.
KS: That's one of the things I love about it. Working with Fox has been so wonderful because I've gotten to continue to work on my craft and get to know who Kaime is as an on-air personality. What I love is getting to know the fans. We'll see where it goes, but I absolutely loved being here.
AG: You have many more responsibilities than many people who are older than you, and you are working with people much older and more experienced. How do you make yourself feel like you are on a level playing field and fit in with some of the media giants?
KS: Honestly, in this industry, there's no A to B. For this, there's no real map to it. It's all over the place. I always tell people: Never burn a bridge. Always be kind. Be genuine.
People like Dale Hansen have been doing this for years, and I don't consider myself to be on the same playing field as him. I'm sure he could school me in a bunch of things. I respect him. I respect my elders, I respect everybody because it doesn't matter who you are and what you do. It's about working hard and keeping yourself here. There are a dime-a-dozen girls that are cute and want to do sports. But who you are as a person is what keeps you there. I continue to work hard and take these experiences and opportunities that come my way, and give 150 percent in whatever that might be.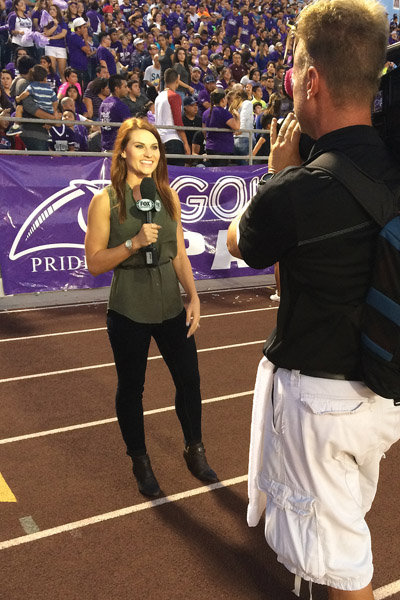 AG: You have a really interesting perspective from a coverage standpoint, in that you've covered the best professional athletes, but also small-town high school sports. When you talk about that juxtaposition, what are some of the differences and fun things and how you approach covering each?
KS: Let me tell you, there's not a whole lot of difference other than pay and the amount of people who are there. High school football is huge in Texas. One of the coolest jobs I've gotten to do is go on the DQ Big Game of the Week with Neil Beasley and a couple of other guys. You roll up to a 2A school [for a game] and you are the most important person there. It is so neat. You've got coffee with coach and the whole town shuts down. To see all of that happen and the different traditions at these small high schools, that's where it starts.
AG: What are your goals going forward? Do you want to continue working with the professional sports teams?
KS: I do love sports, and I love the fan perspective. I love asking the players the fun questions. The game is absolutely important, but the fans love the players. Finding out what it is about the players that the fans love and getting the personal stories.
I do love traveling and fitness parallels with sports. These guys are the best athletes in the world. They're working out all the time. It's important for kids to know how incredibly important nutrition and athletics are for their body to be able to live longer and have a healthier life, so if there's some correlation there, maybe. Again, I'm one of those people who is open to anything. I'm open to learning, I'm open to different opportunities, so whatever comes up, I'm ready to go after.
AG: Any favorite assignments or jobs outside of reporting?
KS: One of my favorite roles is emceeing. I love it. It's one of my favorite things because I get to interact with the people. One job I really enjoy (through Fox and its partners) is the pre-game emcee on Dallas Cowboys game days. That's one of my favorite gigs. I love meeting people. I love interacting with people. I just love those connections and relationships and love cultivating new ones. We'll see where life takes me.
AG: What were some of the things you found difficult or intimidating when you first started out?
KS: The most difficult thing for me is that I talk fast and then I mumble because I'm talking so fast. I smile the whole time I'm talking so I've had to learn to articulate a little bit more. It's like any job. I went in very green, and had to learn A LOT.
AG: What about live TV … scary?
KS: Live TV is definitely tricky because obviously you can't screw up, so you've got to work out a way around a flub or whatever. Working with a partner… Liddy [Bisanz] and I bonded. Thank gosh we were so close. But having a partner can be a challenge like anything else. You're splitting everything. You're having to remember who started and who's going to hold the mic. We ended up becoming so good at it that we could finish each other's sentences.
AG: Do you have any role models that you look up to?
KS: People always ask me, "Do you want to be like Erin Andrews?" And you know what my answer is? No. I want to be like me. I think that's a really key thing. Don't get me wrong – there are definitely people I look up to. I think [FSN reporter] Emily Jones is absolutely brilliant. She's great on camera. She's got a great rapport with the players. She's well-spoken. [FSN anchor] Dana Larson is amazing. I love Erin. I love Ellen DeGeneres. She's not in sports but I love who she is as far as what she does for the community.
AG: Favorite sports memory as a fan?
KS: The night [Mike] Modano retired; the night he got brought back. I was there and the emotion and the vibe of that arena was on fire. I skated that night and I remember being on the ice literally 10 feet from him and being like, this is history. That's really cool.
AG: Most embarrassing blunder?
KS: It goes back to Ice Girls days. You have to be fast to get there and you have two minutes to clean the ice, otherwise you get fined by the NHL. Our locker room was across the way so we would put on our guards so your blades didn't get messed up. We had a habit of putting our guards on and then taking them off before we went on the ice. The door opens, I'm the first one out, and I fall. I bust my tail. Everyone's like, "Ooooooohhh!" You can hear the crowd. I'm like, why am I falling? So I get up again to try and skate and fall again. Everybody was yelling, "Your guards are on! Your guards are on!" I took my guards off, chucked them somewhere and kept going. At the end I bowed, but that was probably one of the most hilarious things.
AG: When you're not working, what are some hobbies or things you like to do for yourself?
KS: I like to work out most days; I probably work out five times a week. Maybe more. I'm such a family girl so I find time to be with my family. My husband [Chance] and I have an incredible relationship. He's my number one supporter. Maybe he and my mom could go to bat because she would probably argue with him for that [title]. Literally, I couldn't be more thankful for him because he's so supportive of what I do. There's never a moment where he's selfish and says, "I want you to be home." He's more like, "You go and you do it." If I could tell every woman out there, you want that in your life. You want a man who supports you and builds you up and makes you stronger and lets you go after your goals and your dreams.