The Man Behind the Curtain — David Winkle
Salesman. Negotiator. Organizational expert. Mentor. Cheerleader. Sounding board. David Winkle has a lot in his job description. As the president of Hambric Sports Management and agent to some of the top players in golf (such as Dustin Johnson), Winkle has walked through some of the sport's greatest moments and heart-wrenching defeats with his clients over the course of three decades in the business. The University of Texas graduate and former UT golf team member now focuses his time on creating the surest path to success for his clients, whether it happens to be on or off the golf course.
Winkle recently took some time with us to share what it's like managing athletes, negotiating sponsorship deals with top brands and what was really going through his mind during the potentially ominous day at Oakmont this past June.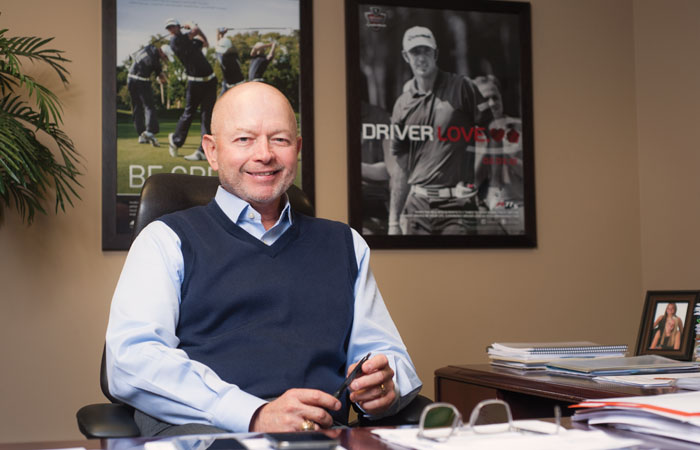 AVIDGOLFER: After you got out of college (from the University of Texas), you got in the real estate business. After you realized that it wasn't for you, what made you decide to be a sports agent?
DAVID WINKLE: It wasn't so much that I didn't like the real estate business, you know, I was someone who grew up thinking I was going to be a professional golfer. That's what I was going to do – I was going to play golf. Well, I probably peaked as a player when I was 18 years old. When I was fortunate to start at the University of Texas on a partial golf scholarship, I got down there and I just went crazy – girls, nightlife, the whole deal. I probably wasn't as academically prepared as I needed to be for that school. So, it was a combination of things that lead to some struggles. After a few years of shooting 75s and getting in a couple of team pictures and playing in a few freshman-type events, I put golf aside, and decided I needed to buckle down and get my degree, which I did. I was kind of drawn to advertising and got my degree in PR. But I still wasn't completely sure what I wanted to do with my life. At that time, the commercial real estate market in Dallas, Houston, Austin and San Antonio was just exploding.
In the fall of '86, I had just gotten married and I panicked. I wasn't making any money in the real estate business and the outlook was not good. As I was mulling my options, I was literally in the shower one morning getting ready for work, and I thought, "Your life is so good." I teared up in the shower because I was reflecting on what was going on. I thought, "Why are you unhappy when you've got this great, beautiful wife, a new home and everything else is good?"
I started to read in the sports page about a boutique sports management agency run by a man named Rocky Hambric. It was called Cornerstone Sports, and they had signed Bob Tway the previous year during his breakout year (he had won the PGA Championship in August). I met Rocky through a man I had met in Washington, DC, and Rocky was kind enough to meet with me. As Rocky tells it now, he says, "I hired you so you'd leave me alone." I was pretty persistent.
My first day of work was the Monday after the Masters in 1987, in which Larry Mize chipped in and Larry was a client. Literally my first day at work I walk in and (back then it was a Telex machine before fax machines) the Telex machine was overflowing, there were flowers being delivered, the phone was ringing off the hook. If I'm not mistaken, Rocky might not have even gotten back until Tuesday, but I remember him walking in and he said, "Hi David. Welcome aboard, we're glad to have you here. I'll talk to you next week."
Fast forward to June and Scott Simpson won the U.S. Open and he was a client. So now our little boutique firm had three major winners in a row. The phone was ringing more and more and bigger and better things were happening. In July we had the two players in the last group at the British Open, and that's Faldo's historic round where he made 18 pars in the bad weather at Muirfield and won. So we had a near-miss there but in August Larry Nelson won the PGA Championship. He was a client. In my first five or six months of work, we had three major champions, and we had one right before I started so I thought, "Hey, this is pretty cool. That's what we do at this company- we win majors." We had a dry spell in terms of major championships, but we were fortunate to sign Phil Mickelson when he came out of college in '92. Mark Brooks, who was a roommate, teammate and close friend, had become a client in the meantime and his career was taking off. Then we signed Cory Pavin. In '95 Corey won his U.S. Open at Shinnecock, and in '96 Mark won his PGA Championship at Valhalla. So we were back on track and good things were happening.
We sold our company to Gaylord Entertainment Company in April 1998. That ended up being a regrettable decision. Rocky resigned in November 1999, and then I was kind of stuck there as were my clients. I worked my way out. I was unhappy. Of course, I wished I was still with Rocky. I left and most of my clients were able to come with me. We rejoined Rocky at the end of June 2000. We were apart for 7 months, and he had founded Hambric Sports Management of January of that year. We've been together ever since. Blake [Smith] literally finished college on a Wednesday and started work for Rocky on a Thursday. He didn't even take a day off in between. We now have an office in Dublin and represent a number of players in Europe besides our office here.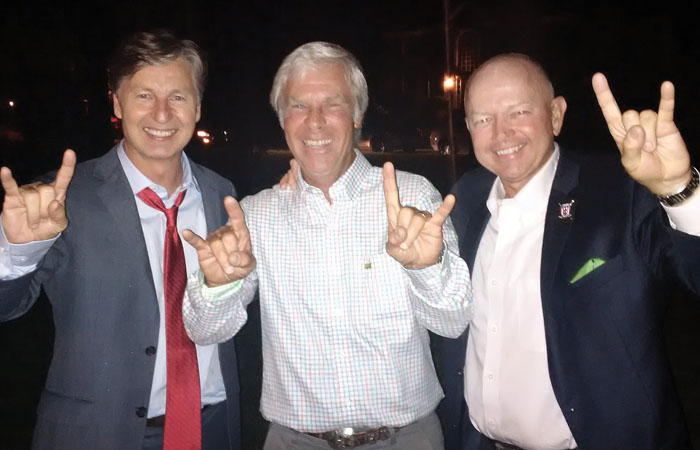 AG: For people that don't know the relationship of a pro and an agent, what's a typical day or year like?
DW: It's one of the things that initially drew me to this job and has kept me as interested now in what I do as I was 30 years ago. Every day is completely different. And things can happen every week that can literally change your life and your level of income and all kinds of things. It's an exciting line of work in that regard. There's peaks and valleys for sure. What I've found over time is that your relationship with every client is different. I've had clients who, when they go buy a car, call me and say, "What color do you think I ought to get?"
A lot of that is born out of friendship, but at the same time, some clients are reliant upon you for the smallest things. I had one client, who is a great guy and someone I really enjoyed being around, who liked to talk once a month. When we did, he'd talk for an hour. We'd go through the list, but he just didn't have that day-to-day need. The other part of it is that it depends on kind of the level of the player. With Dustin, there's so much going on all the time. The media demand- there's just inquiries from radio shows all across the country, everything. You name it. People who want him to try their shaving products. You can't imagine the stuff when a guy gets to be at the very top of the world rankings.
The primary role of an agent is two-fold. We consider the two prongs to be one of manager and one of agent. We are kind of lumped in as agents, but the agent's primary function is to create income-producing opportunities off the course- endorsements, personal appearances, book deals, video deals, you name it. Anything that generates income and an opportunity for them outside of the ropes.
Then there's the manager role or function. That's more advising them on all the different aspects of their career and the direction of their career, helping them make good, sound decisions that will hopefully lead to their success and personal well-being to lead a happy, balanced life.
AG: Does having a background in the game as detailed as yours offer a distinct advantage in the industry?
DW: A big part of our job is talent evaluation. It's almost kind of a crapshoot now because it used to be, you go to a college golf tournament, you'd look at the guys across the driving range, and you could pretty quickly narrow it down to who the top players were. Nowadays, you go to a college golf tournament, and they all look like 6-foot-2, ripped guys with robotically perfect looking golf swings. You have to dig really deep and know what to look for.
AG: It there some sort of educational requirement to being an agent? Do you have to have a bunch of alphabets after your name like lawyers or accountants?
DW: I just had a meeting with a few of the top-level agents over in China about that and we were saying there's going to come a time when we need that. We wish there was something to weed people out a little bit. Honestly, you just have to be representing a player that has some degree of eligibility.
We've always welcomed competition and we welcome good people getting into our business, but we also want people who know what they're doing and don't make it difficult for everyone else by diluting the business. We want honest, ethical, hardworking and knowledgeable people in our business. The more the better. It makes life easier for all of us.
To get back to your original question, if you're a good player coming out of college golf, you can find an agent. But do you just want an agent or do you want an agent that really knows what they're doing. A smart player would rather have the best agent that he can find and the one that he's most comfortable with. I don't want this to sound arrogant, but we've certainly turned down players for the very reason of protecting our time. We only have so much time to go around. People say, "How many players can you represent?" Well, I don't know. It can be two Dustins or it could be 10 of this guy or 15 of that guy.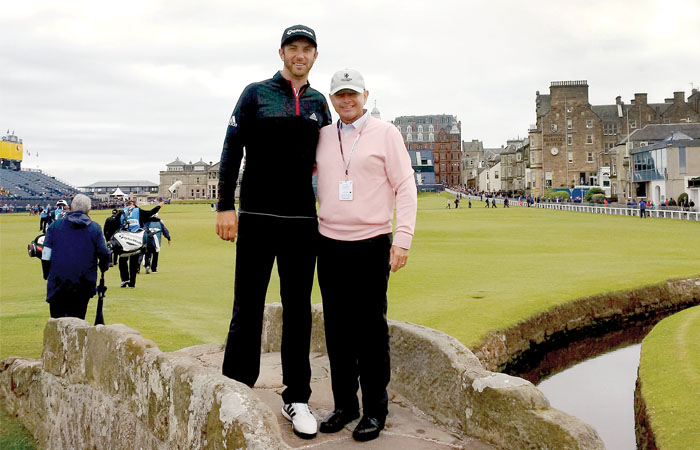 AG: Speaking of the current U.S. Open champion, how did you start off with Dustin Johnson?
DW: Years ago, Rocky and I were having a discussion about our long-range planning, recruiting, etc., and he said, "I really think you ought to take a look at this Dustin Johnson." We knew he was a great player on paper, but the trends were there that he was really going places.
I was fortunate to meet him through his college golf coach. I had an instant connection with his college golf coach and was then asked to come make a presentation a few months before he was gonna graduate. I got a call that summer that said he was going to play a summer of amateur golf and play in a Walker Cup, but I was going to be the guy. As I've watched him play, I immediately knew he was special. I knew he had some tools I had never seen before.
The two things that stood out were his attitude and his resilience. I could already tell that they were totally different than any other player. His length was also off the charts. He wasn't just long, but he had really soft hands around the greens. He flighted his golf ball a lot, and he moved it both ways. There are so many impressive things about him. He had an edge to him. He had a strut to him and he wasn't afraid of anybody.
AG: As he was progressing and making a name for himself, there were obviously some other things to deal with. In the limelight everything gets brighter, the good and the negative. What is it like during those times when you're only utterance is, "No comment"?
DW: You know, whether it's Dustin or anybody else, we don't make a lot of commentary on our clients' personal lives. It's inappropriate and we've always felt that way. As I told people, we're all a work in progress. I know I still am. Dustin would be the first to admit that he was and still is. I've always believed in Dustin. I love him, I care about him, I want what's best for him. I've always felt very strongly about his potential and his upside. As he put it, he needed to step away [from golf] and work on himself for a bit. And he did that like a man and obviously it's paid huge dividends. I've always had his back and I always will.
AG: Has it been a huge positive when Wayne Gretzky got into his life?
DW: Yeah, for sure. Wayne's been a real blessing as has Janet and as has Paulina. The whole family has been supportive. When you Google the most dominant athlete that's ever lived, he's at the top of most of those lists. He still has, I think, 61 career records. He wasn't just dominant, he was over-the-top dominant. I'm not sure how to put it into words what he was in his sport. With that has come all kinds of wealth and fame. Yet when you watch the way he lives his every day life as a husband and a father in the public eye interacting with complete strangers, he just sets a really high bar. He's a shining example of how you can do it.
AG: So at Oakmont last year, after years of close calls, when the news came down that there could be an issue on the fifth hole, what was going through your mind?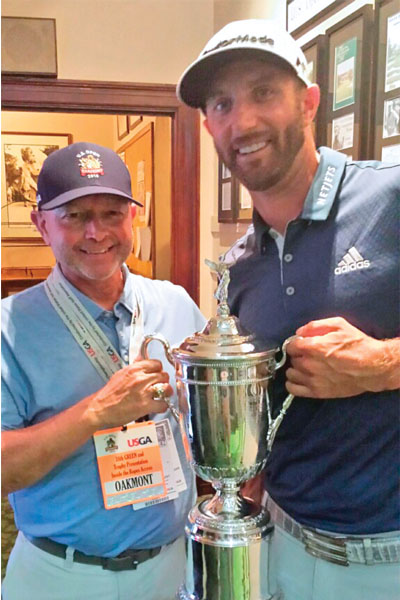 DW: I kinda thought it wouldn't be Sunday at a major with Dustin if there wasn't a bit of controversy swirling. For a long time, people had dwelled on Dustin's near-misses and his disappointments and how he handles those. "Is he cursed? Is he ever going to win one? My gosh, he has got to be reeling and bruised." Well, no, he's really not. The only way you can have heartbreak in a major championship is by playing great golf. That's one thing. The other thing is, I've told people until I was blue in the face, you just have to understand this guy is different. There's a level of resiliency here that I've never seen anyone approach. I've been around the game since I was two years old, and I think I can throw most of what I think out the window as it relates to Dustin because he's just a different animal. He's so talented and he's so blessed in so many different ways.
AG: So, when no one knew if there was going to be a two-stroke penalty, he just kept plodding along, and was like, "Whatever happens, happens."
DW: I remember thinking, I've got to talk to Dustin when he finishes his round because there's serious things to think about here. Anyway, as it turned out, it was a moot point, but I can tell you he wasn't worried about it and he said this repeatedly. He said, "I wasn't worried or rattled because I know I didn't make the ball move. My playing partner knew I didn't. The rules official on site accepted my word at the time. I wasn't worried about it."
AG: Your company also represents Brooks Koepka. Now that Nike is no longer in the equipment business, how much is the phone ringing from people trying to put new sticks in his bag?
DW: Yeah it was funny. I guess some things had leaked, and we had heard that something big was coming down that day. We were trying to think, what could it be? No one was very specific but they said a major player is getting out of the equipment business. Anyway, once we got the official word from Nike, within minutes, our phones started to explode. There was just a huge burst of fascination and curiosity and a lot of misunderstanding too. People didn't really understand- Nike wasn't abandoning golf. They were just abandoning the golf clubs and golf ball business. If anything, they were ramping up in golf. They were still going to be very aggressive in doing apparel and headwear deals, but they were just shifting their focus.
AG: When it comes to signing a client, how long are the deals typically? Are they like one-to-two-year deals, or can they be longer?
DW: It can be anywhere from two years to five years. Sometimes you have a client say, "It was the hardest decision I've ever made in my life and I don't care to go through this again any time soon. I'm totally comfortable with you and your reputation and capabilities, so let's do a longer term deal." Some clients are more like, "Show me what you can do, let's do a shorter deal." It varies, but our minimum usually is two years.
AG: When you're building an endorsement profile for a player, whether it's Dustin Johnson, Beau Hossler or whomever, how much of the player's personal likes or dislikes come into play whether it's club, apparel or a car?
DW: A lot. It also depends on what point in their career they are. Quite honestly, when Dustin came out of college, he was playing Vokey wedges, Mizuno irons, Titleist woods and playing a Titleist ball. He wasn't using any TaylorMade product at the time. They've done a really good job of talking with him and working with him. He had that summer that some guys don't have to work with different things and work with golf companies. He basically changed 14 clubs and a ball. I said, "Are you sure? Are you comfortable with that?" He said, "Absolutely. I know what I like and what I don't like."
Some guys really struggle with the whole equipment situation. Everything from superstition onward. Change is really hard for some people, and it's seemingly easy for others. I don't care if you're Beau Hossler coming right out of college or Dustin Johnson coming off of a U.S. Open victory. To me, there's not enough money out there, generally speaking, for you to compromise your performance. I said it to Beau when a lot of different equipment companies were coming after him, and I said it to Dustin this year when a lot of different companies were coming after him. I just said, "If you do make a change, and you do it for the wrong reasons or you make any compromises that negatively affect your performance, in three months, you're going to be miserable. You're going to hate me and you're going to hate yourself." At the end of the day, it's all about playing great golf and things have a way of working out for themselves.
AG: When one of your clients win a major, along with changing clubs sometimes, they also burn themselves out because they want to strike while the fire is hot and travel all over. How do you manage your client when they know this could be the best it's ever going to be?
DW: I think some players have a voice deep down inside them that tells them, it's great you won a major, but this may be a one-time thing. Cash in and grab the brass ring. You owe it to yourself and you owe it to your family. See the world, capitalize on all of this opportunity. A chosen few players think, this is the first of many. We're always very cautious with our players about keeping the emphasis on their performance and making smart decisions that aren't going to undermine their future. There's a lot fo temptation. I remember having a friendly conversation with Jordan Spieth in 2012 and I said, 'One of the biggest things you're going to face now is figuring out what to turn down. People are going to be coming at you right and left, and that's one of the hardest things for guys to learn.' On top of that, if you look at what Dustin made on the course this year, which was about $10 million, then just think about what he made off the course and what he's made based on his performance all those years. He doesn't have to make any greed-based decisions. He's gotten to the point now where he can say, 'This is my price. If I'm going to go overseas and play in an event, I'm pretty much going to have something close to this.'
AG: I've seen Dustin on magazine covers a lot lately. Why would players do offers like covers for major golf publications like Golf Digest or Golf Magazine? What's the gain when you're at that high of a level?
DW: That's the kind of thing that moves the needle and makes you be seen as an influencer in the marketplace. I've found that golf fans are a little bit like sheep in that they will kind of follow and cheer for the players that you put in front of them. Those are the two biggest golf publications in the world, so if a guy is going to do something, those are at the very top of the list. They typically want to do a cover every 8-12 months with Dustin. It's not a huge investment of time, it's usually a morning.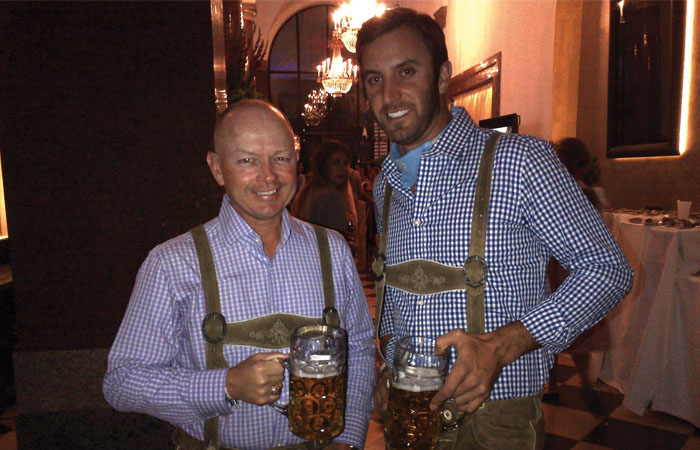 AG: When you have a cover like that, a lot of times players have contracts where, if they're in the public eye, they have to wear a watch or wear a hat. How do you handle that?
DW: Yeah, if you notice [on a recent Golf Digest cover] he's got some stuff, but sometimes there's little ways to massage your sponsors. We have "when appropriate to the setting"-type language in our contracts. We pride ourselves in our attention to detail. We inherited a big-time player a while back, and we handed us all his contracts, and one of them didn't have a term to it. It didn't have a start and finish date. We thought, how sloppy was the work being done here? We're far from perfect but that's one area where we pride ourselves.
If you have language in contracts to the extends fairness to both sides and the setting that your player is being shot in. You don't want your player to be on Jimmy Fallon and have to walk out there in dorky golf clothes and wearing a hat. To an extent, it's good for your sponsor if you wear a hat, but sometimes it's inappropriate. A lot of people argue that it's inappropriate to wear a hat indoors. There are all different extremes. As we've talked about strategically with the TaylorMade and Adidas people, anything that makes him look cool is good for their brand. Whether they're benefitting directly as in their logo being shown or indirectly just by him looking like a stud, that's good for their brand and that's good for Dustin's stock and their investment in Dustin. You kinda have to take a big picture approach.
AG: What's your role in the relationship with the media? With your young players and/or new clients, do you go through any kind of training with them on how to handle media and the public?
DW: We're the conduit to our players for the golf industry and to the media for pretty much everything and anything. Some players handle that a little differently than others. Everything that comes to Dustin, he just says, 'Call Wink.' That keeps his plate clean and lets him do what he wants to do and spend his time the way he wants to spend it. He knows that way I'm involved. I work very closely with his financial team and I work very closely with his trainer and instructors. We have a really nice, close-knit team put together.
Yes to the second part of your question- we work with a gentleman who I think is the best in the business. He's a big-time PR executive and one of his fortes is media training. He works with CEO types and athletes, etc. Some guys need it more than others, some guys want it more than others. It's a great thing to do. It's kind of like continuing education. Even the people that come across best in front of the camera still need little refreshers because you can always get better. One of the things this guy does is bring out a camera and do mock interviews. He plays them back to you and walks through them with you.
AG: Top 5 placements for a logo?
DW: Front of headwear, side of headwear…
AG: How many sides can headwear have? It's starting to look NASCAR-y.
DW: Yeah, some companies won't allow any. Some companies will allow one side. I don't know if anyone allows both sides.
AG: So collar, chest or sleeve?
DW: It all depends. If you ask 10 different agents, you might get 8 or 10 different answers. I can tell you the good thing about the collar is that in an interview setting, there's nothing they can do to frame that out. It's a really valuable logo position. If it's a MasterCard or a household logos that you immediately know, generally speaking, when they're on the course, unless they're really zoomed in, you don't see collars as much. Chest generally generate a lot of exposure. You come to a point where if you get too many logos on a shirt, it dilutes everything for everyone. You look at someone and you just see a lot of stuff. So most brands are pretty protective and limit the amount of stuff.
AG: Are you able to negotiate that if you want exclusivity?
DW: Yeah, if someone wants total exclusivity, they have to be able to pay for it. There's something to be said for…if you have 10 different corporate relationships with logos everywhere, you probably have time obligations with all of those people, too. Rarely are deals for the logo or branding; they usually tie in to corporate hospitality and ad shoots and all kinds of things.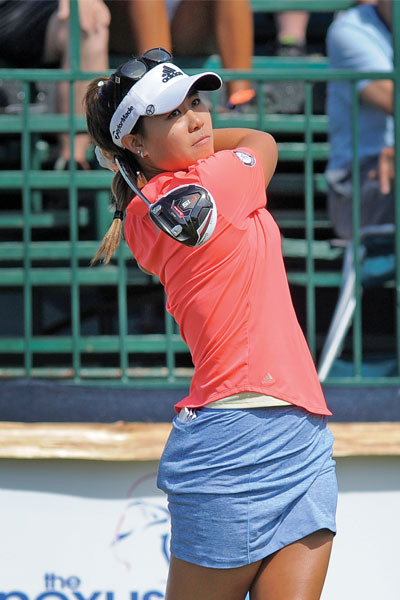 AG: Do you represent any female golfers?
DW: We do. We have one: Danielle Kang. Danielle won back-to-back ladies' U.S. Amateurs three or four years ago. She lives in Westlake Village and she actually plays at Sherwood Country Club where the Gretzkys all played.
AG: Other than the obvious zeroes that are in the contracts and the money, what's different about working with a female athlete?
DW: You can't really answer that question without talking about the compensation because the deals in women's golf, generally speaking, unless you're at the very top two, three or four ladies, they're considerably less. I think because of that, the ladies are very grateful and they're really willing to work hard for those endorsement dollars and do some things above and beyond. It's a supply and demand type of thing.
AG: What's your guilty pleasure?
DW: Oh, wow. Playing golf, obviously. But sneaking out and playing golf isn't what I'd consider to be a guilty pleasure. Nothing too exotic. I like to have a nice bottle of wine and spend the evening with my wife catching up on a few of our TV shows. The more you travel, the more you appreciate being at home. The more you see of the world, the more blessed you realize we are to live where we live. I've also been blessed to see the world and see different places. Dustin and I were having breakfast in China the other day, and I said, "Do you realize where all you and I have been together these last nine years? It's pretty incredible when you think about it." And it is.
AG: Of all the shows and movies, what's the most realistic depiction of a sports agent that you've seen?
DW: I'm trying to think of, other than "Jerry Maguire," where all they've been portrayed. There were a lot of aspects of "Jerry Maguire" that were, even though the world of team sport athletes is totally different than what we do in a lot of different ways, but there were some aspects in that that really hit home.
AG: Favorite food?
DW: Probably Mexican food, but nothing beats a good pizza.