Myrtle Beach, S.C. — The Magic of Myrtle Beach

MYRTLE BEACH, S.C. – First time or fairly regular visitors to Myrtle Beach golf will find exactly the kind of Myrtle Beach experience they are expecting or have heard so much about.
The original Godfather of discount public golf for more than 30 years provides outstanding, value-priced golf options along with similar accommodations plus a seemingly endless string of T-shirt shops, tattoo parlors, miniature golf, soft serve ice cream and adventure parks.
Hundreds of miles northeast of the Redneck Riviera which runs along the U.S. Gulf Coast, Myrtle Beach could easily be the Atlantic Redneck. In fact, if you're hoping to spend $100+ for every round of golf and stay in four-star luxury hotels with every whim catered to, then this is not your destination.
But if you want an affordable, well-maintained golf, buddy and family trip, good times, fine beaches and a variety of links options with post-round entertainment, then you've certainly found the right spot.
Because the original king of golfing buddy road trips is still the king, even with slightly worn furniture, frayed carpets and a certainly musty smell or salty spray.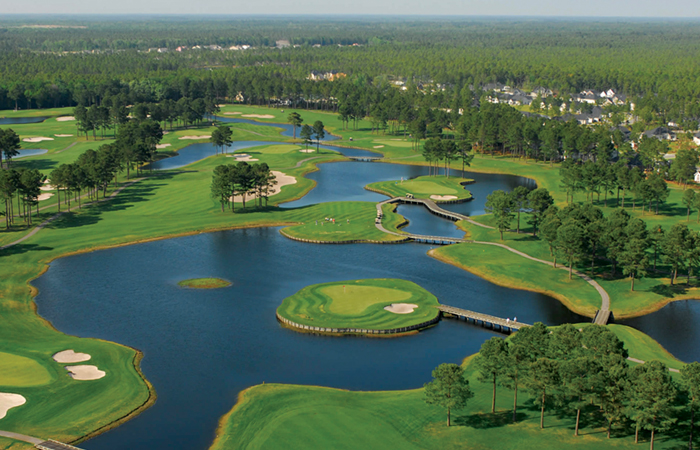 You'll see Myrtle Beach golf is not a wholly owned international corporation or the result of a single golf visionary, but a series of individual golfing properties who seem to personally care about you coming, having a good time and coming back again and again for more of the same.
There are approximately 120 golf courses on the complete Grand Strand, the 60-mile large strip of land which stretches across South and North Carolina, while the greater Myrtle Beach area, which includes an international airport, has close to 60 courses almost all open to the public with a wide variety of quality, prices and golfing availability.
A prime case in point is golf course owner Claude Pardue, who once ran a single course in Pinehurst, North Carolina, an area which is a refined and upscale (code word for expensive) location. He came to Myrtle Beach more than a decade ago and now owns and operates three vastly different, but high quality public courses, The Witch, Man-O-War and The Wizard.
Pardue, who enlisted North Carolina golf architect Don Maples to design each of his courses, is hands on and highly successful, involved in everything from hiring cart girls to head pros and making sure each of his annual thousands of golfing guests have a quality experience.
"I don't consider myself in the golf business, I'm in the entertainment business, the leisure business and the fun business," he said. "I want to make sure people have a good time with their friends and buddies and want to come back and do it again."
To that end, Pardue, the CEO of Mystic Golf, has a wide variety of packages and rates which can include everything from a complete golf buddies trip with an on-site condo to stay in and three meals a day to golf only with lunch, the upgraded menu or regular, simpler offerings.
"I don't have just one rate, I have dozens of rates depending on the time of day, time of the year and what you want to do while you are here," he said. "It's all about finding the best package for the person or group to make sure you have a good time and want to come back. That's my goal and I think I have the best stay-and-play packages in the country."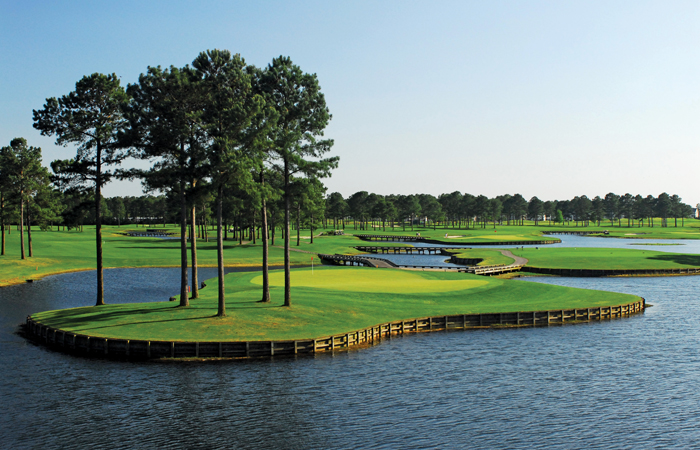 Of the three courses Pardue operates, The Witch is the most scenic, groomed and has been ranked the highest by a variety of golf media and links publications.
Cut from virgin forest from land Pardue purchased from a local company, it plays through picturesque swampy wetlands and cypress forest with more than 500 acres full of wildlife. It's nearly impossible to see one hole from another at the par-71 Witch course, which is the way Pardue likes it and the way he and Maples originally set up the course.
There are several wooden bridges linking the holes together and you're certainly likely to see various birds, alligators, eagles, snakes and other members of the animal kingdom. The gators especially like to hang out on the banks of the many rivers or the side of the tee boxes, so take every caution or a very heavy metal ball scooper if you are looking for your balls.
Playing nearly 6,800 yards from the back tees and, except for a couple of holes on the back nine, you're playing in your own tree-lined, green grass kingdom with every hole moving on from one challenge to another. And, of course, in typical Myrtle Beach fashion, the greens fees are extremely reasonable, especially for the quality of the courses. What could be a $200+ hit to your wallet almost anywhere else in the country will cost you less than a single Benjamin Franklin at Myrtle Beach. Sounds good to me.
The par-72 Man-O-War, named for the plant life, not the horse, has water on almost every hole and pristine bentgrass greens which are a joy to putt.  At nearly 7,000 yards, the course demands a strong game and might be the best golf challenge of the three.
In the spirit of the famous TPC Sawgrass 17th hole island green, Man-O-War has back-to-back island greens at the 14th and 15th holes. You also finish your round on the water-laced par-5 18th which can sink or highlight your round here.
If you're a fan of links golf you should feel right at home on par-71 adjacent The Wizard, where hard-and-fast turf, wide and rumpled fairways and sod-faced bunkers are reminiscent of an Ireland-Scotland trip.
Many of the holes have moguls which line the fairways with plenty of deep bunkers and chipping opportunities.
Each of the three courses' clubhouses are almost exactly the same size, but each has a different theme. There's a mini-castle for the Wizard, a fish camp for Man-O-War and downhome Southern lodge for the Witch.
If you must splurge on your Myrtle Beach trip, then the historic Dunes Club designed by Robert Trent Jones with beachfront access is certainly the place to do it.
It's been the home of multiple USGA golf championships including this year's Women's Four-Ball, and its classic design, including the famous par-5 13th Cape Hole with water all along the right side, can justify the $200+ green fee. You can have lunch at the clubhouse overlooking the Atlantic Ocean and contemplate your good fortune of being in such a diverse golf destination.
Davis Love III, Jack Nicklaus, John Daly and Tom Fazio, who designed TPC Myrtle Beach, have all designed courses in the Myrtle Beach area. As for lodging is there is as much choice, variety and value for places to stay as there are places to play.
Ocean Drive is the main two-way street through central Myrtle Beach which passes by the historic wooden Atlantic Boardwalk with the giant Ferris Wheel overlooking the Atlantic waters.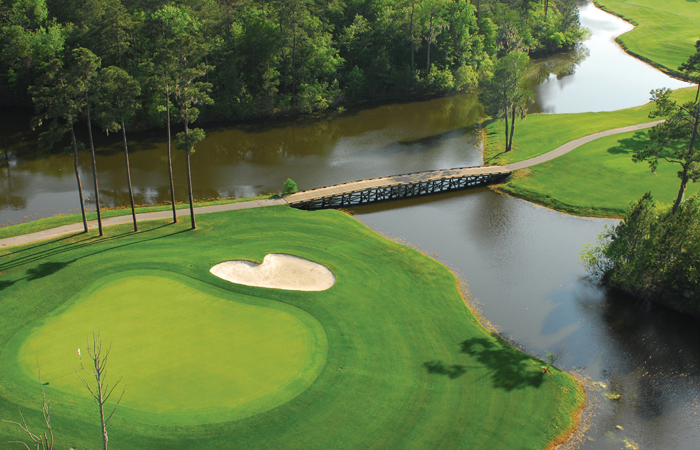 As the street continues to pass by the ocean it goes through a canyon of high rise hotels and condos which sell out through the spring and much of the summer. The tri-tower Breakers are typical of many who are popular with generations of Myrtle Beach fans. It offers a spacious view of the water with an outdoor room/patio overlooking the sun and the fun with views up and down the no-car beach. There is a small refrigerator, two flat screen TVs and even a table for nightly card games. In short, it's everything you need for a successful buddies or family golf trip.
There is an indoor swimming pool, kids play area and whirlpool along with an outdoor version, a wooden pathway to the beach, workout facilities and a dry sauna.
Across the street is a breakfast buffet hall which is served free to all package hotel guests starting usually before the sun comes up to get you ready for the day. The Starbucks is right next door if you need some more portable caffeine to go.
Of course Myrtle being Myrtle, the soft serve ice cream and the T-shirt shops are only a few hundred feet way. The tattoo shop is just a little farther down and the Baptist Church and mini-golf course are still within walking distance. The laser tag, rock climbing and giant slide are just bus stops away.
But for high quality and low prices, fried seafood overlooking the water and seeing where the country group Alabama once played on the boardwalk, Myrtle Beach is still the king.