The Re-Prioritization of Hunter Mahan

Once the Lone Star State's most promising young golfer, McKinney boy Hunter Mahan is now a 35-year-old father who has found his life's truest passion – his family
THE PLAYERS Championship, golf's so-called Fifth Major, draws one of the best annual fields on the PGA Tour, with nearly every top player competing or commentating if they're injured and can't actually play.
So perhaps it was a bit jarring for Hunter Mahan's 20,000 Instagram fans, not to mention his 331,000 Twitter followers, to see his contribution to the 2017 PLAYERS Championship weekend as a former top 10 finisher. It was a picture of his daughter's soccer team, the Eagles, with the simple caption, "Donuts and juice boxes for everyone!"
Just two weeks later, after Mahan missed the cut at the DEAN & DELUCA Invitational in Fort Worth, making him zero-for-Texas in cuts made this year, he quickly cleaned out his locker, stuffing four dozen unused Titleist golf balls into his travel bag. Mahan was asked if architecture or something else could one day replace golf as his main links interest in life.
"I don't have a lot of interest in architecture right now," he said with a chuckle, briskly exiting the plush locker room. "That's not my thing. I'm just interested in getting home in time for dinner," he said.
Only a week later, Mahan missed sectional qualifying for the U.S. Open at Dallas' Lakewood Country Club, and he cut across the 18th green to save time and headed to the parking lot hoping to be home in time to tuck his kids in for bed.
For those of us who have watched Mahan during a 13-year PGA Tour career, which has included six PGA Tour wins, two World Golf Championship titles and $29.7 million in prize money won, it can seem baffling to try and wrap our heads around his sudden slide into golfing anonymity.
But only those who know him best – and for whom he cares the most – truly understand the radical transformation in his golf game and life over the last couple of years. In a word, he is a man of priorities.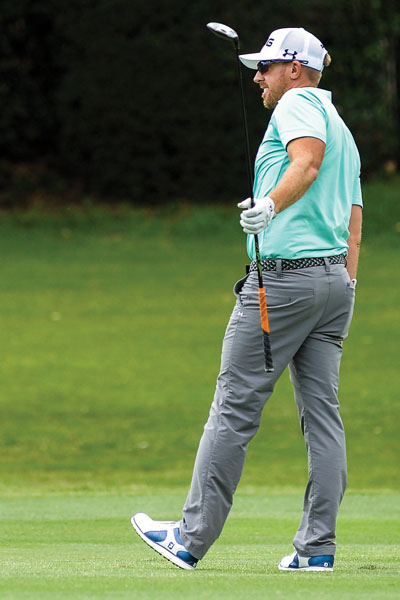 With three kids under the age of 5 and a complete transformation in his focus, Mahan is using the wisdom gained from a generation of older PGA Tour golfers, and the financial fruits of his career-long success, to pursue the one thing that makes him and his wife, Kandi, truly happy – their family.
"After I've devoted so much of my life to the game, you know it's not the easiest life, especially with your kids and being gone all the time," a reflective Mahan said. "When you get married and have kids, you realize [golf] is not your whole world."
"I don't get upset about my scores like I used to. What I've found out is that no one cares what I do on the golf course except for me and my family."
Not since Texan Bill Rogers voluntarily left the PGA Tour with three years left on a 10-year PGA Tour exemption because he couldn't stand to be away from his family, has a star Lone Star golfer – who claims to be healthy in every way – shifted his focus as rapidly as Mahan has over the last two years.
There is no denying his game has deteriorated as of recent. At one point not too long ago, the Oklahoma State grad held the crown of "Best Player to Not Win a Major," and appeared to be on the path to a career that may make him eligible for the Hall of Fame. But the 25 missed cuts out of his last 40 events going into the 2017 U.S. Open, the five straight (soon to be six) missed major championships and the 723rd official world golf ranking (he reached as high as No. 4 after winning the 2012 Houston Open) are just empty numbers to Mahan.
The ones he cares about are 4-2-1, the ages of his two daughters and one son, who has turned his life and his game upside down, and he couldn't be happier about the process.
"I don't want to play golf to fulfill me," he said on the steps of the TPC-San Antonio clubhouse after missing the cut in the Texas Open this spring. "I've got a great wife that supports me in everything that I do and three wonderful, healthy kids."
Those that know Mahan best are hardly surprised by his family dedication, even if it's produced a huge chasm in his once unbeatable golf game. John Wood caddied for Mahan for nine years, including all six of his PGA Tour wins when his ascent as golf's next superstar seemed certain, but could see the signs of his priorities shifting.
"He is just an incredible father and Kandi is an incredible mother, and he just decided that the most fun thing in his life right now is his kids and that's as it should be," said Wood, who now caddies for Matt Kuchar.
Wood, along with the rest of the golfing world, got their glimpse of Mahan's family priorities when he took a two-shot lead into the midway point of the 2013 Canadian Open, but withdrew from the tournament minutes before his third round was to begin when his wife went into labor with their first child, Zoe Olivia. Brandt Snedeker got the tournament victory, but Mahan got something infinitely more fulfilling, witnessing the start of his young family and his passion for them, not golf, which has continued unabated since then.
"That's awesome he would think that way," Wood said. "I could tell it when we were caddying together. I'm happy for him now."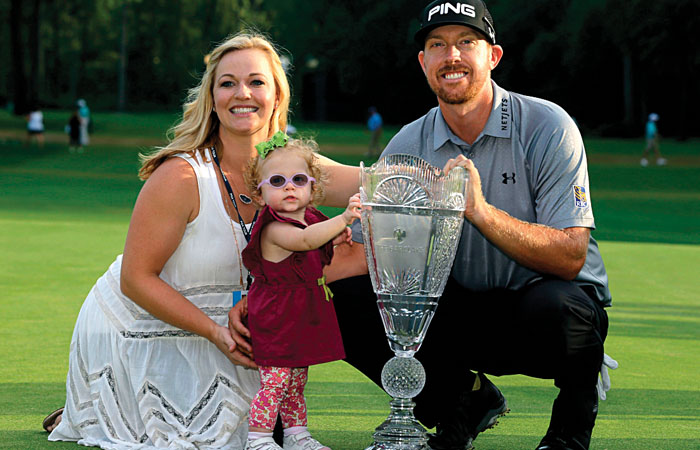 Dallas' Harrison Frazar has battled his own family priorities along with the injury woes Mahan says he does not share, but can understand where the highly talented golfer is coming from.
"When we first become golfers everybody clears out for us, because you have to be selfish with your time," Frazar recalled. "But then, when other people come along in our life, whether it's a wife or kids, it changes things, and we have to learn how not to be as selfish because there are other priorities." Mahan said it was fellow Texan, multi-PGA Tour winning golfer Justin Leonard, who has played sparingly since 2016 and now works part of his time as a NBC-TV commentator, who helped him find a road map for family happiness.
"When Justin moved to Colorado, he said he wanted to be where he and his family were the most happy," Mahan said. "There is no reason why we can't do what we want to do with what we've earned, and do what makes me and my family the most happy when we want do it.
"After a time, you figure out that golf is really a small part of your life. You devoted so much of your life to the game, but it's not your whole life, it's just a small part."
Upon hearing Mahan's perspective on Leonard's recent family and golf decisions, Leonard was impressed by Mahan's priorities, "Wow. That is great," he commented.
Other conversations around the locker room and late night dinners convinced Mahan that Leonard and even Rogers had been on to something, and he needed to be exploring their path more often.
"I've talked to some older players and they told me about the times they spent away from their families, and they all said they would trade golf for spending more time with their families and what they missed with their kids. They all say they would like to get that time back to be with their family more."
From the beginning, it appeared like Mahan had "can't-miss golf superstar" written all over him. Born in Orange, Calif. where his father was an undercover police detective, the family moved to Texas when Hunter was still young. Growing up on the golf courses in McKinney, it didn't take long before local media and fans christened him as the state's next great golfer. As a senior at McKinney High School Mahan won the 1999 5A Texas State High School Championship, and that summer also won the U.S. Junior Amateur Championship, defeating future PGA Tour star Camilo Villegas, 4&2 at the Country Club of York.
He spent his freshman year of college at the University of Southern California and was named the Pac-10 Freshman of the Year. He transferred to Oklahoma State University as a sophomore, and ended his college career as a two-time Big 12 Player of the Year and a two-time NCAA All-American. In 2002, he lost to future pro golfer Ricky Barnes in the finals of the U.S. Amateur, but continued to lead powerhouse Oklahoma State to college golf victories and finished his college career strong.
When he graduated, most experts predicted great things for Mahan on the PGA Tour, and they were not wrong. From his long strawberry blond hair, movie star good looks, ever-present sunglasses, exotic belts and former Dallas Cowboys Cheerleader wife, Mahan was a golf-marketing dream come to life. After college, Mahan successfully made his way through Q-School in 2003. When he turned pro in 2004, he spent no time on the Nationwide Tour (now the Web.com Tour); he instead jumped right to the PGA Tour competition with $813,089 earned in his first full year on the Tour, notching with a second-place performance and three Top 10s.
From 2006 to 2015, he never failed to earn less than $1.1 million in prize money in any season and earned a spot in the Top 30 money winners Tour Championship every year from 2007 to 2015. He was selected to the American Presidents Cup team in 2007, 2009, 2011 and 2013, and made the U.S. Ryder Cup team in 2008, 2010 and 2014. He sobbed openly with teary passion at a post-match press conference during a particularly tough loss at the 2010 Ryder Cup in Wales, but still appeared set to dominate in the post-Tiger Woods era. From 2009 through 2014, Mahan won five times and finished in the Top 10 34 times. He made an average of 21 cuts each year, and averaged over $3 million in winnings annually.
At the end of 2015, if you looked at Mahan on paper, you would have seen a guy who had what most would call an "off" year. He still made 20 cuts and earned $1.6 million, but he fell in the World Golf Rankings and had his worst ever finish in the FedEx Cup. Still, with his skill set and game, it was hard to think that he wouldn't rebound in 2016. But his personal life was still changing drastically (for the better) – his second child had been born, and it wouldn't be long before he and Kandi would welcome their third child, and his priorities were already shifting greatly.
Two years later, Mahan has fallen off the proverbial PGA Tour Map. He has missed 13 of 20 cuts on Tour, made only $160K in earnings and his world ranking has plummeted. His best finish this year is a T17 at the Travelers Championship. But one thing Mahan wants to make abundantly clear is that even with his intense dedication to putting his family first, he is as determined as ever to get back to the top of the golf competitive mountain once again, using Dallas coach Chris O'Connell to help him regain his form. Family may always be first, but competitive golf is still a major part of his future.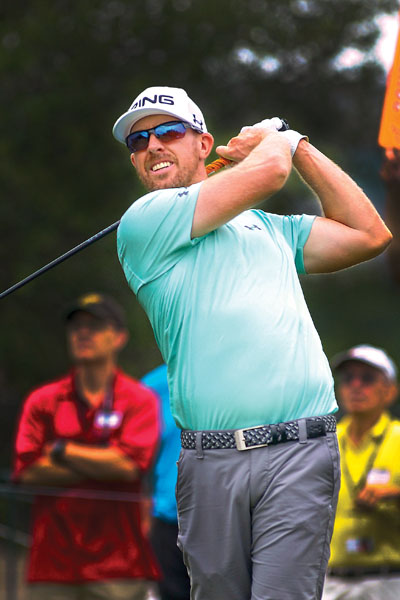 "The thing is, golf is really hard, and I'm working to shoot better scores," Mahan said with a laugh. "Sometimes I can't figure it out. I'm going back to square one on my golf game (working with O'Connell). I'm starting fresh from the bottom to try to get back with my game, but it's difficult. Sometimes it feels like I'm close, sometimes I can never feel it."
O'Connell said he only needs to click on some old video to see a local player who once played as good as anybody in the world.
"I've been spending a lot of time watching old films to see all his great rounds and the great play Hunter has produced in the past," O'Connell said. "I know it's in there. I've seen it. I know we're going to bring it back."
"Golf is a tough game to play well and I did it at a high level for a long time. I feel like I'm committed to whatever I'm doing at the time," Mahan added. While he struggles to rebuild his once powerhouse game which produced 14 Top 10 finishes and 56 Top 10 placements in his PGA Tour career, he has plenty of memories of when he ruled the golfing world.
"When you're in the middle of it, you think that's just the way things happen and it's always going to be that way, everybody makes Ryder Cup appearances," Mahan said. "Then when you step back and look at that, you realize that was pretty special to get to do that."
He looks at current Texas superstar Jordan Spieth, who once attended a Mahan junior clinic to see his hero in action, with a bit of envy and wonders what the future will hold for him.
"You look at young guys like Jordan Spieth who has a girlfriend, but has all the time in the world to practice. When you have a wife and kids it changes things. My time is different now. I'm present to what I am doing at the time."
Frazar said he has little doubts that Mahan, the current superstar dad, will someday be the superstar Texas golfer once again.
"You don't lose the talent to play golf, but what people don't realize is it takes so much from so many different phases to play winning golf. If one thing goes wrong, one thing is out of order, it's hard to win. Hunter will figure it out. Players like him always do."
As for the inevitable topic of what ever happened to Hunter Mahan, that is a subject on which he himself is prepared to answer.
"I love where I live in Dallas and love everything about being there. I have everything I need there with three healthy kids and a great wife. If people ask about me, I say I'm doing fine, my family is great, everything is good, and I'm working hard on my game."
With a family-first focus, that is an outlook on which he never plans to waver.