Restaurant Feature – Berry Street Ice House

Stefon Rishel is not new to the pages of AVIDGOLFER Magazine. In the past, AG has shined a spotlight on several of his endeavors, from his stint as head chef at Texas Bleu in Keller, to his most recent venture, Wishbone & Flynt. Now, Rishel and his partners at Trident Restaurant Group have another Tarrant County hit… the Berry Street Ice House. 
It's not just a clever name, as it is located on West Berry Street in Fort Worth, just a mile east of the TCU campus. Opening a restaurant during a pandemic can be difficult, but Rishel and staff have been up to the challenge, practicing social distancing while being able to stay open in correspondence with state and local mandates on capacity. 
To begin with, Berry Street has a fantastic setup, both inside and out, with a nice bar, a stage, bench, table and bar seating, and several TV's to take in whatever game might be on. On two walls are large doors that can be raised to make the inside bar almost completely open-air, which will be perfect for those gorgeous autumn or spring days. Outside, Berry Street has a huge patio and large grass plot with will serve as a meeting place for families and friends as they have some drinks, food and enjoy patio and garden games like cornhole. This will be quite the hangout spot during college football or NFL games, and is perfect for an evening out. 
Berry Street has a couple of delicious frozen cocktails to accompany their selection of draft beers and canned and bottled local craft beverages. The frozen Rosé has a sweetness and a nice tart citrus note. The other icy specialty is a frozen Jim Beam and Coke that will definitely put some lead in your pencil. The Beam shines through with a sweet kick of the coke that helps send it down the hatch. 
The food at Berry Street could best be described as upscale bar grub with plenty of unique twists and turns. We were given multiple apps and entrées to sample, each more intriguing than the last. 
For starters, we sampled the house made chips and buffalo chicken dip. This creamy combination of shredded chicken, cream cheese, cheddar and spices was lick the bowl delicious, so much so that you could treat it as a meal all by itself. The kick of the buffalo sauce provides some heat, but not so much that you won't keep digging in. It's a great way to start your meal, or as a snack while enjoying some cocktails. Guac, bean dip, white queso and salsa are also available to smack your taste buds. 
Although the buffalo chicken dip was glorious, if you're just choosing one appetizer on the menu, I would recommend the cheese fries. Rishel said this concoction was his homge to the Snuffer's famous fries, but these come with a couple twists that take it to the next level. Rather than regular cut fries, Berry Street's version uses waffle fries, which for me, is a better vehicle to keep some crunch while soaking up the delicious toppings. Another twist is that Rishel calls his house made "cheese whiz". This velvety  sauce  is made with American, goat, sharp white Cheddar, Monterrey Jack and cream cheese. It oozes and coats the fries, and some additional melted cheddar make these fries a Molotov cocktail of cheesy greatness. Crispy bacon adds some crunch and saltiness, green onions give some freshness, and the house made pickled jalapeños on the side are perfect for some spice. Add some homemade ranch on the side and this is one of the best renditions of cheese fries you will find anywhere. You can also add ground beef or chicken to make them even more rib sticking.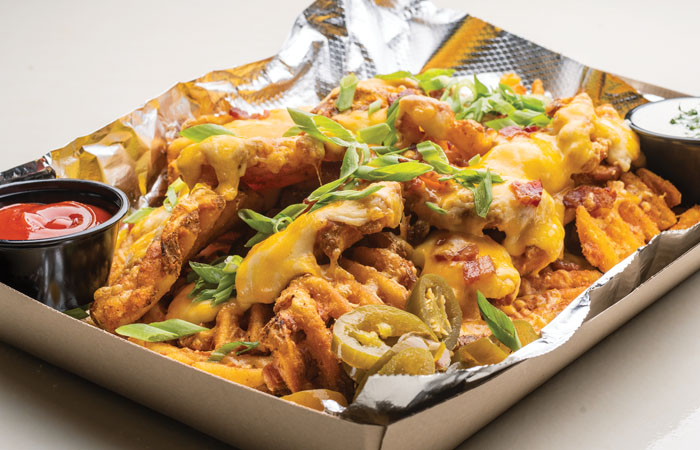 Other appetizers include nachos, quesadillas and stuffed jalapeño peppers. All of which looked delicious. 
If you're on a health kick, Berry Street has you covered with a great selection of salads. House, Caesar and Harvest chicken are all available, but I have to recommend the Southwest Salad. Featuring ice cold romaine lettuce, grilled chicken, avocado, black beans and corn, it comes topped with pepper jack cheese and a tequila lime house vinaigrette. It's a great option and a large portion if you're trying to stay on the lean side of the menu. 
Everyone loves wings. They are a staple of bar menus everywhere. They're easy, flavorful and delicious. The wings at Berry Street are no exception, as they have your standard bone-in option in buffalo, Carolina barbecue, lemon pepper and a garlic parmesan dry rub. If you're looking for the popular boneless version, you will not find them. However, Chef Rishel has a fabulous alternative, the Berry Street thigh meat skewers. Chicken thigh meat is so moist that they almost want to slide right off the wooden vehicle on which they are served. They are prepared with a cajun coffee rub (also available on the bone-in wings) which is unique and something everyone who hits up the Ice House should sample. 
Burgers and sandwiches are obviously a go-to for just about everyone. There is a smorgasbord of options at Berry Street, from their Frog Burger, named for nearby TCU's mascot, which is a double patty, cooked in duck fat and served medium, with white cheddar, and the standard pickle, lettuce, tomato and onion. The burger was delicious and perfectly prepared. I couldn't help but think about customizing it with some of that aforementioned house made cheese sauce to kick it up a couple notches. Maybe I will go for that on my next visit. Another burger option is the Texas Melt, which is their version of the always delightful patty melt. Another double stack, completed with provolone, caramelized onion, and roasted jalapeño aioli on a sourdough bun.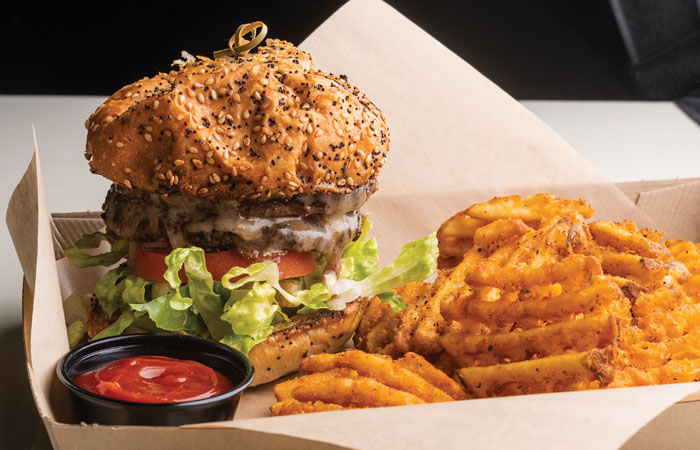 Sandwiches are also a large player for Rishel, who created one of the most interesting sammies I have had in a while for his new menu. The smoked bologna sandwich was unlike anything I have ever had. Rishel boasted that he spent 12 hours the night before smoking the bologna. A thick slice of the bologna (rest assured this isn't your standard issue Oscar Mayer) is covered with some of that rich cheese sauce and served with grilled onion and some Dijon. I'm usually not a huge fan of bologna, but this is a must try. It is rich and filling. A perfect combination of the salt, smoke, and sweet from the grilled onion.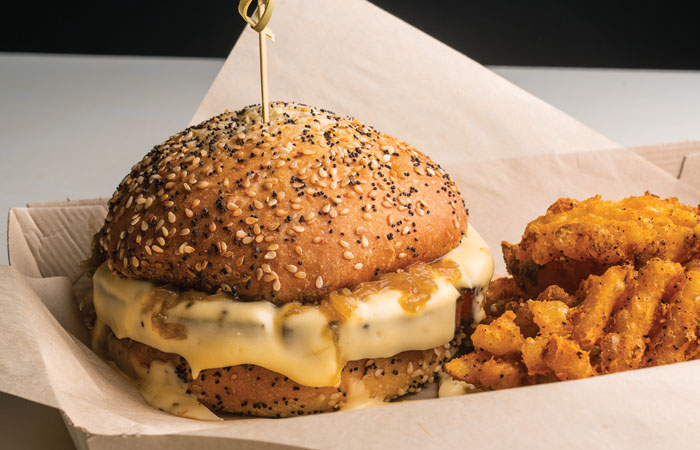 A pesto chicken sandwich, blackened chicken sandwich, four grilled cheese and kicked up BLT are also on the menu. All of which would make a great meal. All burgers and sandwiches can be served with a side salad, regular or sweet potato waffle fries. 
If you're looking for a handheld, then Berry Street also has a selection of dogs for your choosing. The Chicago dog, which is topped with a dill pickle spear, sport pepper, green relish and tomato on a poppyseed bun. The Michigan Coney Island dog is also a player, with coney sauce, yellow mustard and grated onion. If you are looking for a taste of Octoberfest, give the Ze-German a try. It comes with spicy mustard, house made sauerkraut and grilled onion. 
Outside of Berry Street Ice House sits one of the best spots to get something sweet in the entire city. The Berry Street Dessert Trailer will satisfy even the most rabid sweet tooth. Sno-cones, milkshakes and ice cream are all available in a variety of flavors with an expansive topping list. We went for a Unicorn sno-cone, which is a combination of cotton candy, bubblegum, blue raspberry and topped with sprinkles. It was almost too pretty and whimsical to dig into… almost. 
Milkshakes include a Cinnamon Toast Crunch, which was lifechanging, and alone worth the trip. I also had my eye on the red velvet, which will likely be in my future on a return visit. All sno-cones and shakes can be made "boozy" for adults, with a shot added for a small upcharge.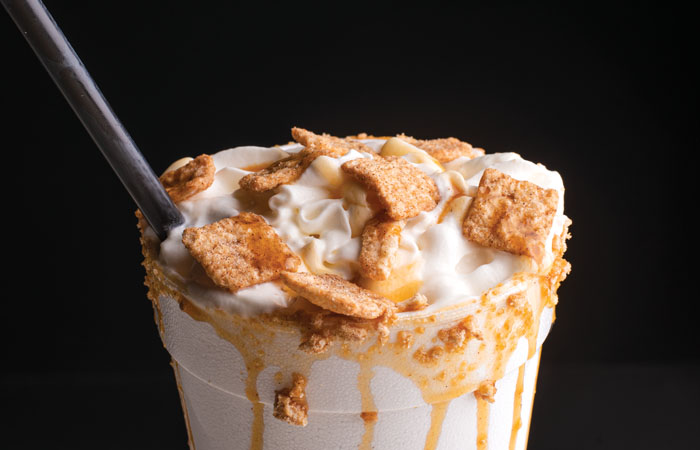 There you have it. Another Rishel/Trident collaboration, and another hit. Berry Street checks all the boxes for a great venue with awesome food and a great atmosphere. It's perfect for everyone, from the beer connoisseur, to the foodie, to the dessert junkie. 
Next time you head to Fort Worth for a round of golf or a TCU football game, make Berry Street Ice House your go-to destination.