A Round with John Colligan
Originally featured in the August 2012 issue of AVIDGOLFER Magazine. As told to Robert Rodriguez
These days have been a little rough for John Colligan.
The Arlington-based course architect is a bit uncomfortable with all the attention that's been placed on him. He hasn't done anything wrong (we think), nor has he embarrassed himself. No, Colligan is just uncomfortable with all the kudos he's been getting for his latest projects, and for being featured in this profile.
"I've been called a lot of things," Colligan said before we teed it up at Stevens Park, his latest re-creation that Golfweek tabbed as one of the top 50 municipal tracks in the nation for 2012. "Celebrity is not one of them."
Many who have played Stevens Park, especially the 15th hole, or Brackenridge Park in San Antonio (another Golfweek top-50 muni) might also call Colligan a genius. At Stevens Park, he took a land-locked and quirky Oak Cliff layout and turned it into a stellar test of golf that offers an amazing view of the downtown Dallas skyline at the 15th. At Brackenridge Park, he revamped a tired A.W. Tillinghast design into a signature amenity for the City of San Antonio.
For Colligan, a native Texan, these renovation projects offered him a chance to work on some classic designs in a state that he truly loves. Yet back in the day, long ago when the economy was strong and golf courses were popping up at a steady rate, Colligan also created some brilliant courses from scratch. The Dallasite and University of Texas at Arlington grad designed such layouts as the Comanche Links course at Squaw Valley Golf Club in Glen Rose, Cleburne Golf Links and Mansfield National Golf Club.
One project he's currently working on, Luna Vista Golf Club, has a special meaning to him, and could draw even more praise for the jolly Colligan. Known by everyone for years as L.B. Houston Golf Course, Luna Vista was where Colligan first learned the game of golf.
Who would have thought – a place he's most comfortable at could also make him even more uncomfortable.
– Robert Rodriguez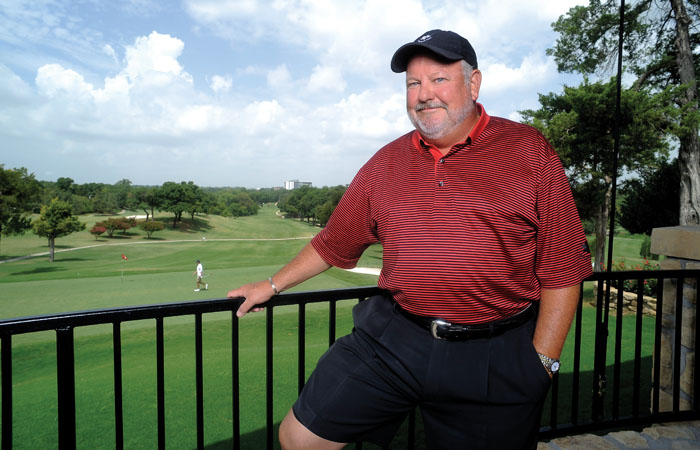 I went to Dallas Skyline High School even though it was 25 miles away from where I lived. I studied architecture there and the instructors were good because they were registered architects. When I went to the University of Texas at Arlington I didn't realize how much they taught me at Skyline and how much more I knew over the other students. The preliminary architecture curriculum at UTA was kind of boring because it was everything that I had already done. So I got interested in landscape architect and tailored everything toward golf courses.
My wife nearly stopped my course architecture career before it got started. [Course architect and Golfscapes, Inc. founder] Jeff Brauer called UTA and asked if they had anyone interested in course design. The school gave him my phone number, and when he called my wife answered the phone. Brauer introduced himself and said he liked to talk to me about a job designing golf courses. She thought it was one of my fraternity brothers playing a prank and she almost hung up on him.
There was an instructor at UTA, Dick Myrick, who was an awesome guy and I owe a lot of what I do today to him. He was a positive influence in my career.
Superintendents have the toughest job. I would never want to be one. You've got too many bosses – everyone on the golf course knows your business. And Mother Nature is always fighting with you. Every once in awhile you'll get an "atta boy," but for the most part it's a thankless job. Those guys earn their money and they work extremely hard day in and day out. They're a great group of guys.
Cleburne Golf Links was the last new course my design firm has done, and that opened in 2009. Nowadays it's mostly renovation work because of the economy. There are just not any new courses being built here; many architects are heading to China to build new courses. They're making a heck of a lot more money than me, but I'm partial to Texas. Again, we've been very lucky.
I never thought I would be doing a project for the City of Dallas, but they had us come over and look at a project for Keeton Park, and then later on Stevens Park and now Luna Vista (formerly L.B. Houston). I've done projects for the City of Grand Prairie, the City of Fort Worth, the City of Amarillo, the City of San Antonio – all these municipalities. I'm not saying that's all we do, but having grown up here in Dallas I had always wanted to do a project for the city.
The Luna Vista project is extra special because L.B. Houston was where I learned to play golf. I can't imagine too many golf course architects that have had the opportunity to renovate a course where they first started playing golf. All the great memories I had there, it really means a lot to me to do this project.
Luna Vista is on a floodplain and all the greens were at the same elevation. On the north side of the course, the land was higher but the greens were lower. On the south side it was the other way around – lower land, higher greens. What I did was pull the approaches out and soften the slopes so it looks like the greens and surrounding areas are part of the land. By pulling out the approaches and re-contouring the fairways, everything flows and ties in together. It looks like the holes belong there. We also re-routed hole Nos. 3 and 4 to where the third hole is now a par-3 and the fourth hole became a par-4. We also pulled in a lot of the water features closer to the greens and surrounds so they could impact the strategy of the golf course. We're hoping to open the course in mid-October.
Any renovation project is a lot harder than constructing a new course. You have so many constraints – like at Stevens Park you had the existing vegetation, the creek, the streets crossing through the property. And then you have the people who have played the course for years and liked it the way it was. Usually they don't like changes. However, if you're trying to mimic the original architect's design – just like what we did at the A.W. Tillinghast-designed Brackenridge Park – it's actually easier because you've got a set of guidelines that you going to utilize. You're given a blueprint – courtesy of the original designer – of what you're going to mimic.
Each site is unique. At Hawk's Creek they had wells all over the golf course that they used to test the water because of the jet fuel off of the air force base. I called them "booby traps," but we had to make sure our grades tied in with them. You have to be aware of the environmental impact. That's one of the biggest factors that we have to contend with. Even L.B. Houston is unique because it's all clay, whereas Stevens Park had a lot of rocks with which to contend. Go to Fort Worth and Shady Oaks had some rocks in some areas and sandy soil over by the creek. It was strange at Squaw Valley because one side of the property had more of a clay soil, while on the other side of the creek it was real sandy and silty. So on one piece of property it can change from spot to spot.
I like to go back to golf courses that I've designed and talk to people because it gives me good feedback on what they think about the design. I look to see how things are changing, what I could have done differently and better, what's working. Especially during the design process, we get a lot of input. Certain people think they know as much as, or more than, the course designer. I try to go back to the courses about once a year. You never stop learning.
I've often said that you can design the worst course in the world, but if it's kept in great shape the course is held in much higher esteem. On the flip side, you can create the greatest design on earth, but if it's not taken care of, people will not like it.