Scene and Be Seen – Eno's Pizza Tavern in Forney

If your New Year's resolution to commit to healthy eating habits has already fallen by the wayside, I've got just the place for you.
Eno's Pizza Tavern, a decade-long favorite nestled in the Bishop Arts District, has taken its pizza talents to Forney and opened a second location. The haven of thin-crust pies has a menu full of Italian favorites with a stellar beer, wine and cocktail list to boot.
The new Eno's is tucked into the red brick shell that once housed the Forney Fire Station No. 1. The classic fire station feel is cleverly transitioned into a family restaurant setting by incorporating glass paneled dividers that mimic the old firehouse garage doors, leaving the brick untouched on the interior and utilizing various mixed woods and metals that make the room seem rustic and warm. The white-painted rafters add a lightness and brightness to the lively space, matching the buzz created by the guests' enthusiasm.
Turning to the menu, the food and drinks at Eno's takes the traditional pizza joint fare and raises it by a million. Seriously, when was the last time you went to a pizza place and left raving about the salads? The team behind Eno's utilizes the freshest ingredients and sources as locally as possible. In fact, the honey that is drizzled on top of the Pig Smiley pie at the Forney location is made in neighboring Sunnyvale, and a selection of the charcuterie options are from 4-T's Bar-B-Q. Eno's truly embodies the meaning of a neighborhood joint by celebrating the best products the neighborhood has to offer.
If you're like me and like pairing carbs with more carbs, start off with an order of the truffle cheese bread. A slice of amazing Italian bread is brushed with truffle oil, covered in white melted Italian cheeses and topped with a sprinkle of fresh dill. The dill was an unexpected but wholly welcome addition: the herb provides a nice pop of freshness and adds a unique dimension of flavor that elevates this cheese bread to a new level. A sidecar of tomato vodka marina dipping sauce also arrives on the plate to accompany this cheesy miracle.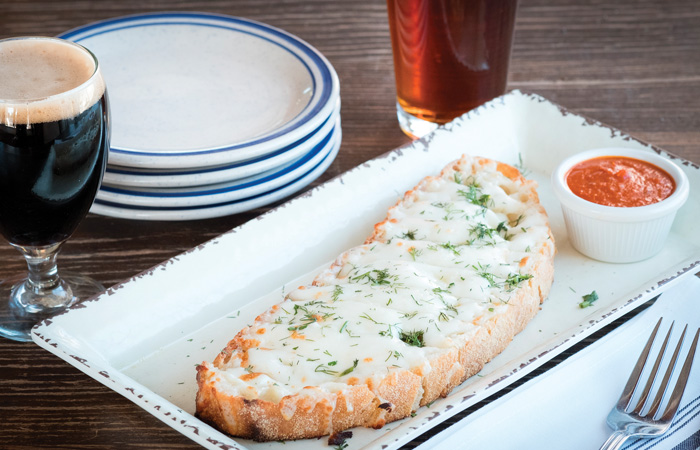 When I first heard about Eno's from a family friend, she gushed over how amazing their salads were. I thought she was nuts. Who goes to a pizza place for salad? Well, I have now added a new item to my running list of things I'm wrong about because Eno's salads are incredible. The Spinach and Things and Arugula Pear salads are tied for my favorite. The Spinach and Things combines baby spinach, grapes, goat cheese, honey pecans with a lemon-thyme vinaigrette for a salad that hits all the notes of sweet, sour and salty in one bite. The Arugula Pear tosses together baby arugula, bacon bits, bleu cheese crumbles, slices of pear and basil in a champagne vinaigrette. Like the Spinach and Things, this option utilizes sweet fruit and salty cheese/meat components for a flavor bomb in the form of greens. One of the great things about them is each option is available in a full entrée size or a "baby" size to pair with other menu items.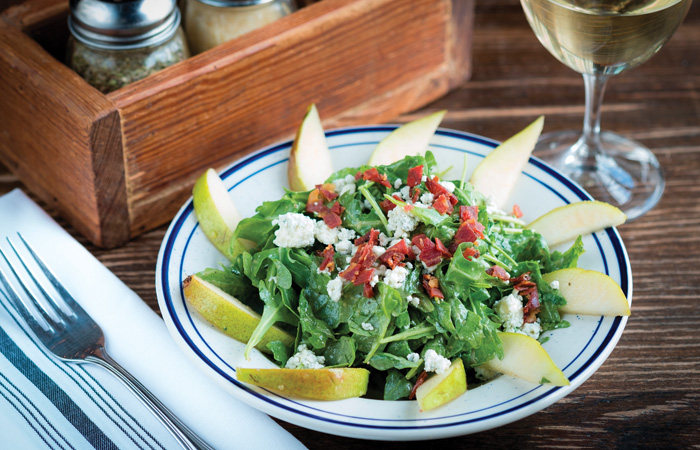 Obviously, the pizza is the star of the show here. I'm a huge fan of the crispy, cracker-like crust. It paves the way for the ingredients to really shine without overpowering them with a bunch of excess bread involved. You can always build your own with the long list of available ingredients, but some of the regular menu items were our favorite. The Pig Smiley is one of the most popular options and it was equally as popular with our table. This combo features house-made sausage, pepperoni, Benton's ham and locally sourced honey. It's porky, salty, then it's sweet and always a continual stream of delicious. I loaded up my square slice with red pepper flakes for an additional zing to match the sweetness. Another favorite was the Meatball and the Goat: slices of Eno's signature Texas beef and boar meatballs are layered with swipes of goat cheese, mozzarella and topped with chiffonaded basil leaves. Fair warning to those not fans of game meat: this pie has a little bit of a funk to it. While beef typically has a buttery soft finish on the palate, this beef and boar combination injects a sharp pork flavor as well. It's a nice riff on a traditional meatball recipe but it might not be for everyone. If you try it and like it, the meatballs are available as an appetizer in marinara or on top of spaghetti as well.
As much love as the Eno's team puts into the food menu, perhaps even more is invested on the beverage side of things. The wine list isn't very long, but has plenty of red and white options. The list is also incredibly affordable: house wines are $6.50 per glass with name brand options in the $7-$15 range. Craft beer fans will rejoice in the double-digit list of both local brews and national favorites that are available both canned and on draft. The Forney location is continuing to add to its collection but some favorites currently on the menu include beers from Lakewood Brewing Co., Four Corners Brewing Co., Revolver Brewing, Peticolas, Texas Ale Project and a handful of others. Check out the Forney location's Facebook page for the latest additions to hit the taps.
Perhaps my favorite aspect of this new Eno's outpost is the community spirit that fills the restaurant. It's a fantastic place for literally anyone to visit. We saw tables of families having dinner seated next to an older couple having a date night. One long table was celebrating a birthday and another big table had school-age boys still in their basketball jerseys. Come as you are and all are welcome at the new Eno's in downtown Forney.