Scene & Be Seen — Smoke With Sophistication

Those afternoons and evenings where you're gathered around a fire pit on a large outdoor patio with your friends are some of my favorite. You might have a glass of local craft beer or rosè in your hand, and you're watching the waters of the local lake glisten across the street. Maybe you're munching on some smoked brisket queso while you're lounging on one of the outdoor couches or soft cubes strewn about. If this is up your alley, head over to Smoky Rose in East Dallas and see this dream oasis in person.
Smoky Rose, opened in December, is a chef-driven barbecue restaurant that features "rustically refined" small plates and smokehouse favorites. Whether you're craving the traditional two meat and side combo, or prefer a show-stopping pan seared trout, there is something for every palate.
The menu is divine, but what instantly grabs you is the restaurant's décor. The sheer size of the space is both exciting (room for everyone!) and impressive. The large outdoor area has plenty of tables underneath oversized umbrellas that are tucked in between living room-like pockets of comfy couches and wooden armchairs. There's another porch-style covered dining area to escape the sizzling sunshine yet still enjoy the warmer temperatures.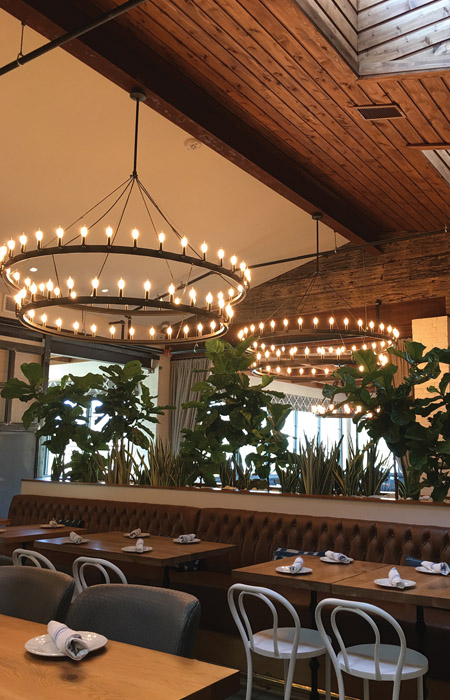 Inside, the refined rustic theme continues into the cloud-colored walls amidst large windows, touches of reclaimed wood and pops of blues and greens to bring the outdoors in. It's been compared to a Hill Country ranch or a southwestern hacienda, but however you describe it, it's a chic space that welcomes all.
Another impressive feature is Smoky Rose's drink menu. The long list features original cocktails, wines of all kinds (including on tap) and a beer list that showcases the usual favorites alongside local brews. My favorite cocktail was the Back Porch: lemon vodka, muddled cucumber, jalepeno-infused simple syrup with fresh lemon juice and topped off with club soda. This fizzy wonder checks off all summer drink boxes; it is light, citrusy and refreshing with a subtle hint of spice. I would go back just for another cocktail.
But stopping at the cocktail menu would deprive you of the incredible appetizers, salads and creative 'cue whipped up by Executive Chef David Gauthier alongside pitmasters Tyler Hutt and Mike Sharp.
One of the house specialties on the appetizer menu combines Texas staples – brisket and queso. The thick yellow queso is packed with chunks of the smoky meat and is then sprinkled with bits of fresh pico de gallo. The richness of the cheese and meat isn't overbearing, thanks to the fresh veggie mixture, and the diced jalepeno provides a pop of heat as well. Our waitress one evening had just moved here from Maine, and while she was new to the queso concept, she enthusiastically endorsed Smoky Rose's as one of the best in town. And honestly, she may be onto something.
Moving into the main dish section of the menu may be a bit daunting as the choices are abundant. There is no question that traditional and barbecue-style meats dominate the menu, but salads and a "Fish Dish" special contribute lighter fare to the mix. The pickled beet and goat cheese salad was a table favorite, with slices of tangy pickled beets mingled with crumbles of fresh goat cheese in a bed of mixed greens and were tossed in a balsamic vinaigrette. It was bright, flavorful and appealed to the table's carnivores and herbivores alike.
As mentioned above, the meats are the stars of the show. There is a rotating selection of upscale fare (the Chicken Dish, the Smokehouse Dish, the Pork Dish and the Fish Dish) or the traditional, no-frills smoked meats (brisket, pulled pork, turkey, pork ribs and sausage).
The Chicken Dish the evening we dined was pan-seared chicken with a salad of farro, yellow onion, butternut squash, grilled corn, baby heirloom tomatoes and pickled beets drizzled with a white BBQ sauce. It was super juicy with a crispy seared exterior as well as being a phenomenal option for folks who aren't too keen on barbecue.
Out of the traditional fare, the turkey and ribs were surprise standouts. The turkey is a far cry from an overcooked Thanksgiving mess; Smoky Rose's version is incredibly juicy, bears a hint of the smoke and even carries a sweetness in its flavor. Feel free to put a splash of one of the signature sauces on it (regular, spicy and mustard-based) but it honestly could stand on its own just fine.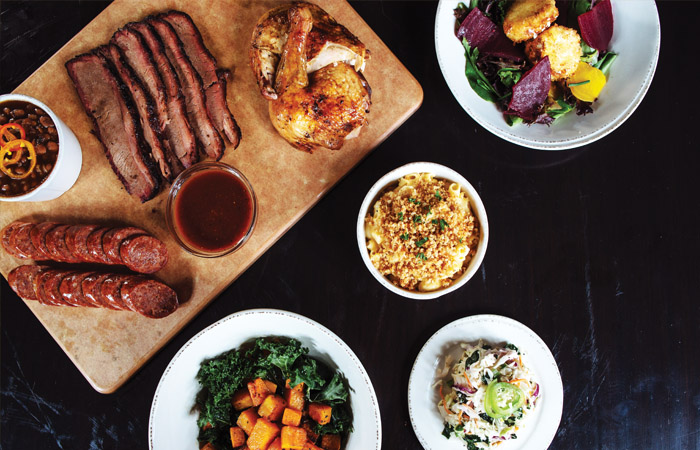 The ribs are a labor for the gents behind the pit, as they are smoked for a lengthy 16 hours, but they definitely taste like love. The smoky flavor permeates the tender rib meat down to the bone, and the prolonged cooking time creates a nice fall-apart tender texture. The meat is smothered with the signature sauce with a few hours left in the pit, which locks in moisture as well as that traditional smoky goodness.
The upscale plates mixed with traditional barbecue may draw you to the venue, but the superb staff, drink options and welcoming atmosphere will make you want to cool your heels for a while. Although it's still too hot in August to be enjoying much of the outdoors, I'm excited for the brisk temperatures to arrive to be able to lounge at Smoky Rose.