Scene & Be Seen — An Urban Eden

If you are on a strict time schedule, I'd steer clear of Dolce Riviera. It's not because of the service (which is excellent), or the kitchen (also excellent), but because once you arrive at this gorgeously chic Mediterranean eatery, the Provencal lifestyle takes over and you can't resist relaxing in this open-air oasis.
Dolce Riviera is Harwood Hospitality Group's newest addition to their growing number of eateries in their eponymous district. Currently, the Harwood District boasts seven bars and/or restaurants in their slice of the city that stretches between Uptown, Victory Park and Downtown Dallas. It's a bustling part of town, and if the packed tables at Dolce Riviera mean anything, it's not likely slowing down soon.
Despite its busy location, one of the most magical things about this coastal Italian restaurant is how time passes without your knowing in this intimate space. Right from entering, the large palms overhead and oversized lanterns tucked in the steps of the walkway transport you away from the city and into a bright and breezy outdoor space. Large pergolas divide the patio into quiet nooks for smaller gatherings and a bigger dining area that beckons large tables of friends and family. The towering palms that greet you at the entrance of the restaurant are filed along the entireborder of the patio area to create a verdant blockade of the outside world.
The team behind Dolce Riviera knows it's all in the details, starting with their drink menu.
Presented on an iPad, the interactive drink menu features cocktails, cordials, beers and an extremely organized wine list. The selection of reds is broken down into domestic bottles and import, then further categorized by country and region. Although the selection of whites is a tad more selective, Dolce Riviera makes this a budget friendly route as most bottles range between $40 and $72.
The cocktails – made with Italian elements such as limoncello or Campari – are expertly crafted, pack a nice punch and sport a dazzling stamp of Dolce Riviera's logo on the citrus peel garnish. How cool is that?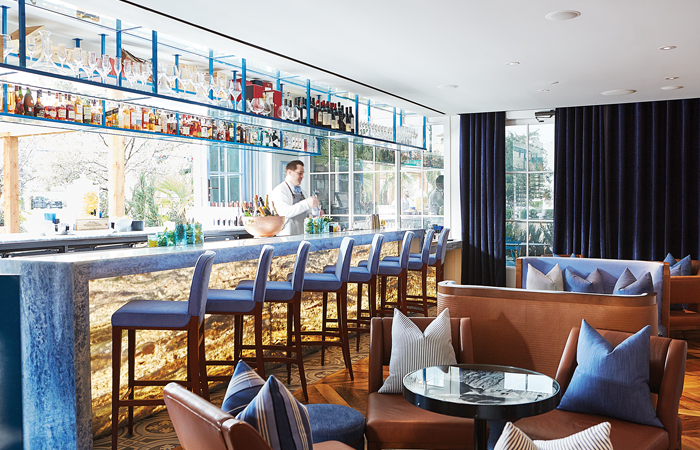 One thing I enjoyed about the cuisine was the deference to fresh, lighter plates instead of the Americanized carb-heavy spread that will leave you rolling through the door like a runaway meatball. And although Dolce Riviera doesn't stray far from traditional Italian – they do have an incredible pasta section – the overall feeling is crisp and coastal.
Take, for example, one of our table's favorite appetizers – the salmon tartar. The beautiful pieces of cured salmon were tossed with green apple, cucumber, avocado and served in a star of endive leaves. The richness of the avocado and cured fish was lightened by the tart notes of apple and cucumber to create a nice prelude to our entrees.
If pseudo-raw fish isn't your favorite, I'd recommend the calamari. Flash fried after a thin coating of three different types of flour, the pieces of squid were delectably tender and had an optimal texture (not too flimsy, but not reminiscent of rubber bands, either). The accompanying marinara sported a surprising kick that delighted those at our table with a penchant for spice.
The hands-down favorite of the pastas was the pappardelle al cacao- a beautifully composed dish of cocoa infused pappardelle with sweet peas and speck (a cousin of prosciutto) tossed in a Parmesan and white truffle oil cream sauce. Oh. My. This rich plate of divine Italian goodness is so heavenly I'm still thinking about it weeks later. In fact, one of my dining companions caught me longingly staring at the bowl for another bite after we tasted, so she stopped mid-sentence and asked, "Do you want the pasta back? Yep. I can see it. You want the pasta back."
Maybe I need to practice my poker face, or maybe it's really just that good.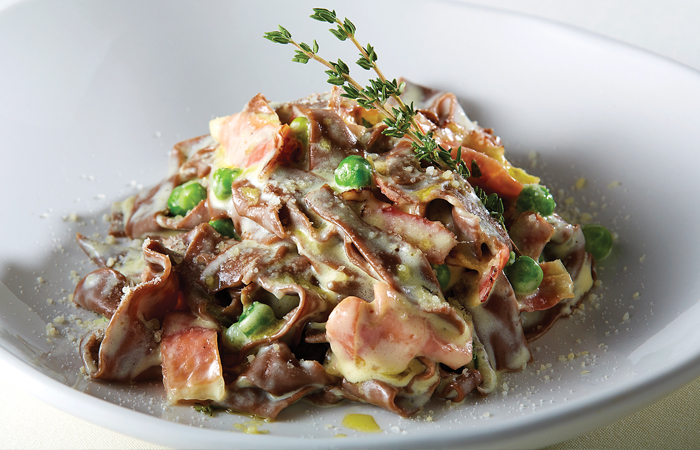 Equally impressive were the sea bass fillets (served in parchment with mussels, clams and tomatoes in a white wine and lemon sauce) and the pistachio-crusted lamb chops. The sea bass has a greater presentation value as it at arrives at the table still in parchment like an unopened Christmas gift, but the lamb was the show-stopper.
Our server had jested that it was so tender, you "could eat it with a spoon," and he wasn't wrong. The chops were so tender, I literally used a butter knife to saw off a bite as our serrated knife had somehow disappeared. Served with a sweet pea and mint puree, roasted potatoes and a red wine reduction sauce, the lamb chops were a nice homage to the Easter classic but executed spectacularly.
As good as the food is, the ambiance is what will bring you back time and time again. Even on weekdays, the restaurant was full and a convivial hum always took over the evening. The nicest thing was though it was busy, it was never hard to hear your guests and you rarely heard those around you. It was uniquely intimate without being too intimate; it's perfect for date nights and dinners with friends alike.
As we approach the summer months ahead, I'm excited to visit time and time again to spend afternoons on their patio. I have no doubt Dolce Riviera will be the one of the hottest places to enjoy the sunshine, sip a glass of chilled rose and dream of life on the European coast.