Squaw Valley Golf Course — Hometown Greatness in 36 Holes

Some of golf's finest courses are often found in remote locales. The serenity of a rural community can be refreshing, as you leave the bonds of the concrete jungle to relax and take in some fresh country air. If you head 60 miles southwest of Fort Worth, that's exactly what you will find at Squaw Valley Golf Course. Featuring a pair of 18-hole layouts, this property is everything golf should be: serene, challenging, cost effective and in great shape.
The 36-hole layout features every conceivable design you can think of when it comes to architecture – links style holes, holes lined with century-old trees, water features, bunkering (both au natural and sand filled), doglegs in both directions, several holes with creative mounding, and the serenity of the Squaw Creek meandering its way through the property.
The first course, Apache Links, was constructed back in 1992 and features a combination of links style play on the outward nine, and character filled holes that weave around Squaw Creek over the final nine. Hole Nos. 1-5 are a nice way to ease into the round. Wide open and straightforward. Head pro and GM Duff Cunningham isn't afraid to play favorites, as he contends the best stretch of holes on the property are holes 6-18 on the Apache side. No. 6 is a short par 3 and the no. 18 handicap hole on the course. It's a short iron for most and a fine opportunity at birdie.
For me, the inward nine at Apache Links is pound for pound the most diverse stretch of holes I've played in a while. The 10th features a large pond and a 199-yard shot to the middle of a green that was predominantly guarded by geese the day we played. A slight south wind knocked my ball down into the front bunker and made for a failed sand save and a bogey 4.
If you're going to score at Apache, you need to make a move on holes 11-14. Although, the 11th reads as the No. 5 handicap, if you can control a 3-wood or hybrid off the tee, you can set yourself up for a mid-iron approach and a decent chance at a 3 on a green that slopes hard back to front. Nos. 12, 13, and 14 are the 13th, 15th and 17th handicaps respectively. This stretch of holes can make or break the round. You will need to get some momentum going as you prepare for a finishing stretch that features four of the top nine handicapped holes on the course.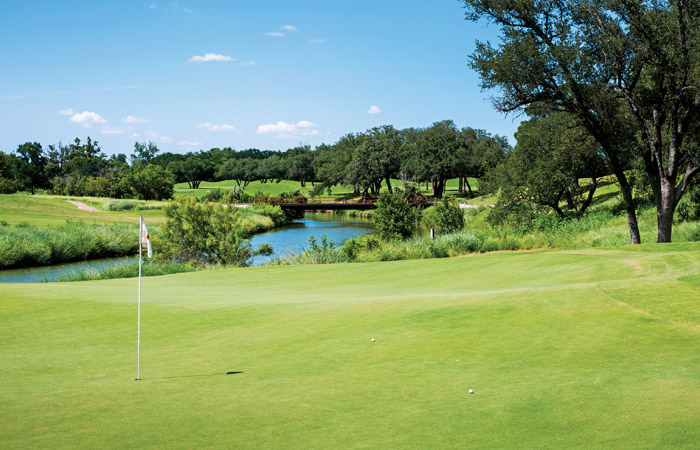 The long par-four 15th ranks as the hardest hole on the course and requires a threaded needle tee shot around a pretty significant dogleg right. If you can get it through the chute and carve one off the trees, you'll be in position A and have a simple approach shot. If you miss right, you'll be re-loading, and miss too far left and there is significant mounding that will make you hit your approach from a treacherous side-hill lie.
The 16th hole is another par 4 and, though it only plays 368 from the back tees, has arguably the most intimidating second shot of either course. A long iron off the tee leaves just a short iron or wedge, but it's a carry over Squaw Creek to a narrow green. Anything short, and it is splashdown. Anything long, and you have a downhill third with water behind the flag. Still, in my opinion, No. 16 is one of the most fun designs on the Apache side.
The finisher at Apache Links is a par 5 with Squaw Creek winding along the dogleg to the right. A wayward tee ball, and you can kiss birdie goodbye, but a good tee ball and you have a chance to get home in two. However, a large tree guards the green front right, so be prepared to hoist something over the tree, or carve a cut around it.
Built in 2001, Comanche Lakes maybe doesn't boast quite as much personality as its Apache sibling, but it's every bit as fun and challenging. Several water features, bunkering scattered about (although some of the traps are in the process of being renovated or converted into grass bunkering), and some of the thickest, hosel-grabbin'est rough I've seen in a long, long time.
As with Apache, the fairways and greens are plush and fair in every way. No extraordinary rollout or convex fairways that send marginal tee shots bounding into the spinach (John Colligan designs usually promote balls holding the fairway).
After an opening hole with a tight fairway, No. 2 is a solid test of a par 5 with water all down the right. An aggressive line will leave you a great chance and getting aboard in two, but over-leak it and it's bath time. If you take the conservative line, bunkers await any pulled tee ball. Fun hole, but a bit of a white-knuckle drive for so early in the proceedings.
After a short par 3 and a par 4 that is potentially drivable if you're confident with the driver, comes the difficult fifth, featuring a split fairway with a spine of bunkers dividing the two. Take the higher left route if the pin is playing back right; otherwise, play the lower right side. Miss in the middle, and the lopsided bunkers will give you plenty of trouble. If the pin is playing back, don't miss long, because some of the thickest rough on the course will digest your ball in short order. However, leave the approach too short to the back pin, and you'll be faced with something that immediately thrusts you back to childhood and the funhouse 18th at Putt-Putt (think WAY uphill).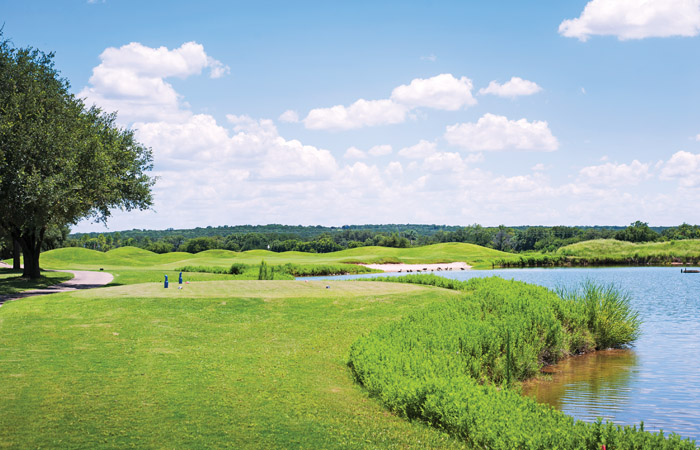 As you prepare to make the turn at Comanche, you face the long par-4 ninth. Playing 461, this is the No. 1 handicap on the course. Not a tremendous amount of trouble, but its length can be a little more than the amateur enjoys.
The most difficult hole on the back nine has to be the 12th. Although the fairway bunkers on the right are being turned into grass covered mounding, the split fairway makes the tee shot visually intimidating, and at over 460 yards, it's got some length.
The finishing hole on Comanche Lakes is one of the sub-550 par-5s. In fact, this one plays just 509 from the tips, so it's even manageable for those of us who may not unleash 320-yard drives on a regular basis. Hit a baby fade and avoid the fairway bunkers on the left. Although it may be tempting to try to get home in 2, this is a large green, so a layup and a precise wedge may give you a better chance at birdie than leaving a 60-foot putt that you need to get down in 2.
Bottom line, Cunningham and his staff have that good ol' boy attitude, and that's something you don't often find when you play a course of this caliber. Nothing about the experience feels anything less than down-home. The clubhouse has a grandma's living room atmosphere – cozy and welcoming. Make the trek down, hit the tee early, play 18, enjoy lunch and some conditioned air for an hour or two, and then hit the other course. The two different layouts provide an enjoyable, and at times challenging day of golf, but Squaw Valley is every bit worth the effort and extra mileage to get to Glen Rose.
Squaw Valley Golf Course
Address: 2439 E. Hwy 67
Glen Rose, TX 76043
Phone: 800-831-8259
Website: www.squawvalleygc.com
Designer: John Colligan
Year Opened: 1992
Apache Par/Yardage: 72/7,063 (Gold tees); 6,731 (Blue tees); 6,284 (White tees); 5,194 (Black tees); 5,009 (Red tees)
Comanche Par/Yardage: 72/7,000 (Gold tees); 6,633 (Blue tees); 6,143 (White tees); 5,597(Black tees); 5,116 (Red tees)
Greens: Bermuda
Rates: Monday – Friday: $45.25; Saturday – Sunday: $57.25; Rates for peak time with cart; junior, senior and twilight discounts available
Toughest Hole: Comanche Links No. 5, Par 4. 434 yds. The bisected fairway always makes for an interesting visual from the tee and some second guessing as to which route to take. However, the real trouble on this hole lies around the green. The rough is dense, and if you miss the putting surface, be prepared for a tough pitch. The green also has two tiers; hit to the wrong one, and you'll have a funhouse putt.
Favorite Hole: Apache Links No. 18, Par 5. 521 yds. It's difficult for me to express how much I enjoy a good par-5. There are so many options. So many ways to get the ball to its intended destination. On this par-5, it's all about the second shot. Sure, you can lay-up and leave yourself a nice, straightforward wedge, but you can also give it a go in 2. If that's the case, you'll need to be precise as there is a large tree that eliminates much of the angle to reach. The second must cut around the tree or you need to hit the ball way up in the air to fly the tree.
Most Intriguing Hole: Apache Links No. 7, Par 4. 362 yds. It was hard picking a most intriguing hole out of all 36 at Squaw Valley, but I must say that I enjoyed the design of this hole. A driver works here, but expect to have a very awkward wedge in if you get too close to the green. Ideally, you need to play a long iron over the water and leave yourself a good number you're comfortable with. Regardless of how you choose to attack this one, it's a fun hole.