While there will always be extensive and expensive vacations to tourism hotspots nationally and internationally, one concept taking hold for the summer of 2017 is the North Texas family staycation. The idea of fun, food, family golf, sights and resort pools all within a tank of North Texas gas is a Texas-sized, economically friendly idea making financial sense to many. No stamps in the passport or gaudy vacation photos, but you won't have maxed out credit cards, jet lag or roaming charges. Here are some close-in choices to check out.
Four Seasons Resort & Club Dallas at Las Colinas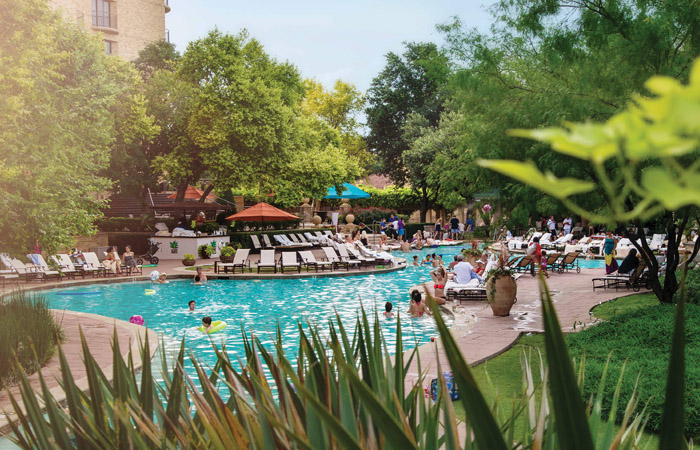 While the PGA Tour officially decamped from this plush Irving location after its 2017 tournament, that just means more open weeks, villas and tower rooms for North Texas families looking to make a cross-town, not a cross-country, trip.
With a huge resort pool, an award winning spa, kid's activities, indoor sand table shuffleboard and billiards in a sports bar setting, there is all manner of family activities, but the real star is still the Tournament Players Course (TPC) golf course that the world's best professionals used to attack with varying degrees of success.
Among the summer golf options offered are the golf packages for two which includes one round of golf a day per guest along with club storage and full use of practice facilities, where the pros used to spend the majority of their time. Not surprising in the summer, the prime tee times are early in the morning, but one of the real beauties of the Fab Four Seasons is the fact the 18th green at the par-70 course is less than a sand wedge away from the resort pool.
So, regardless when you finish your round, you're less than 100 feet from some cool watery refreshment or refreshment of the more strongly liquid kind from the nearby poolside bar. In fact, it's not surprising to see golfers appear at the pool in full golf gear sometimes with clubs in tow looking to join their family.
One interesting and increasingly popular sidelight at the golf course is the use of the four-wheeled GolfBoard. The Four Seasons was one of the first local courses to offer the use of the GolfBoards, which look like a skateboard with a wider base, four wheels, and a place for the clubs, and powered with a simple electrical switch. Thankfully, it lives up to its promotional pledge of being nearly impossible to turn over.
"The GolfBoard is an exciting way to play," said Four Seasons Director of Golf Paul Earnest. "Boarding keeps you engaged physically and gives you a connection to the course."
"I love to see people smiling while surfing the turf."
Once you've exhausted the golf and the pool options, the Four Seasons spa, with a wide variety of treatments for males and females, is certainly a highlight for a certain segment of the family.
The hotel is also home to a 176,000 square foot sports facility that includes 12 indoor/outdoor tennis courts, indoor/outdoor jogging tracks, racquetball and squash courts, functional training studio, fitness center and group exercise studio featuring over 50 classes weekly. It also has a healthy living space with nutrition counseling and coaching, diagnostics with the In-Body 570, acupuncture, acupressure, cupping and athletic recovery massage.
There are five different dining options at the hotel with some outstanding food options within walking or an easy driving distance when you decide to go off campus for a spell.
Tanglewood Resort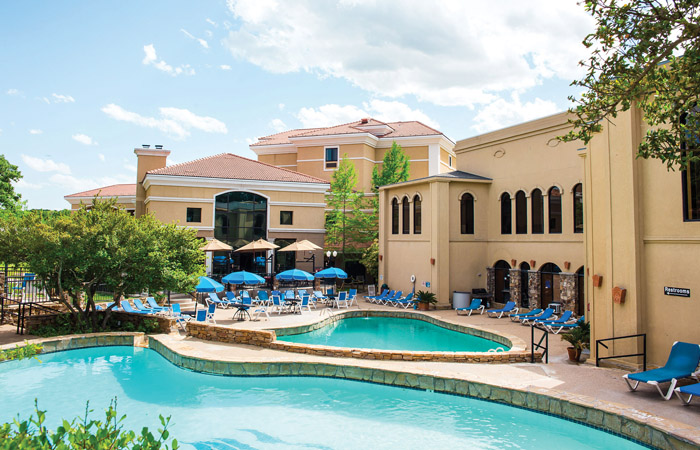 One of the long-standing family staycation spots in (far) North Texas is also one of the most overlooked. Built in the 1970s on the shores of Lake Texoma, this full service resort offers all manner of summer diversions. From a golf course designed by a legend to a pool area and sports complex, Tanglewood Resort is a perfect getaway for those that love being outdoors.
Texas architect Ralph Plummer and Arnold Palmer designed the 7,000-yard championship course which offers plenty of scenic lakeside views and expert course conditions to distract you from any bad golf swings or scores. There is also fine dining overlooking lake along with a full-service spa and luxury rooms.
For recreation, guests can enjoy any of the three pools, or work up a sweat in the fitness center, outdoor basketball court, volleyball pit, tennis courts and various outdoor yard games. Or, if you are aquatically inclined, hit the lake on a ski boat, wave runner or pontoon craft for a day in the sun. You can also take to the nearby hills and explore the many hiking trails.
There is also a sense of splendid lakeside isolation and nature-infused beauty just over an hour's drive from the North Texas Metroplex. Nearby are close-in places you can go fishing on the massive lake and there's even a fine Jack Nicklaus private course, Rock Creek, nearby to try to explore.
The Woodlands Resort & Conference Center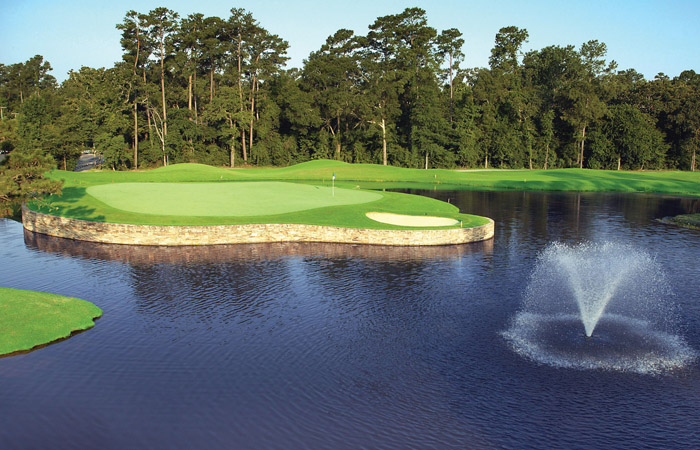 You might not think of Houston as a top-flight destination for resort golf, but the Woodlands Resort & Conference Center in North Houston is an excellent resort with 36 holes of beautiful golf and all the amenities and nearby activities you could ask for.
The resort is outfitted with more than 400 deluxe guest rooms, suites and executive accommodations, all located in three buildings adjacent to the first and 18th hole of the Panther Trails golf course. The resort offers five dining options for guests, highlighted by Robard's Steakhouse, one of the premier steakhouses in the Houston area. The hotel also has an in-house spa that is open seven days a week, as well as a state-of-the-art fitness center.
For the golf nut (aren't we all?), the Woodlands Resort offers two distinct golf courses – Panther Trail and The Oaks. Panther Trail, designed by Joe Lee and Robert Von Hagge, is the more challenging of the two courses, and features looking Carolina Pines lining almost every hole, undulating greens and large greenside and fairway bunkers. The Oaks, designed by Jay Morrish, features wider fairways and larger greens, but still plenty of majestic oaks trees and water features to test your game.
Hyatt Regency Hill Country Resort & Spa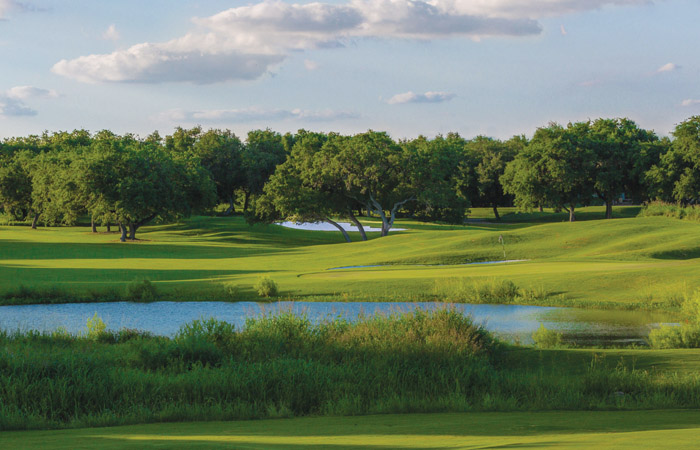 Located on the far west side of San Antonio, across the highway from SeaWorld, the Hyatt Regency Hill Country Resort & Spa is beautifully carved out on 300 acres of prime Hill Country real estate. The Hyatt Hill Country boasts more than 500 guest rooms and suites, 27 holes of championship golf designed by famed architect Arthur Hills, multiple resort pools with water slides and a lazy river, and an entrancing, relaxing spa.
The golf course, dubbed the Hill Country Golf Club, sprawls out over 200 acres and features a very diverse terrain and topography. Across the 27 holes, you'll find links-style rolling meadows and hillsides, as well as tree-shaded plateaus and tranquil lakes and ponds.
For dining options, patrons can choose from nine different locations on property to enjoy either food or drink, including the Antlers Lodge (Texas cuisine with locally harvested ingredients) and Springhouse Café (regional and Southwestern dishes). You can also enjoy food and drink down by the pool while lounging in a comfortable chair.
One of the great things that separates Hyatt Hill Country from some of the other resorts in the area is its proximity to other great San Antonio activities. Just 1.5 miles away is SeaWorld San Antonio, home to the largest Shamu Stadium in the country and the new family-friendly water park, Aquatica. There is also Six Flags Fiesta Texas, the Alamo and the San Antonio Riverwalk, all within 15-20 minutes from the resort. For a family, you truly have endless options (if you can pull yourself off the golf course).
Omni Barton Creek Resort & Spa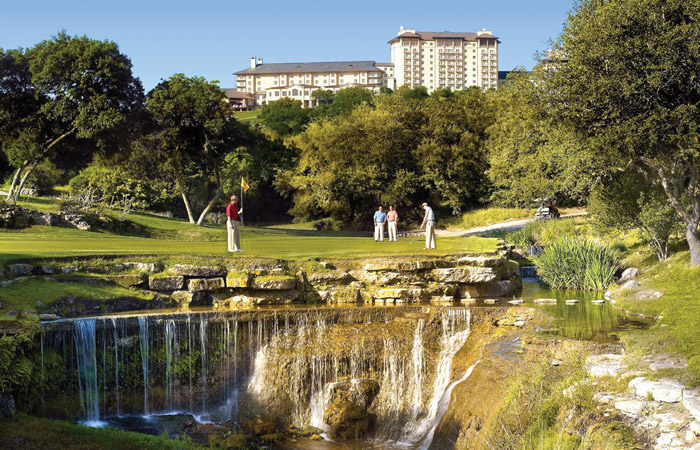 While this is a bit farther from North Texas that the others (three hours south), this Central Texas resort mainstay still falls within the single tank of gas category. It fulfills all the basics of a good, short getaway; pool, food, outside distractions and recreation options, in this case, heavy on the golf.
Barton Creek, which first opened in 1986, was the first Texas resort to feature a Tom Fazio golf course, and now it has two, along with a Ben Crenshaw layout and an Arnold Palmer layout, Barton Creek Lakeside, located 15 miles to the west.
With the way the resort is structured between local members and resort guests, visitors always have access to one of the two Fazio layouts, Fazio Foothills and Canyons, every day along with the Crenshaw course, all set in the highly pleasurable Hill Country scenery. The resort tower has been recently renovated along with a resort pool overlooking one of the Fazio courses and several restaurants. Typical of health-conscious Austin, there is a large spa along with a multi-story running track and workout center offering vistas of the majestic Hill Country scenery through large picture windows.
You're still only a short ride from the resort to Austin's famed 6th street, the so-called live music capitol, along with famed BBQ and Tex-Mex dining options, even tours of the real state capitol and the nightly bat flights from underneath the downtown bridges.
There is a summer's worth of staycations all within a tank's worth of gas with the basic ingredients of a fun, economical family vacation. The exotic golfing vacations of the world aren't going anywhere soon. But a Lone Star quest for a simple and satisfying staycation is something to seek out before the school bells and work responsibilities beckon you back to the real, non-vacation world.