Auto manufacturers are scurrying to satisfy the public's current insatiable desire to purchase SUVs, crossovers and really anything that doesn't look like a sedan. It's all about the price point of fuel, sitting higher and utilizing a large hatch lid. Infiniti is part of that parade, with six models in the aforementioned categories. Recently, they partnered up with the Mercedes-Benz GLA to build the 2018 QX30. It's more compact crossover than SUV, is nimble, fun to drive and looks unique enough to attract consumers not wanting to follow the herd; and, by starting at $29,900, the QX30 offers appealing price points to keep your wallet happy while enjoying all the luxury dealer benefits of a premium brand.
SKIN
The QX30's Ink Blue paint is absolutely a head turner and a big hit with the younger crowd. Seriously, the combo of blue and purple provides one of the coolest colors around. The QX30 is similar to partner Mercedes-Benz' GLA, but contains some notable differences; it continues Infiniti's position of sporty while still providing notable luxury. The crossover/hatchback/coupe-like silhouette casts a swooping, curvier eye-catching athletic muscular stance (especially from the rear) enhanced by Infiniti's signature "double wave" design. The front looks nearly identical to the popular Q50 sport sedan with updated and striking LED running lights. It's robust and uniquely distinctive without looking over the top. The fit and finish is impressive too, as a premium brand should be. The AWD option with the Premium package sits a bit higher than the Sport version.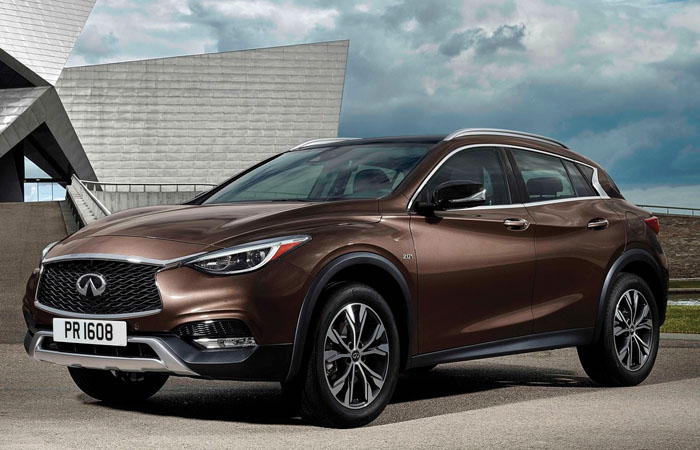 PERFORMANCE
The QX30 utilizes Infiniti's 2.0-liter turbo four-cylinder with 208 horsepower and 258 lb.-ft. of torque. It's definitely spirited enough for most drivers and will quickly scoot in Sport mode. In fact, I would suggest trying both the Premium and Sport model versions before buying as the Premium offers a softer higher ride that may appeal to more buyers. There's also either front-wheel (FWD) or all-wheel drive (AWD) to choose. I typically gravitate toward AWD to provide more peace of mind in rough weather. The engine growl in Sport mode is ample enough and the 7-speed transmission shifts effortlessly. It cruises admirably as well as a daily driver. ECO mode is the standard but not so dumbed down to frustrate accelerating off the line. Plus, there's now a welcome digital speedometer that's a far easier gauge than a normal analog display. As mentioned, the QX30 is quite nimble in the turns on the standard beefy 18-inch rims and rubber (or optional 19-inch gun metallic wheel package). Mileage is an admirable 24/33. I observed 28 mpg overall.
CABIN
The plush interior is delightful with excellent upscale materials. The dash and door designs mirror the exterior's graceful flow. Attractive double-stitched leather seats are supremely supportive and comfy on long trips. Lighted Infiniti kick plates are a nice touch. The optionally heated sporty leather steering wheel feels terrific (there's a racy squared bottom version in the Sport model) and is adorned with volume, menu, voice activation and cruise control buttons. The brushed aluminum trim contrasts nicely with the leather interior. Storage is decent for your various knickknacks. Back seat room is good for even 6-footers, but watch when entering, as the low-slung roofline shrinks the opening a bit. A single, 7-inch infotainment touchscreen gives you multiple entertainment options, complete with traffic and speed limit notifications as well. NAV and audio options are either controlled via touch or the console control knob. Infiniti sweats the details, as the delightfully organized analog control buttons and knobs are a breeze to navigate, although there is no designated radio-tuning knob. The expansive panoramic roof with power sunshade impressively lightens the cabin. Trunk space is a useful 34 cubic feet with the seats folded down – decent for this category. A set of clubs fits diagonally with the rear seats up (after taking out the driver) but more bags can be easily stored with the 60/40 split seats folded down. However, with any premium brand, Infiniti should provide a power lift/close hatch lid.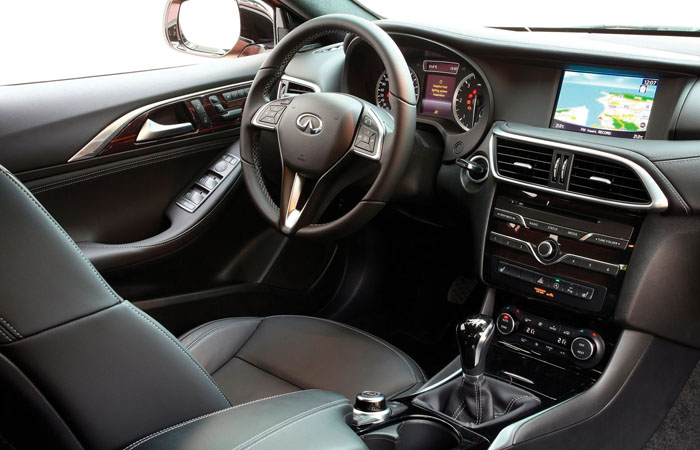 TECH CHECK
Infiniti continues to impress the finicky techno-lover. The optional and worthy Premium package offers NAV, BOSE 13-speaker Premium Audio, XM Real-Time Weather, 36 radio presets (across all radio formats!), Backup Camera and Voice Recognition. The NAV and VR are some of the best in the biz. You can select points of interest (all the golf courses were listed) and restaurants by Zagat ratings. There are two USB ports (but no Apple Car Play or Android Integration) and the Bluetooth connection to access your phone's capabilities works well. Like most in its class, the QX30 offers optional safety protectors including Blind Spot Intervention, 360-degree parking sensors, Speed Adaptive Cruise Control, Forward Emergency Braking and Forward Collision Warnings that peeks ahead 500-yards for impending traffic issues and readies brakes for quick stops. You almost have to try to create a wreck with all the protection measures. In addition, you get the 24-hour access Infiniti Personal Assistant that's like conversing with your very own concierge, all at the push of a button. So luxurious!
The 2018 Infiniti QX30 will delight current Infiniti owners and countless new customers. It's unique, sporty, and surrounds you in high-tech luxury without losing that Infiniti spirit. All at a price point that's appealing in this premium category. I believe you'll be duly impressed when test-driving it and contemplating your next compact crossover purchase.
Test-drive the 2018 Infiniti QX30 at Crest Infiniti in Frisco.
SCORECARD
Golf bags: 2
Curbside appeal: Cool sporty youthful exuberance
0-60: 6.3 seconds
MPG: 24/33mpg Observed 28.0 overall
Must haves: Driver Assistance, Premium Packages
Warranty: 4 years/60,000 miles
Base price: $29,950
Price as tested: $44,100
Who buys it? Younger demographics wanting a unique ride in the crossover category
Finish line: A fun and functional option that won't break the bank.