Travel – Luck of the Irish

To know Ireland golf is to know truly authentic and wonderful links golf, stunning scenery, quaint and charming villages, interesting (to say the least} weather, and a buddies' golf trip you'll remember forever.
But if all you know is Ireland golf, then you will have missed out on a great deal of this most interesting destination. If all you know is Ireland golf, then you're just on the "if this is Tuesday, then it must be Ballybunion," cycle. Meaning just another day, just another course, just another destination. That's fine, as far as that goes, but, ultimately, repetitive and even a bit stale after a while.
To really know Ireland golf, though, you need to know Ireland people. That is what makes a golf trip in this country so special.
For as former longtime Northwood Club head pro Bob Elliott once told me before I made my first trip to the Emerald Isle, "In Ireland, the golf is better, the weather is better, the food is better, and the people are nicer." After more than a dozen trips over a decade or so, that is the best Irish golf advice I have received.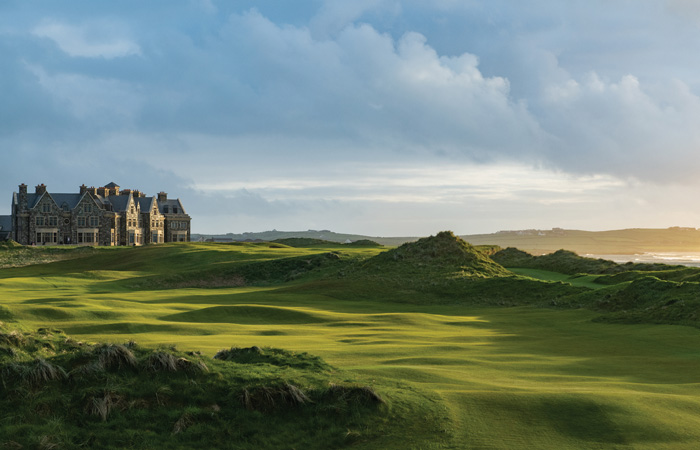 Before you make your next Irish golf trip, here's three people you must meet and interact with there. Each representing a different section of the country, still smaller overall than Texas.
All three are great storytellers, if there any other kind in Ireland. All three are extremely helpful and have a genuine appreciation for the American golf visitor, which one Irish tourism official once told me make up 70 to 80 percent of golf rounds on Ireland premium courses in the summer months.
In the West, it's Joe Russell, the longtime general manager of the Trump Doonbeg Resort, who not only is a great storyteller, but also a fantastic guide of all things golf in western Ireland.
In the North, in the tiny town of Portrush, it's Nicola Neill, who heads up the charming Blackrock House B&B and is a never-ending source of information. What once was one of the most dangerous places on Earth, now is one of golf's great gems and definitely worth seeking out.
In the South, by the capital city of Dublin, it's the quintessential Ireland tour guide Pat Ruddy, who owns and manages the wonderful European Club golf links, along with his equally interesting and helpful family.
There are all sorts of great courses and places to explore while getting to meet these three delightful Irish folks in their respective kingdoms, and your trip will never be short of "Craic," the Gallic word for a good time.
Ireland West
Joe Russell, Trump Doonbeg
Like most good Irishmen, Joe Russell has some great stories to tell. Lots of stories, in fact. 
Many of Russell's stories are about Donald Trump and the Trump family. Russell has been there since the resort first opened in 2002, as one of the finest and most elaborate in the country. The Trump organization took over in 2014 and has poured millions of dollars into making one of the best links and lodgings even better.
An original Greg Norman design, set against the Irish sea and built on the dunes which once served as the Irish Army training post, European architect Martin Hawtree was brought in to revitalize the links. Hawtree's revisions greatly enhanced the original layout and made it one of the most enjoyable to play in the country. Not harsh or contrived, but fun and challenging with specular views of the Atlantic Ocean on 16 of the 18 holes. 
Nothing says Irish comfort more than 18 holes of links battle, knowing a warm, hearty meal and ice-cold drink are only steps away in the dining room overlooking the par-4 18th hole's green. Served, of course, in Trump's Bar & Restaurant (be sure and get Russell to tell you some of his best Trump stories).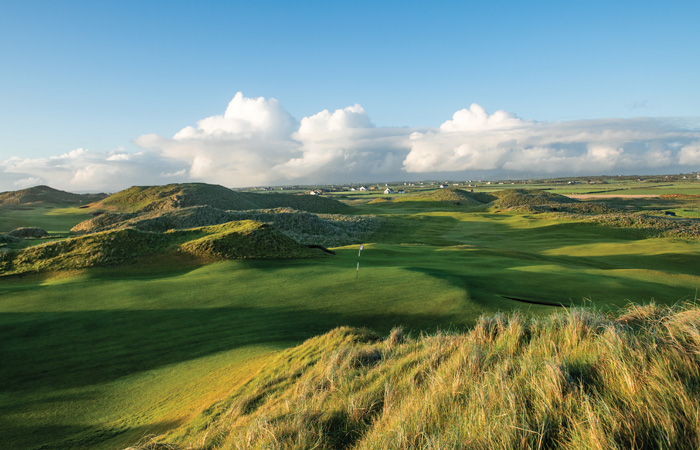 If you think about bypassing the resort and golf course for the sole reason you dislike the owner's last name, that would be a triple-bogey mistake. Because for all his public clamoring, Trump does not consider himself a golf architect, only someone who hires golf architects to do what they're trained to do.
Russell witnessed this one day when he was walking the course with The Donald and architect Hawtree. With his usual bluster, Trump was carrying on about moving a bunker here and a tee box there, and Hawtree's response was, "Oh yes, Mr. Trump. Excellent idea, Mr. Trump."
Finally, after several holes of the tour, Trump gripped Russell's elbow, pulled him to the side and said, "You know, when he says, 'Yes, Mr. Trump, he really means 'No, Mr. Trump.'"
Indeed, he did, and Doonbeg golf visitors are all the better for Hawtree's diplomacy. 
BEST NEARBY COURSES
Lahinch is old, quirky and fun – think blind dogleg par 3 – and can be booked through Doonbeg Resort. Ballybunion, the home of the only Bill Clinton statue in Europe (a tribute to his visit there as President), is one of the best true links in the world. Tom Watson calls it his favorite links anywhere, and Dallas' Jordan Spieth was one of many golfers who made a pre-Open Championship visit to Ballybunion before heading to St. Andrews this summer. Adare Manor is anything but a traditional links and will host an upcoming Ryder Cup with its unmatched conditions.
BEST NON-GOLF ACTIVITY
The Cliffs of Moher are less than 10 minutes from Lahinch Golf Club. They soar majestically several hundred feet above the rising tides of the Irish Sea. There is a modest visitors center and an elongated uphill walk to get to the top, but it's totally worth a brief golf break to see one of the natural wonders of the world.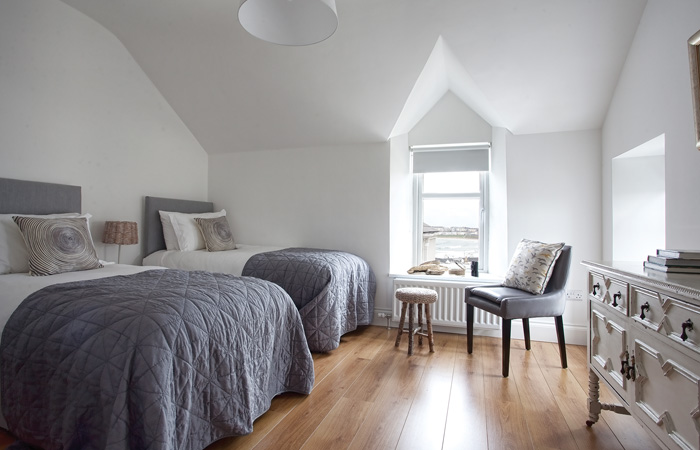 IRELAND NORTH
Nicola Neill, Proprietor Blackrock House B&B, 
Portrush, Northern Ireland
The proprietor of the only five-star B&B in Portrush purchased this multi-story building after a corporate career and totally renovated it with her father's help.
Neill left nearly a decade of corporate life behind in London to return home, in order to help others enjoy a most memorable trip to this tiny premium golf destination.
While she doesn't have an official designation with the two-time (soon to be three) Open Championship host course Royal Portrush or any of the other great courses in the area, Neill is connected to just about anything important that goes on in this town during prime golf season.
Need dinner reservations? A taxi to get there and back? Forgot your phone charger or allergy medicine? Nicola to the rescue. And she also can help you get your tee times booked with the right people at Portrush, Portstewart, Castle Rock or just about any great course in the area.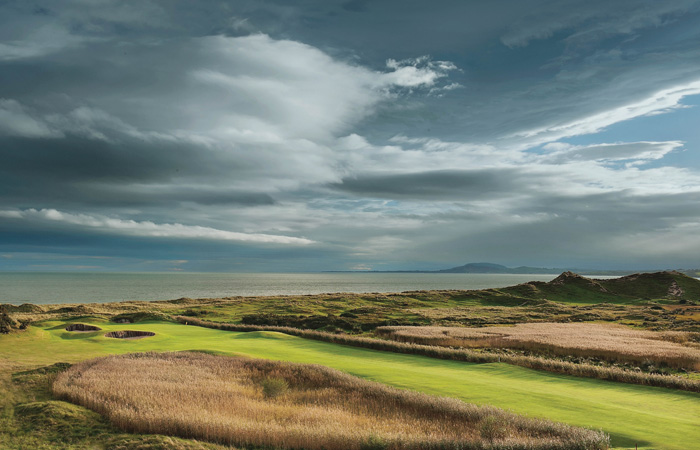 Plus, she has plenty of stories about the history and golf in the area and can fill you in on how coming home to help others was the right move for her a decade ago. It's no wonder her walls are lined with golf flags from the many pros and happy amateurs who have stayed with her during the various tournaments.
The 2025 Open is headed back to Portrush, but be sure to get there before the pros do and make Blackrock and Nicola's tourism services your HQ for great golf in Northern Ireland. Thankfully, they are at peace with Southern Ireland and just about everybody else, but still won't take Republic of Ireland money … which they're happy to kindly remind you of if you hand them the wrong coinage.
BEST NEARBY COURSES
As host of two Open Championships already (won by Irishmen Fred Dailey and Shane Lowery, respectively), Royal Portrush is the headliner here. A third Open Championship has been announced for 2025. There are a number of memorable and historic holes here. But beware when you enter Calamity Corner … it definitely lives up to its name. Nearby Portstewart has hosted an Irish Open, won by Jon Rahm, and has some of the best opening holes anywhere in golf. There is also the hidden gem of Castle Rock about 20 minutes from Portrush, with great ocean views and one of the coolest logos in Ireland.
There is also the 18-hole Old Course part of Portstewart, which is laid out right along the two-lane road leading to Portrush and offers more views and opportunities to interact with the Northern Ireland locals.
BEST NON-GOLFING ACTIVITY
If you need a five-star luxury meal in the area, you can do no better than to seek out the quant and historic Bushmills Inn in the adjacent town 10 miles east of Portrush. The peatmoss fires and fine dining are a welcome break from the struggles of Irish links golf.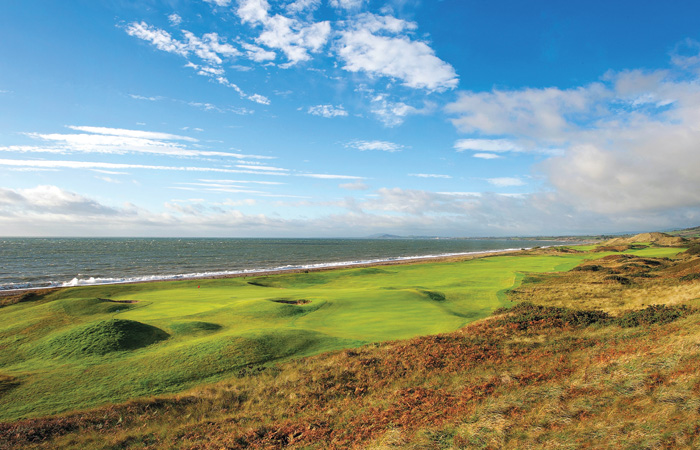 Of course, you must go by the Giant's Causeway, which was declared a World Heritage Site in 1986. It's also the prime filming area for the Game of Thrones mini-series, if you like your history of a more recent vintage.
IRELAND SOUTH
Pat Ruddy, The European Club
Ruddy has been involved in Irish golf for nearly 50 years; first as a fine player himself, then as a golf writer and later as a golf course architect and golf promoter. But his true calling came when he found the land for The European Club, located 50 miles south of Dublin, and purchased it to run with his family.
Just about everything about The European Club is unique, from the signage to the stone table logo to the humor … and even the name. 
"I wanted to call it The European Club, before somebody who knew nothing about golf beat me to it," Ruddy said.
Be sure to make the trek to acquaint yourself with The European Club and Ruddy, to find the true soul of Irish golf.
BEST NEARBY COURSES
Portmarnock Links is one of the most historic and authentic courses in Dublin, having hosted previous Walker Cup matches with an upstanding collection of par 3s. Royal Dublin is another great golf adventure in the capital city.
BEST NON-GOLF ACTIVITY
Golf and beer have gone together for the last 300 years (at least), so there is no better place to experience the two together than a round of golf in Dublin, followed by a visit to the massive Guinness Factory in the heart of the city.
To sum up, the people of Ireland are welcoming, helpful and unmatched in all the qualities that make this links-loving country so special. And don't forget all the great stories! Anyone can play golf in an exciting destination, but until you know the people who make the area so special, you will never know true golf contentment.