Travel – Tales from the Back Nine: Part VII

By: Bill Nichols
Wild golf has taken its toll on the ole F-150. Hobbled by inoperable alignment issues and having recently turned 200,000, the beast faces an uncertain future.
He can relate to the remote nine-hole tracks we visit; old, frayed at the edges, and costly to maintain. The owners walk the tight rope balancing repair costs with the bottom line. You can pump a bunch of money into a classic car or course but there's no guarantee on profitability.
Anyway, I kept these heavy thoughts to myself while loading the truck bed with the usual assortment of golf, camping and fishing gear for our trip to Austin.
The beast has made this journey countless times. In fact, we were only three days removed from moving my middle daughter, Jaime, after her graduation from McComb's School of Business at UT. This time, we were focused on exploring adventures in Texas' golf capital. We hit the road again, wailing along with Willie.
Austin's topography, climate, and history make it a natural golf destination. Resorts such as Omni Barton Creek Resort & Spa and Horseshoe Bay are one-stop shops with multiple top-tier courses. Some of the state's best courses dot the Hill Country. 
We steered toward cart paths less traveled; unique and/or offbeat courses with historical and hysterical qualities where players aren't griping about asymmetrical blades of grass on fairways. With so many state parks nearby, finding a campsite would be easy. Or so I thought.
We pulled into Hancock Golf Course at twilight, 120 years after people started playing here. Lewis Hancock, former Austin mayor, organized the Austin Golf Club, later named Austin Country Club, in 1899. The course was chartered in 1900, etching its place in history as one of the state's oldest layouts. Among the state's heavyweights, Hancock can boast the least amount of change from its original design.
The original Austin Country Club's bones are scattered along fairways that twist up and down rolling hills flanked by dense groves of ancient oaks. The cozy layout, tucked seamlessly into the charming Hyde Park community, is located just north of UT's campus.
What you won't see at Hancock is the second nine, built on the 40-acre Ernst Farm in 1913. Renowned architect John Bredemus created a links-style layout with mounded fairways, bunkers and few trees. The par-3 No. 12 played across Red River Street but was eventually shortened to avoid problems caused by golf balls conflicting with traffic. The old 12th green is the lone remaining remnant of the back nine. The oval putting surface just sits there, mowed, on the northeast corner of the current layout. 
Austin Country Club sold the entire 18-hole course to the City of Austin in 1947. The second nine graveyard has rested in peace underneath the Hancock Shopping Center since the city sold the land in 1964. These days, the nine-hole Hancock trudges on, fighting off operating deficits and a proposed closing in 1980. A walking/running trail loops around the grounds. People walk their dogs on the cart paths in the evenings. 
Among the historical tidbits to nibble on as you play the course: Texas Rangers raided the club in the 1930s, taking sledgehammers to three illegal slot machines in the parking lot; and 18-year-old former caddie Harvey Penick began his professorial career here in 1923.
If you don't appreciate golf history, then you probably won't enjoy playing Hancock. But it's a must-play for golf history buffs. The course measures only 2,633 yards, with its primary defenses the uphill and downhill lies, and small mounded greens, some with dramatic runoffs.
High on history and standing on the highest point of the golf course, I watched an epic sunset settle on Hancock. It was dark. We had to find food and a campsite. The beast, accustomed to the perils of my unorthodox organizational skills, merely rolled his headlights.
Ninety minutes later, we were pulling into Pedernales Falls State Park. I did not make reservations, naturally, sticking to my spontaneous lodging strategy: Arrive late, deposit cash in night box, and like the legendary pioneers before me, stumble around in darkness setting tent with flashlight dangling from mouth. One problem: The only campsites available – on a non-holiday Monday – were primitive, which would have been perfect except that a two-mile hike was required. I do a lot of stupid things, regularly, but hiking two miles in a forest beside a powerful river with falls after heavy rains and hardly a glimmer of moonlight? It was about 10 p.m. I got out of the truck for a scouting report, which I jotted down in case rescuers needed clues: "Strange noises. Can't see 10 yards in front of me. No trail. Tons of trees. Ground wet. Holy … what did I just step on?" It was about 10:01 when I returned to the truck with my decision made.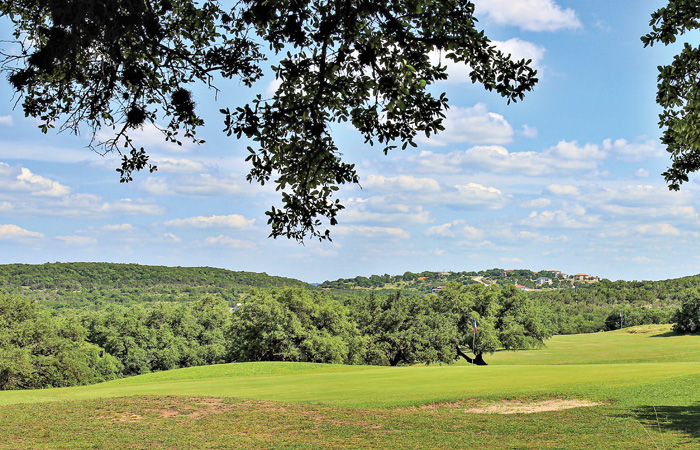 And so for the first time in six months of chronicling wilderness golf adventures, I was shutout. So we headed to Blanco State Park, just 27 miles south. No worries. But as I got closer, Siri thrust herself into the mix, leading me into a maze of tiny farm roads. Practically every turn was accompanied by rerouting. Turning around was virtually impossible with dense rows of trees boxing me in. Signs every quarter mile saying "Road may flood" only magnified my panic. Even worse was the "Low Fuel" message on the dashboard.
Siri kept telling me to turn on an unpaved road with a locked safety rail. I rolled down the windows for a better look. I heard rushing water. Seriously? This is how the nightmare ends?
I did everything Siri told me for more than an hour. Only a couple months removed from our last blowout, I dumped her. Hey, she couldn't say that I never listened to her. I found a safe turnaround, then hunted down a gas station. Back on the road I immediately saw a sign for Blanco State Park. I pulled through the entrance to check out the campsites. As I drove across the river, the water was level with the bridge, evoking a surreal feel. The ground was saturated. No way I was sleeping next to this river.
Well after midnight, the beast and I surrendered. We trekked back to Austin, checking into a motel that does not merit mention.
But in the morning, we had only a three-mile drive to another historic golf site. Back in the day, when Austin Country Club sold its Hancock course to the City of Austin (1947), the Butler Brick Company was operating a clay mine downtown near the Colorado river. Three years later, the ACC was moving to its new riverside home and Butler Brick, which sold its land to the city, was being transformed into a par-3 golf course by Austinite John Douglas Kinser.
Over the last 69 years, downtown Austin has transformed dramatically. Skyscrapers dot the landscape. The river has become a major tourist attraction with thousands of visitors daily, and office buildings and shops line the busy streets. 
Yet Butler Park Pitch and Putt still stands, a 40-acre breath of fresh air amid the urban bustle; a vibrant green historical divot.

Steep embankments of former mine walls are still evident on the nine-hole layout, creating dramatic elevation changes. Tee shots land on greens sitting on what used to be the bottom of the clay mine.
The landmark remains a haven for lunch-break rounds, a laid-back spot for beginners to learn the game in a non-intimidating setting, and a relaxing place to hone your short game. Trees provide shade for most tee shots, as well as the putting green and picnic area in front of the clubhouse. 
Operated by the same family for almost 70 years, the course has been handled with care. Landscaping elements such as fig, palm and oak trees add a unique touch. You only need a couple of clubs to play the 2,233-yard layout. The longest hole measures 120 yards. 
But ownership may be forced to change due to an unsigned document, inadvertently left blank, in the bidding form to renew the lease. The current lease will expire in August. 
Three miles away, Lions Municipal Golf Course was packed, as usual. "Muny," nestled along Lake Austin Blvd. in West Austin, opened with Bermuda greens in 1923 and has been a favorite of Austinites ever since. The 141-acre layout sits on land owned by the University of Texas and leased by the city.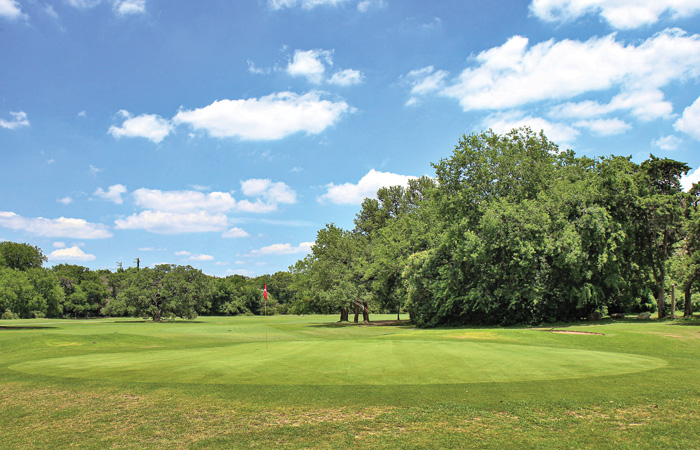 Ben Crenshaw and Tom Kite played there as kids. Other legends such as Byron Nelson, Ben Hogan and Sandra Haynie have taken spins around the tree-lined doglegs. Lions also holds the distinction of hosting Texas' oldest amateur tournament, the Firecracker Open. The clubhouse is a virtual shrine to the course's rich history with old photos and trophies on display.
Muny is considered the first public golf course in the South to become integrated. The course was added to the National Register of Historic Places in 2016, and to the National Trust for Historic Preservation's list of America's 11 Most Endangered Historic Places. Lions also was inducted to the Texas Golf Hall of Fame in 2017. Crenshaw, who spoke on behalf of Lions on its induction to the Texas Golf Hall of Fame in 2017, has helped lead the fight to "Save Muny." A proposal to establish a special district to preserve Lions for golfing, parkland or a combination of the two breezed through the Texas Senate on a unanimous vote in May. Senate Bill 2553 has moved on to the House.
A quick stroll revealed a unique short layout (5,825 yards) featuring doglegs crammed among rows of stately old trees and elevated sloping greens. The signature hole, No. 16, was the seventh hole when Hogan teamed with Harvey Penick for an exhibition match. Confounded by his view from the tee, Hogan said, "Where's the fairway?" That's a legit question considering the blind tee shot on the 381-yard par-4. Some 100,000 per year play the treasured Muny, which can result in painfully slow rounds. A twosome with one dog barked that their round lasted 5 ½ hours.
Since it was late afternoon, I decided to establish a campsite in daylight. Shocking, I know. It seems the shutout from the night before had muted my overly confident approach to lodging. We set off for Inks Lake State Park, some 60 miles northwest of town. We managed to find a site in the crowded park, and then I proceeded to spend two hours setting tent. I usually take three small bags of poles for the two tents I travel with. I forgot that I had consolidated the bags. Somehow, I managed to get the tent airborne using poles from the tent I didn't bring and duct tape. No worries. On an unseasonably cool night, I fell asleep looking at the stars.
After breakfast and a hike through the shady forest beside the vivid blue lake, I was on the road again heading to the last stop, Pedernales Country Club, aka Willie Nelson's Cut 'N Putt in the small community of Spicewood, west of Austin.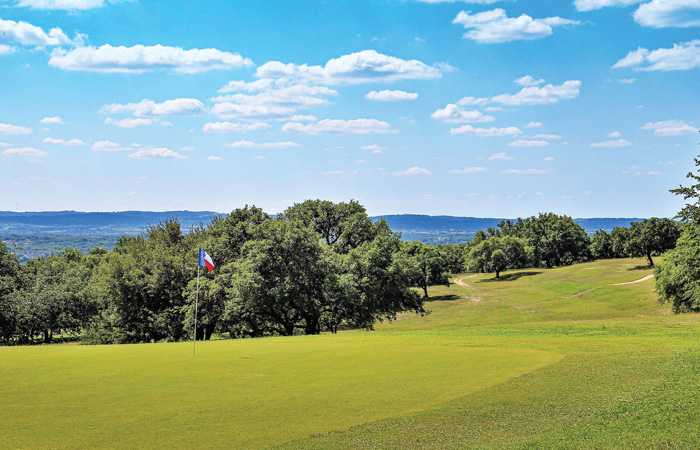 You can play the nine-hole course by USGA rules if you insist, or you can abide by Willie's rules, which are a bit more informal: "No shoes, no shirt, no problem'; "No more than 12 in your foursome"; "Stroll it till you like it (in case your ball ends up in an unplayable or merely unpleasant lie, local rules permit you to pick it up and stroll to a more agreeable location for a free drop)."
Willie bought the course/recording studio in 1979. He lost the place because of troubles with the IRS. Old friend and legendary UT football coach Darrell Royal got it back at auction for $117,350. Willie reportedly lives in a house overlooking the ruggedly scenic Hill Country terrain. The recording studio is located by the clubhouse, a virtual Willie museum with all sorts of memorabilia.
The 3,330-yard course, designed by Charles Howard in 1968, is raw and lots of fun. The elevated tees to sprawling fairways feature some spectacular views. Trees and rocks post significant challenges. Recent rains had the layout in prime condition, and the greens were smooth.
On the way out, I got a cheeseburger from Lee's Almost by the Lake café, and whisky for the old lug. Turns out, this wasn't the truck's last journey. And we had no need for Siri. We simply cranked Willie's "Goin' Home."