Waterchase Golf Club — Consistency is Key

With the ever-fluctuating weather in North Texas, one thing that can be difficult for golf courses is maintaining consistent conditions year in and year out.  Even the nicest courses in the area can struggle to keep their course in shape as Mother Nature consistently throws them dancing knuckle balls of heat, cold, rain, violent storms and drought conditions.
Even with all the adversity groundskeepers face in the Lone Star State, Waterchase Golf Club in east Fort Worth has been just that.  Consistent.  From the day it opened in 2000, this Stephen Plummer design has been the epitome of that word.  Tee boxes, fairways, bunkers, greens.  You'll never venture out to their property and wish you'd gotten more from the golf course.  Make no mistake, this isn't Dallas National or Vaquero, but for upscale daily fee golf, you won't find better conditions in DFW.
Arrive for your tee time early and enjoy one of the nicer practice areas in the Metroplex.  The range is expansive and the warm-up putting green rolls almost identical to any putts you'll see once you're out on the course.
The layout at Waterchase has very few misses.  With six sets of tee boxes, you can choose your own adventure, so to speak.  From the back tees, Waterchase is more than the average player will want.  Measuring 7,159 yards, it will make a single-digit handicapper's palms clammy.  If you're looking for something a little more user friendly, try the gold (6,882 yards) or the blue (6,208 yards) tees.  Waterchase also features forward tees for seniors, ladies and juniors that reduces the yardage down to as little as 4,775 and makes some of the difficult carries more manageable.
The first hole is rated as the 11th hardest hole on the course, a fair way to ease into the round.  If you aren't quite loose yet, driver isn't entirely necessary.  A 3-wood will leave you a mid-iron in.  The only no-no is finding one of three large fairway bunkers.  If you end up in one, it will be tough to fly the ball all the way to the putting surface on your approach.  After a white-knuckle carry over water on the long par-3 second, the third hole is a tight par 5 with "Oscar Bravo" down both sides.  A well-placed tee shot will offer the illusion of getting home in two, but the approach plays back uphill, and without enough stick, your nugget might find a watery grave in the creek short of the green.  If you wisely choose to lay up, a wedge from 100 or less awaits.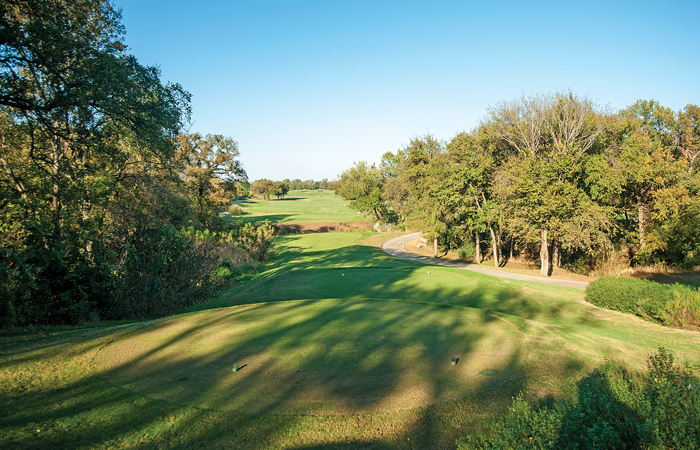 If there is one hole at Waterchase that I might do away with, it's the fifth.  A pond bisects a fairway that takes an almost 90-degree right turn.  This means you can either bang a mid-iron 210 out into the fairway, leaving between 170 and 220 to the green, or you can attempt to cut the corner with a driver, which requires a power-fade most average Joes don't have in their bag.  It's certainly an interesting design, but can't say it's my favorite.  No. 6 is one of the signature holes at Waterchase: a par 5 with water all down the right side.  Rinse a couple here and you could send your round into a tailspin in rapid fashion.  If you do manage to find the right center of the fairway, you'll be rewarded with a mid-iron second, but it will be almost all carry over water.
If one of the things missing from your golf resume is an albatross or an ace, then Waterchase is a place where you can increase your odds, because the back nine features three par 3s and three par 5s.   The par-5 10th hole is unique with its split fairway.  You may want to let that day's pin position decide which route you take with your second shot (although I must admit, in probably 30 trips to Waterchase, I have never played down the left side).  The green can be reached in two if you take the more aggressive right route, but you'll need to put your foot on the gas of a hybrid or 3-wood to get there.
A long par 3 over water awaits at No. 14.  Many would argue that No. 2 is the most challenging par 3 on the course, however, the green on 14 is the great equalizer.  A large, undulating surface means a GIR can quickly deteriorate into a three-putt bogey.
Another par 4 gears players up for one of the most interesting three-hole finishes in DFW golf.  A three-four-five final third of the back nine means there could be some cash exchanging hands over the final few.  Sixteen is on the shorter side as far as par 3s go at just 168 yards from the championship tees.  This downhill look plays as the easiest hole on the golf course, and is a legit opportunity at a tweeter before you tackle the tough 17th and 18th.  Speaking of 17, this par 4 almost always plays back into the wind, and again offers a selection of fairways.  A water feature runs all the way down the middle of the hole, splitting the fairway in two.  The longer hitters can bash a driver and get one to wedge range by taking the right fairway.  The left fairway offers a little longer approach, but a much better angle.   The 18th hole is one of the more interesting finishing holes in Metroplex golf.  A par 5, with some wind help and a well struck drive, the green is reachable. However, if you bunt your tee ball or miss right, you'll almost certainly be forced to lay up short of a creek and then still be looking at about 140 yards to the middle of the putting surface.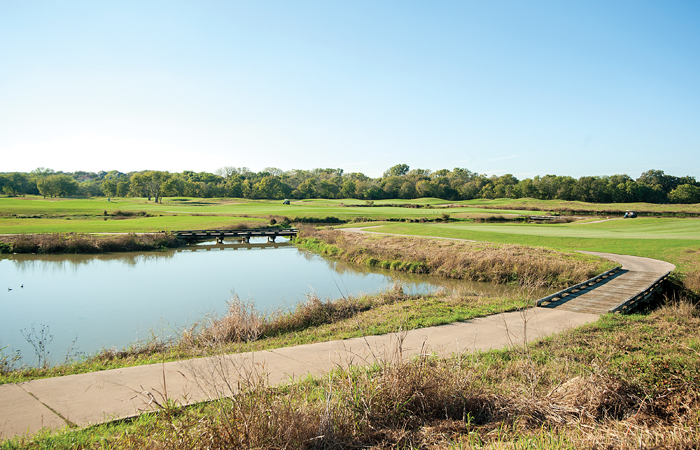 With all there is to brag about the course itself, the one place Waterchase does fall short is with clubhouse amenities. And by falls short, I mean they don't have an actual brick and mortar clubhouse.  So, if you're looking for a fine dining experience or signature cocktails slung by a bartender in a bow tie after your round, you may want to try a different location.  However, if you want an ice-cold beer, a dog with mustard and relish and a couple tables to sit and exchange cash with your playing partners, Waterchase provides you with ample space in their temporary clubhouse and on the small patio just behind it.  The staff at the course is always nothing but courteous, and despite the lack of clubhouse or banquet halls, Waterchase can be a great place to host a tournament or corporate outing.  The course will provide a tent that has plenty of room to accommodate post round food, drinks, and awards ceremony.
If it's a pure golf experience you're looking for, then Waterchase is your spot.  You won't find all the frills that come along with some upscale properties in the area, but there is no argument that these 18 well-manicured holes are toward the top of the food chain on the daily fee landscape in the Metroplex.  Consistency.  Waterchase Golf Club is the embodiment of that word.  Year in and year out.
Waterchase Golf Club
Address: 8951 Creek Run Road
Fort Worth, TX 76120
Phone: 817-861-4653
Website: www.waterchasegc.com
Designer: Stephen Plummer
Year Opened: 2000
Par/Yardage: 72/7,159 yards (Black tees); 6,882 (Gold tees); 6,408 (Blue tees); 5,868 (White tees); 5,298 (Green tees); 4,775 (Red tees)
Greens: Bermuda
Rates: Monday – Thursday: $54.99.  Friday: $59.99.  Saturday – Sunday: $69.99.  Junior, senior and military/police/fire discounts available
Toughest Hole: No. 6, 523-yard par 5.  Even though 523 from the championship tees seems short for a par 5, this one is wide open and all most always plays back in to a prevailing wind.  With no trees to block any of the breeze, tee shots with even a little spin balloon and can find the water all down the right side.  Balls that miss left end up in fescue between Nos. 4 and 6 or in a massive fairway bunker.  If you can find the short grass and want to try to get home in two, it's a mid-iron carry over water.  A narrow layup area means even those who try to play smart can end up in trouble.  A solid first five holes can quickly start circling the drain on this par 5.
Favorite Hole: No. 3, 549-yard par 5.  You don't need to hit a driver off this tee, because there is O.B. down both sides, but if you can pinpoint a tee shot to use the right to left slope (especially during the summer months when the fairways firm-up) you can have a reasonable shot at birdie to spark some momentum in your round.  The uphill approach can make it hard to hold the green, and you must clear some water, but it's a unique hole and a great chance at birdie.   If you do choose to play conservative, there's still an opportunity for birdie, but you'll have to be pinpoint with a wedge.
Most Intriguing Hole: No. 17, 479-yard par 4.  A dual fairway split by water offers players a different look for their approach shot. If you choose to go left, the approach plays a bit longer, but leaves a more desirable angle.  A tee ball played up the right side leaves a shorter iron into the green, but the yardage needs to be spot-on as there isn't as much room for error.  I can imagine many a solid round has gone south on this No. 2 handicap hole.