Wilmington, North Carolina — A Carolina Treat That's Cheap to Eat

by David Theoret
The Beau Rivage Golf & Resort is like no other golf course – or resort for that matter – in the Carolinas. Sure, you can find plenty of courses in the state with fairways framed by towering Carolina pine trees, and there are several resorts that feature lush, Bermuda fairways leading to TifEagle greens. But there is something about Beau Rivage Golf & Resort that just isn't replicated anywhere else. Maybe it's the tremendous value and still quality amenities on the property; or maybe it's that this course drains better than any other course in the area. It has never been closed due to rain; in fact their motto is "Never Cart Path Only."
But honestly, having been there, I think it's the way the resort is run that makes this place shine.
Beau Rivage is a family-owned resort and is managed by Jake Walker, the youngest of the four Walker children. All but one of the kids is involved in the day-to day operations of Beau Rivage, as are mom Ellen and father Charlie. Ellen heads up the Food and Beverage department at the resort, and Charlie does a little bit of everything – as long as it involves a backhoe or his new Toro sprayer! More about Ellen in a moment.
Jake seems to be the face of Beau Rivage, while brother Adam does a lot of work in the background. Jake's a real people person, willing to talk to anyone about his resort; you can see the pride in his eyes. His sister Audra recently moved back to the area to re-open the resort's banquet kitchen and work with the resort's Director of Sales, Chelsea Malkmus, to bring in meetings and special events. The resort's classically unique 6,000+ feet of meeting space can handle groups of 450 for receptions or 290 for banquets.
The first thing you'll notice as you drive up Rivage Promenade in Wilmington, NC, is the charming Old Southern Plantation, the centerpiece of the Beau Rivage Golf & Resort. Apart from the playing of the game, everything happens in this building: check in, checkout, dining, drinking, the pro shop and the rooms.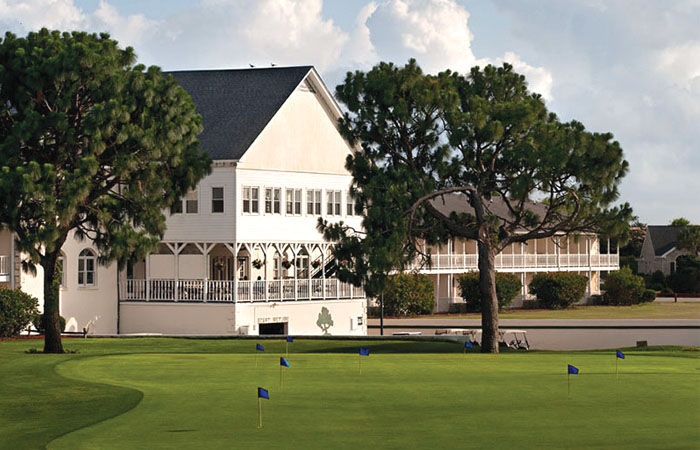 All 32 rooms are suites and are connected to the main building. The rooms to the left of the main building are all king beds with pullout sleeper sofas in the living room area. The rooms to the right have two double beds. What makes these rooms great is that a foursome of guys can fit comfortably in one suite and not be cramped. Two couples is even easier; just flip a coin to see who gets the bedroom!
Getting from your resort suite to the course is easy. Just back your golf cart up to the French doors on the walkout patio, load up your clubs and you're at the tee in less than a minute, and to the practice facility even quicker. This is the only golf resort in the coastal Carolinas where you can play an award-winning golf course and stay directly on-site.
The Veranda Bar & Grill serves breakfast, lunch and dinner, and no meal should be missed. It's worth getting up for an early tee time extra early, just for the breakfast. Whether it's one of Becky's sunrise breakfast sandwiches or her signature French toast, made with a touch of vanilla, you won't head to the first tee hungry. After your round, no matter if it ends at noon or dinner time, the Veranda's menu has a lot to offer. Their wings are outstanding with just the right amount of heat. My wife called their grilled cheese the King of Grilled Cheese. Their burgers are out of this world.
From time to time, Ellen will be called upon to cook one of her specialties, so if you see tacos or a meatball sandwich on the menu, I'd advise you to order either or both. According to Walker, plans are to add a more traditional dinner menu (steaks, chicken, seafood) as the upstairs project evolves, since there is a full kitchen up there that is not being used.
To get loosened up and ready for your round, there's a full length driving range with multiple targets, so you can work on every club in your bag. There's also a short game area that includes a chipping green and bunker, and a massive putting green that rolls the same as the greens you will encounter during your round. Get there early and you'll have no reason not to knock your drive down the middle on the first tee. Hook into the trees and it's time to visit Head PGA Golf Professional Greg Pitts.
This is Greg's second go around at Beau Rivage and a lot of that can be attributed to the new owners. Greg can help members and visitors with everything from fixing a nasty duck hook to becoming a better putter. He can also custom fit you for a new set of clubs. If you've never had a set of custom fit clubs, you'll notice a world of difference. Full club repair is also available through the pro shop.
Now that I've explained everything about the resort, it's time to talk golf. Beau Rivage opened in 1988 and was designed by Joe Gessner. You're not going to be awed by its length; from the back tees, it plays a mere 6,546 yards with a course rating of 72.4 and a slope of 138. Move up to the White Tees and the yardage drops down to 6,028 yards, but still challenging (70.1/133). There are a total of five sets of tees, so golfers of all abilities can enjoy themselves.
Beau Rivage sits on a unique piece of land; it's rare that you will find property this close to the Atlantic Ocean with 75 feet of elevation change.
Every hole at Beau Rivage has been named; many of them for conditions that come into play on that particular hole. Others have sentimental value. Audra Creek (No. 16) is named for the man-made creek Charlie built and is named after his only daughter Audra. Hole No. 18, Aultor Bend, pays homage to one of Jake's mentors in the golf business, Wallace (Aultor) Chavis; the man that "taught him the ropes." Mr. Chavis was the GM and Head Superintendent under the previous ownership group and gave Jake his start in the golf business.
As you make your way around the course, rolling hills and undulating valleys pave the way, leading to mostly elevated TifEagle greens with subtle breaks, manicured to PGA tournament level. The first hole plays over a cavernous valley and if you can make it to the top of the hill on the other side, you'll have an easy pitch to the green. Forests of long-needle pines border many of the fairways and can wreak havoc with errant shots. Trying to recover from the thick pine straw can prove to be quite challenging.
This place has it all: narrow fairways framed by majestic Carolina pines to test your accuracy off the tee, uphill and downhill shots to greens, plenty of sand and water, a few blind shots and some of the best greens in the area. The ups and downs of the terrain can provide some interesting lies, which can make your up and down attempts a little tricky.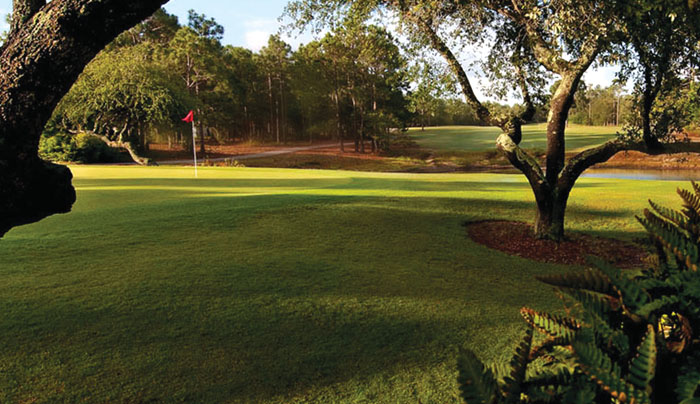 If you're not a golfer, Beau Rivage is still a fun, affordable place to stay. The rooms are considerably larger than your average hotel room, the food is great and there is live entertainment on most weekends. The resort is located 5 miles from downtown Wilmington and the island beaches. Wilmington's historic river district has over 50 locally owned restaurants and pubs. Wilmington has a lot to offer non-golfers as well.
Beau Rivage offers golfers and non-golfers some great packages. There's no longer a need for golfers from the Northeast to flock to South Carolina for their winter and spring golf vacations. Beau Rivage Golf and Resort in Wilmington can save you considerable drive time each way, so much that you may be able to get in an extra round!
Beau Rivage offers a variety of memberships to suit everyone's need and budget. You can join as a single, couple or family. You can use their cart or your own personal vehicle. And membership has all kinds of perks, just check out the membership page on the website. To see their latest vacation  and Stay & Play packages, visit their website at www.beaurivagegolf.com.