2017 Mercedes-Benz SL450 — King of the Road(ster)

During my impressionable youth, a new Mercedes-Benz SL Roadster was the epitome of an iconic daily driver dream car to put in your driveway. It possessed terrific looks and a removable top. Over the years, it morphed into an even sleeker, sexier vision. Today, the 2017 SL Roadster convertible has kept its place as an industry leader for sexy coupes that can cruise luxuriously while raising goose bumps when mashing the pedal. Thus, driving topless in this chariot is always acceptable – if not encouraged.
The 2017 SL450 Roadster is a marvel of design, engineering, luxury and performance. Even the base SL450 will make most swoon with delight. Of course, for those who demand the best of everything, one can bump up to the powerful Biturbo V8 SL550 (449 HP) or the insane twin Biturbo 12-cylinder SL65 for added thrust (621 horses!). Yet for the money, the SL450 might be the sweet spot for most consumers.
SKIN
The exterior is a lovely mix of gorgeous swooping lines and updated appointments. The hood is long and formidable. Twin arched brow running lights adorn the front and LED taillights look magnificent at night. It proudly displays an aggressive grille and sports fascia. I recommend the 19-inch, 10-spoke sport rims to complete the beautiful appearance. Plus, the SL Roadster looks equally gorgeous whether the top is up or down – not an easy design feat.
PERFORMANCE
I'm a tough critic when it comes to true two-seat coupes. It should ooze sensuality plus drive and sound like a sports car. The good ones offer generous portions of giddy emotion and miles of smiles. The SL450's grin-inducing power delivers a V6 thrust that'll please your senses. Throw it in Sport Mode for plenty of pep via the 3.0 L Biturbo 6-cylinder (362 hp and 369 lb.-ft. of torque). That's plenty of oomph to achieve 0-60 in only 4.9 seconds. A superb new 9-speed transmission shifts flawlessly and in Sport and Sport + modes downshifts with perfectly malicious exhaust thunder – a lovely soundtrack that motivated me to keep the radio off.
You can individually select adjustments for the air suspension, steering, powertrain and throttle response via the five driving modes (Individual, Comfort, Curve, Sport and Sport +). Cruise in luxury or unleash the fun utilizing the sport paddles in full manual shift mode. Of course, I opted to remain in Sport for the custom settings and excellent handling. Active Body Control automatically tilts the car into a curve to keep it lean-free when tackling winding asphalt.
Adaptive Brake Assist technology superbly stops in short order. Gas mileage reaches a commendable 20/28 and I squeezed out 22 mpg while blasting down the road.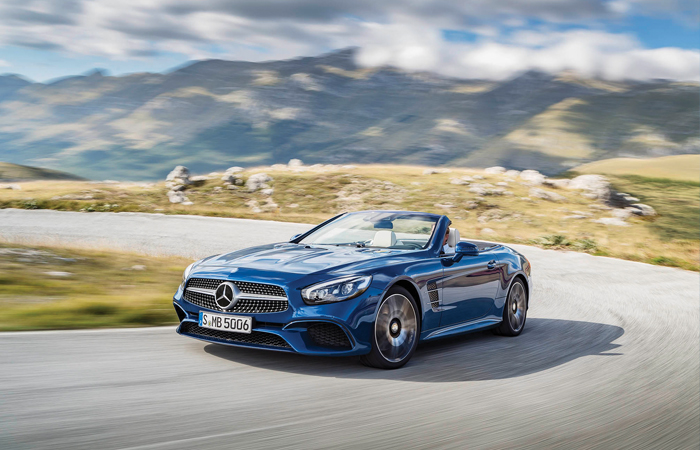 CABIN
The cocoon surrounds you in sumptuous splendor. There's so much luxury, so many whiz-bang goodies to enjoy. Two inhabitants will enjoy ample spaciousness without swallowing you up. High-end materials are abundant throughout and the layout is superb.
The heated and cooled contrast-stitched seats are to die for (how about sun-reflective leather!). Side bolsters automatically squeeze and support when you hit a tight curve. Oh, and drive in euphoric splendor by utilizing five massage settings (part of the Premium Package). It's a welcome reward after a long day at the office desk or on the golf course. Splendid!
It does have possibly the smallest gearshift ever requiring merely two fingers to shift. Not that you'll use it much though with the terrific shift paddles.
The infotainment screen's a tad small but simple to read. The COMAND knob on the console is easy to manipulate your entertainment desires (up to 100 preset radio stations across all formats). Two cool Front Bass Sub-woofers are raised and lighted at the dash corners. My tester had the optional 900w Bang & Olufsen BeoSound Surround System that worked effortlessly barreling down the highway with the top down.
The thick sporty leather steering wheel with squared bottom feels absolutely perfect. When the top is up, there's a cool Electrochromatic glass roof (MAGIC SKY CONTROL) that adjusts to filter various lighting conditions. Soft-close doors are a personal favorite. An AIRSCARF heating vent behind your neck warms while you drive with the top down in cooler weather. It all adds to an extravagant feel.
Going topless is as easy as flipping open the James Bond-like leather clam cover on the console to expose the convertible controls (sadly, there's no ejector seat button). Of course, visibility is excellent with the top down. It's akin to a motorcycle without wearing that annoying helmet or fretting your arms will grow weary.
The top fully raises or folds down in a mere 12 seconds at speeds up to 25 mph. A power wind deflector adeptly lowers the wind buffeting so you can chat comfortably. There's even cargo space behind the seats via two sizable containers to hold more knickknacks. You can fit a golf bag in the trunk with the top up, although it may (depending on size) need to be a front seat passenger when driving sans top.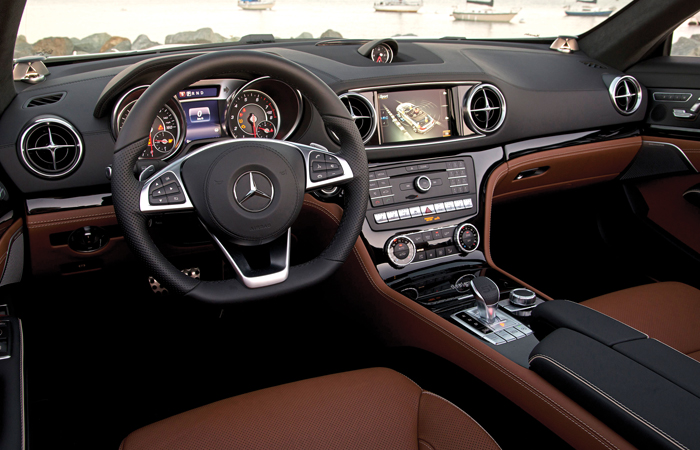 TECH TOYS
Of course, mindboggling technology and safety measures are at your disposal. A plethora of presets across satellite and terrestrial radio formats toggle seamlessly, and the powerful 900w Bang & Olufsen sound system is crystal clear. Bluetooth voice transmission is impressive as well.
You'll appreciate the latest reassuring safety features. The SL450 will gently remind you to stay in your lane, constantly scans traffic up to 1,600 feet sensing traffic patterns to help prevent front collisions (Collision Prevention Assist), brace you for a rear-ender (Predictive Occupant-Protection), and PRE-SAFE brake with Pedestrian Recognition. The radar-enabled Distronic Plus adaptive cruise keeps you safely behind cars ahead.
The 2017 Mercedes-Benz SL450 is an amazing blend of sumptuous luxury, remarkable performance and giddy technology. It's the perfect vehicle to cruise with either the top up or hidden that'll make you feel like a million bucks without shelling out seven figures. The SL Roadster still commands the same rapt attention a younger me gave it way back when.
Test-drive the 2017 SL450 Roadster at Park Place Motorcars in Dallas, Grapevine, Fort Worth, and Arlington, Mercedes-Benz of Plano and Mercedes-Benz of McKinney.
SCORECARD
Golf bag storage: 2 – depending on bag size
Curbside appeal: Sure to impress any parking valet
0-60: 4.9 sec.
MPG: 22/29 Observed 23.5 & 30.1
Must-haves: Premium, Drive Assistance, Active Body Control packages
Warranty: 4 years/50,000 miles
Base Price: $86,950
Price as tested: $108,385
Who buys it: Those desiring iconic looks, luxury & tech pizazz
Finish line: A proven category leader that continues to push the envelope