After the Round – Boston's Restaurant and Sports Bar

Pizza has long been a staple of the American diet. Easy, rib sticking and just about everyone can find a topping they like. It's a simple way to satisfy the masses whether it be adults or kids. At Boston's, they take the pizza game to the next level and add some twists and turns to the traditional pie. 
For starters, Boston's has a great setup for watching the ballgame with friends or taking the little league team in for some post game food and drink. As you enter the Irving location, to the left you'll see the restaurant portion of the building, which is great, family friendly environment for a pizza night with the kids. As you look to the right, there is a separate door that enters the bar area. Plenty of huge TV's adorn the walls everywhere, including several right behind the bar where patrons can have a few adult beverages, some grub and watch whatever ballgame is on. It's a nice way to lay out the restaurant so groups that aren't wanting to dine with families can get away and enjoy their evening. A nice patio has fire pits for the winter months and fans and misters for the oppressive summer heat. 
The menu is simple but well executed, featuring your standard pizza joint fare. Appetizers include the Team Platter, which includes boneless wings, cheese curds, Cactus Cuts (Boston's fried potatoes served with their famous Cactus Dip), a sharable pepperoni pizza and stuffed twist bread. It's perfect if your foursome is looking for a bite after the round. 
During our visit, we sampled the Spinach and Artichoke Dip and it was some of the best I have ever tasted. The creamy Alfredo sauce was flavorful and packed with spinach and artichoke hearts. A healthy amount of melted cheese on the top makes it perfect for dipping. The parmesan pizza bread that comes with the dip has some crunch and is firm enough to hold up to the dip as you're scooping. They are a great compliment to this warm gooey concoction.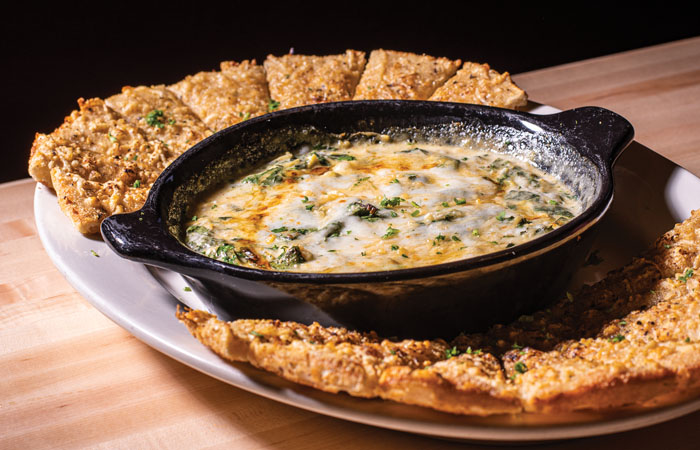 Nachos, wings and even buffalo cauliflower are also available on the appetizer menu. If you're not hungry enough for pizza, then apps could be the way to go. 
The pizza, as expected, is the reason for teeing it up at Boston's. If it's something traditional you crave, then you can create your own from a smorgasbord of meats and veggies, or if you want something a bit more exotic, then give one of the signature pies a shot. We sampled the brand new Spicy Perogy and it's about as unique a pizza as you'll find anywhere. Alfredo sauce, thin sliced cactus cut potatoes topped with a mozzarella and cheddar cheese blend and then covered with bacon, green onions and a side of sour cream for dipping. It's like Irish nachos meets pizza.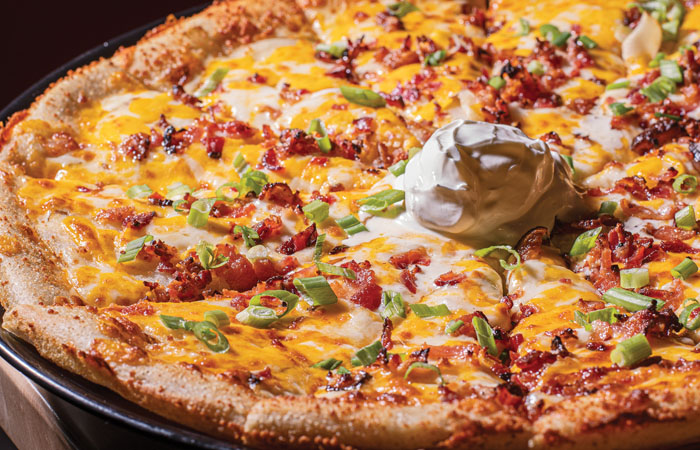 In addition to the Perogy, Boston's also features the new Korean Barbecue Sausage pie, and a Buffalo Chicken pizza, as well as a Polynesian and the Ultimate Pepperoni. 
If thin crust is your thing, they offer several options as well, including the Truffled Mushroom, a White Pie, a Pepperoni and Feta and the new Shrimp on Fire. We tried the simple, yet flavorful Caprese, which came with cherry tomatoes, mozzarella, garlic, parmesan and is drizzled with balsamic glaze and topped with fresh basil.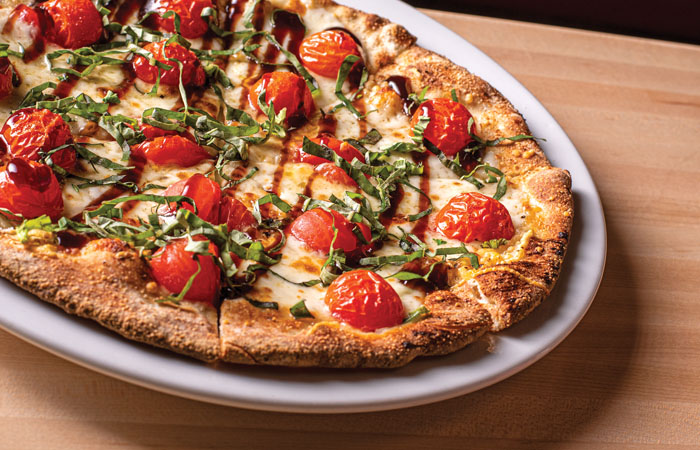 If you're not looking to go the pizza route, then Boston's also offers a multitude of other options. Burgers, sandwiches (we loved the Nashville Hot Chicken Sandwich), salads, soups, pastas, ribs and even healthier grilled chicken or Asian Glazed Salmon options. 
Desserts are also available if you need to satisfy the sweet tooth, including the Chocolate Brownie Addiction, which is a brownie made with GHIRARDELLI chocolate, covered in a scoop of vanilla ice cream and then smothered in GHIRARDELLI chocolate sauce. A delicious Whiskey Cake or a Monster Cookie are also available for something sweet. 
Boston's is a quality blend of great food and great atmosphere. Whether you're looking for a quick lunch, a fun night out with friends, or taking the kids for some dinner before a ballgame, Boston's checks all the boxes, and with a location in Irving and one in Arlington, you have a couple options.