After the Round – Cowtown Brewing Co.

Cowtown Brewing Company sits just a couple minutes from Sundance Square in downtown Fort Worth. As much of the activity has moved toward the busy West 7th area, Cowtown keeps the Fort Worth vibe alive and well with its appropriately named venue, great selection of craft beers and, of course, some fantastic barbecue. 
The building itself was resurrected and refurbished from the old Coffey Transmission shop on East Belknap Street. When it was re-done and reconfigured, they even kept some of the old metal components of the shop and repurposed them for tables and other structural elements around the building. The history of the building is now part of the charm of the brewery – co-founder/co-owner Shawn Kidwell and his business partners (co-founder Jordy Jordan, Billy Avila and Lane Jordan) wanted to keep some of the original pieces for nostalgia purposes.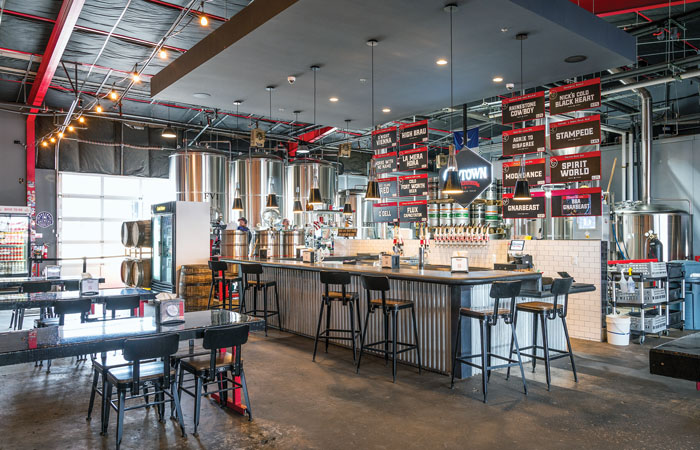 Complete with a 5,000 sq. ft. taproom and a large outdoor patio, there is plenty of room for you and your party to enjoy the indoor area or sit outside and enjoy the weather, often accompanied by live music. Inside, there are multiple televisions, a wall-size projection screen for whatever the game of the day may be, and there's also a great sound system, which during our afternoon visit, was piping in some great tunes. The brewery itself is in full view of the taproom, which really adds to the ambiance, as you can see the action up close as you consume the final product. There are even tours available upon request, in case you want to learn some more about their operation. 
The food is true-blue Texas, with a few wrinkles here and there. But across the board, everything is consistent and delicious, which is a perfect accompaniment to the wide variety of craft beers they sling straight from the taps. 
Under the sharable portion of the menu, Cowtown features some of the staples you would expect to see from a great Texas barbecue joint. Nachos, chips and brisket queso, wings and loaded fries will all give patrons a nice base before enjoying some of their delicious brews. One highlight of the app menu is the bacon-wrapped jalapeños, which are stuffed with cream cheese, cheddar, sausage and then wrapped in bacon and smoked. The jalapeños render down on the smoker while being infused with the bacon fat and smoke flavor; the cream cheese adds some great richness to cut the heat; and the sausage gives the filling a little texture and some extra flavor. They are a fantastic way to open your meal, or as a snack with your beer, while you take in a ballgame.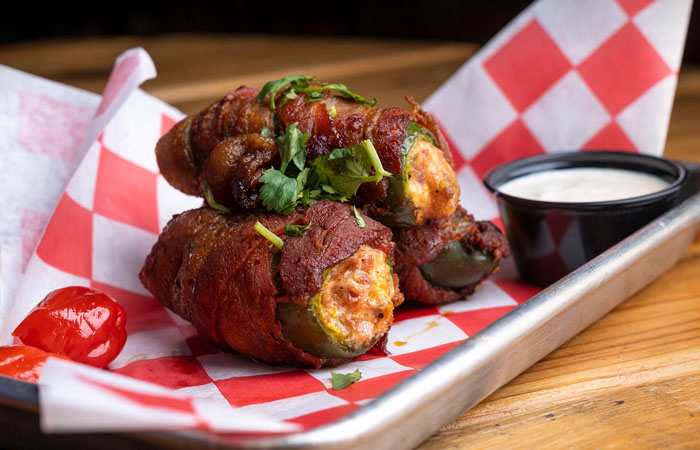 There is also a selection of sandwiches, including one with your choice of their delicious smoked meats. The FTW turkey is also available, which is sliced turkey breast topped with sauteed peppers and onions, sliced swiss on two pieces of Texas toast. The fried bologna and cheese is another option if you're looking for something a little different, and the smoked turkey wrap is a lighter option for a quick lunch that won't slow you down. 
This is Texas, so you know there will be at least a couple of taco options on the menu. Cowtown features two – a brisket and a pulled pork–both of which are a great quick way to fuel up on your way to a nice buzz. 
On to the main event. Cowtown features a nice selection of barbecue, all smoked in an outdoor smokehouse over American White Oak. Nolan Ryan angus brisket is a must-try when you're there. Available sliced or chopped, this juicy tender cut features a great smoke flavor. Whether you choose a cut from the flat or the fattier point, you won't be disappointed. Ribs, turkey and pulled pork are also on the menu, each just as flavorful as the last. If sausage is your thing, then Cowtown will accommodate, with a jalapeno cheddar and a black pepper version. They feature a crisp casing with plenty of the spice notes that make sausage great.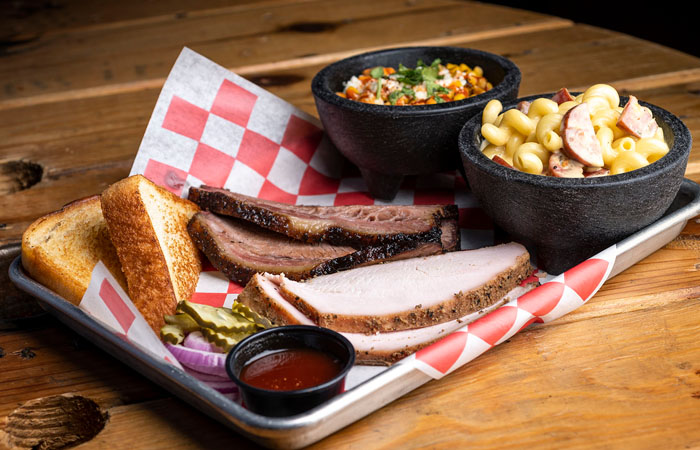 If you happen to make it by on a Sunday, then you should definitely consider the Behemoth Beef Rib special, which is a Fred Flintstone-sized rib that comes served with a choice of two sides and Texas toast. If you want to dive into this bad boy, I suggest you bring friends, as it will require some help to finish.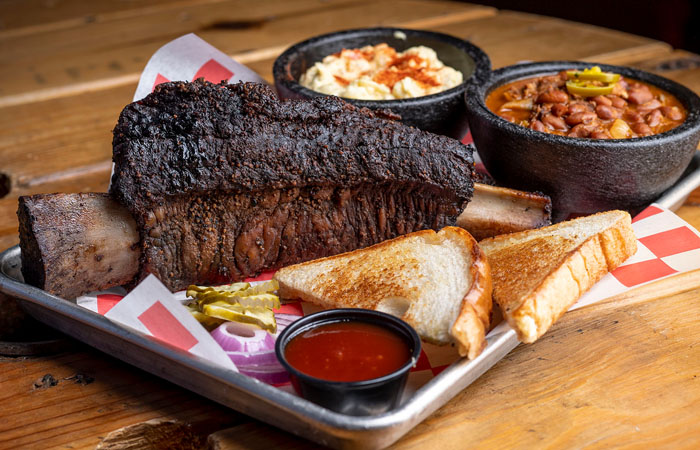 When it comes to upper-end barbecue, the difference between a great experience and an average one can often be the sides. At Cowtown, the sides are a fantastic accompaniment to the great smoked flavors of the various meats. The sausage mac & cheese is creamy and rib-sticking, with the addition of the sausage, it can be considered a meal all on its own. The brisket beans are another favorite, and I mean it when I tell you these will be a side you will order again and again. They are fantastic, and immediately made their way toward the top of the list for any barbecue side anywhere in DFW. They alone are worth the trip. Potato salad and elotes are also available. The elotes are especially interesting, corn topped with queso fresco, chipotle mayo, fresh cilantro and spices. 
Now that we have discussed the food at Cowtown, we need to take a dive into some of its  glorious beer selection. Microbrews have popped up all over the country over the last decade, with seemingly endless options for suds just about everywhere you turn. Cowtown features a solid selection of both seasonal rotating beers and everyday staples. 
One of their top sellers, Cold Fort Worth Beer, which is a nod to the opening line of the George Strait song "Does Fort Worth Ever Cross Your Mind," is a beer that is a little more flavorful than a standard American light, say a Miller or Bud Light. It's a smooth sipper, and a brew that is geared toward introducing newbies to a taste of what Cowtown has to offer. Another light on the menu is the High Brau, which is a German light lager, and presents just a little more punch than the Cold Fort Worth. The High Brau boasts a 5.5% ABV versus just 4.5% for the former. Both are available year-round. 
The science of the brewing process is astounding. James Edford, the General Manager at Cowtown, gave us a guided tour of the facility. 
"Beer is about our mastery of science. Our grains go thought the same process every time. We control our water chemistry to microns. At the end of the day, I need you to be able to come to our taproom or another bar and have the beer taste the same every single time. Every specific stage is a finite science," Edford said. 
In addition to the light beers, Cowtown also features some more exotic brews, including one we sampled called Moondance. Moondance is a New England-style IPA, which has tropical notes that register to the nose as you prepare to take a sip. It is well known that many IPAs can be bitter to the first-timer, and some can be bitter to those like myself who like IPAs in general. The Moondance is shocking in that it doesn't present as bitter at all to the palate. It is smooth, with a velvety finish that won't pucker your face. In addition, Moondance also has a great story behind its name. Head brew master Nick Stolz lost his father recently and, as an homage to him, the beer was named after Nick's father and mother's song. So, as you sip this brew, understand that not only is it a great drink, but it also comes with a moving story. 
At Cowtown, there is only one brew that uses fruit to flavor the brew and that is the Spirit World. This fruited sour ale uses seasonal fruit to flavor and featured blackberry, pomegranate and a blood orange version is expected soon. This brew is brilliantly colored and delicious, and at 6.2%, will put some lead in your pencil. 
The final beer of my test flight was the Nick's Cold Black Heart brew, which rang in at a hefty 9.5% ABV. This imperial milk stout is one of the higher percentage brews they offer at Cowtown, but the deep malt profiles pair with the barbecue extremely well. It's a full-flavored brew, but it's absolutely delicious.   
Cowtown Brewing Co. is a wonderful addition to the eastern side of Downtown, with some excellent barbecue and some to-die-for craft beers. The patio is top-notch and the atmosphere, even in COVID times, was fun and inviting. The next time you see one of Cowtown's beers on tap somewhere, I highly recommend giving it a try, or you can pop into the source and have a few with one of the delicious entrees. Still not comfortable doing the bar thing during a pandemic? That's no problem, as Cowtown offers plenty of their beer and food to go, as well. 
Whether you are looking for some killer barbecue or some killer beer, Cowtown has you covered from stem to stern.
Cowtown Brewing Co. 
1301 East Belknap Street
Fort Worth, TX, 76102
www.cowtownbrewco.com