After the Round – High Life Dining

Whether you're looking to set the mood with a lunch outing prior to an afternoon tee time at stunning Dallas Country Club, hoping to continue the feeling of high society following your round, or are simply in search of a spectacular dining experience reminiscent of a voyage to the stunning coastal regions of France, Bistro 31 – which sits less than a half mile from DCC in Highland Park Village – is sure to meet and exceed all your hopes and desires. 
Named in honor of the date the original structure it resides in was constructed, Bistro 31 and Executive Chef David Garwacki have been providing guests a culinary experience similar to that which one would receive in Western Europe for years.
And while Garwacki's seasonal-changing menu features international dishes with French, Italian and Spanish influences, it's the setting and ambiance that really gives diners a true European experience.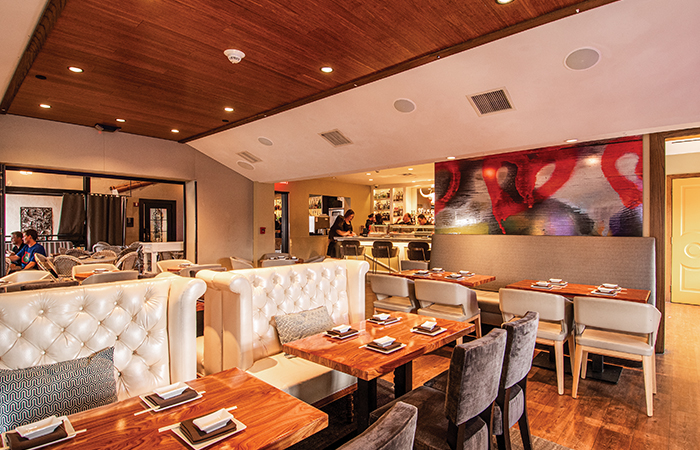 Bistro 31's urban-casual environment comes courtesy of Ron Guest, who drew inspiration from the salons and sidewalk cafés of the French Riviera. 
He was able to accomplish his goal by combining a sense of the past with a great enthusiasm for what's modern, including French-buff, low-lustre Venetian plaster walls, white oak herringbone flooring, steel windows and doors and an exposed beam ceiling. 
Bistro 31's stand-up coffee bar was designed in Art-Deco style with exotic wood veneers and a classic Portoro marble top. Additionally, custom-designed settees are upholstered in milk-colored leather and Epingle stripe courtesy of Paul Smith. 
The dining chairs, meanwhile, are upholstered in caramel leather and the walls feature contemporary pieces from local artists. 
The final touches on Bistro 31's exquisite dining room are the two custom Murano chandeliers that were created ballaton style in the 1950's.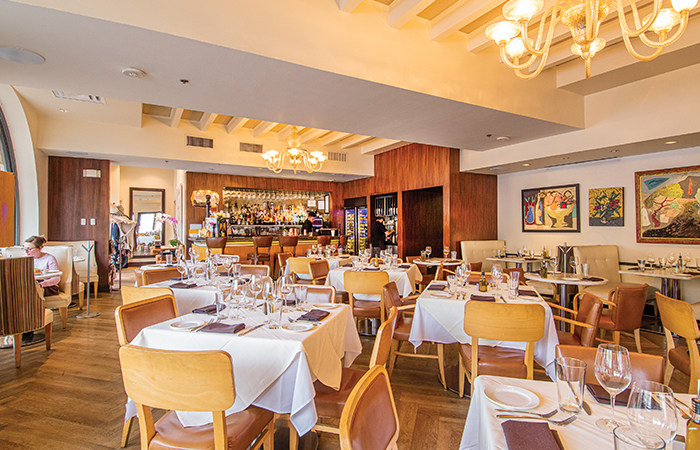 To the east of the main dining room, guests are privy to indulge in a center courtyard that offers al fresco dining with a lush landscaped garden, marble-topped tables and traditional woven bistro chairs all covered with a retractable awning. 
Bistro also features "Lounge 31" upstairs, and as you make your way outside to the stairs leading up to the lounge, a cozy outdoor dining and fountain area provides additional seating options.
As noted, Bistro's environment and menu makes for the perfect mid-day escape, however, Garwacki – who was born in Massachusetts before spending much of his childhood and adolescent years in Murphy, Texas – is also serving up his creations for brunch and dinner. Lounge 31, meanwhile, welcomes patrons for Social Sundays featuring a Bloody Mary menu, half-priced sushi and discounted appetizers throughout the day.  
While perusing the menu, be sure to indulge in one of Bistro 31's specialty cocktails, including the Garrison Old Fashion (Garrison Brothers Small Batch Bourbon, simple syrup, bitters and orange oils) or Winter's Dream (Makers Mark, White Godiva and Licor). 
And of course, what establishment striving for a European feel would be complete without an extensive champagne and wine list?
For lunch, diners can choose from Garwacki's signature Lobster Bisque or soup of the day, as well a variety of salads.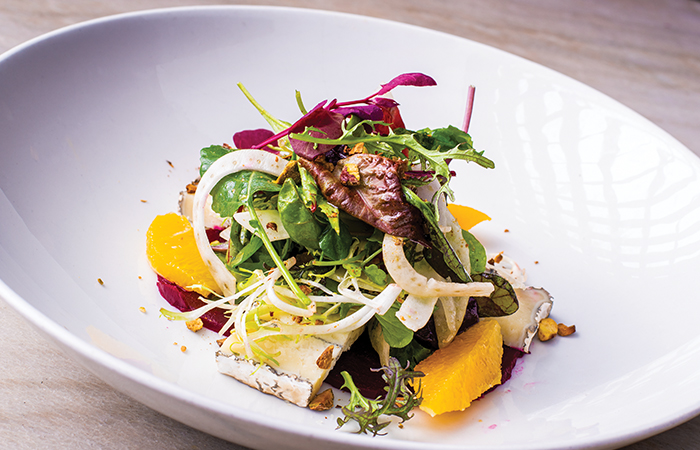 We sampled the Beet & Goat Cheese Salad, and with citrus, pistachio, fennel, Humboldt Fog Goat Cheese and charred shallot vinaigrette, it is every bit as appealing to the pallet as it is the eye. Caesar and Chopped Salad are also options, as are the Burrata Salad (marinated petite heirloom tomatoes, citrus, arugula, marcona almonds and balsamic honey), Nicoise Salad (seared ahi tuna on garden greens, hard-boiled egg, anchovy, green beans and olive tapenade) and Maine Lobster Salad (garden greens, half Maine lobster, avocado, cucumber, oven dried tomato and white balsamic dressing). Additionally, all salads can be served with grilled shrimp, grilled chicken or grilled salmon. 
For starters, the Tuna Tartare also checks off the taste and aesthetic boxes. Spiced mango, crushed avocado and cucumber and tuna in a Meyer Lemon Dressing are layered in a cylinder shape and served with crispy tortilla chips making it the perfect shareable "First" course.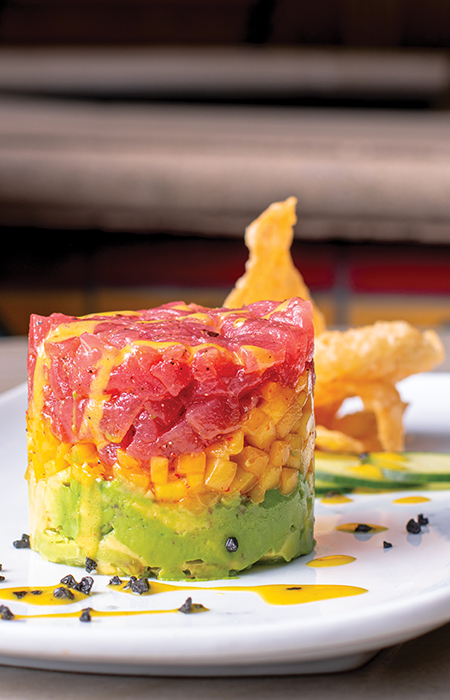 Patrons could also call an audible from the chicken of the sea and opt for Steak Tartare, while Lamb Meatballs are served over soft polenta with spicy marinara and cream of feta. 
However, sea fare primarily highlights the list of Firsts, including Escargot Bourguignonne, Jonah Crab Cake, Oysters Rockefeller, Charred Spanish Octopus and Pan Seared Hudson Valley Foie Gras. 
Plenty of pasta options are also on deck at Bistro 31, all of which can be served with gluten free pasta for an additional charge, as well as daily risotto specials. 
Hand Cut Pappardelle with Short Rib Ragu and Spaghetti Chitarra with Lobster Bolognese are popular options, while Garganelli and Pumpkin Cappellacci also make welcomed appearances on the menu.   
For the main course, we sampled a Pan Roasted Halibut served with mixed veggies, a carrot puree and lemon caper butters. The halibut was flaky and moist and paired perfectly with Garwacki's puree.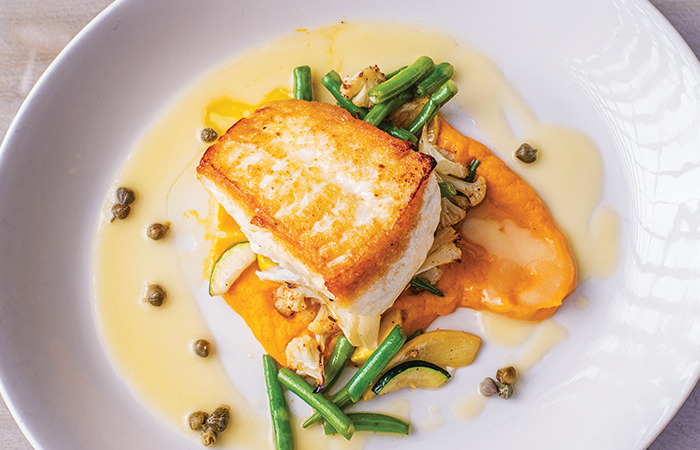 The Bistro Burger features Tillamook Cheddar and can be topped with a farm egg, and keeping with Bistro's trends of daily options, a chopped salad comes complete with a variety of quiche's depending on the time of your visit. 
Grilled Scottish Salmon (with cauliflower mousseline, petite carrots, sugar snaps and lemon beurre blanc) and Roasted Branzino (lemon, oregano fennel salad and garlic chile broccolini) also satisfy the cravings of fish lovers, while beef connoisseurs are sure to enjoy the Steak Frites (a 10-ounce New York strip with pommes frites and sauce bearnaise) or the Petite Filet Au Poivre (a six-ounce filet complete with grilled asparagus, pommes frites and a cognac peppercorn sauce). 
For sides, Roasted Brussels Sprouts with Pancetta and Grana Padano, Homemade Pommes Frites, Seasonal Sauteed Vegetable Medley, Broccolini with Chile and Garlic, Grilled Asparagus, Mac and Cheese and Maine Lobster Mac and Cheese are all available a la carte. 
But it doesn't stop there, as Lounge 31 – which is operational at the same hours as Bistro 31 – features a full-service bar and sushi menu. 
The Butterfly Pieces (salmon stuffed with crab), Rock Shrimp (fried and served with chili mayo and sea salt), California Roll (crab, cucumber and avocado) and Rainbow Roll (crab, cucumber, avocado, tuna, salmon, yellowtail and tobiko) were fresh and as appetizing as any sushi roll you'll find in the Metroplex. Three-piece sashimi (tuna, white tuna, yellowtail, salmon, smoked salmon, BBQ eel, sweet shrimp and snow crab), meanwhile, come complete with Lounge 31 wine-pairing suggestions.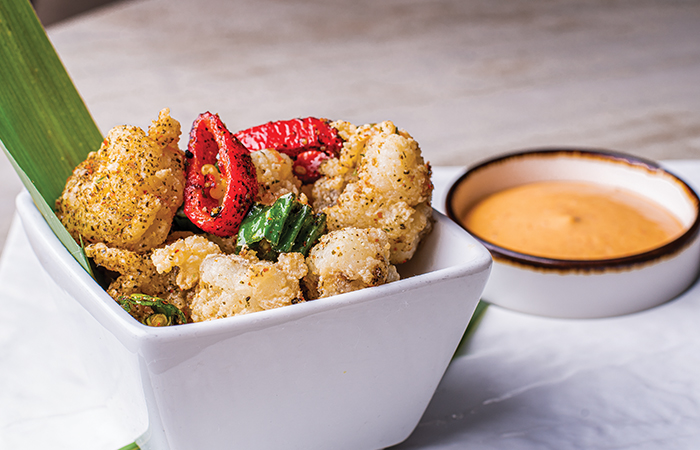 Lounge 31 is also serving up specialty cocktails with a twist, highlighted by the Anejo Fig Old Fashioned (Maestro Dobel Anejo Tequila, Averna Amaro, Allspice Dram, Caramelized Fig Syrup, Angostura and Orange Bitters) and the HP Beet (Zephyr Black Gin, Cynar Italian Amaro, Fresh Beet Juice, Fresh Lemon Juice, Homemade Ginger Syrup and Sparkling Apple Cider).  
So, whether it's a fine-dining or lounge experience you are seeking, Bistro and Lounge 31 are sure to make you feel as if you've taken a trip across the Atlantic while staying right at home in Dallas. 
Nearby Courses
Dallas Country Club ▸ 0.2 miles 
Brook Hollow Golf Club ▸ 4.4 miles 
Royal Oaks Country Club ▸ 5.7miles 
Tenison Park Golf Course ▸ 8.4 mile
Bistro 31
87 Highland Park Village #200
Dallas, TX 75205
214-420-3900