After the Round – Hutchins BBQ

Great barbecue is an art form. Over the years, AG has visited several places known for their great 'cue. From brisket and ribs to sausage and sides, we have seen a little bit of everything when it comes to smoking meats. But every so often, we are dealt a great plate of meat that draws rave reviews from our staff. 
Hutchins BBQ has a pair of locations, one in Frisco and one in McKinney. The McKinney location was damaged by a fire on New Year's Eve 2020 but has since been completely renovated and is back open for business. 
The restaurant itself is large and accommodating, plenty of comfy seating and an easy ordering process. Meats can be ordered by family packs, which can feed up to 12, or by the pound if you are dining in for a simple lunch or dinner. 
To begin with, if you are headed to Hutchins and you don't get at least one of the Texas twinkies, you are absolutely doing it wrong. These are the most substantial version of these jalapeño poppers I have ever come across. Each one eats like a whole meal. The jalapeños are stuffed with cream cheese and brisket and then wrapped in thick cut bacon. My goodness are they amazing, as the cream cheese oozes from the pepper as you take a bite. The salty bacon and the brisket in the middle couldn't be a better combination. It is worth a visit to Hutchins just to try one of these monsters, and at just $5 per, they are a great value.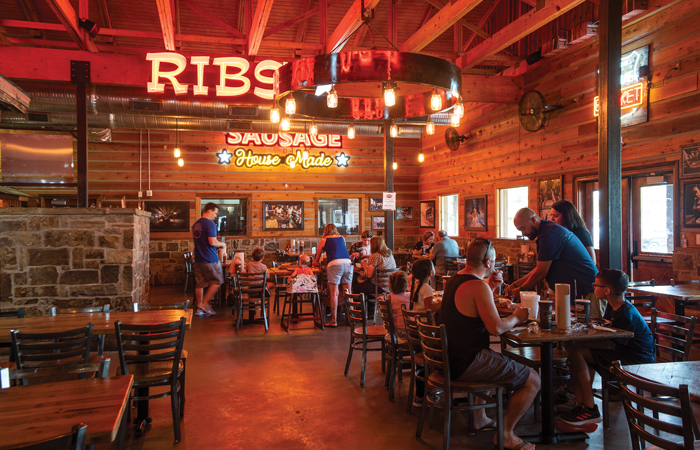 If you are a Texas barbecue fan, then you know that brisket is the king of all meats. The brisket at Hutchins is as good as any you will find, with a great smoke flavor which is instilled through hours of low and slow smoking on one of their well-seasoned pits. The briskets are all prime, and they are seasoned with course black pepper and salt (and a couple other secret spices that are kept under wraps). The brisket is thick cut, so each bite has the perfect amount of smoke, fat, meat, and seasoning. It's melt in your mouth tender, so much so that cutting it with a fork isn't a problem. All things considered, this is one of the best slices of brisket I have ever been given, and you shouldn't go to Hutchins without trying it. 
If you aren't in the mood for brisket, then Hutchins has all the other barbecue staples available. The pork ribs are also spectacular, with plenty of flavor. We so often hear "fall off the bone" when it comes to ribs, but real BBQ connoisseurs know that great ribs have a little bite to them and the ones at Hutchins check that box with ease. 
Pulled pork is another go-to when it comes to something easy and flavorful. Hutchins absolutely nails theirs, as it is moist and tender. I added a little splash of their spicy sauce to really turn mine up a notch. You can also get it as a sandwich and add some pickles, onions, and jalapeños if you want a quick and painless lunch option. 
I must admit, when it comes to a barbecue joint, I am real sucker for sausage. I always try some links at any new barbecue spot I try. Hutchins has your standard variety and a jalapeño cheddar version, and both are fantastic. I am a fan of spice, so I think I would choose the jalapeño cheddar version on a return visit, but the casing has the perfect amount of snap, and the meat has plenty of that smoke flavor that enhances the final product. It's a great addition to your plate. 
If you are looking for something a little more health conscious or your doc told you to avoid red meat for a while, then you can always go for the smoked whole chicken or some sliced turkey. Both are juicy and well executed, and neither will leave you feeling bogged down. 
If there is one thing besides the outrageous brisket you must try when you head for Hutchins, it is the beef rib. Sure, they aren't the cheapest thing on the menu, but this massive rib will easily feed a couple big eaters or can be split among a few or more depending on what kind of appetite your group has. The beef rib looks like something straight out of the Flintstones and has a great combination of flavor, beautifully rendered fat, and downright delicious meat. You won't regret giving it a try, and don't forget to snap a photo before you consume it to show off to all your barbecue loving buddies.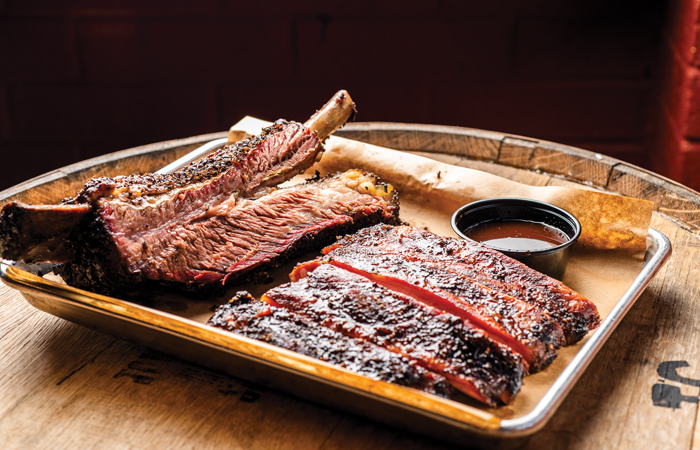 If you are doing to do great barbecue, you can't flunk on the sides. Nothing ruins a good barbecue experience like getting substandard sides with your delicious meat selections. Hutchins knocks theirs out of the park, with multiple options that are all well done and delightful. The jalapeño pinto beans are great, with a little hint of the spice that hits the back of your throat with every bite. If you want to add a starch, then try a baked potato (which can be ordered stuffed with your choice of meat to make it a meal), French fries or mashed potatoes. Of course, they also have potato salad, which is always one of my go-to sides when I enjoy a barbecue meal. Their potato salad is creamy, cool and has plenty of flavor. They also feature some rich mac & cheese, broccoli salad, coleslaw, fried okra, and green beans to accompany your meaty choices.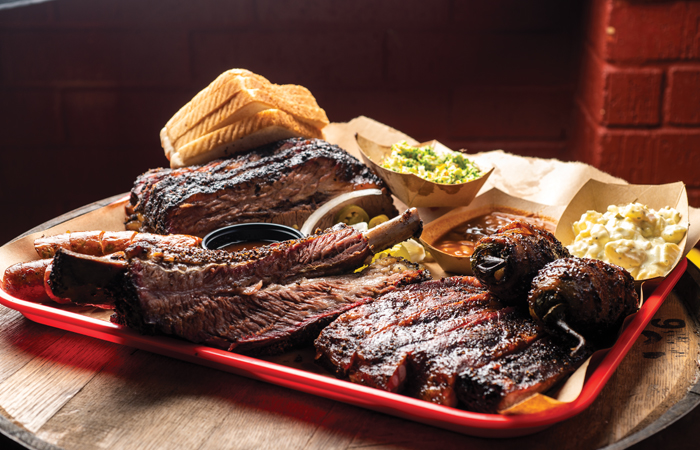 As is standard with most barbecue spots, Hutchins will include some white bread, onions, pickles, and jalapeños to your tray so you can interactively build a little sandwich or add some of the briny pickles or crunchy onions to each bite. It is a simple addition, but each one can really enhance the way you are consuming these incredible meats. 
One of the great things about your experience at Hutchins is the dessert. These are available to all post meal, as you simply wander over to the serving trays and get yourself a couple spoonful's of either their delectable peach cobbler or their cool and creamy banana pudding. A soft serve ice cream machine is also there for your pleasure, as you can either add some on top of your cobbler or curl some up on top of a cone. All three are a great way to end this belt busting meal, but I highly recommend the banana pudding.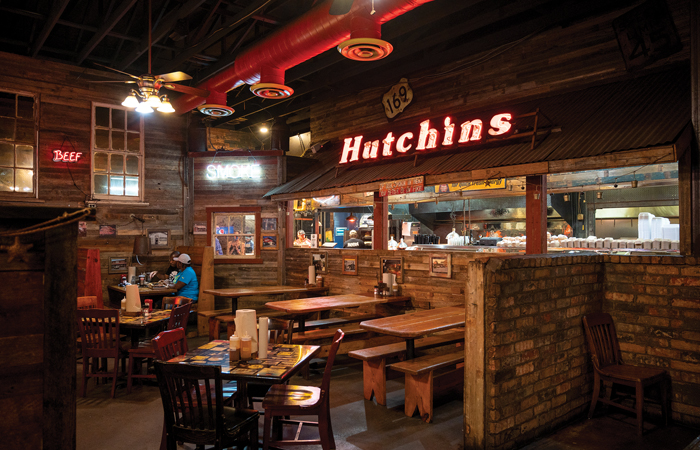 Hutchins is great barbecue, plain and simple. Everything is done right in every way. The meats don't disappoint, the sides are on point and the free desserts are a nice kicker to round out your visit. When it comes to great craft barbecue, you get what you pay for, and Hutchins is a good example of this. Sure, it's a little on the pricy side, but the cost of meat and the amount of work that goes into the finished product are worth the extra investment. It is truly some of the best food you will ever have, and I can't stress that enough. So, the next time you are looking to pack an artery, Hutchins should be at the top of the list.