After the Round – Loop 9 BBQ

Grand Prairie's EpicCentral has rapidly become a destination for not only DFW residents, but for those traveling to the Metroplex for business, or to catch a Cowboys or Rangers game. From the Epic Performing Arts Theatre to the Epic Waters Indoor Water Park, and the pickleball-centered Chicken & Pickle, this development has a little bit of everything for your family and friends. Right at the center of the development is a new barbecue concept that not only dazzles with its rich and bold flavor profiles, but also offers a great spot for happy hour or to take in the sights at Epic. Loop 9 BBQ is a taste of central Texas right in the heart of Grand Prairie. 
As you first enter the building, which is brand new and couldn't possibly be cleaner, you notice the bright and inviting motif, with the floor-to-ceiling windows across the back that opens up to a massive patio that overlooks the new Illuvia water show at EpicCentral. Get to Loop 9 early and catch a patio seat to enjoy your cue and the great fountain show that happens hourly starting at 7:30 every evening. 
You will also notice a great bar in Loop 9, which has plenty of seats should you want to meet a buddy before or after your tee time to enjoy a ballgame or some beverages. A smokey mango rita, made with Dona Vega Mezcal, orange liqueur, mango purée and fresh lime, is a perfect precursor to some great cue, with a great refreshing flavor and some smoke notes from the mezcal. A watermelon Collins is also on the drink menu and combines your choice of vodka or gin with watermelon purée, fresh lime and soda. Either is great to wet your whistle during happy hour. A rotating list of draft beers will cool you down post-round, with local selections from Revolver, Four Corners, Oak Cliff and Peticolas. Enjoy a sammie and some suds with your buddies around the bar.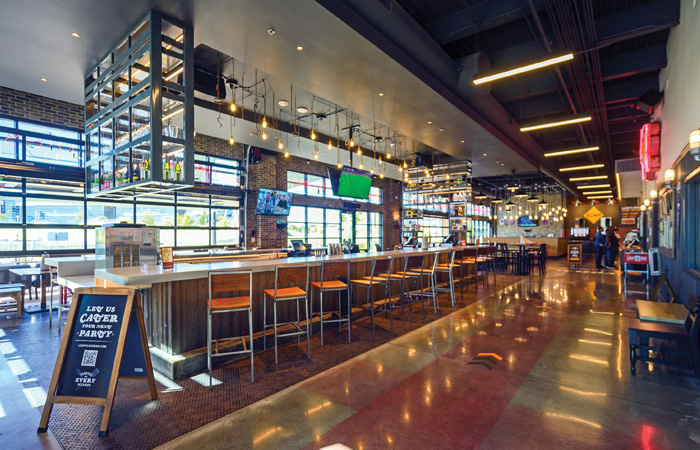 If you aren't a drinker, you can always go with a nice sweet or unsweet tea or a soft drink, some of which are a little different than you may be used to. One such example is the Maine Root Co. Root Beer, which is a true one-of-a-kind soda you don't want to miss if you love great root beer. I liked it so much, I made sure to top off my cup before leaving so I could enjoy one more on the way home. It's simple but has amazing root beer flavor. 
When it comes to the meats, from your first bite, you can really taste the premium quality. The briskets are Prime, meaning they are of higher quality with some more fat content, which really makes them flavorful and keeps them from getting dry during the cook. Everything is well seasoned without being too overly complicated, and the smoke is there, but subtle and not overpowering. No matter which meat you select, you will taste the quality and attention to detail. 
Appetizers are simple yet packed with great flavor. The stuffed jalapeño poppers, which are filled with brisket and wrapped with smoky bacon, really dazzle and give diners a quick peek at the quality of food you are about to consume. 
If you are looking to kick the queso up a notch, then I recommend the Dirty Burnt End Queso. This is your traditional queso topped with pico de gallo and some delicious burnt ends. The flavor from the burnt ends in the queso really makes the whole appetizer pop, and the crispy chips hold up well to the thick queso. It's a wonderful starter to share with the whole table.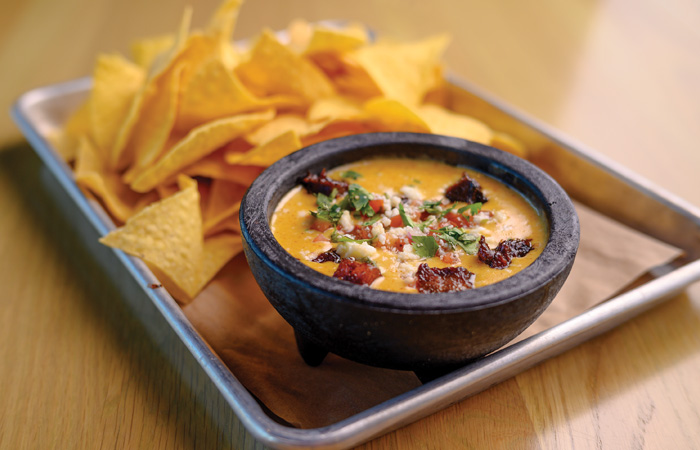 The BBQ at Loop 9 is traditional central Texas style. The Prime Brisket is simply seasoned, and the smoke flavor is there, but not overpowering. Whether you choose the lean or the moist, the juice flows throughout the prime beef, keeping every bite succulent and packed with flavor. The pork ribs are some of the best I have sampled in the DFW area. So often people talk about "fall–off-the-bone" ribs, when most truly great ribs still have some bite, and that's what you get at Loop 9. The pulled pork is also juicy and succulent, with a great bark that mixes well with the juicy meat to add some great texture. Sausage is also there for the taking, with two different styles of Meyer's Elgin, a delicious house or a spicy jalapeño cheddar. If you are looking for something a little lighter, a juicy smoked turkey and ½ chicken are also available. The chicken is some of the best I have tasted anywhere, with plenty of smoke flavor while still maintaining a juicy texture throughout.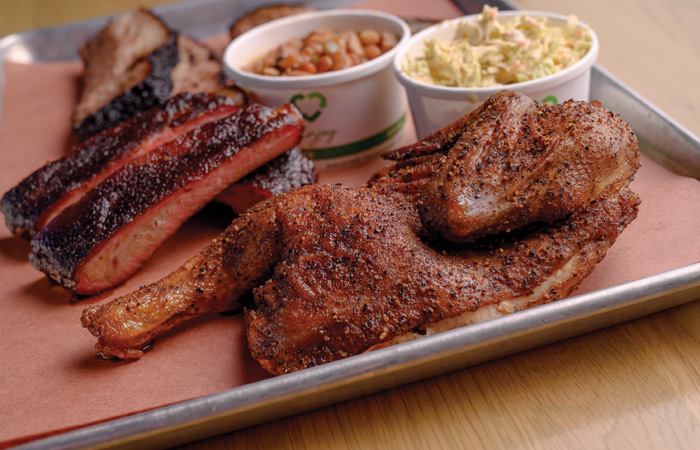 All meats are also available as a sandwich that comes served on a freshly baked brioche bun. I recommend the chopped brisket sandwich, which is topped with onion rings and can also be ramped up by adding some of the complimentary pickles, jalapeños or sauces to make it a real banger. Additional sandwiches include sliced brisket, the Meyer's Elgin, pulled pork or sliced turkey. Any of these handhelds will scratch your BBQ itch. But, if you are really feeling bold, the brand new "Two Hander" is available, which comes with brisket, pulled pork and sausage all topped with onion rings. It's a true test for any carnivore, and one that will leave you needing a bigger belt. 
Any barbecue joint needs quality sides. I have found during my barbecue adventures that once you get to a certain level of barbecue place, there aren't too many ways to reinvent the wheel when it comes to the meats. Once you get to a certain quality level, they are all pretty stinkin' good. Therefore, when I think of the best barbecue spots around town, a lot of times my tiebreaker among restaurants are the side dishes. Loop 9 has plenty of options, from more traditional, like coleslaw and fresh-cut fries, to more exotic like borracho beans and Mexican corn.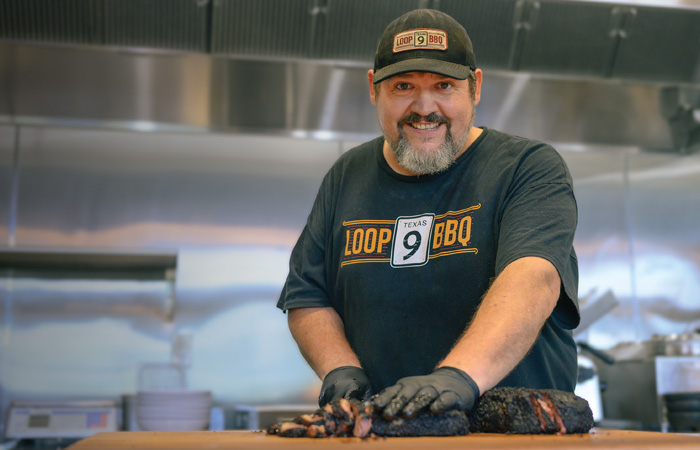 The Mexican corn is basically elotes, but off the cob. The creaminess of the corn, coupled with the additional acidic bite from the lime and the texture of the cotija cheese, make this a must try if you head to Loop 9. If you want to opt for a more traditional side selection, then the potato salad is a good choice. The potatoes aren't overcooked, so there is still some great texture there, and the dressing is very dill heavy, which is a nice change of pace from some of the other potato salads you might try. For my money, the two sides you absolutely must try at Loop 9 are the onion rings and the fried okra. Both are coated in the same batter, and if you don't want two fried sides, I certainly don't blame you, but I must say, they are both amazing. The onion rings are a little thinner than some of the more traditional style rings you will try, so they have some great crunch and are perfect to accompany your meaty meal. The fried okra are simply fantastic. The batter has a great peppery bite and a spectacular crunch. This is one of the few sides I have ever tried that I would make a special trip back for. It's that good. 
Now, every great barbecue place should have some kind of dessert. Some are better than others and some are standard, but at Loop 9, you aren't going to get generic or boring, as they come equipped with some of the most intense and delightful pies you are going to find in the entire area. On their menu, it says, "save room if you can … make room if you can't," and I couldn't agree more. The pies are one-of-a-kind fantastic, and they are available to take home at any time from their separate walk-in pie stand. They offer a key lime, a coconut cream and a chocolate cream version, and each are stupendous. If you have followed my articles in AG or my travels on Instagram, then you know I am a sucker for a great key lime pie. I have to say, Loop 9 is right up there with some of the best I have sampled over the years, with a great tang and that familiar key lime bite you love if you are a fan. The coconut cream and chocolate are also bodacious and will hit you right in that sweet tooth. I would be a happy camper settling in for lunch at Loop 9, getting a chopped beef sandwich with fried okra and a slice of key lime. Right there you have a fantastic lunch or dinner.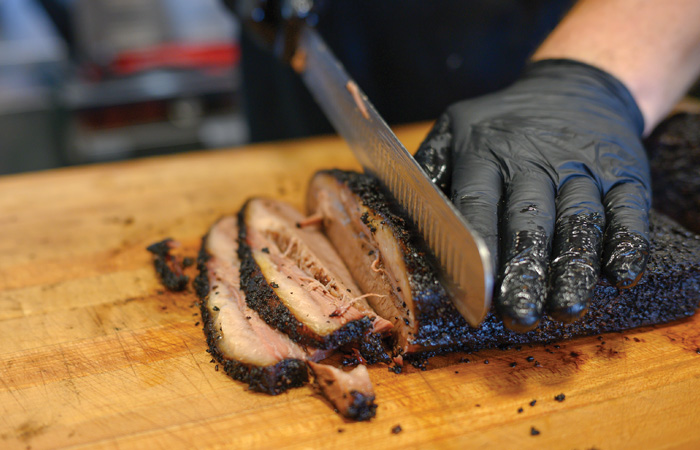 Loop 9 isn't as "crafty" as some of the true high-end barbecue spots that have started taking over the Metroplex, but you also will find that it is more affordable than some of the smaller spots around town. Depending on what you choose, you can easily get out of Loop 9 having spent less than $25 and be truly satisfied, something that is increasingly hard to do with great barbecue. The atmosphere at Loop 9 is bright and super clean, which is a great change of pace from some of the older, darker barbecue joints you find around town. There is a whole vibe to the experience, as the staff is friendly and helpful, especially if it is your first time dining with them. 
Overall, the barbecue is super solid and with today's skyrocketing meat prices, I would put Loop 9 on the moderately priced category, meaning it's not super affordable, but not bust-the-bank expensive either. And, hey, when it comes to barbecue, you get what you pay for. 
Loop 9 BBQ. Go for the drinks and the cue, stay for the atmosphere and the water show. What more could you want?
Loop 9 BBQ
2951 S. State Hwy 161 (at EpicCentral)
Grand Prairie, TX 75052
469-789-5182
www.loop9bbq.com