After the Round – Pappas Bros. Steakhouse

There is just something about fine dining that always puts me in a great mood. Often times we shouldn't be living to eat, we should be eating to live. But when it comes to upscale food experiences, I believe the opposite to be true. Whether it's a date night, anniversary, or a dinner with close friends or family, it's nice to step out for an evening on the town and really let yourself go for a nice meal with wine, multiple courses and top-notch service that makes you feel truly special. At Pappas Bros. Steakhouse in Dallas, you will find you get precisely that. A great night on the town with excellent food and service that makes you feel like a celebrity. 
The Pappas experience rivals any of the fine dining establishments in the area, with a larger dining area for bigger parties or a smaller wine room that seats parties that want a more intimate experience. We were fortunate enough to find ourselves in the latter, which was a perfect spot for a quiet night out. The low lighting spilling from two ornate overhead fixtures set the perfect ambiance for the warm and cozy room, and the hundreds of wine bottles scattered around the shelves make you feel like royalty.  
We both chose a house red to sip as we perused the menu. I am by no means a sommelier, but the wine was easy to sip and delicious, a nice opener that didn't bust the bank. If you are someone who can appreciate the finer wine selection, then Pappas will certainly fulfill your desires, as they have a collection of some 3,500 selections and their overall wine cellars have an inventory totaling over 35,000 bottles from every major wine producing region across the globe. In fact, both the Houston Galleria and Dallas locations received the 2014 Grand Award, which is the highest distinction possible for wine selection by Wine Spectator Magazine, so if you do want to go exotic with your selection, you won't find a better place to do so. 
If you crave a cocktail, Pappas features a Mojito Cubano, they Pappas Bros Margarita, which comes with a hibiscus vanilla salt on the rim. They also have an Old Fashioned and a Spicy Cucumber Mule. All of which are the perfect way to start off your evening. 
Pappas appetizer menu features plenty of steakhouse favorites, including a shrimp remoulade, a standard shrimp cocktail, bacon wrapped scallops and one of their specialties, the lobster deviled eggs. I went for the jumbo lump crab cakes, because I am a bit of a crab cake connoisseur and try to order them wherever I can. Rather than the kind of hockey puck shaped, cracker crumb rolled cakes I am used to seeing, these were more akin to boudin balls. Round in shape and rolled in breadcrumbs. Different, but in a good way. The lump crab was sweet and tender, and the Beurre Blanc sauce underneath took them to the next level. A flavorful concoction of butter, white wine, vinegar, and cream, Pappas adds some additional crab meat, capers and Roma tomatoes to theirs to give it some depth of flavor. The capers add a briny element, the acid in the tomatoes compliments the acid in the vinegar and the lump crab gives it another textural element that is just fantastic.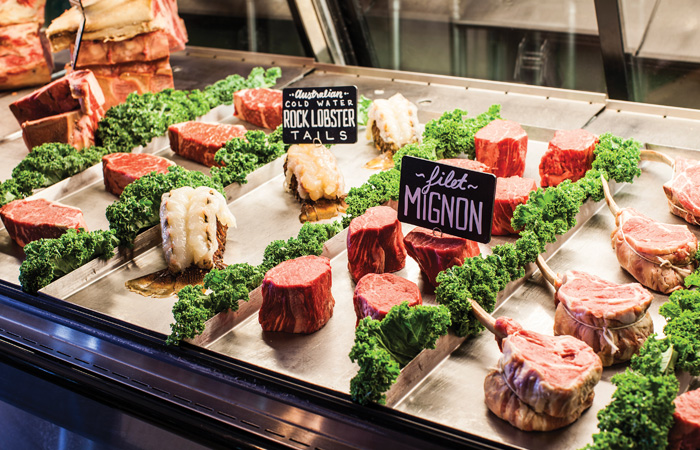 In addition to the crab cakes, the lobster bisque was recommended to me by our President Craig Rosengarden, who dines at Pappas frequently. I couldn't blow off his advice, so I ordered the cup to avoid filling up before the main event. The bisque was silky and rich, with large pieces of lobster that added some chew. Tear off some of the bread sent to the table to start the evening and give that a little dip to soak up some of the flavorful broth. It's a great way to light up your taste buds in preparation for the steaks to come. Although I might recommend the cup rather than the bowl, as I mentioned this is a very rich soup and you won't want to fill up. Pappas also features a Turtle Gumbo as well that we saw pass our table a couple times and looked fantastic. That will be something I undoubtedly try on my next visit. 
If a quality salad is something you covet when you head out for fine dining, then you will find a nice selection for a steak house. A Caesar, a standard house, a delectable wedge, a beefsteak tomato and onion and the Steakhouse Salad, which is Pappas signature dish of greenery. We were able to sample the steakhouse, which is a refreshing combination of flavors and textures. Field greens are tossed in a vinaigrette, then tumbled up with sliced apples and Mandarin oranges, bacon, Roquefort cheese and candied almonds. Every ingredient plays off the others. The bitter peppery taste of the field greens is cut by the sweetness of the dressing and the fruits, and the candied almonds add some textural contrast and sweet notes to the rich, pungent Roquefort. It's a symphony of flavors and one of the most interesting salads I have sampled in a quite a while. 
Okay, enough of the buildup. The undercard has been spoken for, but it's time to move on to the main event of the evening, and that's a fantastic steak. Pappas very much subscribes to the KISS theory when it comes to their beef. Of course, I am referring to the acronym that means "keep it simple, stupid". Pappas uses only USDA Prime beef, which is dry-aged in-house. To say that they know what they're doing would be an understatement. In a day and age where so many steaks are being over seasoned with rubs that conceal the natural flavors in the beef, Pappas uses a simple combination of salt, pepper and butter to keep the deep savory flavors where they should be.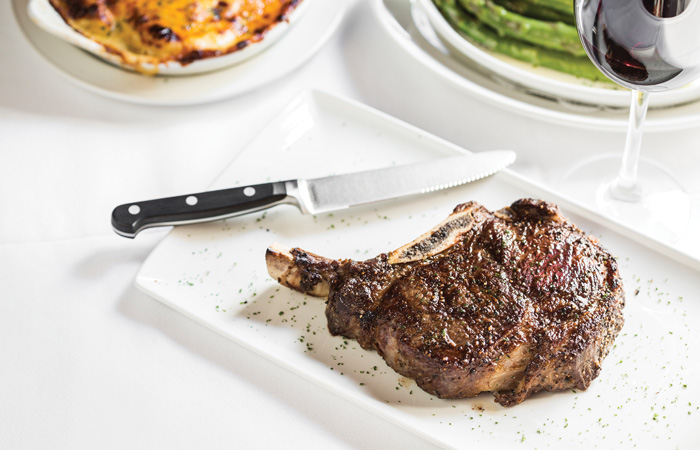 I chose the filet, which is a true test of just how well a fine dining establishment prepares a steak, they can be delicate and fickle, so if not cooked to perfection, the diner will know immediately. I have almost always ordered my steaks (especially filets) blue rare. I like the cool center, but sometimes it can be hard to get a nice crust on a filet without overcooking it to rare, but not at Pappas. The steak was perfect and there was a nice crunch on the crust without sacrificing the cool red center that I love. My date tried the Ribeye, which she ordered medium-rare, and it too, was cooked perfectly. They also have a Prime New York Strip, and offer three bone-in selections as well. The bone-in filet, the bone-in ribeye, and the bone-in strip. They also have a bone-in porterhouse, which runs a whopping 26 ounces.
For sides, we chose the au-gratin potatoes and the creamed spinach. Both were world class. The au-gratin was rich and gooey with plenty of cheese, some of which becomes crunchy along the outer perimeter of the hot serving vessel. Other options include Asparagus, mashed potatoes, baked potato, roasted wild mushrooms, or jumbo lump crab mac & cheese.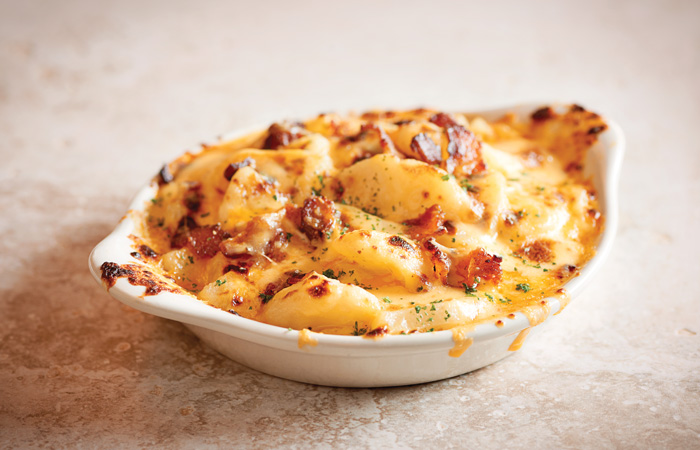 Although the steaks are clearly under the spotlight at Pappas, if you want something different, you could go for the Brioled Ora King Salmon, which is served with jumbo lump crab, shrimp, capers and tomatoes in a white wine sauce, or try the lobster, which you can take a look at in the tank next to the door on your way to be seated. There are also veal chops and lamb chops on the menu as well. 
After all is said and done and you can't eat another bite and you can't take another sip of wine, here comes the trusty dessert cart, and let me explain something, even though your stomach says no, your brain will talk you into one final push just so you can finish this extraordinary meal with a bang. The Pappas dessert menu might be the finest collection of sweets anywhere in the country. If you love cheesecake, they have it. You want some peach cobbler? Check. The crème brulee looked incredible as did the Key Lime Pie and Chocolate Midnight Cake. However, there were a pair of selections that really stood out and those were the Turtle Pie, which is a chocolate cookie crust with salted caramel, milk and dark chocolate, topped with toasted pecans. We were told that is the most popular choice among patrons, but I had my eve on something else. The PB Signature Gooey Pecan Pie. Any time there is something on the menu with "signature" next to it, I tend to give it a day in court because those are the items the venue really feels are their best. 
I honestly don't think it's even appropriate to try to convey into words how good this dessert was. The warm pecan pie had an almost custard-like texture rather than the overly sticky, viscous version we have become accustomed to seeing on grandma's countertop at Thanksgiving. The praline ice cream sidecar slowly melts into the pie creating a slurry of sugary napalm that will send your sweet tooth into deep space. It's one of the best endings to a meal I can recall, and an absolute must if you head to Pappas.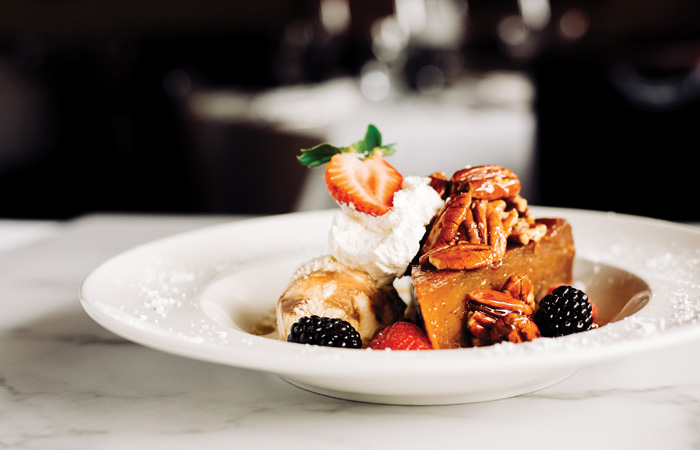 In addition to your dessert, you might consider a nice Pappas Irish Coffee to wash it down, or a glass of any number of high end after dinner drinks. From Louis XIII, to The Macallan 30 year, if you have a taste for finer spirits, you'll find it in one of the cases at the front of the restaurant. 
It's rare to sit down to a complete and total great meal from start to finish. Now, I am not in the business of nit-picking, I generally try to explore the positives in every dining experience even if there are a couple hiccups here and there, but with Pappas, it was truly 100% fantastic from the moment through the door until the check hit the table. Welcoming, friendly staff, out of this world service, tremendous food and an atmosphere that is tough to beat. There are date night's, and then there are date night's at Pappas Bros.