After the Round – Shelter in Smoke

As we all get used to the new normal that involves working from home, sheltering in place and only leaving the house for essential duties and supply runs, all of us are trying to find new ways to pass the time. With no live sports on, except for a draft here and there, Netflix, Amazon Prime Video and Hulu have become major players for just about everyone, but let's be honest, there is only so much TV or binge watching one can do before insanity begins to creep in. 
So, what do we do? Golf is still an option in many places, although it can be expensive to play a lot, and the new rules and social distancing guidelines make it a little awkward. You can exercise more and try to get in better shape, which is something that I haven't exactly succeeded with during these stressful times. 
With the options limited, I decided a few weeks ago that I would begin to dabble in the wonderful world of Barbecue. I have tried some of the best in DFW, and I have always been a huge fan of the pit masters that can turn a regular old chunk of meat into a work of art. Now, make no mistake, I am nowhere near on the same level as the greats that use gigantic, expensive wood burning smokers to deliver top quality 'cue to the masses. Truth be told, I purchased a pellet smoker, which most pro's will tell you is like entering a cheat code for infinite lives before firing up a video game, but it's almost fool proof and I have enjoyed being able to dabble with recipes and trying new things over the last month.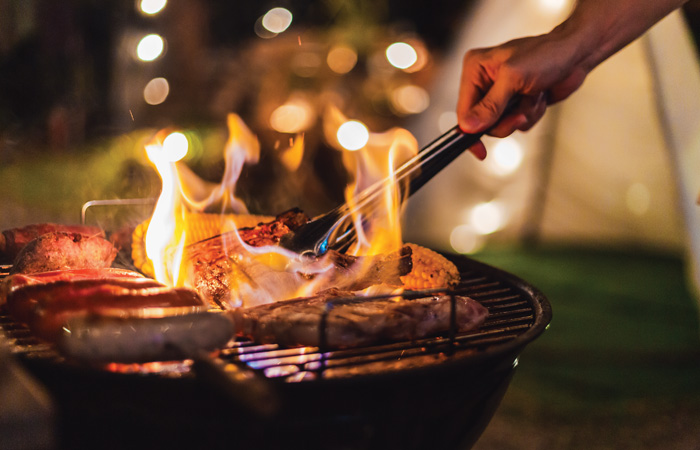 The rig I decided on is a Traeger Pro Series 780 that I was able to purchase online and pick up same day at Nebraska Furniture Mart. Yes, they can be a bit pricy, this one ran just at $1,000 and required a little bit of assembly, but I must say, the technology is astonishing. 
This particular model has what Traeger calls WiFIRE, which connects directly to your phone so you can adjust temperature, set timer and even set probe alarms to alert you when your meat reaches a certain internal temperature… again, almost fool proof. 
The first order of business, I was told, is to "season" the new rig. I have several friends that practice this art form and they all agreed that I needed to run a cook just to get the factory grime and chemicals off the inside of the grill before I cooked anything I could consume. The website also recommends this, but they say just run the grill at its highest temp for about 30 minutes. I chose a bit of a different method, as I went to the butcher counter in the grocery store and chose a cheap beef roast that I seasoned well with all the normal staples… garlic and onion powder, cumin, salt, pepper and chili powder. I then opened the lid, sprayed everything well with Pam cooking spray and cranked the heat. I ran the new unit for about 30 minutes, then lowered the temp to 250 and smoked the roast for about 3 hours just to get some aroma and seasoning running through things. I hate to admit that I tossed the "finished" product, but that is what I was advised to do by those in the know. So, after a little work, my Traeger was ready for a proper cook.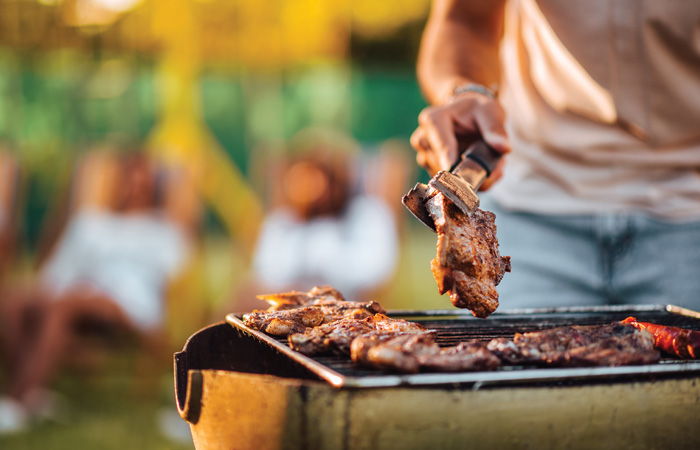 One of the first things I wanted to do were stuffed jalapenos. They are easy and borderline impossible to screw up. My girlfriend got me a little cast iron jalapeno holder a while back and I am ashamed to say I hadn't had a chance to use it in almost a year. I did have a smaller box smoker that ran on propane that I had used some in the past, but it was always a bit more of a production that I cared to deal with. Always having to exchange the tanks and whatnot was kind of a beating, so I rarely used it. That being said, the stuffed jalapenos are an easy first smoke. The recipe I used isn't rocket science, as I combined cream cheese, shredded cheddar and jack, some Worcestershire sauce in a bowl and mixed. I halved the peppers, scraped the seeds and membrane and then stuffed with the aforementioned concoction. I then combined the two halves back together, wrapped in bacon and voila. Piece of cake. 
I started the Traeger at 250-degrees and let it come to temp for about 20 minutes to keep the heat steady. For this cook, I chose mesquite pellets, and on they went. I let it run for about 3 hours until the bacon was caramelized, and the fat had rendered to tenderize the peppers. They turned out fantastic. Now, this is by no means a professional level cook, as I'm fairly certain you could train a chimp to prepare these and they would turn out fine. But hey, it was a success, and they tasted delicious. 
After a soiree with the peppers, it was time to move on to something with a little more substance. Under the advice of several people, I decided on a pork shoulder for my first real in-depth cook. The shoulder was about 9 pounds and I want to great lengths to make sure it was done properly. I used an injection and rub method for this cook, which helped to ensure the meat would stay moist. Up early on Easter Sunday, I began to work. I had rubbed the shoulder the night before to let the spices marry with the meat. The morning of, I removed the meat from the fridge and injected with a concoction of apple juice, sugar, salt, soy, and a little bit of water. After letting the meat rest, I was ready to begin. I ran at 225 with Apple pellets aiming for an internal temp of 203-degrees. The probe was slow climbing until we got to about 185 degrees, and then a stall. So, under advice of those in the know, I foil wrapped to get to the magic number. After about 8 hours, the probe read 203 and I removed from the rig, wrapped in a towel and tossed her in a cooler to rest for about an hour. 
The results were slap yo' grandma ridiculous. The bone came out clean, the meat was juicy and flavorful. An overwhelming success for my first real cook. In fact, we ate off the meat for about 5 days. Tacos, sandwiches, hell, I even put some in an omelet for breakfast one morning. There's just something primitive about smoking your own meat, even if it's the easy way using the pellets. If I can be completely honest, I'm not ever planning to enter any state fair barbecue competitions, so if the pellet smoker gets me tasty results, then that's what I'm going to do, even if I take some heat from the real pit-masters out there. 
In the weeks since my first couple cooks, I have tried some other recipes, many of which I found online. Not only does the Traeger app have plenty of recipes based on what you're working with, but I have also discovered the greatness of Pinterest, which is a treasure trove of great ideas for any style of grill or smoker. 
Ribs are always something I have loved to eat but had never really dabbled in making on my own. With the new setup I thought to myself "dare I?". Thus, I made another run to the store and found some St. Louis style pork ribs, which I planned on preparing on a Saturday.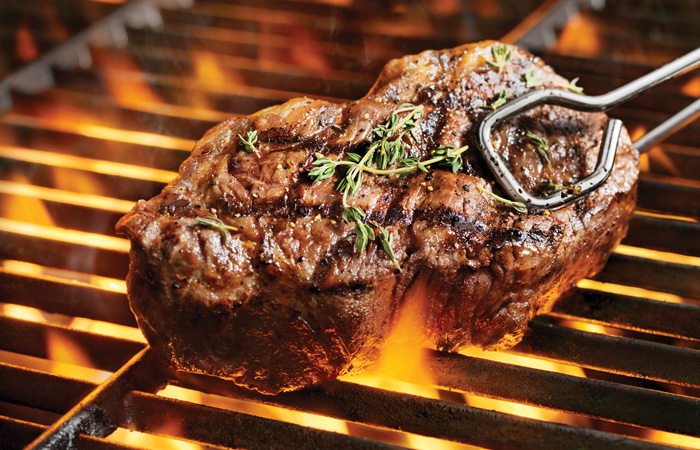 Ribs can be a bit tricky, but they're still considered to be a bit easier than say, a brisket. After trimming a bit and removing the membrane from the back (use a paper towel to grab for some traction), I rubbed them generously with some quality rub. I prefer to use MeatChurch rubs, as they came highly recommended from many of my friends. For this cook I chose their Gospel, which is an all-purpose rub for one rack and their Voodoo Rub, which integrates a bit more spice, for the other. 
Hints from Heim – Owner of Heim Craft BBQ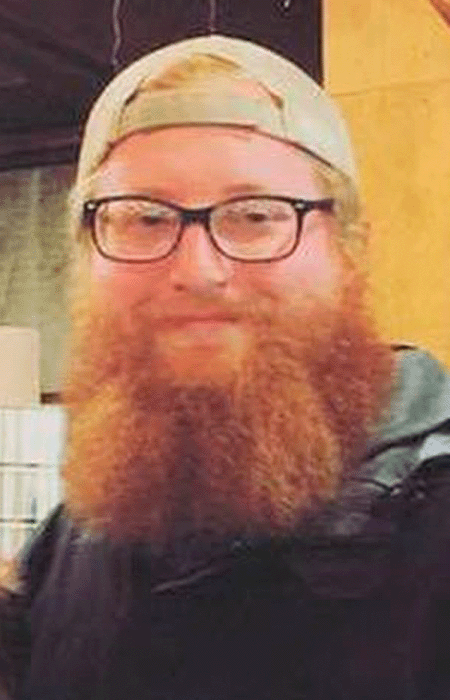 Most important key to good BBQ is keeping a consistent temperature and smoke level throughout the cook.
For longer cooks use a hardwood with a milder flavor. I prefer Oak or Hickory, if you want to add a little more sweetness to your smoke flavor apple, pecan, or peach are all great woods to add to your base fire.
Use an electronic thermometer to check the internal temperature of your meats. I prefer Thermapen brand.
Don't over sauce. Focus on your smoke level, tenderness, use a basic dry rub starting out, you can always add more flavor after your cook by adding a homemade sauce or glaze.
Keep notes. Every cook I did for about 10 years I would keep notes: date, time, weather, humidity, wood type used, meat, rub, technique, sauce, etc. This way next time you try to cook a brisket you can look back at your notes from the last time and make small tweaks to improve your BBQ game.
And most importantly, do whatever you want. Don't let social media or anyone else tell you it must be done a certain way. I couldn't have more contempt for all the stupid rules people have for BBQ. Look at Jim Fuyrk or Matthew Wolff's golf swing. There are a million ways to do it, all that matters are the results. If it tastes good and makes you and your dinner guests happy, that's all that matters.
Travis Heim is the owner of Heim Craft BBQ. They have two locations in Fort Worth and one coming soon to Dallas.  
The steps were what many call the 3-3-1 method. Meaning 3 hours of smoke, then wrap in foil for 3 hours, and then one final hour unwrapped. During the first 3 hours, I sprayed the ribs with apple juice every 45 minutes to help prevent them from drying out. After rollin' smoke on them for 3 hours, I then placed them in a bed of brown sugar, butter and a little honey (I added a touch of Sriracha to the ones with the Voodoo rub for some complimentary spice). 3 more hours of foil wrap and then 1 final hour unwrapped for the finished product. Admittedly, the smaller of the two racks was a touch dry, but the one with the most meat was fantastic. Another Traeger success.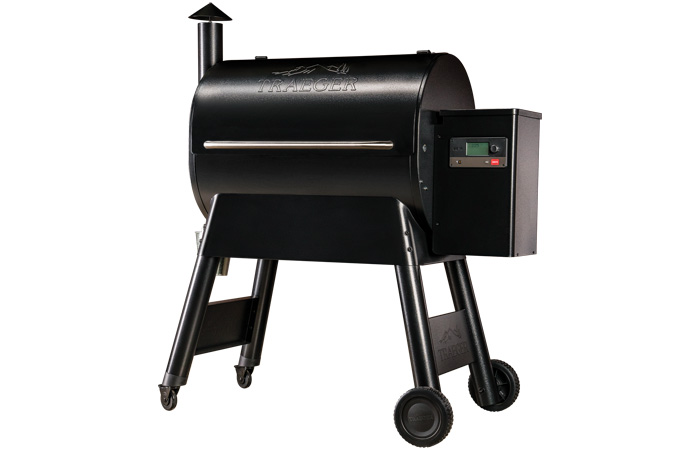 I have also done some chicken breasts and some wings, which was a recipe I got from Pinterest. They were buffalo style and were better than just about anything you can get from your local "wing" joint. It does seem that you always tend to enjoy meals cooked yourself as opposed to those you get from a generic chain restaurant, and the wings were no exception. They were dripping with juice and had tremendous flavor. 
Over the next couple weeks, I am looking to work my first brisket, and from what I understand, it is the most challenging cook from start to finish. One of my good friends told me a few weeks back: "Everyone f*cks up their first brisket. It's best to just do it and get it out of the way." Coming from a seasoned veteran, I expect this to be the case, but that doesn't mean I'm not going to give it a whirl. Most meat smoking pros suggest that a screwed-up brisket can still be used for chopped sandwiches, so it's not a totally lost cause. 
The fantastic thing about this particular Traeger is the connectivity. The meat probe alerts your phone when it gets to the proper temperature, so it basically eliminates the guess work. It's great for the beginner and gives consistent results. And at the end of the day, that's all I'm really looking for. 
For all of you out there with extra time on your hands during the COVID-19 lockdown, I highly suggest refining your grilling and smoking skills. Embrace your inner caveman and get some meats on the grill. You just might enjoy it.
AG's Perfect Plate o' 'Cue
Brisket: Pecan Lodge BBQ
Ribs: Angelo's BBQ
Sausage: Zavala's BBQ
Jalapeno Sausage: Dillon's BBQ
Quail: Hurtado BBQ
Chicken: Ten 50 BBQ
Chicken/Shrimp Poppers: Hard Eight BBQ
Green Chili Mac n' Cheese: Heim BBQ
Meat Loaf: Dillon's BBQ
Potato Salad: Babb Brothers BBQ
Bacon Burn Ends: Heim BBQ
Smoked Elote: Hurtado BBQ
Banana Pudding: Red Barn BBQ
Cole Slaw: Hutchins BBQ
BBQ Beans: Pecan Lodge BBQ
Broccoli/Cucumber Salad: Dickey's BBQ Pit
Pork Chop: Hard Eight BBQ
Ham: Pappas BBQ
Smoked Bolonga: Sammie's BBQ
Sauce: Pappas Delta Blues Smokehouse
Trout: Lockhart Smokehouse
Spicy Cole Slaw: Lockhart Smokehouse
Beans: Pecan Lodge BBQ
Beef Rib: Cattleack BBQ
Chicken on the Bone: Babb Brothers BBQ
Sliced Chicken: Pappas Delta Blues Smokehouse
*Always check with restaurants for availability